75887 Porsche 919 Hybrid is the second endurance racer in this wave of Speed Champions and it needs to stack up favourably to the 75886 Ferrari 488 GT3 Scuderia Corsa to make it worth picking up as well. In the real world, the car is interesting as it has both a conventional petrol engine and an electric motor that work together. In our world of bricks however, that doesn't really count for much – it just has to be worthy of the Speed Champions title. Let's have a look to see if it qualifies.
Here's the front and back box shots at the usual size of 190 x 140 x 60mm.
View image at flickr
The back again shows the real car on the bottom right...
View image at flickr
...and the contents are the normal format of 4 bags, 1 chassis, instructions and sticker sheet.
View image at flickr
30 stickers to be precise. If I wanted this many stickers regularly in my hobby I'd be collecting Panini albums. Bah!
View image at flickr
Interesting parts are a pair of left/right 6181713 (1X2, W/ Bow, 45 Deg. Cut) recoloured in white, and new lower profile mudguards.
View image at flickr
View image at flickhttps://www.flickr.com/photos/brickset/26682451298
Here's a comparison to the previous type, as fitted to the Ferrari. They are 2x4x2 size so have less "dangle" and there is a 1x2 plate height notched out on the rear. No doubt car MOCers will be pleased to get these. On the replacement parts service, the design number is 35789 and though not currently available for sale, they look to be available in white, red, blue and dark green.
View image at flickr
The Minifigure
There have been several drivers of the car in real life, so the minifig this time is a male generic. The torso print is ok front and back showing the sponsors and manufacturer. After being spoilt by the tribute figure in the 75886 Ferrari, and by the fantastic prints in the 75885 WRC this one looks a little plain by comparison.
View image at flickr
View image at flickr
He gets a spanner as an accessory but no wig for when he takes his helmet off.
View image at flickr
The Build
It goes together in the usual fashion. Here's the bulk of the bodywork.
View image at flickr
And here's the final product. Sticker whinge time again though. There's a lot to adhere, and some are really fiddly with the smallest of them having to go onto 1x1 tiles – not fun at all. I used the tip of a knife to help line things up but it's becoming more and more obvious that I need a trip to the opticians.
And for your viewing pleasure, here it is with the bulk of the stickers removed.
View image at flickr
View image at flickrhttps://www.flickr.com/photos/brickset/40552234141
The added play extras in this set are a set of pit lights, bench and a laptop for probing the Porsches telemetry.
View image at flickr
Here's a slightly different angle comparing it to the real thing
View image at flickr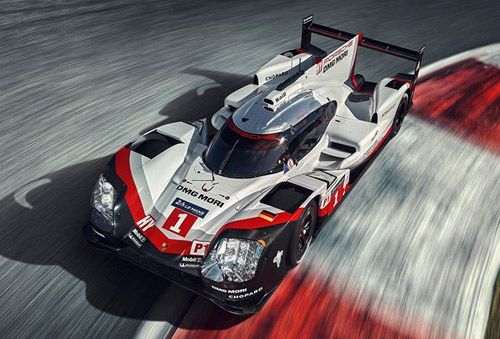 The vehicle has been captured quite well and the stickers do go a long way to help the cause. It looks better from some angles than others. Side on, and three quarter views are very cool. You get a real sense of the low centre of gravity and you can see that the front splitter is practically dragging on the floor.
View image at flickr
View image at flickr
The back is a little ugly though.
View image at flickr
The driver's red helmet complements the car colour scheme and the air intake pops up to allow the canopy to be removed.
View image at flickr
Overall
It's a perfectly good set but it hasn't set me on fire - though it's hard to pinpoint exactly why that is. I definitely prefer the 75886 Ferrari 488 GT3 Scuderia Corsa in terms of looks and I guess that's simply the reason - a personal preference. A quick and unscientific show of hands in my household yielded the same result.
There's already been a 919 in the 75876 Pit Lane and whilst this is an improvement over that particular model my (small) issue is that it looks incredibly like the 75872 Audi R18 e-tron quattro. It's just a shame that with the limited release slots available, this wasn't dedicated to something different looking or completely unique.
If you haven't got either of those sets then it won't matter at all to you but if you're a Speed Champions collector, you might feel short changed for the reasons above. It's only £12.99 / €14.99 / $14.99 for 163 pieces though and it fits the brief perfectly.
It's well worthy of consideration and makes a good counterpart to the Ferrari. I can't let a purely personal preference stand in the way of a recommendation, so I won't. It's very worthy of the Speed Champions label and I'd still recommend it.
What do you think? Please let us know in the comments.View image at flickr
---
Many thanks to the LEGO Group for providing Brickset with a review copy of the set. All opinions expressed in this review are my own.
Sponsored content