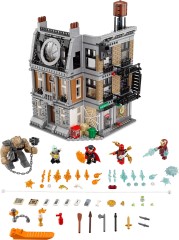 The Universe Unites on Saturday, March 3rd as LEGO launches their merchandise for the upcoming Marvel epic Avengers: Infinity War.
Six sets based on the film are now available, as well as the direct-to-consumer 76105 The Hulkbuster: Ultron Edition, in the United Kingdom and Europe. They will be released in other regions, including North America, as midnight rolls in around the world.
You can also check out the free gifts that are being offered here.
Please use our affiliate links when you buy to help support Brickset. Thanks, and happy building!
USA | Canada | UK | Germany | France
Sponsored content