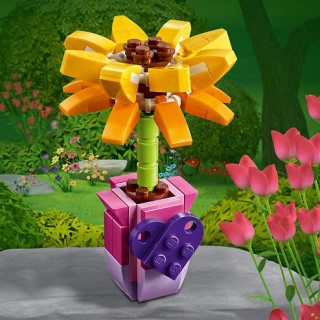 30404 Friendship Flower had a very short window of availability on Valentine's Day but it's making a quick comeback for Mother's Day as a free offering with any purchase over £15 in store, certainly in the UK at least. I'll update on other territories as news comes in.
I was able to grab one a couple of weeks back, and while I'd not be one to usually love a Friends set, this doesn't fit the mould at all, so I thought I'd post a mini review.
It's a wonderfully coloured polybag, and while the colour palette of the build is perfect for Friends this could so easily have been released as a Creator themed poly, give or take the heart.
View image at flickr
Inside there is a veritable smorgasbord of pieces to behold plus the instruction sheet – just check out all of the colours. There's some interesting parts too like the 26604 (Brick 1X1, W/ 2 Knobs,) in Medium Blue.
View image at flickr
I had 9 minutes build time, and these are the core elements of it all. The petals are a bit fiddly and proved one of the things that I spent a bit of time getting lined up to my satisfaction, but considering it's just a little Friends polybag, the techniques in the build are interesting.
View image at flickr
In it's finished form it looks superb. In fact I think it looks better than the comparable daisy in 40187 Flower Display. Certainly it makes a perfect partner set.
View image at flickr
The difference from the back is merely the lack of a heart.
View image at flickr
Hopefully this polybag will become widely available for purchase soon enough. For the moment, we'll have to put up with it being a freebie – and free stuff is always welcome.
There's really nothing not to like about it at all and it's definitely one of the better giveaways I've seen. I'll probably MOC another in alternative colours to complement it. Grab one if you can.