Despite the rumours of Summer arriving, my part of England has recently been treated to heavy rain, claps of thunder and fantastic lightning shows, so what better set to arrive at my door than 70652 Stormbringer. The new wave of Ninjago has some great looking builds and this dragon caught my eye from the moment I first saw it online.
An RRP of £34.99 / €39.99 / $39.99 buys you 493 pieces. We all know that piece count isn't everything so what does this set deliver for the money? Find out my thoughts after the break.
Box and contents
The box measures 38 x 26 x 5.5cm and is shown here with a minifig for scale. In hand, it feels about right for the cash.
View image at flichttps://www.flickr.com/photos/brickset/41900282764
The rear, as usual, shows the play features and also indicates that you can combine this set with 17101 Creative Toolbox. Unfortunately, I do not own Boost so I couldn't test this.
View image at flickr
Opening the box reveals 4 bags and a manual. I looked and looked and found there are no stickers here – hurrah!
View image at flickr
Sifting through the bags reveals a pair of 1x4 bricks printed with scales and metallic silver eyes.
View image at flickr
Inside bag 1 you'll find a mini bag of weapons – not all are required for the build so there's a couple of handy extras to be had here.
Minifigures
There are four minifigures – well three and a half anyway.
First up is Jay. He has a detailed print using some metallic silver for highlighting elements, and a small rip on one leg shows yellow flesh underneath. The bow print is quite broken between the torso and legs but looks worse zoomed up on a desktop screen than it does in real life.
View image at flickr
He has chunky shoulder armour and scabbard that hides much of the rear printing.
View image at flickr
Checking out the dual sided head we can see the rear print better. There's another little rip there with minifig flesh on show.
View image at flickrhttps://www.flickr.com/photos/brickset/42556675871
View image at flickr
Jay comes with a whole bunch of weapons – there are a pair of tantos, (short swords), that go in his scabbard, a kusarigama (sickle) with a fair reach on it, and a Dragonbone blade. He's pretty well tooled up.
View image at flickr
Zane has a super print, using a grey and a metallic to give the effect of two types of silver. The underlying patterns look to be based on the Sons Of Garmadon variant, and belts and buckles have been added over the top. There is one arm missing it's material. Again, the line up between leg print and torso isn't the best.
View image at flickr
The rear is covered by a quiver...
View image at flickr
...but we can see the backprint whilst admiring the head.
View image at flickr
View image at flickr
To finish, Zane is equipped with a bow and a katana.
View image at flickr
Switching allegiance to the villains of the piece, and well, what a fantastic headgear this dude has. This minifig is aptly named Muzzle. The headgear is actually in two parts – the shoulder piece is a really cool mould, with silver grille to the face, spikes to the side and scabbard on the rear. It is finished with a simple black cap piece.
The front and back prints are equally impressive with some really small details and plenty of metallic silver – even his toe caps are printed. The legs appear to be the same as those in 70650 Destiny's Wing for the Jet Jack minifigure. To finish, the arms are in Pearl Dark Grey.
View image at flickr
View image at flickr
Underneath all that armour is a battle scarred and bandaged head.
View image at flickr
For attack purposes he has a katana and a nasty looking spear. The spear uses an orange bar with claw which I believe is a recolour.
View image at flickr
Now here's where things get a little weird. This is Daddy No Legs, a brick built foe with half a body up top. Unfortunately, the torso is a straight repeat of Muzzle's. The rest of him is a quadruped mini-build with various small parts making him up. The head is shaved with a ponytail coming from the centre.
View image at flickr
View image at flickr
I do like the head – a useful MOC part for ghost and zombie minifigs.
View image at flickr
He is equipped with a large sword and the grand sounding "Vengestone Chain" – a type of harpoon. More on that later, and again it uses an orange bar with claw.
View image at flickr
View image at flickr
I'm a man with simple tastes, and I prefer my minifigs to be whole. I find him a bit strange. I'd have preferred a complete minifigure with the leg device being a separate mini mech-spider that anyone could pilot. However, I'm not 9 years old and I don't watch the kids tv show, so I'm probably on my own here.
The Build
On to the build then, and I've really been looking forward to this. I'll show the steps bag by bag.
Bag 1 starts with the ancillary item, a pedestal which holds the gold Dragon Armour. The pedestal looks much like an anvil and the armour itself is superb. It has a dragons head on one of the shoulders, and scales detailing the breastplate. As shown here, the armour itself merely balances on a light sabre handle, and I found it really easy to knock off or rotate. Fortunately, one of the spare parts in the set is another trans clear 1x1 round with pin holder (as at the base) and this can be added to lock the armour in place perfectly if desired.
View image at flickr
Not much behind though – move along please, nothing to see here.
View image at flickr
Then the build moves to the dragon itself, starting with the torso core.
View image at flickr
Bag 2 adds to this and the first small elements of detail go on.
View image at flickr
Bag 3 builds the tail...
View image at flickr
...and adds it the torso.
View image at flickr
Bag 4 sees the legs, feet and wings attached.
View image at flickr
Finally, Bag 5 builds the head and adds the saddle – what a beast.
View image at flickr
Let's place all the elements together and see the set as a whole. It looks pretty good to my eye and I'm really pleased with the result.
View image at flickr
I always seem to mess up my timings either through distraction, or failure to restart the stopwatch after I've taken a picture, but I think there was about 80 minutes build time, probably less if I was just crashing through without having to worry about a review.
Features
Let's admire the beast and see what he does. At full stretch it's 48cm in length. You can see how effective the spiky scales work along the body from this angle.
View image at flickr
There's a fair amount that can be moved, starting with the legs of course. The knees are fixed, but the hips, shoulders, ankles and claws all have a lot of movement on them. For instance he can crouch...
View image at flickr
...and even lay down.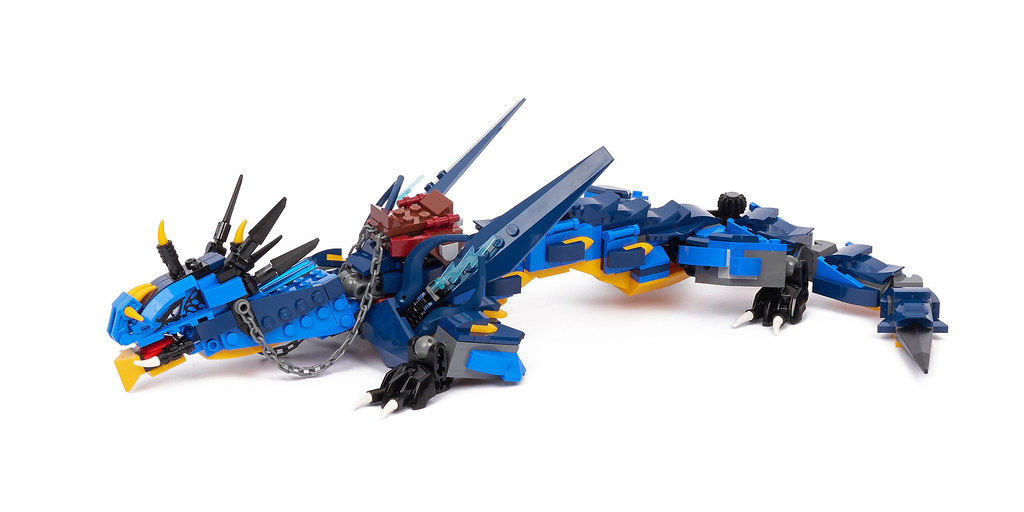 View image at flickr
The head is on a ball joint with good amount of travel and the wings move back and forth, up and down, limited usually by wherever the legs are positioned at the time. They have a small amount of rotation on them too. Anatomy-wise, I have to wonder if a pair of wings this size would actually let the dragon fly, but as we're talking about mythical beasts, I wonder why I wonder at all? Wherever that line of enquiry would lead, they suit the model well. I like the fact that they're not too large or cumbersome, and aren't made out of a fancy sail that has to be treated carefully.
View image at flickr
A really neat touch is having a pair of spring loaded shooters inside the mouth – just drop the jaw for loading or firing. This dragon shoots lightning bolts instead of fire, hence the blue missiles. Keeping the mouth shut also helps to avoid setting them off by accident.
I love the fact that the entire head is brick built instead of "cheating" with moulded pieces like the creature head and jaw on 70612 Green Ninja Mech Dragon. It looks superb with the printed eyes and black blades for spiked armour. The spikes can all be angled and rotated to taste.
View image at flickr
In the words of Sting: "Don't stand, don't stand so, don't stand so close to me".
View image at flickr
On the dragons back, Jay (or whoever) can saddle up and take control of the beast.
View image at flickr
The seat is removable if you wish to have a bare, untamed dragon. It attaches by means of a pair of clips on the underside, and the chains are easily disconnected from the head. The saddle also uses a pair of 1x2 plates with handles recoloured in Dark Red. Also note the technic gear where the tail begins – the tail can be used as a weapon. Turning the gear thrashes the tail one side to the other – simple and effective. It's a feature robbed directly from 70612 Green Ninja Mech Dragon – and why not?
View image at flickr
All in all, there is a good range of flexibility for posing Stormbringer. It looks fab from many angles, and I've admired it on my shelf this week more than I'd care to admit.
View image at flickr
Remember the "Vengestone Chain" from earlier in the text? This is where it comes in. The idea is that it is thrown up at the dragon to hook it like a harpoon. Conveniently there are 4 attachment points on the torso for this purpose. It's these kind of simply implemented design choices that add play value to a set – genius.
View image at flickr
Once Daddy No Legs has made his move, the battle can play out as you see fit – that tail is coiled and ready to strike for instance.
View image at flickr
Of course the main event is Stormbringer itself, but there is also the collectible armour to fight over and obtain. There are ample play opportunities within this set and that is exactly what it is for.
Boost
Unfortunately I do not own the Boost Creative Toolkit, so I can't comment on how well the two sets integrate but it's a welcome bonus that more can be achieved from your purchase and it certainly looks intriguing. Adding Stormbringer pieces to your Boost lets you build a mechanised dragon. It's not as pretty by any means, but that's not the point.
Reading the info in the instruction booklet, there is control over the head movement, firing the lightning bolts (cool!), walking back and forth and the tail swishes as well. The colour sensor recognises the rider so presumably this makes something relevant happen on the tablet that is being used for control. I'm sorry I don't know more.... but I can't pull the trigger on buying Boost. Well, not yet anyway!
View image at flickr
Overall
If you've read all of this review instead of skipping straight to the conclusion, you might have noticed that I've been highly enthused about Stormbringer – and you'd be dead right. There will be obvious comparisons against 70612 Green Ninja Mech Dragon from the Movie range and as that set the bar quite high this isn't a bad thing. Make no mistake, this is a brilliant set and if you have the Mech Dragon this will happily coexist with it. If you loved the Mech, you will love this too.
The build is interesting and enjoyable and while you could say that the actual play "features" might seem limited, I mean, come on, it's a dragon – and a mighty fine looking one at that. It's all about the imagination and where it takes you. The colour and element choices throughout work well. Four minifigs seem reasonable to me and it works equally as a standalone set or with others to complement it. As a 9 year old I would have been thrilled to bits to get this - and as a 40 something it's impressed me a lot.
The only thing going against Stormbringer is that there have been a lot of Ninjago dragons before this, and if I owned most of those already it could take the edge of it being a "must purchase". The flip side is that this seems a mature product because of it's forerunners.
The RRP seems fair and I would recommend this set without hesitation. In fact I am already eyeing up it's partner 70653 Firstbourne to join ranks.
---
Many thanks to the LEGO Group for providing Brickset with a copy of the set. All opinions expressed in this review are my own.View image at flickr