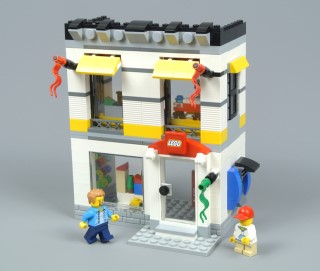 LEGO brand retail stores have been the subject of several recent sets and many of those have proven to be very popular. 40305 LEGO Brand Store is the latest such model, containing 362 pieces and costing £21.99 or $24.99.
There is definitely some variation in the design of LEGO stores around the world, although this two-storey example bears little resemblance to most. Nevertheless, the set includes just about every internal feature one might expect to find in a brand store and appears distinctive when compared with past models. I am therefore approaching this review with high expectations.
Minifigures
Two minifigures are included, the first of whom is an adult wearing a floral patterned shirt. This torso design only appears in three sets so is very rare and it looks superb, featuring a row of tiny buttons as well as a white vest underneath. The textured hair piece is similarly impressive while the head is nicely decorated with a smile and some facial hair.
View image at flickr
The child consists of more common components, sporting a white hooded jacket and tan trousers. I like the bespectacled face and this baseball cap looks a lot better than its simpler counterpart which includes less textured detail. Neither figure comes with any accessories but there are many items to purchase inside the shop.
View image at flickr
The Completed Model
LEGO brand stores are most frequently found inside shopping centres and they are rarely divided over two levels. This building therefore marks a significant departure from the conventional design of LEGO brand stores but I think it looks pretty good on the whole, featuring an attractive white, light bluish grey and yellow colour scheme as well as some trans-clear panels which are a characteristic feature of all brand stores.
View image at flickr
The walls of the ground floor seem fairly plain to me, featuring very little texture and only a couple of decorative elements. I like the light bluish grey masonry bricks at the base of the building though and the scrollwork above the door looks excellent, alongside the LEGO branding. Unfortunately, the logo is represented by a sticker rather than a printed tile on this occasion.
View image at flickr
Large windows dominate the front of the store and two more are located on either side. The dark and light bluish grey pieces look somewhat out of place in my opinion but I like the yellow awnings. A cash machine is also installed on the side of the store which feels like a cheeky inclusion, making reference to the frequent need for additional funds when one visits the LEGO store! The set does not come with any banknotes though.
View image at flickr
The rear of the building is open, allowing easy access to the interior. This may bother some people but it feels appropriate for play and there is plenty of detail inside. LEGO stores always include a large 2x4 brick by the door but that has been reduced to a 2x4 plate here, leaving more room for shelving and to enter the store. A container is situated behind the red plate but there are no accessories to store.
View image at flickr
LEGO sets from the CITY, Friends, Creator and NINJAGO ranges line the shelves on the ground floor. These take inspiration from official sets but do not match any exactly. The Creator set, for example, is similar to 5891 Apple Tree House but includes yellow walls rather than white ones. Furthermore, the sets are represented by stickered 1x2 bricks which do not seem as accurate as the more common design that makes use of 1x2 or 2x2 tiles.
View image at flickr
The pick-a-brick wall is represented by a series of translucent 1x1 round plates behind the counter. A 1x3 brick forms the counter which looks rather bland but the cash register on top is nice and I like the assembled sets on display in the window, adding an extra splash of colour to the model.
View image at flickr
The first floor is similarly furnished with some familiar features of any LEGO store, including the build-a-minifigure bar and a container for role play items. The build-a-minifigure bar looks particularly accurate, featuring a large minifigure statuette and four trans-clear containers. This level also includes two more sets on display and a couple of Juniors sets in red boxes.
View image at flickr
LEGO stores are well known for their elaborate light fixtures, resembling the tubes on the underside of a brick. This set does not include internal lights which is a shame but the design on the roof looks like the studs on top of a 2x4 brick. The decorative parapets along the front edge of the roof look pretty good too, despite their simplicity.
View image at flickr
Overall
I always enjoy sets which depict aspects of the LEGO brand and 40305 LEGO Brand Store is another excellent example. Its two-storey design most closely resembles that found in 60097 City Square but this model is more detailed than its predecessor and looks more impressive on display in my opinion, not least because of its bright colour scheme.
View image at flickr
However, there is some room for improvement. A store employee should certainly have been included and the LEGO sets look more realistic when represented by 1x2 tiles rather than 1x2 bricks. Moreover, I would love to see an entirely accurate rendition of a LEGO store at some point in the future, although this is a fun set and I would certainly recommend adding it to your collection, especially if you already own 5001622 LEGO Store Employee.
I hope you have found this review informative. Let us know by liking this article and share your thoughts on the set in the comments below.