Hogwarts School of Witchcraft and Wizardry has inspired a number of fantastic sets since 2001, each focusing upon different moments from the Harry Potter series and offering unique qualities. 75954 Hogwarts Great Hall seems to be the best rendition yet, including magnificent architectural detail and an extensive interior.
Furthermore, this tremendous set contains ten minifigures, almost all of whom are exclusive, along with several different animals and some accessories. It should therefore offer considerable play value and look wonderful on display, following the example of previous Hogwarts sets. In fact, I have high expectations that this example will surpass the high standard of its predecessors.
Minifigures
This set includes five Hogwarts pupils wearing their school uniforms, the first of whom is Harry Potter. His tousled hair looks brilliant and the head is decorated with the wizard's famed lightning bolt scar, a pair of round glasses and two different facial expressions. The dark bluish grey jumper includes some dark red and flame yellowish orange highlights, representing Gryffindor House, while Harry's legs are plain black.
View image at flickr
Ron Weasley includes the same Gryffindor torso with a white shirt, a striped tie and a lovely jumper. I like the hair piece which has been selected for Ron and this element is only available in dark orange in the new Wizarding World sets. The double-sided head looks good too, featuring a few freckles and two expressive faces. Ron comes with a reddish brown wand while Harry wields a dark brown accessory.
View image at flickr
The two friends are accompanied by their respective pets. Hedwig is printed with some light bluish grey streaks that delineate her feathers, distinguishing this version of the owl from the one in the Collectable Minifigures series which includes dark bluish grey feathers. Scabbers is moulded with impressive detail and his curled tail is designed to fit around a row of studs.
View image at flickr
A brand new hair piece has been designed for Hermione Granger, depicting her wavy hair style from the first few Harry Potter films. The intricate texturing is thoroughly impressive and reddish brown is a perfect colour when compared with the character in the movies. I like Hermione's double-sided head too and she wears a dark bluish grey jumper with the red and flame yellowish orange stripes of Gryffindor, just like Harry and Ron.
View image at flickr
Draco Malfoy, on the other hand, wears a Slytherin jumper which features dark green and sand green stripes along with a matching tie. This torso component is only available here at the moment, although I imagine further Slytherin students will appear in any future Harry Potter sets. Malfoy's blonde hair piece looks perfect in relation to his appearance in the first two films and I like his sneering and angry expressions too, both of which suit the character.
View image at flickr
Gryffindor and Slytherin are by far the most prominent Hogwarts houses during the Harry Potter series and past sets have excluded the other two houses entirely. Fortunately, the new range includes Susan Bones from Hufflepuff so provides fans with a Hufflepuff uniform! This dark bluish grey jumper appears similar to the Gryffindor version at first glance but is distinguished by black stripes rather than red ones and a brighter shade of yellow.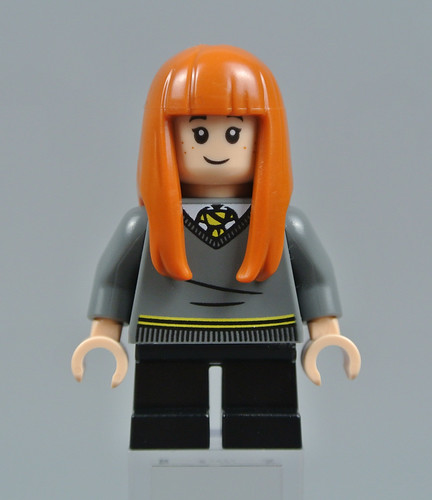 Susan only makes a few appearances in the movies, accompanying Hermione across the Great Lake before being sorted into Hufflepuff during the Sorting Ceremony. Nevertheless, I think she was a good choice for a Hufflepuff character as her ginger hair is unique within this set and the freckled head looks superb in relation to the films. The figure comes with a black wand.
A black wizard's hat represented the Sorting Hat in 4701 Sorting Hat from 2001 and was replaced with a printed component in 2010's 4842 Hogwarts Castle. However, this specialised element is far superior to its predecessors, including tremendous moulded detail while still being able to fit onto the head of a minifigure, as demonstrated below. I love its eyes and mouth as well as the crooked tip, all of which match the source material exactly.
View image at flickr
This rendition of Professor Albus Dumbledore takes inspiration from his appearance in the first two Harry Potter films, during which he was portrayed by Richard Harris. His light bluish grey beard is an existing element but the flowing hair piece is brand new and features some realistic texture. I am also very satisfied with the double-sided head, showing a smile on one side and a more severe expression, without spectacles, on the other.
Dumbledore's dark red robe looks brilliant too, featuring rich decoration on the front and back. I like the dark red swirls across the torso and the subtle chequered pattern, more visible on the character's back, is delightful. The only addition that might improve this minifigure would be a little hat, like that shown in the films, but I think Dumbledore looks fantastic without it.
Professor McGonagall wears an equally detailed dark green robe which is nicely decorated with some leaves and scattered pale blue motifs. A sketch model for 75954 Hogwarts Great Hall was displayed at New York Toy Fair and featured Professor McGonagall with a dress element rather than printed legs. I think a dress would have been more suitable so am disappointed that it has been omitted, presumably so the minifigure can sit down.
The head is decorated with an angry expression on one side and a kind smile on the other, befitting the duality of McGonagall's personality. Unfortunately, her wizard's hat does not properly cover the face on the reverse of the head and I think this component is starting to look rather dated, as one might expect given its age. I would like to see a modern element replace this one in the Wizarding World sets, although the classic hat could still be used in future Castle themes. Dumbledore and McGonagall carry dark tan and black wands, respectively.
This selection of Harry Potter sets does not include Hagrid's hut but it does come with Rubeus Hagrid himself. The half-giant Keeper of Keys and Grounds at Hogwarts looks far better than previous figures in my opinion, featuring a brand new torso element which consists of a medium nougat jacket with a reddish brown shirt underneath. I like the row of buttons and Hagrid's enormous metallic silver belt buckle looks marvellous, although a little more moulded detail here would have been welcome.
The arms are attached using Technic pins so they can swing back and forth but the short legs are fixed in place. It seems ironic that short legs have been used on such an enormous character, although they work perfectly here. Hagrid's dark brown combined hair and beard element looks fantastic too, slotting over his head and torso smoothly. The head is decorated with a single smiling expression and I think it suits Hagrid quite well.
Hagrid is officially forbidden from performing magic so is not equipped with a wand. He instead makes use of a pink umbrella which is brand new in this colour and matches the films exactly. The pearl dark grey lantern looks great as well, with a trans-yellow 1x1 round brick placed at the centre to depict its glowing light.
Professor Quirrell plays a vital role in Harry Potter and the Philosopher's Stone but has only appeared in one previous set, 4702 The Final Challenge. I am therefore very pleased to see a new version of the character which improves upon the original minifigure in every respect, sporting a marvellous lavender turban with a band that runs across the front of his torso. A simple black jacket and a dark blue tie are visible underneath.
The graphic designer has definitely captured Professor Quirrell's nervous disposition in the expression shown above. However, removing the minifigure's turban reveals an even more impressive design on the reverse as the spirit of Lord Voldemort has taken up residence within Quirrell's body, causing his gruesome visage to protrude from the back of the professor's head! Voldemort's face is printed in tan so appears distinct from the surrounding flesh tone and I love how it is contorted in anger so matches the film.
Hogwarts is inhabited by several ghosts, perhaps the most famous of whom is Nearly Headless Nick. The ghost of Gryffindor Tower consists entirely of white and light bluish grey parts so looks great and I love the metallic silver highlights across his torso and legs, both of which are intricately detailed. The hair piece is excellent too and has not been available in light bluish grey until now.
Nearly Headless Nick features two expressions alongside his facial hair. One side is decorated with a smile while the other appears sad, presumably in response to yet another rejected application to join the Headless Hunt! The only improvement which might have been applied to this figure would be the addition of a ruff around Sir Nicholas' neck, although that could cause interference with his hair piece so printing it on the torso is a good alternative.
The Completed Model
Hogwarts Castle is a vast structure, consisting of numerous towers and connecting buildings as well as several bridges. This model is therefore focused upon two of the school's most recognisable features, the Great Hall and the Marble Staircase Tower. It measures 30cm wide and almost 38cm in height so looks quite imposing on display and I like the combination of tan walls with dark bluish grey roofs, the latter of which represents a significant improvement over the sand green designs found in past sets.
View image at flickr
First Year students approach Hogwarts aboard a fleet of enchanted rowing boats and one such vessel is included here. The reddish brown hull is nicely textured and a trans-neon green lantern, formed by a minifigure head, is placed towards the bow. I like the black support structure and pearl gold fitting but wonder whether trans-yellow would have been a more appropriate colour than trans-neon green.
View image at flickr
The boat docks at a small wooden jetty in this set, allowing students to disembark and enter the Great Hall quickly. I like the tan and dark bluish grey railing around this area of the model but am not entirely convinced by the two dark blue 2x4 wedge plates which give the impression of water. Neither seems necessary in my opinion and they appear slightly out of place when the set is on display.
View image at flickr
A pair of enormous wooden doors guard access to the Great Hall. It would have been wonderful to see a separate entrance hall which would be more faithful to the books and film series, although accessing the Great Hall directly seems like a reasonable compromise given the relatively modest size and price of this set. The white clock above the doors looks good and I like the medium nougat bricks which are sprinkled throughout the tan walls.
View image at flickr
The Great Hall stands at the top of a sheer cliff face and the designer has acknowledged that, including a few light and dark bluish grey slopes at the base of the walls, which I appreciate. However, I am even more impressed with the new lattice elements that fit into 1x2x2 window frames and match the curved elements used on the tower. The spires along the edge of the roof look brilliant and I like the new 1x1 prisms which form tiny dormer windows in the roof.
View image at flickr
Another large window dominates the other end of the Great Hall. This wooden structure is constructed very simply but looks wonderful and I like the smaller arched windows on either side. A couple of black Technic beams support the roof and these are visible above the protruding window which is unfortunate and the towers should be taller, particularly at the centre of the roof.
View image at flickr
The back of the Great Hall is open so you can access the interior very easily. It is furnished with some tables, benches and banners as well as a large fireplace with an attractive dark red surround. There is plenty of space to stand or seat minifigures inside and the tables are all oriented in the correct direction so improve upon 4842 Hogwarts Castle.
View image at flickr
A row of candles hangs far above the banquet tables, suspended using a Technic liftarm and two black bars. The new candle wick looks superb and I like the little flames on top of each candle, although the Technic support structure seems rather out of place. Just a couple more pieces would probably have been sufficient to conceal the cental liftarm so it is a shame that it has been left exposed.
View image at flickr
However, the reversible banners alongside the candles look absolutely spectacular. Large stickers are applied to each one, featuring the dark blue and metallic silver quarters of Ravenclaw beside the black and metallic gold quarters of Hufflepuff. Gryffindor's dark red and metallic gold colours are found on the reverse of the Hufflepuff banner while Slytherin is shown on the back of the Ravenclaw banner. It would have been nice to display all four banners at once but reversible designs make more efficient use of the limited space available.
View image at flickr
Minifigures with short legs are unable to sit down but I think they look pretty good when standing on the benches. Furthermore, you could alter them for figures with standard legs by placing an additional 1x2 plate beneath the table legs, raising them to a height for minifigure legs to slot underneath. Plenty of food is included for a banquet and broomsticks are clipped to the wall on either side of the entrance doors.
View image at flickr
View image at flickr
The staff dining table is raised on a podium in relation to the other tables, just like in the movies. There are chairs for three professors and the central throne appears very regal so is suitable for Dumbledore. Two pearl gold goblets are placed on the table and the golden House Cup is located on the window sill behind the teachers, exemplifying how the designer of this set has used every available space!
View image at flickr
View image at flickr
Hogwarts Castle includes several towers of differing heights and shapes. The Marble Staircase Tower, situated directly adjacent to the Great Hall, is perhaps the most recognisable of these and looks pretty good in LEGO form, featuring curved walls and an imposing arched doorway. The spire over the door uses a new textured component that features three courses of tiles while the pinnacle on top has not appeared in dark bluish grey before.
View image at flickr
Recreating the conical roof at the top of this tower must have been difficult but I think the designer has done reasonably well, using some half cone parts towards the peak of the roof but 3x12 wedge plates at its base. There are narrow gaps on either side of the wedge plates but these only become visible from certain angles and I am not sure how this could have been improved without the creation of another new piece.
View image at flickr
Naturally, the Marble Staircase Tower does include a short flight of spiral steps which can fold to form a flat surface, as demonstrated below. However, they look much more impressive when unfurled to reach the next level. A reddish brown broom is clipped to the wall beneath the stairs and there is a yellow frog on a table in the corner.
View image at flickr
The next floor includes a large black cauldron, a smaller pearl dark grey cauldron and a table which is laden with potions. I imagine this is intended to represent a generic Hogwarts classroom as Professor Snape's potions chamber is found in 75953 Hogwarts Whomping Willow, although it might also be a storage area for keeping unused equipment.
View image at flickr
A storage room definitely occupies the second level of the tower, housing the Sorting Hat on its stand as well as a reddish brown chest and a black spider. The chest contains five gems in different colours and the trans-red example might be the Philosopher's Stone itself, as indicated by one of the images on the Mirror of Erised which is found on the top floor.
View image at flickr
The magical Mirror of Erised shows the viewer's deepest desire in their reflection and serves a vital role in Harry Potter and the Philosopher's Stone, concealing the stone from those who would seek to use its power. This rendition is heavily reliant upon stickers but looks very good in my opinion and I like how you can reverse or swap the mirror panel to show different images. The first displays Harry Potter beside his parents, Lily and James.
Turning the mirror around reveals Albus Dumbledore holding a pair of woollen socks, in reference to the headmaster's claim from the book. In fact, Dumbledore sees himself standing among members of his family. An entirely separate panel features two more stickers, one of which shows Ron Weasley as the Gryffindor Quidditch captain and the winner of the House Cup while the other features Professor Quirrell, grasping the Philosopher's Stone.
View image at flickr
View image at flickr
There is not enough room to stand a minifigure in front of the mirror which seems odd, although it can be removed entirely and placed on the ground. Doing so will reveal a perch for Fawkes, Dumbledore's phoenix. This brick-built animal looks magnificent and could be adapted quite easily for flight by placing neck brackets between the phoenix's body and its wings, although no brackets are actually included.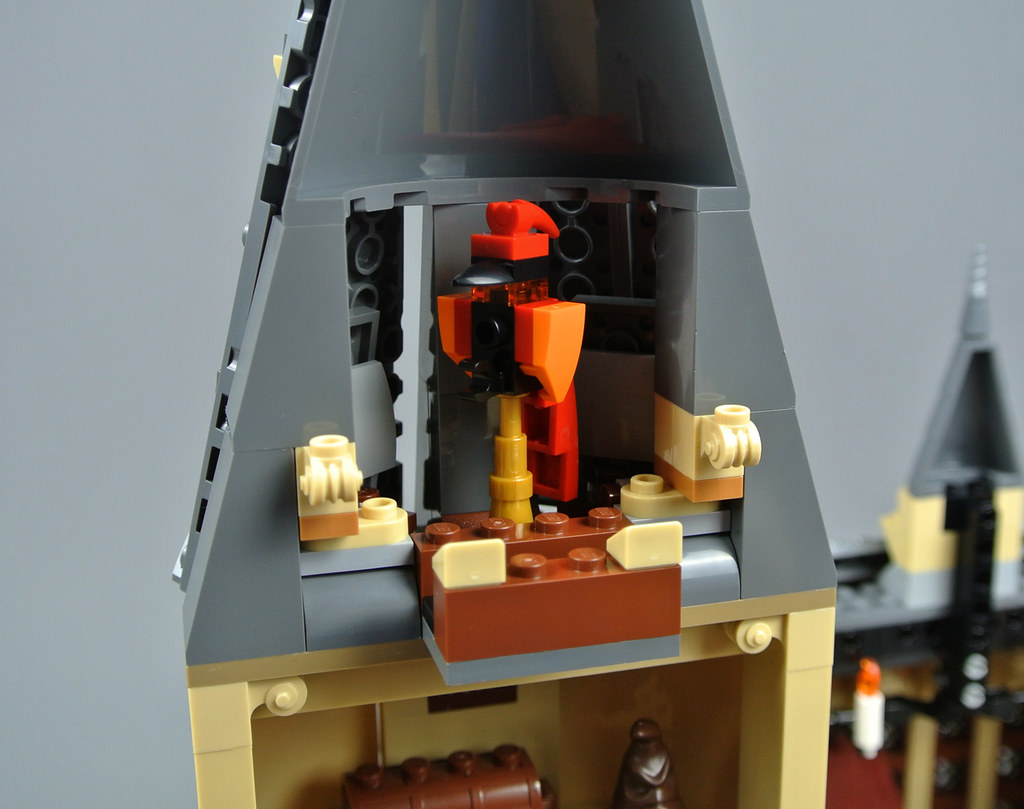 This set is focused almost entirely upon Harry Potter and the Philosopher's Stone, featuring characters such as Professor Quirrell who only appear in the first book, or movie, of the series. Fawkes therefore seems somewhat out of place as he does not appear until Harry Potter and the Chamber of Secrets and the same can be applied to the Basilisk, an enormous serpentine creature that lives within the aforementioned Chamber of Secrets.
View image at flickr
Personally, I would rather the Basilisk had been omitted from this set and its pieces used to add extra detail to the castle as she looks tiny when compared with the source material, measuring just 18cm in length. However, the Basilisk does offer some additional play value and I think her head has been well designed given its small scale, featuring opening jaws and a pair of removable fangs. The Sword of Godric Gryffindor is not included, unfortunately.
View image at flickr
Overall
75954 Hogwarts Great Hall is probably my favourite of the new Wizarding World sets. It looks fantastic from the outside and the interior of the Great Hall is highly detailed, matching the source material quite closely and including plenty of room to play with the minifigures. Furthermore, the architectural design of the castle is absolutely magnificent and it includes several new elements which could prove to be extremely useful.
View image at flickr
The minifigure selection is similarly impressive, including a tremendous range of characters which are of a consistently high standard. I think a dress would have improved the Professor McGonagall figure and there are certain areas of the castle which could be refined with a little more detail but this is still a great model. In addition, the price of £89.99 or $99.99 feels very reasonable and I would therefore highly recommend adding 75954 Hogwarts Great Hall to your Harry Potter collection.
I hope you have found this review informative. Let us know by liking this article and share your thoughts on the set in the comments below.
This set was provided for review by The LEGO Group but the review is an expression of my own opinions.