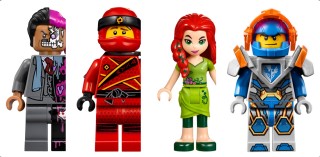 Last month we discovered that Warwick Davis is represented by more LEGO minifigures than any other actor. However, that investigation did not take voice performances into consideration, thereby excluding many popular characters.
Today's article does encompass voice performances, changing the appearance of the leader board quite dramatically as animated films and television series are taken into account. Find out which actor has the most minifigures after the break...
The factors which define a minifigure representation of an actor are as follows:
The minifigure must take direct inspiration from a film, television series or video game*.
Minifigures, characters, bigfigs, trophy figures and brick-built figures are taken into consideration.
Motion-capture performances are taken into consideration.
Voice performances are.taken into consideration.
Multiple minifigures of the same character are not counted, unless they appear in different media.
Acting credits are counted according to IMDB.
* For instance, the Nick Fury minifigure in 76004 Spider-Man: Spider-Cycle Chase does not count towards Samuel L. Jackson's total. However, the Nick Fury minifigure in 76042 SHIELD Helicarrier does.
Actors with two minifigures:
Will Arnett - Batman (The LEGO Movie), Vernon Fenwick (Teenage Mutant Ninja Turtles)
Sean Astin - Samwise Gamgee (Lord of the Rings), Raphael (Teenage Mutant Ninja Turtles)
Kenny Baker - R2-D2 (Star Wars), Paploo (Star Wars)
Dante Basco - Prince Zuko (Avatar: The Last Airbender), Scorpion (Marvel Super Heroes)
Eric Bauza - Master Frown (Unikitty!), Dino Dude (Unikitty!)
Racquel Belmonte - Rinona (Legends of Chima), Sira Copperbranch (Elves)
Orlando Bloom - William Turner (Pirates of the Caribbean), Legolas Greenleaf (Lord of the Rings)
Steve Blum - Beetle (Marvel Super Heroes), Garazeb Orrelios (Star Wars)
Helena Bonham Carter - Bellatrix Lestrange (Harry Potter), Red Harrington (The Lone Ranger)
Garry Chalk - General Magmar (Nexo Knights), Killow (NINJAGO)
Christopher Daniel Barnes - Electro (Marvel Super Heroes), Prince Eric (Disney Princess)
Benicio del Toro - The Collector (Marvel Super Heroes), DJ (Star Wars)
Laura Dern - Vice Admiral Amilyn Holdo (Star Wars), Dr. Ellie Sattler (Jurassic Park)
Jon Favreau - Pre Vizsla (Star Wars), Rio Durant (Star Wars)
Ralph Fiennes - Lord Voldemort (Harry Potter), Alfred Pennyworth (The LEGO Batman Movie)
Dave Filoni - Embo (Star Wars), C1-10P (Star Wars)
Harrison Ford - Han Solo (Star Wars), Indiana Jones (Indiana Jones)
Andrew Francis - Morro (NINJAGO), Shade (NINJAGO)
Josh Gad - Olaf (Disney Princess), Chuck (The Angry Birds Movie)
Jeff Goldblum - Grandmaster (Marvel Super Heroes), Dr. Ian Malcolm (Jurassic Park)
Jennifer Hale - Satele Shan (Star Wars), Aayla Secura (Star Wars)
Armie Hammer - Lone Ranger (The Lone Ranger), Jackson Storm (Cars)
Chris Hemsworth - Thor (Marvel Super Heroes), Kevin (Ghostbusters)
Jesse Inocalla - Scorm (Legends of Chima), Scutter (Legends of Chima)
Samuel L. Jackson - Mace Windu (Star Wars), Nick Fury (Marvel Super Heroes)
Toby Jones - Dobby (Harry Potter), Gunnar Eversol (Jurassic World)
Alessandro Juliani - Kapau (NINJAGO), Aaron Fox (Nexo Knights)
Tom Kane - Yoda (Star Wars), Captain Jayfon (Star Wars)
Michael Keaton - The Vulture (Marvel Super Heroes), Betelgeuse (Beetlejuice)
Sir Ben Kingsley - Nizam (Prince of Persia), The Mandarin (Marvel Super Heroes)
Stephanie Komure - Kate (Friends), Ms. Stevens (Friends)
Matt Lanter - Anakin Skywalker (Star Wars), Venom (Marvel Super Heroes)
Sir Christopher Lee - Count Dooku (Star Wars), Saruman the White (Lord of the Rings)
Evangeline Lily - Tauriel (The Hobbit), Wasp (Marvel Super Heroes)
Alan Marriott - Dareth (NINJAGO), Captain Soto (NINJAGO)
Kate McKinnon - Stella (The Angry Birds Movie), Jillian Holtzmann (Ghostbusters)
Kevin Michael Richardson - Jace Malcom (Star Wars), The Shredder (Teenage Mutant Ninja Turtles)
Kate Micucci - Clayface (The LEGO Batman Movie), Dr. Fox (Unikitty!)
Ezra Miller - The Flash (DC Super Heroes), Credence Barebone (Fantastic Beasts and Where to Find Them)
Terry Notary - Teenage Groot (Marvel Super Heroes), Cull Obsidian (Marvel Super Heroes)
Lupita Nyong'o - Maz Kanata (Star Wars), Nakia (Marvel Super Heroes)
Gary Oldman - Sirius Black (Harry Potter), Commissioner Gordon (DC Super Heroes)
Mark Oliver - Lord Garmadon (NINJAGO), Book of Monsters (Nexo Knights)
Lee Pace - Thranduil (The Hobbit), Ronan the Accuser (Guardians of the Galaxy)
Giles Panton - Clay Moorington (Nexo Knights), Beast Master (Nexo Knights)
Kyle Rideout - Farran Leafshade (Elves), Johnny Baker (Elves)
Pat Roach - German Mechanic (Indiana Jones), Thuggee Guard (Indiana Jones)
Kiran Shah - Goblin Scribe (The Hobbit), Teedo (Star Wars)
Tony Shalhoub - Luigi (Cars), Splinter (Teenage Mutant Ninja Turtles)
J.K. Simmons - J. Jonah Jameson (Spider-Man), J. Jonah Jameson (Marvel Super Heroes)
Stephen Stanton - Admiral Raddus (Star Wars), Grand Moff Tarkin (Star Wars)
Karen Strassman - Natalie Breez (Hero Factory), Olivia (Friends)
Melissa Sturm - Gail (The LEGO Movie), Ma Cop (The LEGO Movie)
David Thewlis - Professor Remus Lupin (Harry Potter), Ares (DC Super Heroes)
Sam Vincent - Lloyd Garmadon (NINJAGO), Chopper Maroon (NINJAGO)
Billy Dee Williams - Lando Calrissian (Star Wars), Two-Face (The LEGO Batman Movie)
Actors with three minifigures:
James Arnold Taylor - Obi-Wan Kenobi (Star Wars), Plo Koon (Star Wars), Rako Hardeen (Star Wars)
David Attar - Cragger (Legends of Chima), Rogon (Legends of Chima), Crug (Legends of Chima)
Cate Blanchett - Irina Spalko (Indiana Jones), Galadriel (The Hobbit), Hela (Marvel Super Heroes)
Ashleigh Ball - Emily Jones (Elves), Aira Windwhistler (Elves), Skyra (Elves)
Bethany Brown - Eris (Legends of Chima), Crooler (Legends of Chima), Windra (Legends of Chima)
Silas Carson - Antidar Williams (Star Wars), Nute Gunray (Star Wars), Ki-Adi-Mundi (Star Wars)
Nancy Cartwright - Bart Simpson (The Simpsons), Nelson Muntz (The Simpsons), Ralph Wiggum (The Simpsons)
Greg Cipes - Iron Fist (Marvel Super Heroes), Michelangelo (Teenage Mutant Ninja Turtles), Beast Boy (Teen Titans Go)
Benedict Cumberbatch - Necromancer (The Hobbit), Smaug (The Hobbit), Doctor Strange (Marvel Super Heroes)
Johnny Depp - Captain Jack Sparrow (Pirates of the Caribbean), Tonto (The Lone Ranger), Gellert Grindelwald (Fantastic Beasts and Where to Find Them)
Michael Dobson - Pythor P. Chumsworth (NINJAGO), Wyplash (NINJAGO), Skalidor (NINJAGO)
Heather Doerksen - Ragana Shadowflame (Elves), Ruina Stoneheart (Nexo Knights), Skylor (NINJAGO)
Ian Hanlin - Acronix (NINJAGO), Chope (NINJAGO), Lance Richmond (Nexo Knights)
Julie Kavner - Marge Simpson (The Simpsons), Patty Bouvier (The Simpsons), Selma Bouvier (The Simpsons)
Alfred Molina - Satipo (Indiana Jones), Doctor Octopus (Spider-Man), Sheik Amar (Prince of Persia)
Liam Neeson - Qui-Gon Jinn (Star Wars), Good Cop/Bad Cop (The LEGO Movie), Pa Cop (The LEGO Movie)
Chris Parsons - K-3PO (Star Wars), R-3PO (Star Wars), 4-LOM (Star Wars)
Michael Patric - Gorzan (Legends of Chima), Eglor (Legends of Chima) Breezor (Legends of Chima)
Chris Pratt - Emmet Brickowski (The LEGO Movie), Star Lord (Guardians of the Galaxy), Owen Grady (Jurassic World)
Andy Serkis - Gollum (Lord of the Rings), Supreme Leader Snoke (Star Wars), Ulysses Klaue (Marvel Super Heroes)
Jason Simpson - Reex (Nexo Knights), Roog (Nexo Knights), Rumble (Nexo Knights)
Mae Whitman - Katara (Avatar: The Last Airbender), April O'Neil (Teenage Mutant Ninja Turtles), Batgirl (DC Super Hero Girls)
Sam Witwer - Galen Marek (Star Wars), Darth Maul (Star Wars), Athex (Star Wars)
Actors with four minifigures:
Kathleen Barr - Misako (NINJAGO), Bansha (NINJAGO), Whiparella (Nexo Knights), Heavy Metal (NINJAGO)
Ian James Corlett - Skales (NINJAGO), Master Chen (NINJAGO), Clancee (NINJAGO), Monkey Wretch (NINJAGO), Daddy No Legs (NINJAGO)
Roger Craig Smith - Ripslinger (Planes), Captain America (Marvel Super Heroes), Hawkodile (Unikitty!), Richard (Unikitty!)
Michael Donovan - Eyezor (NINJAGO), Sensei Yang (NINJAGO), Samurai X (NINJAGO), Arkade (NINJAGO)
Jason Isaacs - Lucius Malfoy (Harry Potter), Leland Turbo (Cars), Siddeley (Cars), The Inquisitor (Star Wars)
Erin Mathews - Azari Firedancer (Elves), Naida Riverheart (Elves), Macy Halbert (Nexo Knights), Robin Underwood (Nexo Knights)
Nicole Oliver - Dogshank (NINJAGO), Queen Halbert (Nexo Knights), Lavaria (Nexo Knights), Whiparella (Nexo Knights)
John Ratzenberger - Hamm (Toy Story), Mack (Cars), Major Bren Derlin (Star Wars), The Underminer (The Incredibles)
Matthew Wood - General Grievous (Star Wars), General Grievous (Star Wars), Battle Droid(s) (Star Wars), R0-GR (Star Wars)
Actors with five minifigures:
Hank Azaria - Apu Nahasapeemipetilon (The Simpsons), Comic Book Guy (The Simpsons), Chief Wiggum (The Simpsons), Professor Frink (The Simpsons), Snake Jailbird (The Simpsons)
Clancy Brown - Mr Krabs (SpongeBob Squarepants), Savage Opress (Star Wars), Lex Luthor (DC Super Heroes), Dogpound (Teenage Mutant Ninja Turtles), Taskmaster (Marvel Super Heroes)
Corey Burton - Count Dooku (Star Wars), Cad Bane (Star Wars), Shahan Alama (Star Wars), Captain Hook (Jake and the Never Land Pirates), Quarrie (Star Wars)
Bill Courage - Lagravis (Legends of Chima), Crominus (Legends of Chima), Lavertus (Legends of Chima), Longtooth (Legends of Chima), Sparacon (Legends of Chima)
Warwick Davis - Wicket W. Warrick (Star Wars), Wald (Star Wars), Professor Filius Flitwick (Harry Potter), DD-BD (Star Wars), Weazel (Star Wars)
Brian Dobson - JEK-14 (Star Wars), Ronin (NINJAGO), Zugu (NINJAGO), Soul Archer (NINJAGO), Bucko (NINJAGO)
Jeff Evans-Todd - Razar (Legends of Chima), Bladvic (Legends of Chima), Crawley (Legends of Chima), Leonidas (Legends of Chima), Ewald (Legends of Chima)
Grey Griffin - Captain Marvel (Marvel Super Heroes), Naare (Star Wars), Wonder Woman (DC Super Hero Girls), Prince Puppycorn (Unikitty!), Fee Bee (Unikitty!)
Tom Kenny - SpongeBob Squarepants (SpongeBob Squarepants), Gary (SpongeBob Squarepants) Nute Gunray (Star Wars), Nahdar Vebb (Star Wars), Doctor Octopus (Marvel Super Heroes)
Brent Miller - Zane (NINJAGO), Ash (NINJAGO), Echo Zane (NINJAGO), Mr. E (NINJAGO), Muzzle (NINJAGO)
Temuera Morrison - Jango Fett (Star Wars), Clone Trooper(s) (Star Wars), Boba Fett (Star Wars), Commander Gree (Star Wars), Captain Jag (Star Wars)
Harry Shearer - Mr Burns (The Simpsons), Waylon Smithers (The Simpsons), Ned Flanders (The Simpsons), Scratchy (The Simpsons), Dr Julius Hibbert (The Simpsons)
Tara Strong - Harley Quinn (DC Super Hero Girls), Poison Ivy (DC Super Hero Girls), Raven (Teen Titans Go), Unikitty (Unikitty!), Kickflip (Unikitty!)
Actors with six minifigures:
Dan Castellaneta - Homer Simpson (The Simpsons), Abraham Simpson (The Simpsons), Groundskeeper Willie (The Simpsons), Krusty the Clown (The Simpsons), Hans Moleman (The Simpsons), Itchy (The Simpsons)
Paul Dobson - Sensei Wu (NINJAGO), Acidicus (NINJAGO), General Kozu (NINJAGO), Ghoultar (NINJAGO), Flintlocke (NINJAGO), Neuro (NINJAGO)
Brian Drummond - Kruncha (NINJAGO), Nuckal (NINJAGO), Axl (Nexo Knights), King Halbert (Nexo Knights), Merlok 2.0 (Nexo Knights), Iron Baron (NINJAGO)
Scott McNeil - Overlord (NINJAGO), Fangpyre (NINJAGO), Clouse (NINJAGO), Karlof (NINJAGO), Djinn Nadakhan (NINJAGO), Chew Toy (NINJAGO)
Scott Shantz - Laval (Legends of Chima), Worriz (Legends of Chima), Skinnet (Legends of Chima), Scolder (Legends of Chima), Razcal (Legends of Chima), Furty (Legends of Chima)
Actors with seven minifigures:
Michael Adamthwaite - Jay Walker (NINJAGO), Frakjaw (NINJAGO), Postman (NINJAGO), Wrayth (NINJAGO), Tai-D (NINJAGO), Wyplash (NINJAGO), Luke Cunningham (NINJAGO)
Vincent Tong - Kai (NINJAGO), Lizaru (NINJAGO), Chokun (NINJAGO), Ray (NINJAGO), Doubloon (NINJAGO), Tidus Stormsurfer (Elves), Jestro (Nexo Knights)
Actors with eight minifigures or more:
Dee Bradley Baker - Momo (Avatar: The Last Airbender), Clone Trooper(s) (Star Wars), Captain Rex (Star Wars), Commander Cody (Star Wars), Commander Fox (Star Wars), Commander Gree (Star Wars), Commander Wolffe (Star Wars), Saesee Tiin (Star Wars), Onaconda Farr (Star Wars), Thi-Sen (Star Wars), Tick Tock Croc (Jake and the Never Land Pirates), Gregor (Star Wars), Sandman (Marvel Super Heroes)