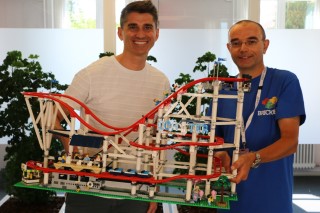 Brickset was invited to interview several LEGO designers during the summer, including Jamie Berard who has created such wonderful sets as 10182 Cafe Corner and 10261 Roller Coaster. In fact, the first part of our interview focuses upon that 4124-piece Fairground set.
Brickset: How did you come to work for LEGO and what is your role within the company now?
Jamie: My name is Jamie Berard and I am a Design Manager Specialist for LEGO Creator, Creator Expert and Architecture so I have two different groups to work with. I have been working for LEGO for around twelve and a half years but am originally from Boston in the United States. My background is as a LEGO fan and that is what got me into the company.
I believe you were among the first AFOL designers. Is that correct?
Yes. I actually wondered whether LEGO had deliberately sought to hire an adult fan when I was chosen but subsequently found that there were many more fans in Billund than I was expecting.
10261 Roller Coaster has proven popular and is the latest addition to the Fairground subtheme. How did the range come about?
I was hired after showing a fairground that I had created for a fan event and many LEGO employees expressed an interest in a large Ferris Wheel that was displayed behind my desk. It was a great conversation-starter and planted the idea that official fairground sets might be appealing. It was only when I had fresh eyes from the design team that they actually looked at it and decided there was some potential so asked me to build something.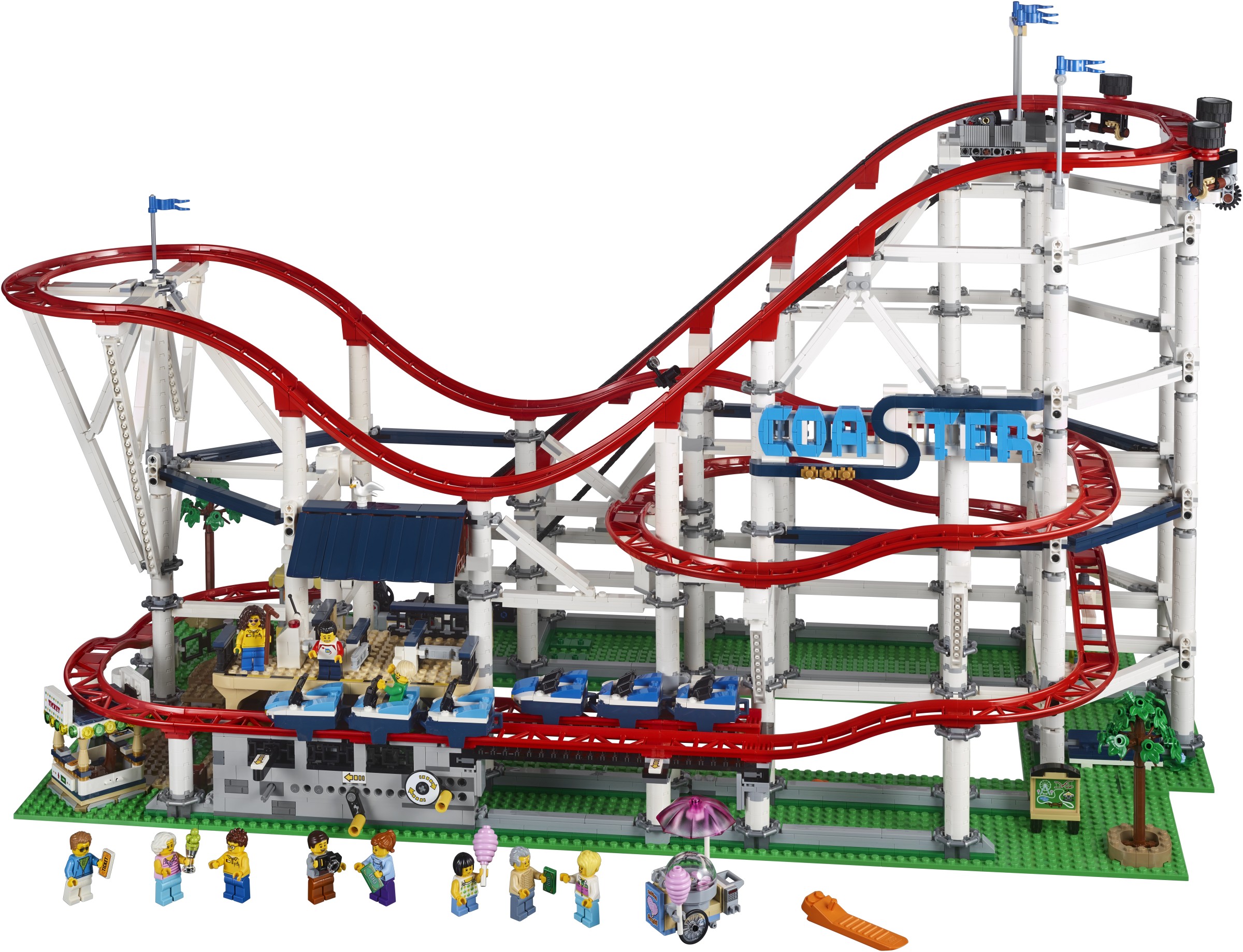 That inspired 10244 Fairground Mixer! The set was very appealing so a lot of people bought into the idea and then asked for more of the same. I laid out the different icons of a fairground and suggested that we could extend this series for several years and that is what we have been doing since.
We first saw pictures of the new roller coaster track with 70922 Joker Manor last year. How did the track come about and was it designed with this set in mind?
Yes, it was created for 10261 Roller Coaster which is supposed to be the flagship for the entire track system. It was only later on that the Batman set came along and we saw an opportunity to use it there as well. LEGO wanted the track system to be flexible enough for kids and understood by them but then also expandable so it would also appeal to adults. For instance, we included the chain lift with our adult fans in mind but that was not actually part of the original idea. During development decided that a roller coaster required a chain lift and that was one of the most challenging parts to develop.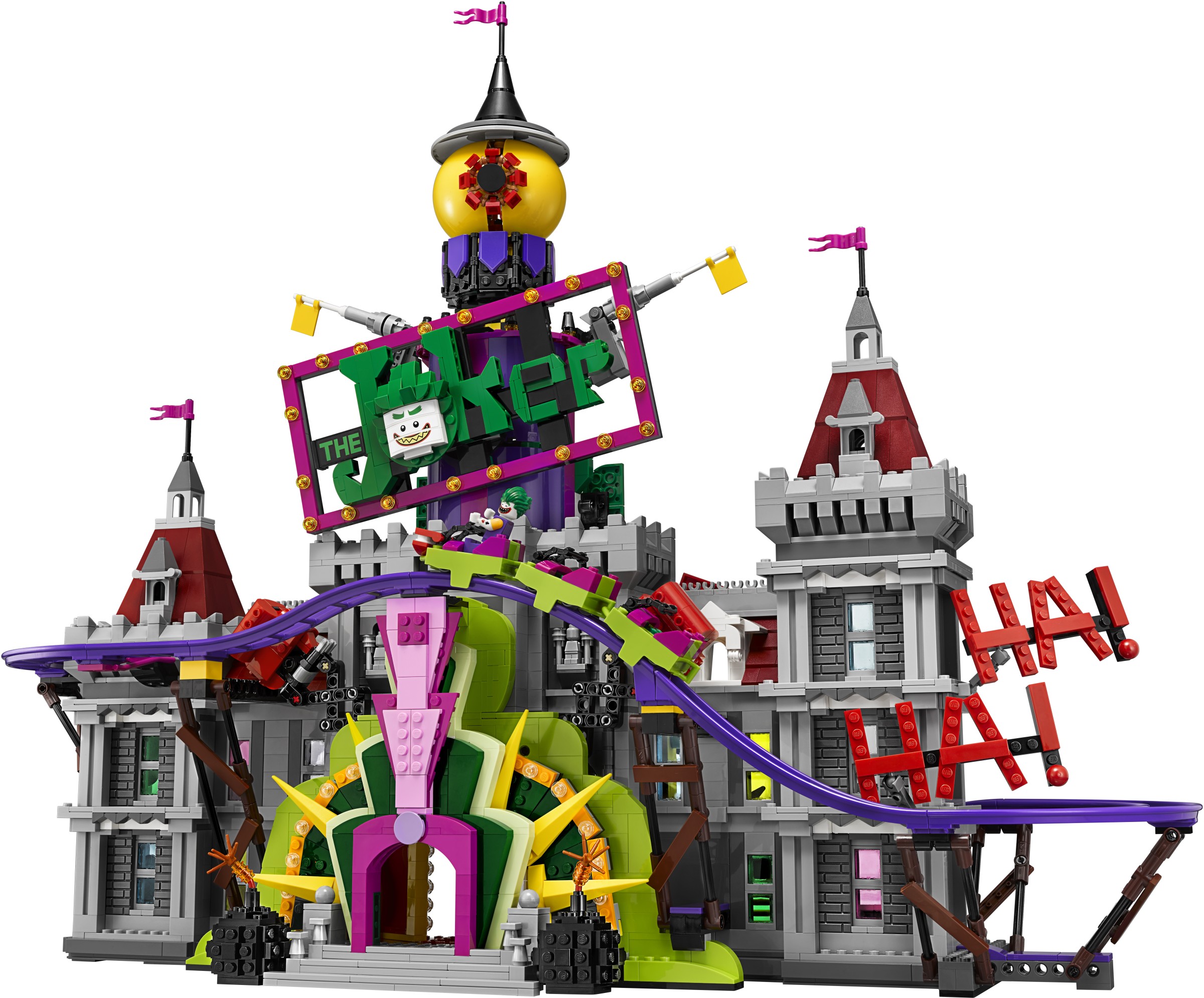 It is a very fine line between the chain grabbing the tabs underneath the roller coaster wagons and the rest of the element. I like how the system can be adapted for multiple users and we did not design this purely for children but they can still understand it with ease. In that respect, the track system has been incredibly successful.
What concessions or design changes did you need to make in relation to the chain lift system?
We ended up using a tab mechanism but stepped away from that several times during development. It is a challenge when you have so many different chain links as there are tolerances and things that add up, plus you need to some flexibility between the wagons because they must be able to twist and turn so you cannot use a normal connector.
For example, the reason we have three cars on it is because the first car wants to pull back when it is going up the hill. The weight of the minifigure, especially those with a heavy hair piece, may cause the car to tip backwards and separate the pin from the chain. However, the weight begins to equalise when you add a second wagon. The third one then balances the entire train so three cars are best because it works well for the lift chain.
Were these the most complicated aspects of designing the model?
Not necessarily, I would also mention how the wagons attach to the track. A gravity driven system can be limiting when you wish to detach the cars from the track as there needs to be a balance between a firm grip on the track and ease of removal. Creating a low friction wheel set that was made of plastic was also quite difficult as we did not want to use metal. Hopefully the final model works perfectly for everyone!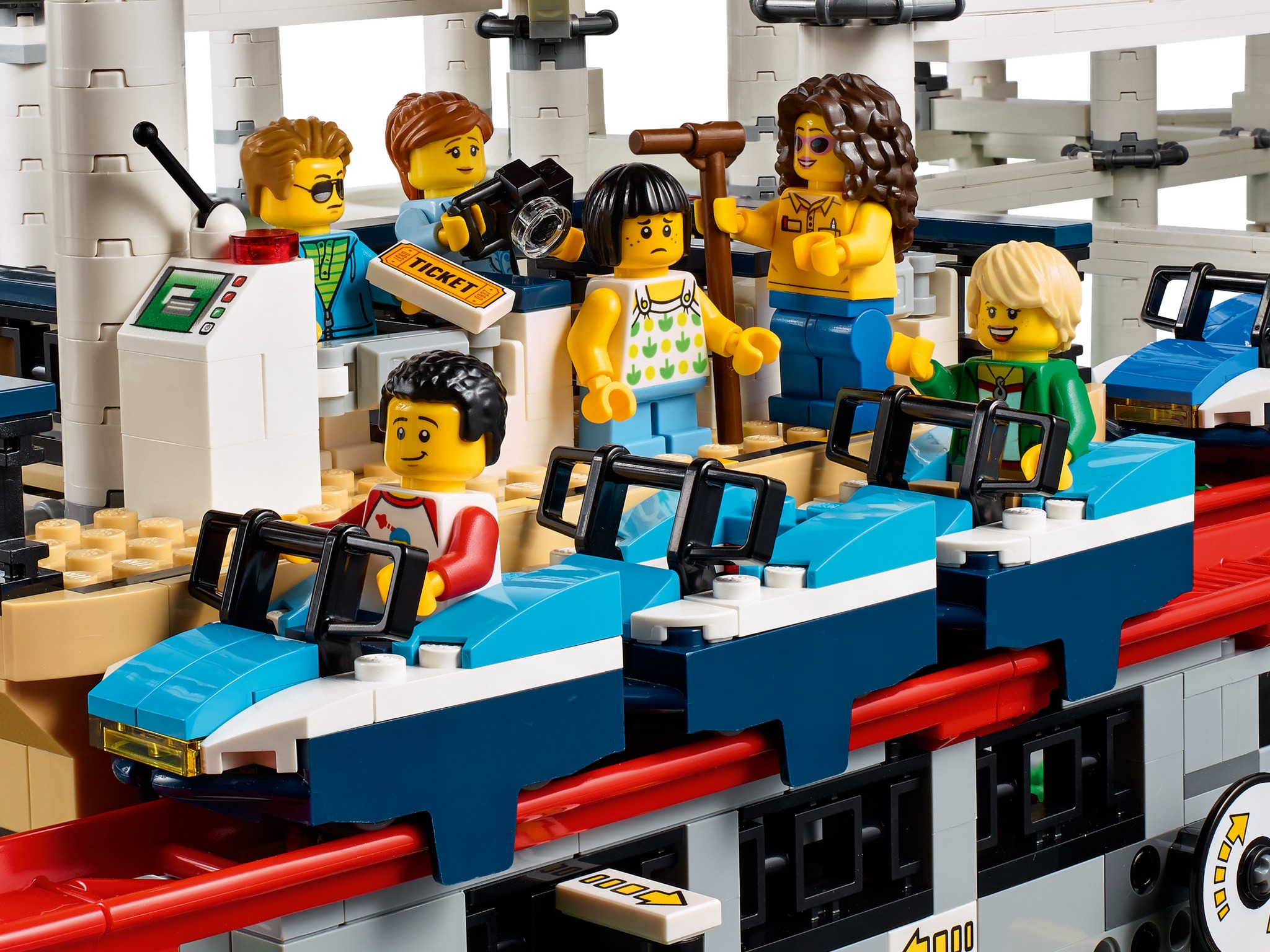 Yes, we think it's fantastic! 10261 Roller Coaster is obviously enormous but is constructed on several relatively small plates rather than large baseplates and this appears to be a consistent trend in recent years. Why is that?
I think there are a couple of reasons, the first being that they are not entirely 'on grid'. They are not truly in the LEGO System because of their height which is not quite a half plate. Furthermore, they are more flexible than standard plates and that can make it difficult to lift large models so if we were to use them, the roller coaster may separate from its base. I think that is because we vacuum form the plates rather than moulding and moulding allows much more control over the clutch power of the studs.
Did you begin designing the track layout before constructing the support structure?
I have previously told everyone that 10234 Sydney Opera House was my most ambitious project but I think this one was definitely more challenging. We were developing a track system while developing a product and trying to incorporate Boost which was also being developed concurrently! For instance, we designed some very different layouts to the final model but we were actually receiving test moulds while considering different layouts.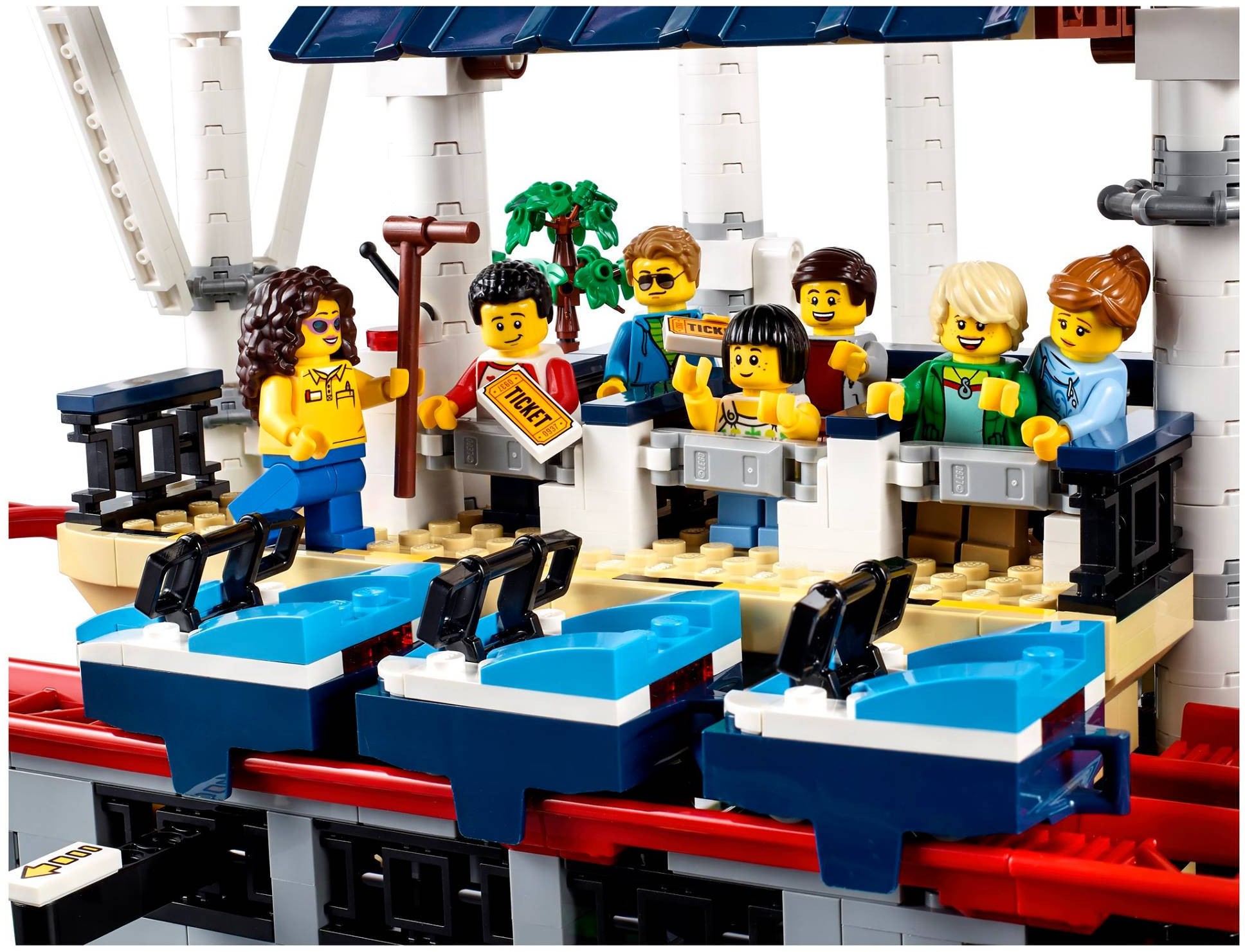 As manufacturing materials changed, we repeatedly discovered that the wagon would not go around any more as different plastic materials behave in different ways. In fact, the cooling of the tracks was particularly difficult as that process sometimes caused the track to warp under certain conditions. On that basis, the entire set was designed simultaneously which is probably why it became so difficult. If the tracks had existed already, that would be much easier!
Presumably you have been working on this set for several years then?
We started designing the tracks in earnest a couple of years ago but conceptually the process has taken a few years ago. It was actually part of an effort to come up with something that would surprise people. After looking at several options, this one was chosen but then we had to think about whether it can be used by all lines. Is it only suitable for roller coasters or can you find other uses for these parts?
We have seen that it can be used for many different purposes.
Exactly. That was certainly our intent and you could actually use these components structurally in other creations.
The clips used throughout the support structure are similarly ingenious, especially around the large curve towards the left of the roller coaster.
Yes, that was created by Robert with support from Mike Psiaki and Carl Merriam. There are different versions of the geometry here with these triangular structures and that suited Mike perfectly as he is a fantastic geometer so it was the best combination. We had some alternative Technic structures too but then Robert created this clever clicking system.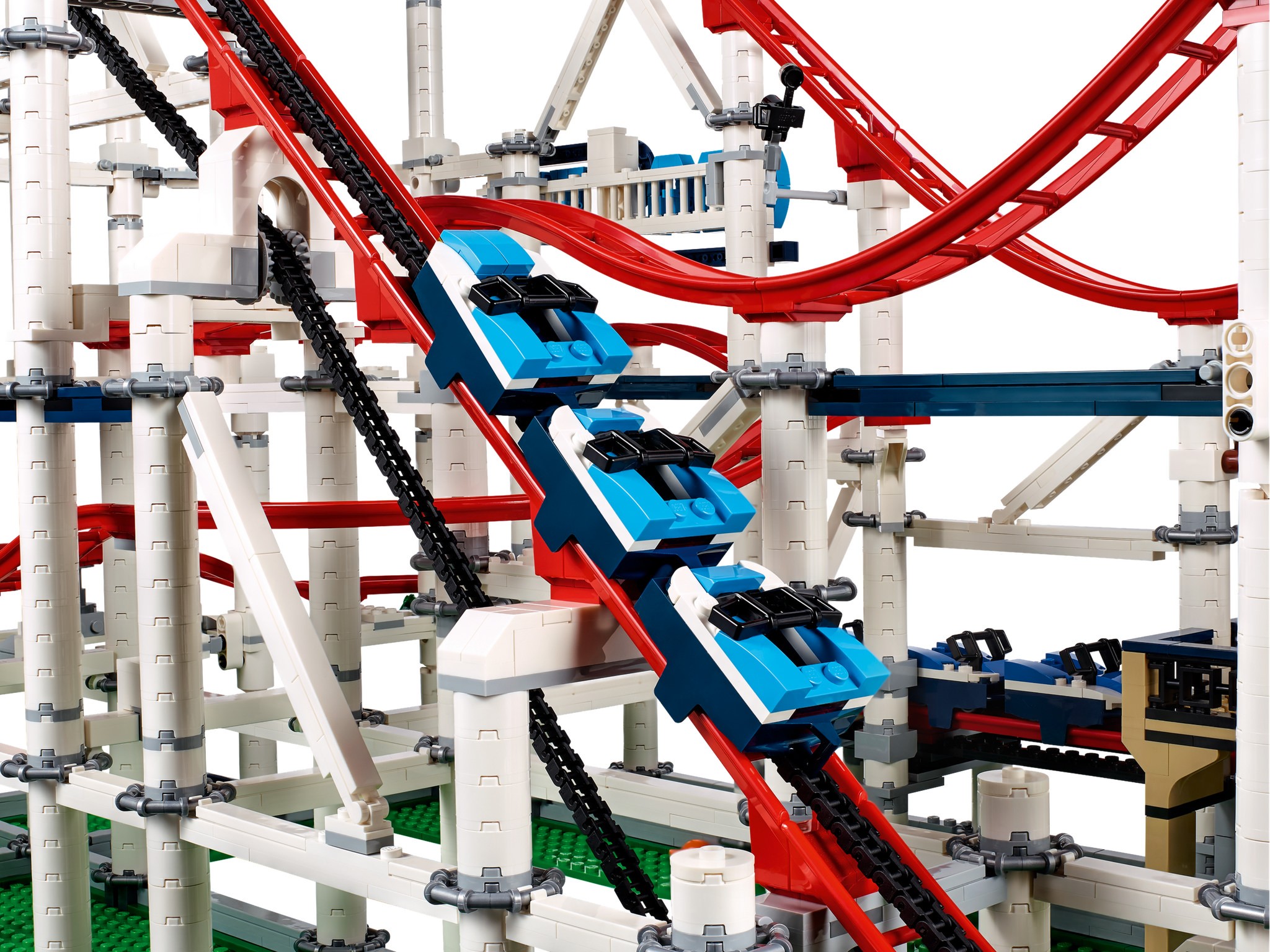 Without that the model would have been extremely fragile.
There would have been a much heavier reliance upon Technic. That was definitely an option and I am not totally adverse to Technic but I think it would have changed the expression. This would have been less of a traditional System model.
We were also impressed by the building experience and how the two halves are constructed separately before being united at the end. How did you decide on the order in which different sections would be built?
LEGO set design incorporates a great process where we can call upon a group of people, known as 'model coaches', to receive their advice concerning the building experience. They commented on the practicality of showing the entire model in the building instructions because that might make the image very small. The model coaches also thought about building space. Most people build on a table which provides a reasonable amount of space, although not enough for the whole roller coaster. Ultimately, we decided to separate the two halves.
That was certainly appreciated. Finally, the model is designed to work with a motor but that motor is not actually included. Why was this decision taken, even if including the motor had meant increasing the price slightly?
I believe we wanted to demonstrate the true flexibility of the set. It can be integrated with Boost, Power Functions or even Mindstorms and older systems of motors. We hoped that this model would appeal to LEGO's adult fan base and wanted to acknowledge an entire range of systems, especially since many adult fans might already own Mindstorms or Power Functions components. Of course, they are also available separately and you could therefore motorise the entire fairground together!
Many thanks for speaking with us!
---
The second part of our interview encompasses Creator Expert as a whole, including the controversial change from the classic smiling face to more expressive designs in the Modular Buildings! That will be published very soon.
Thanks to Alicee for transcribing this interview.