Spider-Man has employed a fantastic arsenal of vehicles across the Marvel Super Heroes theme during the last few years, including helicopters, motorcycles and even a surfboard! However, 76114 Spider-Man's Spider Crawler is perhaps the most intriguing spider-themed vehicle yet.
It takes evident inspiration from the appearance of a spider and has inspired comparison with 70130 Sparratus' Spider Stalker from Legends of Chima. Outlandish vehicles like this one are bound to divide opinion but I think the model looks fun. The villains are equally appealing and this set comes with an exclusive Spider-Man 2099 minifigure, further expanding the roster of LEGO Spider-Verse characters.
Minifigures
Spider-Man has been updated for the latest wave of Marvel Super Heroes sets and now features dual-moulded legs as well as more detailed printing than previous minifigures. I like the new Spider emblem on the hero's chest and his eyes are decorated with metallic silver highlights which look marvellous. In addition, an attractive web pattern covers both sides of the torso and the legs.
View image at flickr
Many different versions of Spider-Man exist across the Marvel Multiverse, among the most popular of whom is Spider-Man 2099. This incarnation of the web-slinging hero originates in the year 2099 and shares many powers with his famed predecessor but wears a distinctive dark blue and red costume which looks extremely intimidating. I love the splattered designs around Spider-Man's eyes and the pale blue highlights look brilliant.
View image at flickr
However, these blue spots are not present on the legs and the arms should have been printed with red stripes to match the comics. A selection of web-based accessories are included for the heroes, ranging from web handcuffs to narrow strands and large web nets. I have not particularly appreciated the other minifigure accessories in Super Heroes sets, such as Power Bursts, but these are excellent.
View image at flickr
Sandman has previously appeared in three LEGO sets but this version is unique, having transformed entirely into his sand form and leaving little evidence of the striped shirt that has become a traditional feature of the character's design. I like the remaining streaks of sand green across both sides of the torso though and the granular texture looks remarkably realistic, especially on Sandman's head.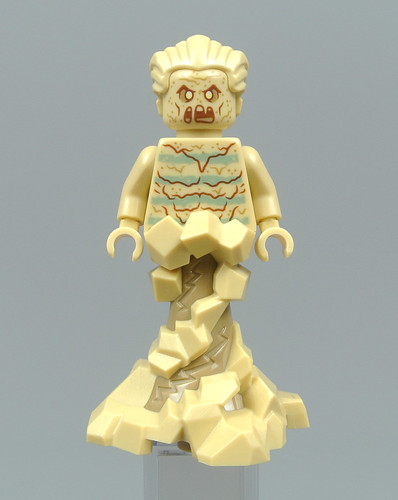 The head is decorated with two different expressions, one of which looks fairly calm while the other is truly monstrous! However, the most distinctive aspect of this minifigure is the swirling tan and dark tan element that forms the lower half of Sandman's body. This was created for the NEXO Knights theme but it works beautifully here. Sandman comes with a tan and dark tan hammer which looks alright, although a weapon that could be closely integrated with his arm would have been even better.
A few different Vulture minifigures have been produced too. He wears a formidable armoured suit in this set and is predominantly dark green which looks slightly more intimidating than the brighter design from 76059 Spider-Man: Doc Ock's Tentacle Trap. The pearl dark grey details are brilliant and I like the bright green collar around the Vulture's neck, corresponding with many of his modern depictions.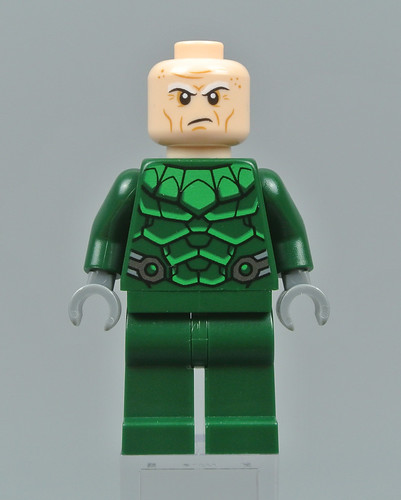 Unfortunately, there is no printing on the arms or legs so the minifigure looks relatively plain in its current form, although that becomes less apparent once the wings are attached. A few liver spots adorn the back of Adrian Toomes' head and his facial expression looks suitably severe. The same design has been used on both previous versions of the Vulture but I think it looks perfect here.
The Completed Model
Vulture's wings more closely resemble the mechanised design from 76083 Beware the Vulture than the feathers in 76059 Spider-Man: Doc Ock's Tentacle Trap. That might disappoint those who prefer earlier incarnations of the villain but I like these wings, particularly since appear smaller and more nimble than those from Spider-Man: Homecoming. The green and dark green colour scheme looks superb and the wings are fairly poseable, allowing Vulture to change direction rapidly during flight.
View image at flickr
Each wing features a printed fan and three stickers are applied on the wingtips, creating an attractive transition between the green and dark green areas. They are individually articulated which is ideal for display and the minifigure can stand without support from its wings as the backpack includes a subtle support underneath. A trans-clear stand would have been welcome but that can easily be constructed separately, if you wish.
Sandman also comes with a separate brick-built structure, expanding the mound of sand on which he stands. The mixture of curved and standard slopes is effective and I like the dark tan highlights among so many tan pieces. These colours correspond with the hammer and the lower half of Sandman's body, as demonstrated below.
Removing the Sandman minifigure from its base allows you to open the mound, revealing two colourful gemstones inside. Using this internal space for storage is clever and a third, trans-bright green, jewel is also included. This is situated underneath a trans-clear dome so presumably originates from a museum which is being robbed by the villains.
View image at flickr
LEGO has produced many different vehicles for Spider-Man and this Spider Crawler is probably the most unusual of them all. Nevertheless, I think the unconventional design of this model is probably its greatest strength, making a change from the motorcycles and cars which have dominated similar Super Heroes sets in the past. The vehicle's red and blue colour scheme looks brilliant and its arachnid shape is very striking.
View image at flickr
Four trans-red 1x1 round plates are fixed to the front of the vehicle, two of which form headlights while those in the centre are stud shooters! These are well hidden and I like the decorative pearl silver fangs underneath. Spider-Man controls the vehicle using two levers and fits neatly behind them, flanked by a pair of stickers that feature web motifs.
View image at flickr
The abdomen section is connected to the rest of the vehicle using two angled Technic connectors. I love the resultant shape and the printed fans on either side of the abdomen look great. Another stud shooter is located here. It can launch tech spiders or webs and there is room to keep a spare spider beside the engine. These were originally created for the NEXO Knights theme but make a welcome return in the new Spider-Man sets.
View image at flickr
I am impressed with the Spider Crawler's core structure but its most important feature are certainly the eight scuttling legs! The entire model is supported by a series of small wheels and a central tyre which is in contact with the ground. Rolling the vehicle across a smooth surface will therefore cause the legs to move, creating a reasonably realistic motion. A similar function appeared in 70708 Hive Crawler but this example works more efficiently.
View image at flickr
The exposed Technic components around the legs would appear out of place on an organic spider but I think they suit this robotic model. Moreover, the legs are individually articulated, despite four of them being joined to a Technic mechanism. While the front and hind legs are connected directly to the wheel underneath the Crawler, those at the centre instead rest on some dark bluish grey linkages and move up and down in conjunction with those pieces.
View image at flickr
Overall
76114 Spider-Man's Spider Crawler really captured my attention when this set was revealed and it has exceeded my expectations. The scuttling Spider Crawler is indisputably quirky but I am delighted with it, especially given the walking function which has been implemented very well. Both versions of Spider-Man are similarly impressive and I am certain that Spider-Man 2099 will be particularly popular.
View image at flickr
However, my favourite aspect of this set are the villains. Sandman and Vulture have both appeared in previous Spider-Man sets but these are my favourite designs for each character. An entirely new villain would have been welcome though and may have elevated this model even further. Nevertheless, I think the price of £34.99 or $39.99 feels reasonable so would recommend adding this set to your collection.
I hope you have found this review informative. Let us know by liking this article and share your thoughts on the set in the comments below.