71023 The LEGO Movie 2 Collectable Minifigures contains several unusual characters who inhabit the energetic Systar System and Harmony Town. They are the subject of this review and include a superb group of minifigures from The Wizard of Oz alongside four colourful musicians and three wearing peculiar costumes!
You can read the first section of our review here or continue reading below for part two...
Minifigures
Costumed minifigures were the focus of 71021 Collectable Minifigures Series 18 so I was surprised to learn that similar characters would appear here. Nevertheless, I am pleased with the Crayon Girl who wears an enormous crayon costume, featuring an attractive purple and lavender colour scheme along with some lovely flower designs on both sides of the figure.
Removing the costume reveals a plain lavender torso with purple hands underneath. Matching colours adorn the dual-moulded legs and the double-sided head includes two different smiles. The expression with closed eyes could prove to be particularly useful as designs like that one are relatively rare, even though almost 11,000 unique minifigures have been produced since 1978!
The creative Crayon Girl carries a simple drawing of a minifigure's head which is printed on a white 2x2 tile. This is a fun accessory and it could be used in many different environments beyond the Collectable Minifigures. I am particularly pleased that the purple sketch matches the girl's costume, suggesting that she has actually drawn it herself using the conical tip above her head!
Giraffe Guy is the latest in a popular series of minifigures wearing animal costumes and this example is among the most impressive such characters! I love the enormous headgear which greatly increases his height beyond standard minifigures and includes tremendous moulded detail, featuring ears, horns and a reddish brown mane down its back. The printed pattern looks great too and I like the bright light yellow base colour.
Two smiles are printed on the head and the patterned coat continues across the entire minifigure, even on the arms! In addition, a pair of dual-moulded bright light yellow and reddish brown legs are included, completing an excellent costumed minifigure that seems likely to prove extremely popular, especially if you enjoyed 71021 Collectable Minifigures Series 18.
A bright green plant is included, consisting of three leaves and a stem. This component was introduced with Neville Longbottom in the Wizarding World Collectable Minifigures series and I hope to see it more frequently in the future as I think this has the potential to be useful for a variety of applications.
View image at flickr
The final costumed minifigure is the Watermelon Dude. This unusual character is dressed as a slice of watermelon which seems odd, although I like the bright colour scheme. The costume is decorated with some black seeds and there is a gap so you can view the double-sided head. Unusually, this includes two identical expressions but one side is wearing sunglasses while the other is not.
A plain green shirt is found underneath the watermelon costume and this features dual-moulded short sleeves. The legs are also dual-moulded with white and pink plastic, complementing the colours of the watermelon slice. I would rather the green triangles on the thighs had been excluded though, leaving a simple combination of white and pink that would look good and could be used more easily elsewhere.
Printed watermelon slices have been available for several years but this element is unique, featuring a pink design. It therefore matches the Watermelon Dude which is fun and I like the tiny seeds printed on this 1x1 quarter circle tile, although the existing red watermelon slice was perfect so an updated version does not seem entirely necessary in my opinion.
View image at flickr
Several villainous characters from The Wizard of Oz appeared in 70917 The Ultimate Batmobile from 2017 but Dorothy Gale and her friends are only available here. This minifigure looks wonderful when compared with the film and wears a blue and white dress with a gingham pattern, the lower section of which is formed using a fabric component. In addition, dual-moulded arms depict short sleeves which are an accurate detail.
However, the most important feature of Dorothy's attire are definitely her famed ruby slippers. These are printed around the feet and really stand out against the rest of the minifigure, as one would hope. The hair piece is made from rubber which is slightly disappointing but it looks superb and the double-sided head features a smile and a worried expression, both of which are perfect for this character.
Toto accompanies Dorothy on her adventures in the Land of Oz so is included with this minifigure. He was depicted as a Cairn Terrier in the movie from 1939 and this component looks perfect in relation to the source material, featuring an accurate dark bluish grey colour scheme along with some lovely light bluish grey highlights. A white version of this dog appeared with the Dog Show Winner in the sixteenth series of Collectable Minifigures and I think both designs look magnificent.
View image at flickr
Three residents of Oz also assist Dorothy on her journey to the Emerald City, including the Cowardly Lion who believes that he requires courage. This minifigure is based upon Bert Lahr's portrayal of the character from the 1939 movie, standing on its hind legs and featuring a textured mane which fits over a standard minifigure head. This looks fantastic when compared with the film and the two expressions capture the lion's personality perfectly.
Medium nougat dominates this minifigure while the head is a brighter shade of nougat, contrasting with the other elements. I like the printed fur on both sides of the torso and the legs while a row of claws are found on each feet. The lion also includes a tail which is made from rubber and slots between the torso and the legs, as demonstrated below.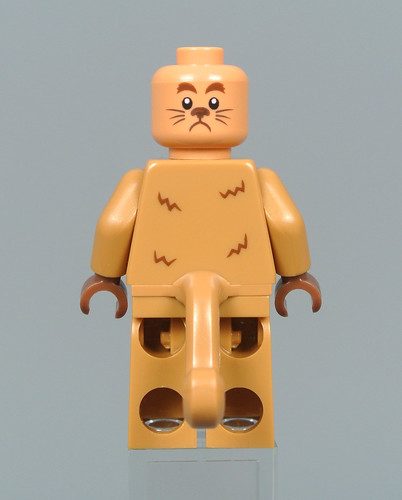 The Cowardly Lion receives a medal to represent courage from the Wizard of Oz and that accessory is included here. It is printed on a trans-clear 1x2 tile and matches the classic film exactly, featuring a red and white striped ribbon along with a metallic gold medallion. A unique element would have been ideal but this is an excellent alternative.
View image at flickr
Tin Man, meanwhile, requires a heart. This minifigure is among my favourites in the entire series and corresponds exactly with the onscreen character, consisting almost entirely of pearl silver parts with a lovely metallic finish. This technique is unusual but it works well here, especially on the torso where a few areas are not covered by the metallic silver printing, giving the impression of subtle scratches.
Another unusual feature appears on the Tin Man's face which includes a nose! LEGO minifigures rarely include noses but I think this example is appropriate as the character's nose appears prominently in the movie. Moreover, he features a brand new funnel-shaped hat and a pearl silver bow tie. Two spare ties are included, presumably because this component is extremely small so could be lost very easily.
Tin Man carries a pearl silver axe on his journey to meet the Wizard of Oz and this accessory is brand new in pearl silver. However, the printed 1x1 heart-shaped tile that represents his ticking heart is more impressive in my opinion. This piece has been created for The LEGO Movie 2: The Second Part and it looks marvellous here, closely resembling the ticking watch that appeared in the original movie.
View image at flickr
Previous series of Collectable Minifigures have included a Scarecrow but this design is unique, taking direct inspiration from 1939's The Wizard of Oz. His dark green attire features some holes which show the straw inside and I like the rags around his neck as well as the rope belt. A few patches are printed on the legs too and these correspond exactly with the film, showing remarkable attention to detail.
I am similarly impressed with the textured detail on the head and this minifigure comes with a new hat, corresponding exactly with the classic film. Choosing one colour for the band around the Scarecrow's hat may have been challenging as the band seems to change for different scenes during the movie, sometimes appearing dark green rather than a sandy colour. Nevertheless, I think medium nougat looks great in this instance.
Scarecrow desperately wants a brain at the beginning of The Wizard of Oz and is eventually given a diploma in the field of Thinkology by the wizard! Its design is not shown clearly in the original movie so the graphic designer has created a certificate of achievement which features an attractive metallic gold design around the edge and a red stamp at the bottom.
View image at flickr
Vitruvius made reference to Wyldstyle's name changes during The LEGO Movie, apparently resulting from insecurities about her own personality. Flashback Lucy suggests that the character was once a pop star who dressed in bright colours and actually created Everything is Awesome, a song that later represents everything that she dislikes about Bricksburg! This minifigure therefore features a singing face along with a smile on its double-sided head.
In addition, Lucy's hair piece remains the same but it now includes some magenta and medium azure streaks, corresponding with the colourful graffiti that appears on other versions of the character. I love this blue attire as well. It is decorated with metallic silver bubbles and definitely seems appropriate for Lucy during her days as a pop singer.
The minifigure comes with a magenta microphone and a printed 2x3 tile, represent a golden record. It would seem that Everything is Awesome achieved impressive sales, hence receiving gold certification. I look forward to learning how this interesting period in Lucy's life will relate to The LEGO Movie 2: The Second Part!
View image at flickr
Three additional musicians complete this series of Collectable Minifigures, residing in Harmony Town. Hula Lula is presumably a tropical singer so wears a garland of pink flowers around her neck and her dress is decorated with matching floral designs which look delightful. The green fabric skirt appears to take inspiration from nature as well, including a tattered edge that loosely resembles foliage.
Lula's lime green hair piece was originally designed for the Diner Waitress from the eleventh series of Collectable Minifigures but it looks fantastic here, including a pink swirl at the front to complement the flowers. The minifigure comes with a magenta microphone and a printed record, the design of which matches Flashback Lucy's golden record so may indicate that this character was also involved in the creation of Everything is Awesome.
Kitty Pop features a similarly bright colour scheme which is dominated by the brand new vibrant coral shade that was only introduced this year. Her face is decorated with whiskers and features a nice smile on one side and a singing expression on the other, corresponding with Flashback Lucy. This hair piece with cat ears has appeared on a few previous occasions and it suits Kitty Pop perfectly, as one would expect.
This minifigure also includes a flexible tail and the feline theme continues on her attire, which features an intricate leopard pattern. I like the short sleeves and the contrasting white highlights look attractive beside the vibrant coral elements. Kitty Pop carries a printed electric guitar featuring tiger stripes and she is also equipped with a magenta microphone.
My favourite of the musicians is Candy Rapper, whose lurid pink colour scheme and tutu reminds me of the excellent N-Pop Girl from The LEGO NINJAGO Movie. The dark pink hair piece includes a pink streak at the front and a metallic silver star is printed on its side. Matching metallic silver stars appear on her dress alongside a series of pink and white strips.
This simple design lines up neatly with the striped tutu and continues on Candy Rapper's dual-moulded legs, creating a minifigure that really stands out, even among the other colourful musicians! Naturally, a magenta microphone is provided with this minifigure and she comes with a printed trans-clear cassette tape as well.
Overall
Outlandish characters are a consistent attribute of the LEGO movies and 71023 The LEGO Movie 2 Collectable Minifigures certainly offers an unusual selection. The four minifigures from The Wizard of Oz, who will reportedly appear in Harmony Town during the movie, received an exceptionally positive reaction when the series was revealed and those minifigures are absolutely outstanding!
View image at flickr
In addition, I appreciate the costumed minifigures and the new versions of familiar characters such as President Business and Abraham Lincoln are wonderful. I am less enamoured with the musicians and would have preferred some alternative characters from Apocalypseburg or the Systar System instead. Nevertheless, this is a thoroughly enjoyable series of Collectable Minifigures on the whole.
I hope you have found this review informative. Let us know by liking this article and share your thoughts on the minifigures in the comments below.
This set was provided for review by The LEGO Group but the review is an expression of my own opinions.