Many vehicles from the Star Wars universe have been subject to multiple LEGO models and Boba Fett's unorthodox craft has returned particularly often. 75243 Slave I - 20th Anniversary Edition is the fourth rendition of the craft at this scale and appears to represent a significant improvement over its varied predecessors.
Moreover, the set includes an exclusive Zuckuss minifigure, thereby completing the famed group of bounty hunters who appear in Star Wars Episode V: The Empire Strikes Back. That is an enticing prospect and this model looks superb, although its price of £109.99 or $119.99 seems rather expensive. On the other hand, the new version does contain 1007 pieces so it should be impressively detailed.
Minifigures
Darth Vader dispatches six bounty hunters to find the Millennium Falcon, the most famous of whom is definitely Boba Fett. This minifigure is similar to that from 75137 Carbon-Freezing Chamber, although the dark green armour on torso seems slightly brighter on this occasion. It looks marvellous and I love the printed legs, featuring flame yellowish orange kneepads and metallic silver spikes on each boot.
Boba Fett wears a sand green jetpack and a corresponding helmet. The latter element features some lovely metallic silver highlights, representing battle damage, while the head underneath was originally designed for Clone Troopers but is equally appropriate for Fett. The bounty hunter's ragged cape has been ingeniously decorated to depict folded fabric and he wields an EE-3 carbine rifle, as usual.
4-LOM originally appeared in 75167 Bounty Hunter Speeder Bike Battle Pack and this minifigure looks fantastic, featuring a unique head component. I like the marbled photoreceptors and the textured detail is thoroughly impressive as well. Pearl silver may not have been the most suitable shade for this piece though as the bounty hunter's head appears darker in images from Star Wars Episode V: The Empire Strikes Back.
The torso and legs, on the other hand, are both superb. Pearl dark grey is a perfect colour choice and the worn paintwork looks remarkably realistic. The metallic silver cables across the torso are excellent while the droid's chest is decorated with a subtle dark red sigil, demonstrating lovely attention to detail. 4-LOM carries a large blaster rifle, loosely resembling his DLT-19 rifle from the movie.
Despite the exceptional design of 4-LOM, his bounty hunting associate is probably the highlight of this entire set. Zuckuss has been notably absent from the LEGO Star Wars range until now and I think the minifigure looks marvellous on the whole, featuring a new Gand head which is accurately moulded with breathing apparatus alongside two bulbous eyes. Recreating his mottled skin would be difficult but I am disappointed with the colour as medium nougat might be more suitable than this nougat shade.
Nevertheless, his dark brown attire is faithful to the source material, incorporating a skirt element which recreates the character's findsman cloak. I like how the printed tubes line up with the mask on Zuckuss' face and creasing is found on both sides of the torso and skirt. The minifigure wields a double-barreled rifle which matches the film almost exactly, despite consisting of two existing parts.
This version of Han Solo lacks the dual-moulded legs which appeared in 75222 Betrayal at Cloud City last year, presumably to preserve the exclusivity of that minifigure. Nevertheless, the holster looks nice and I like the intricately detailed belt which is printed across Han's hips. His jacket is equally appealing, featuring several pockets and stitched designs that reflect his appearance in the movie.
An excellent reddish brown hair piece was created for Han Solo in 2016 and that element returns here. It looks fantastic when compared with the source material and I like this double-sided head, featuring a serious expression on one side and a smile on the other. The minifigure comes with a standard blaster pistol that resembles Han's distinctive DL-44.
Han Solo in Carbonite is also included. This component was introduced in 8097 Slave I from 2010 but looks wonderful, featuring attractive textured detail across the front and metallic silver control panels on both sides. Unfortunately, the carbonite block has not been updated with Han Solo's modern hair piece which is disappointing, although I remain impressed with the differing textures and printed designs.
Each twentieth anniversary set contains a minifigure which takes inspiration from their original design. This version of Princess Leia was available in 7190 Millennium Falcon so features a yellow skin tone, corresponding with the figure from 2000. I am delighted that her classic hair piece has returned, albeit in reddish brown rather than brown, while the head features a single bland expression.
Leia's formal attire appears simple when compared with modern versions of the character, although it matches the classic minifigure and I like the metallic silver belt around her waist. The reverse features the LEGO Star Wars 20th anniversary branding. I can understand why some fans were hoping that no alterations would be made but this design looks attractive. The minifigure wields a classic megaphone blaster.
The Completed Model
Black display stands accompany each twentieth anniversary minifigure and these are attractive in my opinion. The metallic silver branding looks brilliant and each character in the range is clearly identified. Furthermore, you can connect the stands together using a black 2x4 plate which is included, forming a lovely display should you collect all five minifigures.
View image at flickr
Numerous different versions of the Slave I have been produced, ranging in size from miniature Advent Calendar vehicles to the Ultimate Collector Series 75060 Slave I which measures 45cm in length. This example measures 29cm long and features a wingspan of 31cm so appears most comparable to 6209 Slave I and 8097 Slave I from 2006 and 2010 respectively.
Constructing the craft at this scale allows the designer to capture tremendous detail, almost matching the significantly larger version from 2015, while concurrently ensuring that it is a suitable size for play. For instance, this model includes an angled fuselage so corresponds exactly with the movie and feels absolutely rigid. 75060 Slave I is accurately shaped too but is more fragile and intended primarily display.
View image at flickr
The external bodywork features a perfect combination of exposed studs and smooth surfaces along with accurate colours. I think the dark green should probably extend further across each side but the sand green and dark bluish grey details look wonderful. There are no hidden weapons in this section which is disappointing but a Technic core occupies most of the internal space.
View image at flickr
Dark red has been selected for the engine cowling and looks marvellous in my opinion. The shaping is not entirely smooth but might be difficult to improve upon and it takes advantage of some relatively new pieces, incorporating sixteen 3x3 wedge bricks. Moreover, there is room to place Han Solo in Carbonite inside the cargo hold before closing the dark bluish grey access ramp.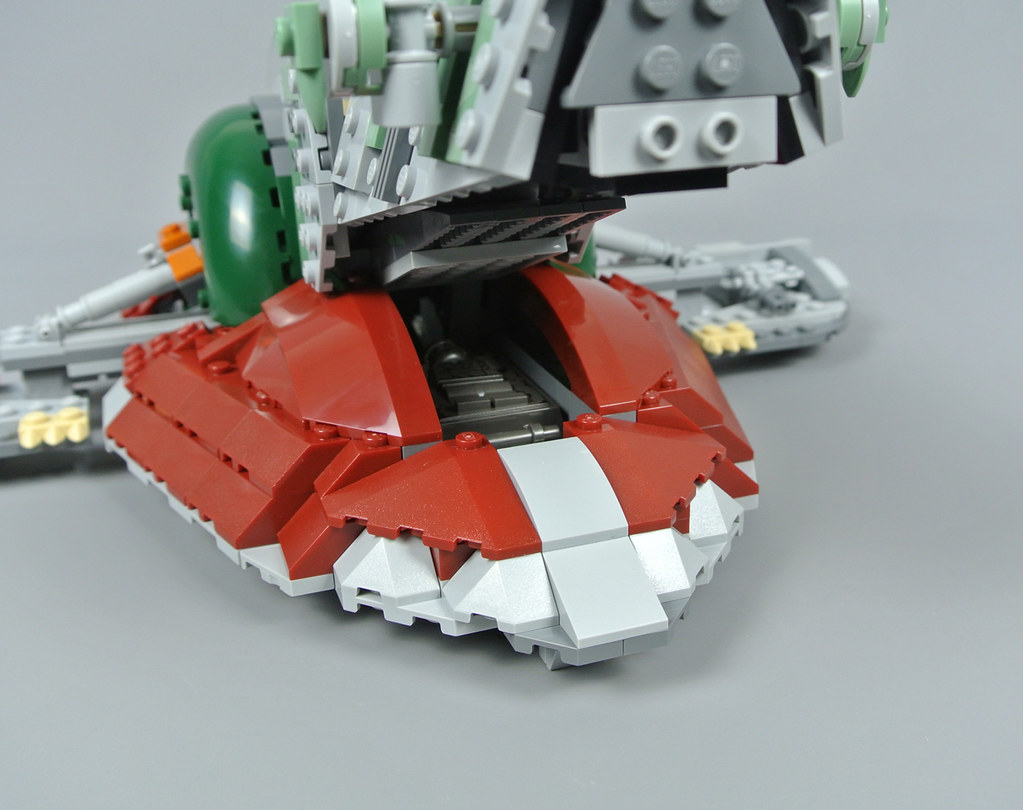 View image at flickr
Stickers have often been needed to create battle wear around the engine housing on previous Slave I models but this example relies entirely upon bricks and the result is impressive. However, two stickers are applied on the exterior, accurately recreating the dark green and grey pattern which appears in the movie. In addition, the twin blaster cannons can rotated independently and they feel robust.
View image at flickr
Two spring-loaded shooters are located beneath the cockpit, replacing the flick-fire missiles and larger missile launchers which have occupied the same space on past sets. A perfectly smooth shape would be more accurate but these missiles look reasonable and the set could be modified to conceal them if you wish. The missiles are activated using red switches above the engines so there is some distance between the triggers and the weapons, although the mechanism works perfectly.
View image at flickr
An enormous trans-clear canopy protects the cockpit and looks similar to a piece which was originally created for 7153 Jango Fett's Slave I from 2002. This design is smaller though and its proportions are more faithful to the source material. Nevertheless, there is plenty of space for Boba Fett inside, with a printed control panel and two stickers surrounding him. These feature a technical readout for the craft alongside a red targeting display, closely resembling that seen during Attack of the Clones.
View image at flickr
The seat is simply assembled using Technic bricks and a couple of 1x2 grille tiles so it appears rather bland. However, this is because the entire chair can rotate when switching between landing and flight configurations! Similar functions have appeared on many Slave I models but this example is probably the most effective, due in part to its independence from the rotating stabiliser fins.
View image at flickr
I am similarly satisfied with their rotation function which works remarkably smoothly. The model cannot stand in flight mode without support but looks imposing in either configuration, as one would expect for a bounty hunter's vehicle. In addition, this rendition of the Slave I feels absolutely rigid which has been an issue on previous models but does not apply here, allowing you to grip it with complete confidence.
View image at flickr
Dark green 6x6x2 arch bricks form the rounded armour plating which shields the stabiliser connection points and the stabiliser fins are secured using Technic axles, enabling them to rotate easily. The dark orange highlights have elicited some discussion as they seem rather bright in relation to the movie but that does not detract from the model. I would change the tan pieces on the stabilisers though as I think bright light yellow might be more suitable.
View image at flickr
The vehicle appears less attractive when viewed from the rear, as one might expect. Even so, several thrusters are included beside some pipework towards the base and the spring-loaded shooter triggers near the top. The designer has also found room for two clips where you can store weapons which is a delightful inclusion. Internal storage might have been preferable but any solution is welcome.
View image at flickr
However, the most notable feature of this section is definitely the Technic carrying handle at its centre. This is linked directly to the Technic frame so it feels incredibly strong and weight is distributed evenly around the handle. Unfortunately, the engine band is therefore divided but I think that is a reasonable compromise as including a carrying handle is very useful, especially for younger children.
View image at flickr
Overall
75060 Slave I remains the definitive rendition of Boba Fett's imposing vessel but this model is similarly exceptional. The vehicle feels extremely sturdy and incorporates some interesting functions while also capturing numerous subtle details. I am particularly impressed with the varied textures on the exterior as these faithfully replicate the worn appearance of the Slave I during The Empire Strikes Back.
View image at flickr
The minifigure selection is fantastic as well. Zuckuss appears certain to prove popular and compares favourably with the source material while 4-LOM is among my favourite Star Wars minifigures. 75243 Slave I - 20th Anniversary Edition is an excellent addition to any collection but the price of £109.99 or $119.99 feels expensive given its size. I would therefore suggest waiting for a discount but would still recommend this set.
I hope you have found this review informative. Let us know by liking this article and share your thoughts on the set in the comments below.
This set was provided for review by The LEGO Group but the review is an expression of my own opinions.