Several vehicles are considered representatives of the Star Wars galaxy and the renowned CR90 Corvette is frequently categorised among these icons. 75244 Tantive IV definitely seems worthy of its popular subject matter and appears more accurate than past renditions, incorporating an exceptional level of detail.
Furthermore, several interesting minifigures are included, the most remarkable of which are probably Bail Organa and an updated version of his adopted daughter, Leia Organa. This set costs £179.99 or $199.99 so the model should be quite substantial and will hopefully improve upon any shortcomings of both 10019 Rebel Blockade Runner and 10198 Tantive IV.
Box and Contents
The packaging for LEGO Star Wars sets has attracted considerable praise during 2019 and this design looks superb, uniting past Ultimate Collector Series models with the current retail assortment. I love the texture along the top and the Tantive IV certainly stands out against the arid surface of Tatooine below. Another image appears on the reverse alongside smaller shots that demonstrate some functions.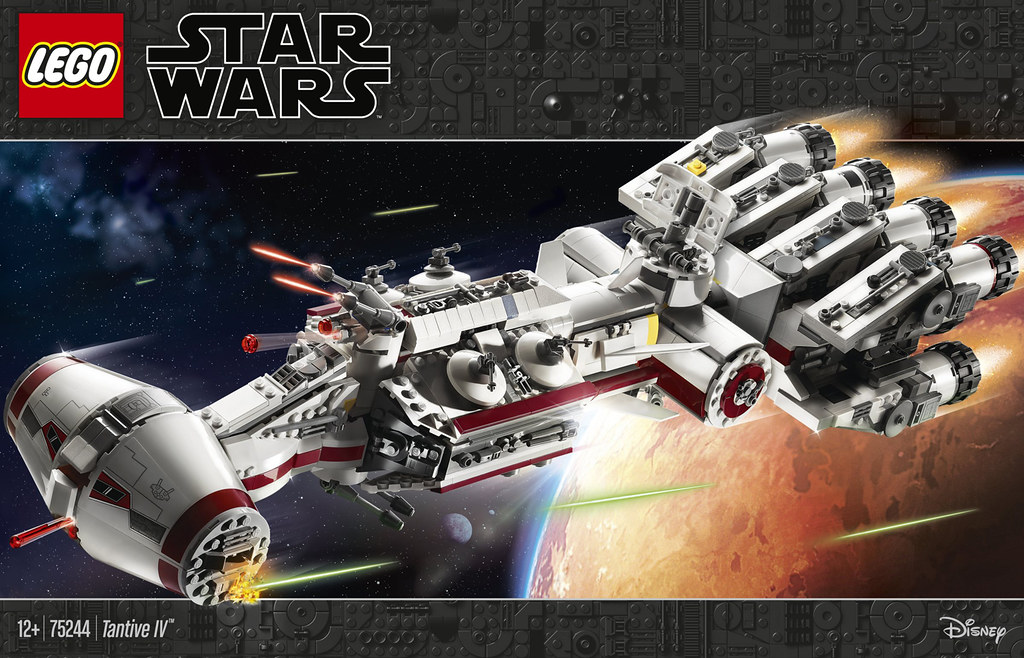 View image at flickr
Opening the box reveals thirteen numbered bags and a single instruction manual, including 260 pages. Short interviews with César Soares and Madison O'Neil, the set designer and graphic designer, occupy the first few pages before construction actually commences. These features are always enjoyable and I appreciate the Tantive IV references images too.
View image at flickr
The set also contains twenty stickers. Printed elements are usually preferable and the cockpit stickers may present a challenge given their curved application surface, although these designs appear faithful to the source material. Moreover, the majority of these stickers represent details that could not actually be constructed at such a small scale.
View image at flickr
Minifigures
Numerous versions of Leia Organa have been produced but those wearing her white gown from Star Wars Episode IV: A New Hope seem particularly popular. This minifigure is unique, featuring a printed skirt component which reflects her onscreen appearance along with a standard pair of white legs that enable her to sit down. The creased fabric looks realistic and matches similar details on the torso, although the latter piece has appeared twice before.
The metallic silver belt looks brilliant and continues onto the back of the torso alongside Leia's folded hood. Her double-sided head captures remarkable personality, including a smile on one side and a determined expression on the other, while her dark brown hair piece is exceptionally detailed. The minifigure wields a pearl silver blaster rifle which is attractive but does not accurately represent her sporting blaster pistol from the film.
LEGO has produced more than a thousand Star Wars minifigures since 1999 but Bail Organa has not appeared before, wearing his attire from Rogue One: A Star Wars Story. This looks appropriate for the Tantive IV but the instructions reveal that consideration was given to a Prequel Trilogy variant instead. Nevertheless, this minifigure is excellent.
The colour scheme is somewhat muted but corresponds with the film and I like the metallic silver belt buckle, featuring the Crest of Alderaan. Bail Organa's head includes two facial expressions along with some simple facial hair and he wears an olive green cape. This is not made from the typical soft fabric which is interesting, although the stiffer material is a reasonable alternative. The minifigure carries a pearl silver blaster pistol.
Captain Raymus Antilles appeared in 10198 Tantive IV and that minifigure has been updated quite significantly for 2019. The tan jacket looks marvellous in relation to the onscreen character and I love the medium nougat highlights around his shoulders. In addition, the jacket features a small command insignia which denotes rank along with some pockets and realistic creasing on the reverse.
View image at flickr
An expressive face appeared on the previous Captain Antilles minifigure, representing the moment of his demise at the hands of Darth Vader. This minifigure includes a similar panicked expression beside another that appears more relaxed. He is accompanied by a Rebel Fleet Trooper who also appeared in 75237 TIE Fighter Attack, wearing the same detailed combat vest with a sand blue shirt underneath.
View image at flickr
Both minifigures include white helmets. These were introduced in 2008 and are ingeniously designed, featuring black visors which connect to each helmet and appear reasonably accurate when compared with the movies. The intricate communication equipment on the left side looks superb and I appreciate the printed chinstraps too. Each minifigure wields a pearl silver blaster rifle.
View image at flickr
C-3PO has become increasingly common during recent years and this minifigure looks great when compared with the movies. I love the colourful powerbus cables across his torso and the intricately detailed plating is wonderful, featuring some lovely shading which creates the illusion of texture. In addition, the droid includes metallic silver printing on his right leg so matches the source material precisely.
Unfortunately, this design does not continue onto Threepio's foot. Using a dual-moulded component would have solved this issue so hopefully that will taken into consideration for future minifigures. The head, on the other hand, looks perfect and I like the yellow circles which highlight each photoreceptor very clearly.
Threepio is almost invariably accompanied by his droid counterpart, R2-D2. This figure has not been altered since 2016 and features some accurate dark blue panels alongside a lavender processor state indicator. However, the dark blue bands around Artoo's domed head are not printed evenly here which is slightly disappointing and printing on the back of the cylindrical body would be a welcome addition.
View image at flickr
The Completed Model
Corellian Corvettes are readily adaptable so numerous variants exist within the Star Wars universe, featuring different armaments and engine capabilities. The famed Tantive IV appears comparatively sleek and this version captures those proportions with outstanding fidelity, representing a departure from previous designs which looked closer to the Tantive III from Star Wars Episode III: Revenge of the Sith.
75244 Tantive IV measures almost 62cm in length so is considerably larger than 10198 Tantive IV, as demonstrated below. The engines and central crew compartment are similar in size but sections of the fuselage have been elongated, especially towards the stern. The resultant craft looks far more accurate than its immediate predecessor and represents an advance over the rendition from 2001 as well in my view.
The model is constructed around a robust Technic frame which runs for almost the whole length of the vehicle. This is vitally important here as the Tantive IV is rather narrow and its substantial weight is not evenly distributed, although the enormous engine assembly feels absolutely secure and looks fantastic when completed.
View image at flickr
Some large cone elements were introduced in 2017 and return here, forming the cockpit module. This shape looks magnificent in relation to the films and I love the dark red highlights, even though they are formed using stickers. The cockpit viewport is very attractive, consisting of two stickers which surround trans-black plates in the centre. These stickers also include deflector shield projectors and the docking signal receiver is an exceptional detail, although there are no docking hatches underneath the cockpit.
View image at flickr
Two seats are located inside the cockpit. These are reasonably detailed and do not obstruct the large helmets worn by the Rebel Fleet Trooper. I like the printed control panels mounted in front of the seats but think they could have been attached more securely as interior space remains available. The vacant archway between the pilots might be improved as well, potentially housing the main computer which is mentioned during Episode IV.
View image at flickr
Spring-loaded shooters are situated beneath the cockpit and these can be activated by pressing two buttons on the underside. The mechanism is hidden quite effectively so its presence does not detract from the appearance of the craft in my opinion. However, the launchers could be removed very easily and replaced with some inverted curved slopes from your own parts collection, if you prefer.
View image at flickr
The fuselage appears incredibly streamlined, incorporating several curved slopes and a beautiful dark red stripe along each flank. Stickers form the rearmost section of the stripes but I think the result looks brilliant. Intricate mechanical details are visible here and its shape is quite faithful to the original vessel, except for the slope between the cockpit module and the primary armaments which is slightly too steep.
View image at flickr
Diplomatic craft are generally outfitted with weapons for defence and the Tantive IV is no exception, including two twin turbolaser turrets alongside four smaller laser cannons. Stud shooters are attached beneath the heavy weaponry on this model which may disappoint those hoping for absolute accuracy, although they do provide some play value. Unfortunately, the stud shooters also hinder rotation of the dorsal turret so you can only direct rearward fire from those underneath the corvette.
View image at flickr
Four additional laser cannons surround the main crew compartment. They rotate on turntables so their motion is not restricted but I appreciate the ratcheted movement of the main turbolaser, ensuring that it will remain firmly in position during flight. I am equally impressed with the mechanical detail along each side of the model, making good use of some inverted studs that generate interesting texture.
View image at flickr
Dark red tiles are placed along either flank and these appear below the fuselage too, along with eight small escape pods. These are actually among my favourite details across the entire set as two escape pods are missing from the port side while one has already been launched on the starboard side. These correspond precisely with the vehicle in Star Wars Episode IV: A New Hope, where the same pod bays are shown to be empty!
View image at flickr
The dorsal armour is only attached using three studs so can be removed with ease, revealing a white conference table with control panels at either end. This takes inspiration from the CR70 Corvette that appears during Revenge of the Sith and offers plenty of space for minifigures. Furthermore, you can store their equipment on clips around the sides of the chamber and a round holographic projector is located in the corner.
View image at flickr
Bright light yellow and sand blue highlights are distributed across the exterior, providing some further detail which looks superb. Unfortunately, the fuselage shape becomes quite complicated towards the rear of the Tantive IV, featuring braces that connect the central crew compartment to the engine block. The designer has attempted to replicate this shape using stabiliser fins and that is somewhat effective, although room for improvement remains.
View image at flickr
Moreover, there is a slight gap between the curved fuselage and the central area. This seems slightly awkward but enables you to remove a section of the armour, revealing storage for additional trans-red missiles inside. Two cylindrical structures are situated on either side and can be disconnected from the model, as exhibited below. These are airlocks on the original craft but form escape pods here, matching 10198 Tantive IV from 2009.
View image at flickr
The uppermost panels can be removed to reveal an exceptionally basic interior. Nevertheless, enough space is provided for two figures, including R2-D2 and C-3PO. These escape pods lack engines which is not surprising given their small scale. However, the vacant Technic pin holes could provide a position to mount engines once the pods have been detached.
View image at flickr
An impressive sensor array is situated near the engines and appears faithful to the movie, although its most important role is actually as a carrying handle for the Tantive IV! This has been cleverly disguised and can be retracted, leaving only the sensor dish and some Technic pieces visible. It feels very sturdy and the model is nicely balanced around this point, tipping only slightly towards the front. Furthermore, the communications array is fitted below the fuselage.
View image at flickr
Eleven ion turbine engines provide power to the vehicle. These are arranged in three layers and look absolutely spectacular in my opinion, closely resembling the enormous structure from the films. I love the exposed mechanical details which are visible from every angle and they are neatly integrated with some stickers. A few gaps are found between the engines, corresponding with their appearance in the films without compromising their stability.
View image at flickr
The engines appear particularly attractive when viewed from above, exhibiting exposed conduits and four printed heat exhaust panels. Light bluish grey paint rollers form the power feed manifold for each engine and another sticker is applied here, replicating a marking which appears on the original studio model. Slight colour variation is also visible as some engines include dark red highlights while others are entirely white and grey.
View image at flickr
Pearl dark grey wheels form the thrust nozzles. Their colour appears considerably lighter in the movie so pearl silver or light bluish grey elements would be more accurate, although I think the darker colour scheme looks quite appealing. Trans-orange 2x2 sliders are placed inside each engine so their shade is certainly appropriate and they stand out against the surrounding muted colours so look fantastic.
View image at flickr
Overall
75244 Tantive IV is an outstanding set. The entire model is extraordinarily detailed and looks almost perfect when compared with its source material, representing a great improvement over past renditions of the Rebel Blockade Runner. I am particularly satisfied with the slender fuselage and the engine block, both of which are ingeniously constructed so feel robust, especially when supported by the carrying handle.
View image at flickr
The only feature that could be significantly enhanced are the curved brace structures towards the rear, although creating a more accurate shape would be extremely difficult without producing new elements or increasing the scale. I think the cockpit could also be more detailed and would have preferred those conical pieces to be printed, despite the excellent design of the existing stickers.
View image at flickr
Nevertheless, the Tantive IV looks marvellous on display and the accompanying minifigure selection is brilliant, lacking only another Rebel Fleet Trooper. I would therefore recommend this set and the price of £179.99 or $199.99 seems quite reasonable when its considerable size is taken into consideration, almost matching 10019 Rebel Blockade Runner in length.
I hope you have found this review informative. Let us know by liking this article and share your opinion of the set in the comments.
This set was provided for review by The LEGO Group but the review is an expression of my own opinions.