10265 Ford Mustang is probably among the most popular sets released during the first half of 2019. Brickset was recently able to meet Mike Psiaki and discuss the latest addition to the Creator Expert vehicles range.
He provided us with fantastic insight surrounding the development of the Ford Mustang, even exhibiting some sketch models which you can view after the break!
Brickset: When did you begin developing a LEGO Ford Mustang?
Mike: The development of a Creator Expert Ford Mustang started during the spring of 2015, shortly after Jamie Berard and I had been working on 10252 Volkswagen Beetle. I built a sketch model that was never actually completed but Corvin Stitchert, a LEGO City designer, was creating his own Ford Mustang concurrently and that was quite helpful.
We initially considered producing the Ford Mustang for the 2017 and 2018 portfolios, although those positions were instead occupied by 10258 London Bus and 10262 James Bond Aston Martin DB5 respectively. A larger version was subsequently designed, matching the scale of the Aston Martin, because our earlier model had not been chosen. Of course, people become less excited as they see the same design on multiple occasions.
What inspired you to design a Ford Mustang?
I am American so was keen that we should design an American car. We have already created Italian, German and British cars and I think the Ford Mustang is the quintessential American vehicle. It is not necessarily the greatest American sports car but has appeared in many films and television series so there was no question regarding which vehicle we should choose.
Of course, that does not exclude the possibility of creating more American cars in the future. We just wanted to commence with what is probably the most famous representative of that entire market.
Several development models were created for this project. What can you tell us about these?
Beginning with Corvin Stitchert's design, this red sketch model is based upon the 1969 Ford Mustang. He constructed this as a fun secondary project so it was not intended to be a final product, although it certainly inspired the completed design.
View image at flickr
I took on the responsibility from there, building a dark green rendition. You can see particular features that appeared here and remained consistent throughout the entire development process, such as the angled hood and the radiator surround. The 2x2 wedge plates are an ideal shape and size so I gave little consideration to using anything else around the radiator.
View image at flickr
Another important feature was introduced at the next stage where I designed the first dark blue model. The bumper here looks quite similar to that found on the finalised set, although there were subsequent changes and I think this version looks quite underwhelming when compared with the final set. However, I was quite happy with the face on the whole so numerous aspects of the design remained intact.
View image at flickr
Adam Grabowski then created the subsequent Ford Mustang. He introduced the curved area beneath each door as my earlier renditions had included some tiles, perhaps representing a supplementary body kit. That design feature was not altered again and you can see how the back was gradually becoming familiar at this stage as well.
Finally, I returned to the project and combined my favourite aspects of each previous model. Hopefully that resulted in the most accurate design possible.View image at flickr
Some of the pieces on these sketch models have been painted. What can you tell us about that?
Not every element is available in every colour so we must frequently use alternative colour schemes when developing new sets. The dark green model, for example, was initially constructed in black and then spray painted in the dark green shade. This can sometimes feel slightly strange but is necessary when developing prototypes. Nevertheless, I had not anticipated that painting would be required when starting my career as a LEGO designer!
Another of these sketch models includes numerous printed parts from a range of sets. Do they represent elements that you wish to be printed on the final product?
Actually, that model was used to test the building experience, before the design was finalised. We look at the length of time it takes to search for certain pieces, hence printed parts were required to replicate the true building experience. Unfortunately, relatively few are available in dark blue so this model looks particularly odd with all those Police curved slopes.
View image at flickr
Adam Grabowski continued work on the Ford Mustang, building this olive green example. Once again, you can start to see familiar features that appear on the final model, the most notable of which here is probably the curvature of the bodywork beneath the doors. Previous renditions had included tiles that resemble additional body kit but the production car includes a smoother shape which was replicated beautifully by Adam.
These models appear in many different colours. How did you decide which colour scheme was most suitable for the final product?
Adam was quite keen that we produce the vehicle in dark green or olive green but I was always more drawn towards dark blue. This colour scheme was popularised by the Ford Shelby GT500 rather than the Ford Mustang but I just think it looks amazing! Moreover, I decided we must include racing stripes and dark blue with white stripes is a particularly prominent design.
Speaking of the Ford Shelby GT500, was this set directly inspired by a particular Ford Mustang or does it combine features of different variants?
There is a Ford Musgang known as the S-Code that provided inspiration for this model. Variants include the GT350 and the GT500 but this example is based upon the standard GT and I think that is among the rarer designs. We chose that because alternative versions, such as the Ford Shelby, lack the pony logo at the front and their tail lights are arranged horizontally. Nevertheless, you can see features of the Shelby in a couple of the development models.
Furthermore, the S-Code Ford Mustang contains an engine named the Big Block 390 which looks really nice. The set is therefore based upon a particular variant of the Ford Mustang, although I am not sure whether this dark blue colour scheme with racing stripes would have been produced in the factory.
The set contains numerous interesting elements. How much freedom do you have to use new pieces in Creator Expert sets?
We certainly have more flexibility regarding new pieces and colours than many other themes. That kind of thing is dictated by the target audience for a particular range and Creator Expert is intended for adults and older children, hence we can develop relatively complicated models. The building complexity and difficulty in searching for particular parts are at the forefront of our minds when designing new Creator Expert sets.
View image at flickr
For this set we created two brand new elements. The first is a 2x8 curved slope that was needed for the doors. I actually cut some 1x10 curved slopes for the development models which is sacrilege, although such sacrifices are sometimes necessary! The second new piece is the wheel hub which features spokes that are intended to resemble the LEGO tooth piece.
10265 Ford Mustang also includes steering. How did you integrate steering on this model?
That was enabled by the new wheel element which leaves enough space for the steering knuckles. We began considering steering while developing the first dark blue sketch model and several methods were considered. It has always been something that we wanted to do but there has not been enough room on previous Creator Expert vehicles.
Originally, the 2x2 round textured brick which activates the rear axle function was connected to the steering but it was difficult to reach that piece and I did not want to extend it as that would potentially spoil the appearance of the vehicle. I was also very keen that the steering wheel should be linked to the wheels. I remember building 10151 Hot Rod as a child and that set included functional steering so I was insistent that the Ford Mustang should contain the same feature.
Why did you choose to include the elevated rear axle function?
That was developed during the early stages of design, before we had considered steering. We thought it would be exciting to include adjustable ride height, thereby enabling the front and rear axles to move independently. When steering came into consideration we debated whether the adjustable ride height or the steering was more important as including both would be impossible.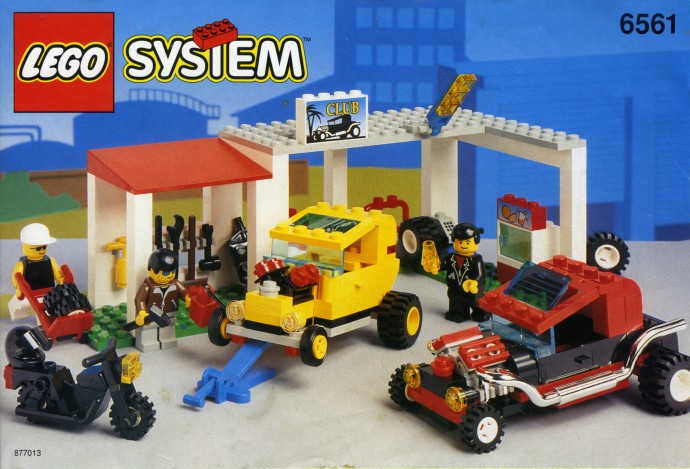 Of course, I subsequently realised that we only needed to incorporate an adjustable rear axle while the steering function was focused around the forward axle. I was certain that we should include adjustable ride height as that reminds me of 6561 Hot Rod Club from 1994 which contains some of my absolute favourite LEGO cars. My idea of a cool car has evidently not changed since then!
During the latter stages of development for this set, did you consider that you had created one of the best LEGO cars ever?
We were not necessarily thinking in those terms but we were definitely very pleased with how it turned out. I do not regret any design decisions when looking at this car which is slightly unusual as there are sometimes areas for improvement which only occur to me afterwards! That might change in the future, of course, as new components are introduced.
The only area which I am not wholly satisfied with, although it would be difficult to improve, are the tail lights. They should be angled slightly and we did consider including that but could not find an effective solution. Instead, we focused upon the rigidity of the model and integrating the adjustable axle feature.
Numerous interesting references are also included. What can you tell us about those?
Yes, there are plenty of fun details. My favourite is probably the license plate which is P51AK2, depicting the successor to P51AK1 which appears in 10252 Volkswagen Beetle! It has also been pointed out that this suggests a connection with the P-51 Mustang aircraft but that was not actually my intention. I only realised after reading comments and reviews online.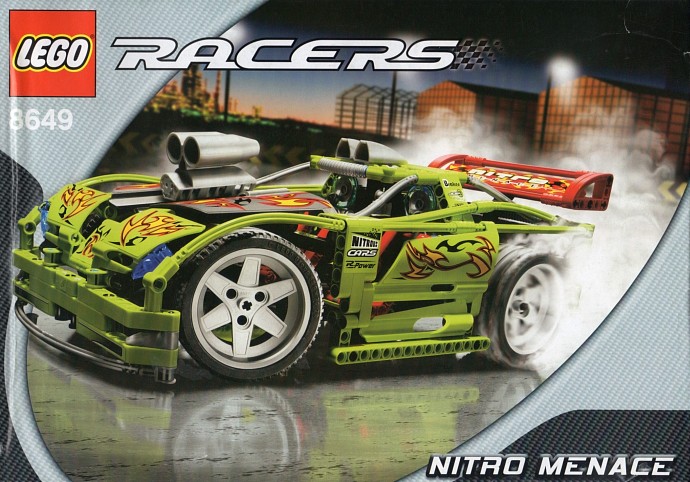 Moreover, the nitrous tank in the trunk is interesting. We needed some bricks to support construction of the radiator section and hoped to use those parts again within the model. I was planning to include a fire extinguisher until the building instructions developer, Anders, suggested a nitrous tank. His initials appear on the tank and I chose to build this in white as a reference to 8469 Nitro Menace, a Racers set from 2005 that also contained a white nitrous tank.
Another potential quality of the Ford Mustang is that its shape seems particularly suitable for LEGO. Are there cars that you think would be notably difficult, or even impossible, to depict?
Some are certainly easier than others! I agree that the Ford Mustang is comparatively appropriate for LEGO, although quality typically comes with time and we certainly took the time to develop and refine this model as much as possible.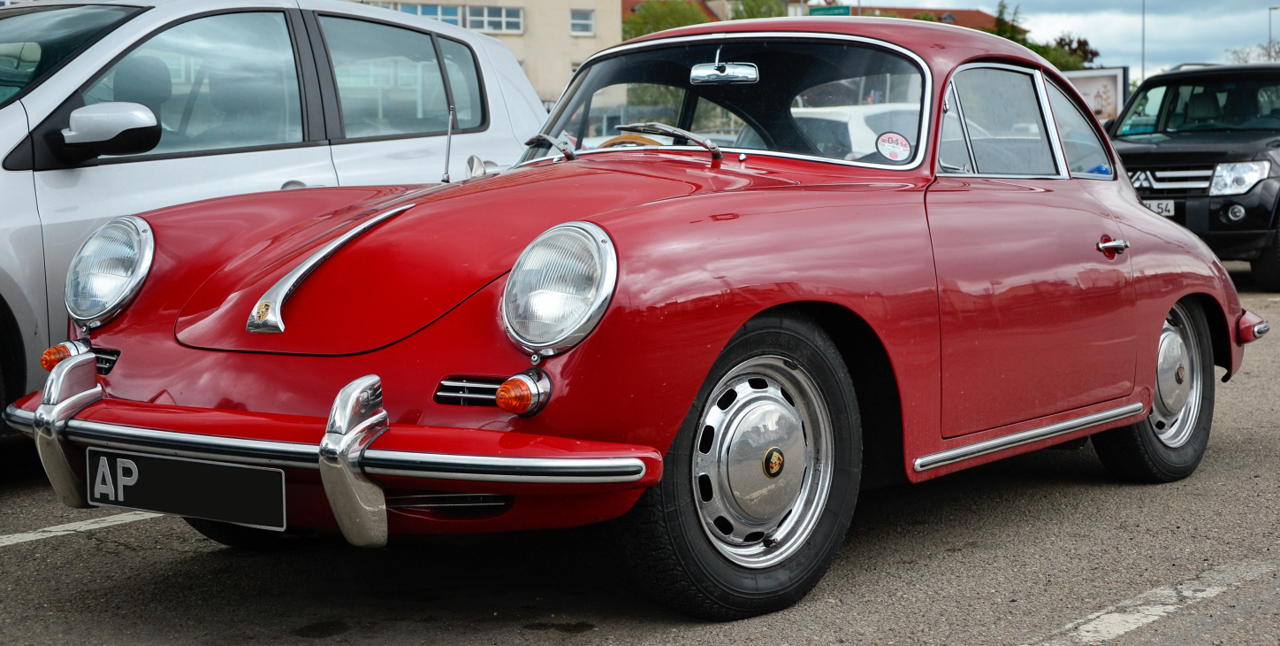 Porsche 356 image from Wikipedia.
However, one vehicle that springs to mind as being particularly challenging would be the Porsche 356. That design is incredibly curvy and those shapes are rather bulbous so it would be difficult to translate that into LEGO. The same comments could be made about the Volkswagen Beetle, although that has certain distinct features which can be replicated. The challenge comes in combining those shapes.
Are there any cars that you would like to design but do not believe you will be able to, perhaps because of licensing challenges?
I am not aware of any license holders that we would not approach but there are some cars which are probably too obscure for an official set. For instance, there is a vehicle known as the Amphicar Model 770. As its name suggests, that was an amphibious car and it looks utterly bizarre. Unfortunately, the chances of an official LEGO Amphicar seem rather slim, simply because of its obscurity!
An important consideration for the Creator Expert vehicles is the target audience. They are effective in recruiting new LEGO fans, perhaps more so than something like a Modular Building which are popular among seasoned fans. For that reason, we usually aim to produce famous cars in the hope of drawing new adults to the LEGO brand.
Many thanks for speaking with us!
---
You can read our full review of 10265 Ford Mustang here.