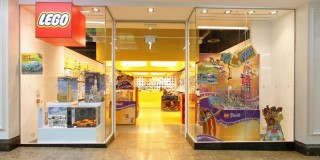 Those of you with long memories may recall that we first posted an article about a brand store opening in Southampton back in 2013.
Unfortunately it did not come to pass at that time but today we have confirmation from the Southern Daily Echo that, finally, it will open its doors in the West Quay centre in the months leading up to Christmas this year. I believe it will be a few doors down from the Apple store.
Why am I reporting on this when shops open elsewhere all the time without mention here? Because it's just 10 miles from Brickset Towers!
A store is also re-opening in Birmingham's Bull Ring, some 12 or so years after the last one there closed. Both malls are owned by Hammerson.
Plus, it seems that the Netherlands is set to get its first stores too, in Amsterdam and Utrecht. The wording of this article suggests they'll be 'under [LEGO's] own management' rather than certified stores. Thanks Google54 for the news.