A few weeks ago, when I reported on Brickworld Chicago, I mentioned that there were several group layouts, but also a first: it was the first time that the members of GayFOLs had an official area at a convention. The builds were imaginative and wonderful, the builders were warm and personable, and the GayFOLs area made for a great addition to the show. But what is GayFOLs, and how did it get to Brickworld Chicago?
Read on to find out how it all started with a rainbow flag…..
A few years ago, an AFOL came out of his dark ages, started building, joined a LUG, and started attending conventions to find fellow LEGO fans. He wondered, "are there others, or is it just me?"
That sounds like most of us, and most of us can find like minded people in a LUG, whether it's online or in person. However, for this AFOL, that wasn't quite enough. This AFOL happens to be gay, and he wondered how many other gay AFOLs there were, or if he was largely on his own. He was only aware of one other gay AFOL in his LUG.
To find out, the AFOL in question, Bruce B. Heller, wore a rainbow flag on his brick badge when he next attended Bricks by the Bay to see what reaction he would get. It didn't take long before Bruce ran into BayLUG members Erez Powell and his then-boyfriend Mike (they married May 2019!), who noticed Bruce's rainbow flag and complimented Bruce on it. For the immediate term, Bruce's search was over - he wasn't alone! The conversation that night included the (then) hypothetical question: "What if there was a community of LGBT AFOLs to connect with?"
With that, the seeds were planted, and with all things it took some time to grow. In the meantime, Bruce created a group on Facebook called "GayFOLs", a playful twist on the word AFOLs. He liked the term, but didn't have a purpose for the group at the time.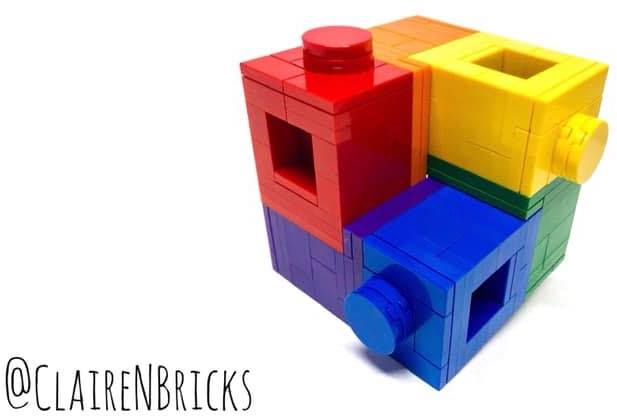 Many of you may know of the Facebook group AFOLs of Facebook. For those who aren't members, it's a group dedicated to AFOLs (of course) who share MOCs, ideas, recent purchases, and so much more. Last June, someone posted a MOC celebrating the start of Pride Month. The ensuing conversation - which was not unlike a recent discussion here on Brickset around a particular brick in a recent Architecture set review - demonstrated the need for LGBTQ+ builders and their allies to have their own space.
Bruce mentioned the existence of the previously unused GayFOLs group, and then things started to take off. Although the group is named GayFOLs, the intent was always for the group to be welcoming and to provide a safe space to a diverse membership: lesbians, gays, bisexuals, transgender, queer, questioning, intersex, non-binary, pansexual, asexual, and allies. The group had almost 50 members within a month, and right now stands at just over 300 members.
The group had the full endorsement of the admins of the AFOLs of Facebook group. Paul Lee, one of the most visible and vocal admins of AFOLs of Facebook, understands the need for GayFOLs, given the experiences of the LGBTQ+ members last year. "Because even to this day, homophobia and bigotry persists." he says. "It is only right that those in the LGTBQ+ community have a place where they can be themselves and be free of the harassment." Paul says that there are those who think the two groups are mutually exclusive. "That's never been the case. We have many, many members in common. I am a member of GayFOLs myself, as an ally. As an admin of AFOLs of FB, I hope that we can one day be a space that is free of harassment for its members as well. We are working towards that goal every day."
GayFOLs had its first informal gathering at Brickworld Chicago last year. The group was small, but there was some brainstorming as to how the group could have a greater presence the following year (2019). This was an aspirational goal as not only would 2019 mark one year for GayFOLs, it was also the 50th anniversary of the Stonewall Riots. What better time for GayFOLs to make its event debut?
Thanks to David Pickett, the other GayFOLs administrator, the group got some dedicated display space at Brickworld Chicago. All members of GayFOLs were invited to display. There was also a GayFOLs mixer, which had over 30 attendees of all ages and LEGO experiences, from well known LEGO veterans to a trans teen and her parents attending their first show.
Then there were the MOCs! In a truly inspired idea for a collaborative build, there were ABC vignettes of memorable LGBTQ+ moments. Here are a couple stretches of the alphabet.
View image at flickr
View image at flickr
View image at flickr
Samuel Hatmaker had some amazing MOCs. Much attention was paid to his Madonna CMF collection.
View image at flickr
Though I think my favourite of his MOCs was this one of Divine. To see more of Samuel's work, you can visit his website.
View image at flickr
I also liked this Lunar Pride Parade. Those members of GayFOLs who couldn't make it to Brickworld Chicago were encouraged to take pictures of their Pride MOCs and send them in. There was a screen set up right above this MOC that had a continuous slideshow of the members of GayFOLs' Pride creations, so there was a Virtual Pride Parade happening right there in the display hall.
View image at flickr
Bruce B. Heller also managed to have a couple MOCs of his own, including the Bullocks Wilshire. You can see more of Bruce's work on his website, or follow him on Instagram.
View image at flickr
There was also a rainbow White House and an Orlando Pulse Memorial.
View image at flickr
View image at flickr
In addition to displaying MOCs and hosting the mixer, GayFOLs also gave out trophies. One trophy (the Inspiration Award) was given to the previously mentioned trans teen, who had some amazing Bionicle MOCs. The GayFOL trophy is on the left - the stack of colourful 2x4 bricks on the black base with the GayFOL brick badge.
View image at flickr
Grace Stemp-Morlock also won a GayFOLs trophy - the Visibility Award - for her incredible and touching "Out of My Head" series, dealing with different aspects of mental health. More of Grace's work can be found here, or you can follow her on Instagram.
View image at flickr
View image at flickr
Interested in joining GayFOLs? It's a closed group on Facebook, which means you can search for it but won't be able to see any content unless you join. When you apply to join, you'll be required to answer a couple straightforward questions before acceptance. GayFOLs welcomes a diverse membership: lesbians, gays, bisexuals, transgender, queer, questioning, intersex, non-binary, pansexual, asexual, and allies. An ally, as the members of GayFOLs defines it, is not just someone whose best friend is gay. An ally is a person who would stand up for people in the LGBTQ+ community, and support their causes.
I'm proud to be a member of GayFOLs as an ally, and I was thrilled to get an GayFOL brick when I attended Brickworld Chicago. I've found GayFOLs to be a warm, welcoming and friendly group.
If you're attending Brickfair this weekend, you can find this out for yourself - there's a members of GayFOLs event scheduled for Thursday. All LGBTQ+ persons and allies are welcome. The theme - EveryFOL is awesome.
That's a sentiment on which I think we can all agree!