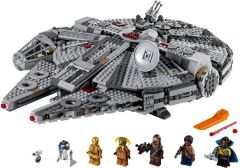 Triple Force Friday has arrived, heralding the release of various new Star Wars sets! Some fantastic promotions have also commenced, including double VIP points and 40362 Battle of Endor which is available with Star Wars purchases exceeding £75, $75 or €75. Many of last year's Star Wars sets are discounted by as much as 20% too.
Furthermore, six Frozen II sets have been launched, following their official announcement yesterday at Frozen Fan Fest.
Please consider using these links when making any purchases:
Our reviews of the new Star Wars sets will continue shortly.