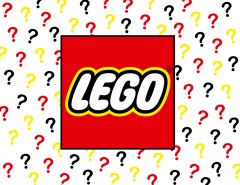 Various trivia challenges have been published during 2019, asking questions about numerous themes. Our brand new challenge is slightly more cryptic, encompassing the entire LEGO range!
We have prepared ten LEGO riddles which describe certain sets. Solving each riddle will produce ten set numbers and adding those numbers together will reveal a six digit code.
The answers are all in the Brickset database: all you need to do is search and find them!
LEGO and Mischief PR have kindly provided three prizes for this competition, including 70418 J.B.'s Ghost Lab, 70825 Queen Watevra's Build Whatever Box! and 75249 Resistance Y-wing Starfighter. These will be awarded to three winners, chosen at random from among those who submit the correct answer.
Example Question
For instance, the following riddle describes 9464 The Vampyre Hearse:
Hearse pursued by Rodney Rathbone, Vampyre on board with red moonstone.
You would therefore include the number 9464 when totalling your answers. However, please only include answers to the next ten riddles. This example answer is excluded.
---
The Riddles
Please solve the following ten riddles:
Modular set from renowned theme, with splendid sand green colour scheme.
Blue and grey with crater baseplate, its famous number ends with an eight.
Two decade set with Vader's debut, back again in two thousand and two.
One design for the Dark Knight's cave, where Bane and Ivy misbehave.
Ancient temple of Egyptian design, Hotep protects Anubis' shrine.
Forest bandits defend their keep, surrounded by this river deep.
Heartlake stay in twenty fifteen, grandiose scale was unforeseen.
Thunder arrives with hornet shades, accompanied by whirling blades.
Colourful stripes adorn this train, almost unmatched and released again.
Choral set with Technic complexion, its bulldog mascot deserving mention.
---
Add those ten set numbers together, perhaps using a spreadsheet, before submitting the resultant six digit code using the form below.
Email addresses will only be used to contact the winners and all data will be deleted after the contest has expired.
Three winners will be chosen at random from among those who submitted the correct six digit code and this contest will close at 23:59 GMT on the 6th of November so please submit your entries before then.
Please do not reveal the answers in the comments. Doing so will reduce your chances of winning!
Good luck!