San Diego Comic Con is in full flow, so here's a roundup of what has been going on:
The official event schedules for Wednesday, Thursday and Friday are below, click for larger versions.
Below are the minifigures which are being given away to the lucky few:
In terms of other exclusives, there are two available (or not as the case may be!) for sale, a Mini Jek-14 Stealth Starfighter and a Microscale Bag End!
UPDATE: Ace has posted on FBTB that a new distribution method is going to be implemented Friday:
"LEGO and the show management have come up with a new plan on how to distribute the tickets for the minifigure giveaway for tomorrow's Amazing Spider-Man. If this method is successful, it will be the method used for Saturday's Black Suit Superman and Sunday's Green Arrow minifigs as well.
The tickets will be distributed on the West Terrace starting at 11:30am. It will be in the same area as the Warner Bros. promotion, so once they are done with that, you'll be able to start lining up. The West Terrace is on the upper level of the convention center. Check out the first map and zoom in to know exactly where to go. There will be a big sign that says LEGO once its time to start getting in line or distributing the tickets. It is still unknown on what LEGO will do with the remaining Spider-Woman tickets, but for sure tomorrow is Spider-Man. Once you receive your ticket, check online at LEGOraffle.com starting at 3:30pm to see if you've won or at the LEGO booth starting at 4:00. If you have a winning ticket, redemption will take place at the LEGO booth."
The minifigure giveaways have been nothing short of chaos, according to FBTB: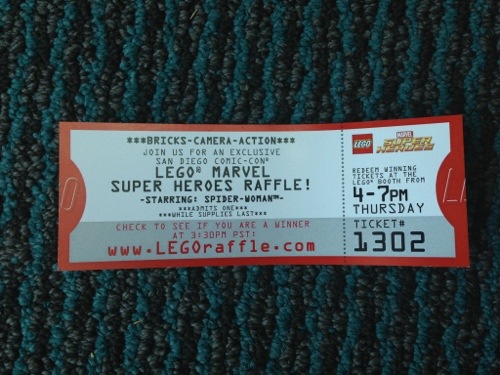 "Today's minifigure giveaway went, to put it very mildly, badly. So badly in fact that we may have shot another video during the experience. It was scheduled for 11:30 but the booth was so overpacked with people that they were forced to start early at 11:00 to try and alleviate the crowd. They skipped badge scanning and just handed out tickets, like the one above.
However, after about 20 minutes security came down on the booth hard. They shut down the booth and kicked everyone out that wasn't an employee of LEGO and effectively cancelled any more ticket giveaway.
So,what about the leftover undistributed tickets? Here's what's going to happen: tomorrow they will be distributing two tickets now instead of one for both the Spider-Woman and Amazing Spider-Man minifigs. Winners will still be posted on the LEGOraffle.com site. That ticket giveaway is still scheduled for 11:30 but unless they drastically change something they will have the same exact issue of overcrowding. There may not have been a line but people were hanging out until the distribution started since I'm guessing 10:00 or 10:30."
Sorry that this update is rather brief, I hope it has at least kept you in the loop of what's going on. As usual, there is a thriving discussion in the forum.
Sponsored content