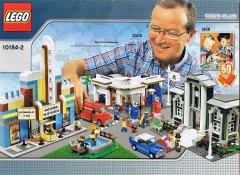 Inventory for 10184-1: Town Plan
This set inventory has been obtained from LEGO Customer Services replacement parts page.
Important note: We do not control this inventory and cannot currently make changes to it. Use it as a guide to the contents of the set, or to find out part numbers when requesting replacements.
Download the inventory as a CSV file »
View the Rebrickable.com inventory for this set »
View the inventory at BrickLink.com »
Element
Image
Qty
Colour
Category
Design
Element name
Element
in sets
Element
introduced in
Design
in sets
Design
introduced in
9339
1
Black
System
73200
Mini Body Lower Part Black
805
1991
4112
1991
73587
3
Black
System
73587
Mini Antenna Ass.Bla/Bla
161
1994
1067
1991
241226
2
Black
System
2412
Radiator Grille 1X2
702
1991
3613
1991
242026
4
Black
System
2420
Corner Plate 1X2X2
440
1991
2491
1991
243626
1
Black
System
2436
Angle Plate 1X2/1X4
154
1992
432
1992
249626
2
Black
System
2496
Wheel Axle Ø8.2/Ø1.9
245
1992
262
1992
255526
9
Black
System
2555
Plate 1X1 W. Up Right Holder
360
1992
1018
1992
300426
2
Black
System
3004
Brick 1X2
784
1991
6938
1986
302026
1
Black
System
3020
Plate 2X4
1051
1991
7172
1980
302226
7
Black
System
3022
Plate 2X2
1007
1986
6599
1986
302826
2
Black
System
3028
Plate 6X12
87
1994
438
1994
306226
1
Black
System
3062
Round Brick 1X1
421
1980
3033
1980
379526
1
Black
System
3795
Plate 2X6
768
1994
4531
1980
395726
2
Black
System
3957
Whip/Aerial
261
1994
829
1992
400626
1
Black
System
4006
Screwdriver/Spanner
269
1994
297
1994
403226
2
Black
System
4032
Plate 2X2 Round
514
1994
2802
1992
407026
6
Black
System
4070
Angular Brick 1X1
349
1994
1890
1991
434926
1
Black
System
4349
Megaphone
180
1994
327
1994
452226
1
Black
System
4522
Hammer
159
1994
159
1994
459926
7
Black
System
4599
Tap Ø4.9/6.4
244
1996
916
1993
474026
4
Black
System
4740
Parabola Ø16
246
1996
1024
1994
601526
4
Black
System
6015
Tyre Normal Wide Ø21 X 12
203
1992
203
1992
609126
4
Black
System
6091
Brick W. Arch 1X1X1 1/3
124
1996
1330
1992
609326
1
Black
System
6093
Wig, Ponytail
70
1992
138
1992
614126
16
Black
System
6141
Round Plate 1X1
800
1991
5381
1990
614326
2
Black
System
6143
Brick Ø16 W. Cross
259
1994
1792
1993
615726
2
Black
System
6157
Bearing Element 2X2 2/3
265
1994
405
1994
4105175
1
Black
System
3878
Top Hat - Mini Figure
76
1996
79
1996
4109714
2
Black
System
76064
String With Knobs 10 M
51
1997
51
1997
4140303
2
Black
System
30374
Light Sword - Blade
153
2000
907
1999
4143199
1
Black
System
6246
Tool Wheel
39
1999
41
1999
4162443
1
Black
System
30414
Brick 1X4 W. 4 Knobs
192
2001
1146
2000
4181144
1
Black
System
44237
Brick 2X6
183
1994
1310
1994
4183043
4
Black
System
44301
Plate 1X2 W/Stub Vertical/End
124
2003
424
2003
4185620
1
Black
System
44567
Plate 1X2 W. Stub/Vertical
100
2004
422
2003
4214559
11
Black
System
47905
Brick 1X1 W. 2 Knobs
92
2004
354
2004
4223247
18
Black
System
30377
Space Skeleton Arm
152
2004
420
1999
4225201
6
Black
System
48336
Plate 1X2 W. Stick 3.18
429
2004
1500
2004
4253815
2
Black
System
52107
Brick 1X2 W. Four Knobs
152
2005
285
2005
4262023
1
Black
System
4208
Hose Drum
16
2005
16
2005
4275341
1
Black
System
76382
Mini Upper Part "No. 1190"
4
2007
6115
1993
4275535
1
Black
System
76382
Mini Upper Part "No. 1192"
16
2006
6115
1993
4500572
1
Black
System
58558
String Pp 1.3Ø 0.30M Black
5
2007
5
2007
4504382
4
Black
System
54200
Roof Tile 1X1X2/3, Abs
507
2006
3690
2005
4530589
8
Black
System
60594
Frame 1X4X3
67
2007
274
2007
4535834
9
Black
System
60596
Frame 1X4X6
130
1998
389
1998
4578677
6
Black
System
87414
Tyre High Narrow Ø15 X 6
110
2008
110
2008
4617860
3
Black
System
92538
Brick 2X10
60
1998
283
1994
4656764
1
Black
System
30029
Chassis 4X10 W. Bot. 2X4
54
2003
75
1996
6038453
4
Black
System
6266
Skeleton, Leg
35
2005
151
1997
6081988
4
Black
System
18274
Stick 6M W/Flange
175
2006
420
2006
4116941
4
Black
Technic
76302
Outer Cable 80Mm
15
1998
17
1998
4109995
2
Brick Yellow
System
3004
Brick 1X2
345
1998
6938
1986
4112982
2
Brick Yellow
System
3009
Brick 1X6
149
1998
2700
1991
4113916
3
Brick Yellow
System
3010
Brick 1X4
214
1998
4448
1991
4113917
4
Brick Yellow
System
3023
Plate 1X2
496
1998
9342
1981
4113993
1
Brick Yellow
System
3795
Plate 2X6
213
1998
4531
1980
4114001
4
Brick Yellow
System
3032
Plate 4X6
151
1998
1877
1991
4114026
11
Brick Yellow
System
3069
Flat Tile 1X2
232
1998
4883
1991
4114064
2
Brick Yellow
System
2454
Brick 1X2X5
98
1998
647
1992
4114084
2
Brick Yellow
System
3022
Plate 2X2
334
1998
6599
1986
4114306
1
Brick Yellow
System
3003
Brick 2X2
223
1998
4787
1986
4114319
1
Brick Yellow
System
3001
Brick 2X4
194
1998
4346
1991
4125220
2
Brick Yellow
System
6143
Brick Ø16 W. Cross
75
1999
1792
1993
4125253
2
Brick Yellow
System
3070
Flat Tile 1X1
126
1999
2172
1994
4141533
2
Brick Yellow
System
3007
Brick 2X8
20
2000
418
1995
4157277
12
Brick Yellow
System
6636
Flat Tile 1X6
91
2001
2247
1996
4159279
4
Brick Yellow
System
3245
Brick 1X2X2
82
2001
772
1997
4162465
4
Brick Yellow
System
3622
Brick 1X3
141
2001
2590
1992
4185177
6
Brick Yellow
System
3068
Flat Tile 2X2
156
2001
3259
1993
4218749
1
Brick Yellow
System
30136
Palisade Brick 1X2
90
2003
813
1996
4273526
9
Brick Yellow
System
6091
Brick W. Arch 1X1X1 1/3
61
1999
1330
1992
4278046
3
Brick Yellow
System
44728
Angle Plate 1X2 / 2X2
14
2006
368
2002
6021208
1
Brick Yellow
System
2432
Clamp 1X2
36
1999
1436
1992
9341
1
Bright Blue
System
73200
Mini Body Lowerpart Blue
426
1992
4112
1991
9566
1
Bright Blue
System
73081
Console W/St.Wheel B/Bla
186
1994
1050
1992
70904
1
Bright Blue
System
70904
V-Belt Ø26, Blue
57
1990
57
1990
242023
6
Bright Blue
System
2420
Corner Plate 1X2X2
124
1995
2491
1991
243123
2
Bright Blue
System
2431
Flat Tile 1X4
166
1992
3703
1991
300323
2
Bright Blue
System
3003
Brick 2X2
365
1993
4787
1986
302023
1
Bright Blue
System
3020
Plate 2X4
415
1990
7172
1980
302223
6
Bright Blue
System
3022
Plate 2X2
425
1992
6599
1986
302323
1
Bright Blue
System
3023
Plate 1X2
501
1992
9342
1981
302423
1
Bright Blue
System
3024
Plate 1X1
133
1992
3580
1986
306223
4
Bright Blue
System
3062
Round Brick 1X1
98
1994
3033
1980
306923
3
Bright Blue
System
3069
Flat Tile 1X2
205
1992
4883
1991
362323
2
Bright Blue
System
3623
Plate 1X3
145
1992
3443
1981
366623
2
Bright Blue
System
3666
Plate 1X6
221
1992
4187
1991
371023
9
Bright Blue
System
3710
Plate 1X4
387
1992
6762
1981
379423
2
Bright Blue
System
3794
Plate 1X2 W. 1 Knob
126
1994
2259
1991
407023
2
Bright Blue
System
4070
Angular Brick 1X1
95
1994
1890
1991
459923
2
Bright Blue
System
4599
Tap Ø4.9/6.4
53
1996
916
1993
486523
4
Bright Blue
System
4865
Wall Element 1X2X1
36
1992
852
1992
614123
4
Bright Blue
System
6141
Round Plate 1X1
202
1994
5381
1990
614323
2
Bright Blue
System
6143
Brick Ø16 W. Cross
69
1997
1792
1993
4118785
2
Bright Blue
System
6636
Flat Tile 1X6
80
1998
2247
1996
4140586
2
Bright Blue
System
2540
Plate 1X2 W. Stick
76
1998
1646
1992
4174743
1
Bright Blue
System
3624
Mini Cap
24
2002
171
1991
4189120
2
Bright Blue
System
2436
Angle Plate 1X2/1X4
32
2003
432
1992
4206330
2
Bright Blue
System
3070
Flat Tile 1X1
90
1995
2172
1994
4275827
2
Bright Blue
System
76382
Mini Upper Part "No. 1156"
14
2001
6115
1993
4296152
1
Bright Blue
System
73587
Mini Antenna Blue/Black
74
2003
1067
1991
4496119
9
Bright Blue
System
2498
Brush Ø24X18.2
5
2005
5
2005
4504380
2
Bright Blue
System
54200
Roof Tile 1X1X2/3, Abs
114
2006
3690
2005
4505907
2
Bright Blue
System
44728
Angle Plate 1X2 / 2X2
11
2007
368
2002
4567909
1
Bright Blue
System
86035
Mini U.S. Cap
52
1998
209
1998
4107050
1
Bright Green
System
33051
Apple With Leaf
81
1997
142
1997
4216375
1
Bright Purple
System
3742
Flowerhead
40
2004
190
1992
235721
2
Bright Red
System
2357
Brick Corner 1X2X2
115
1994
1401
1994
242021
4
Bright Red
System
2420
Corner Plate 1X2X2
200
1994
2491
1991
243621
1
Bright Red
System
2436
Angle Plate 1X2/1X4
66
1994
432
1992
246021
2
Bright Red
System
2460
Plate 2X2 W. Vertical Snap
66
1993
587
1991
249521
1
Bright Red
System
2495
Sack Truck
48
1992
50
1992
300121
1
Bright Red
System
3001
Brick 2X4
479
1991
4346
1991
300321
3
Bright Red
System
3003
Brick 2X2
456
1986
4787
1986
300421
2
Bright Red
System
3004
Brick 1X2
649
1991
6938
1986
300521
1
Bright Red
System
3005
Brick 1X1
411
1991
4360
1991
300821
1
Bright Red
System
3008
Brick 1X8
190
1994
1498
1992
300921
3
Bright Red
System
3009
Brick 1X6
308
1991
2700
1991
301021
1
Bright Red
System
3010
Brick 1X4
436
1991
4448
1991
302021
2
Bright Red
System
3020
Plate 2X4
569
1991
7172
1980
302121
3
Bright Red
System
3021
Plate 2X3
424
1994
5019
1980
302221
3
Bright Red
System
3022
Plate 2X2
637
1990
6599
1986
302321
15
Bright Red
System
3023
Plate 1X2
812
1986
9342
1981
302421
2
Bright Red
System
3024
Plate 1X1
296
1986
3580
1986
303421
1
Bright Red
System
3034
Plate 2X8
168
1992
2599
1980
306221
3
Bright Red
System
3062
Round Brick 1X1
314
1994
3033
1980
306821
3
Bright Red
System
3068
Flat Tile 2X2
256
1994
3259
1993
306921
6
Bright Red
System
3069
Flat Tile 1X2
383
1993
4883
1991
307021
4
Bright Red
System
3070
Flat Tile 1X1
206
1994
2172
1994
346021
1
Bright Red
System
3460
Plate 1X8
165
1994
2370
1981
362221
2
Bright Red
System
3622
Brick 1X3
266
1994
2590
1992
366521
6
Bright Red
System
3665
Roof Tile 1X2 Inv.
218
1987
2096
1987
366621
9
Bright Red
System
3666
Plate 1X6
317
1994
4187
1991
371021
7
Bright Red
System
3710
Plate 1X4
523
1986
6762
1981
379421
6
Bright Red
System
3794
Plate 1X2 W. 1 Knob
235
1994
2259
1991
407021
3
Bright Red
System
4070
Angular Brick 1X1
191
1991
1890
1991
416221
1
Bright Red
System
4162
Flat Tile 1X8
101
1991
1501
1991
447721
8
Bright Red
System
4477
Plate 1X10
103
1991
1295
1991
459921
2
Bright Red
System
4599
Tap Ø4.9/6.4
112
1994
916
1993
486521
5
Bright Red
System
4865
Wall Element 1X2X1
121
1994
852
1992
609121
12
Bright Red
System
6091
Brick W. Arch 1X1X1 1/3
104
1994
1330
1992
611121
2
Bright Red
System
6111
Brick 1X10
57
1994
537
1994
611221
1
Bright Red
System
6112
Brick 1X12
37
1994
423
1994
614121
7
Bright Red
System
6141
Round Plate 1X1
492
1994
5381
1990
614321
2
Bright Red
System
6143
Brick Ø16 W. Cross
186
1993
1792
1993
4106915
5
Bright Red
System
3742
Flowerhead
80
1992
190
1992
4116617
4
Bright Red
System
6081
Brick W. Bow 4X1X1 1/3
30
1998
195
1993
4185525
2
Bright Red
System
44728
Angle Plate 1X2 / 2X2
41
2003
368
2002
4188189
1
Bright Red
System
3176
Coupling Plate 2X2
43
2004
652
1994
4190219
4
Bright Red
System
6231
Wall Corner 1X1X1
47
2003
552
1995
4215466
1
Bright Red
System
48092
Bow 1/4 4X4X1
6
2007
183
2004
4243814
1
Bright Red
System
3031
Plate 4X4
139
1994
2153
1991
4255035
3
Bright Red
System
2445
Plate 2X12
44
2001
947
1994
4261690
1
Bright Red
System
4209
Drum Holder 2X4X2
19
1997
24
1997
4288209
2
Bright Red
System
3822
Left Door 1X3
49
1995
201
1992
4294734
2
Bright Red
System
50745
Brick 2X4X1 W. Screen
19
2006
256
2005
4501560
7
Bright Red
System
4216
Brick 1X2 W. Groove
8
2007
120
2004
4501562
2
Bright Red
System
4217
Brick 1X14 W. Groove
3
2007
17
1999
4508233
3
Bright Red
System
2475
Strap, Brush
3
2007
3
2007
4515371
2
Bright Red
System
60481
Roof Tile 2X1X2
24
2008
504
2008
4522243
1
Bright Red
System
6003
Plate 6X6 W. Bow
2
2008
167
1992
4537986
2
Bright Red
System
3821
Right Door 1X3
39
2003
183
1992
4538723
2
Bright Red
System
63965
Stick 6M W/Flange
5
2006
156
2006
4550015
1
Bright Red
System
60596
Frame 1X4X6
21
1999
389
1998
4562544
1
Bright Red
System
86035
Mini U.S. Cap
64
2001
209
1998
9336
2
Bright Yellow
System
9336
Mini Head No.1
58
1993
58
1993
82131
2
Bright Yellow
System
82131
Mini Head No.43
13
2000
13
2000
306224
2
Bright Yellow
System
3062
Round Brick 1X1
241
1994
3033
1980
614124
12
Bright Yellow
System
6141
Round Plate 1X1
344
1992
5381
1990
4114584
1
Bright Yellow
System
33085
Banana
99
1998
106
1998
4200908
1
Bright Yellow
System
46506
Mini Head No. 314
34
2005
34
2005
4256320
1
Bright Yellow
System
4599
Tap Ø4.9/6.4
120
2005
916
1993
4261269
1
Bright Yellow
System
51520
Mini Head No. 387
32
2006
32
2006
4261572
1
Bright Yellow
System
51523
Mini Head No. 389
93
2006
93
2006
4289265
1
Bright Yellow
System
44476
Mini Head "No. 245"
10
2006
10
2006
242328
13
Dark Green
System
2423
Limb Element, Small
147
1992
326
1992
302128
2
Dark Green
System
3021
Plate 2X3
187
1994
5019
1980
303428
1
Dark Green
System
3034
Plate 2X8
96
1994
2599
1980
346028
5
Dark Green
System
3460
Plate 1X8
59
1993
2370
1981
366628
6
Dark Green
System
3666
Plate 1X6
99
1996
4187
1991
371028
6
Dark Green
System
3710
Plate 1X4
209
1994
6762
1981
374128
12
Dark Green
System
3741
Stalk
221
1992
249
1992
379528
2
Dark Green
System
3795
Plate 2X6
158
1993
4531
1980
4114348
10
Dark Green
System
30176
Bamboo Leaves 3X3
180
1998
212
1998
4116671
4
Dark Green
System
3032
Plate 4X6
70
1999
1877
1991
4163425
1
Dark Green
System
30093
See Grass
9
2002
74
2002
4243821
2
Dark Green
System
3031
Plate 4X4
107
1999
2153
1991
4279059
2
Dark Green
System
3029
Plate 4X12
36
1996
534
1994
4529239
2
Dark Green
System
59900
Nose Cone Small 1X1
115
2005
1830
2002
6038682
5
Dark Green
System
30565
Plate 4X4, 1/4 Circle
33
2001
449
2001
4273743
1
Dark Orange
System
33125
Croissant
55
2003
66
1998
4161674
1
Dark Stone Grey
System
30367
Final Brick 2X2
61
2005
648
2001
4210633
4
Dark Stone Grey
System
6141
Round Plate 1X1
409
2002
5381
1990
4210651
8
Dark Stone Grey
System
6636
Flat Tile 1X6
266
2003
2247
1996
4210726
4
Dark Stone Grey
System
30383
Plate 1X2 W/Stub/Along/Upper P
110
2003
358
1999
4210848
2
Dark Stone Grey
System
3070
Flat Tile 1X1
204
2003
2172
1994
4210884
1
Dark Stone Grey
System
44302
Plate 1X2 W/Fork/Vertical/End
168
2003
626
2003
4210997
3
Dark Stone Grey
System
3034
Plate 2X8
388
2002
2599
1980
4211001
1
Dark Stone Grey
System
3710
Plate 1X4
625
2002
6762
1981
4211002
1
Dark Stone Grey
System
3795
Plate 2X6
607
2002
4531
1980
4211010
4
Dark Stone Grey
System
4740
Parabola Ø16
163
2004
1024
1994
4211042
1
Dark Stone Grey
System
4032
Plate 2X2 Round
353
2004
2802
1992
4211043
2
Dark Stone Grey
System
3021
Plate 2X3
598
2002
5019
1980
4211052
8
Dark Stone Grey
System
3069
Flat Tile 1X2
362
2003
4883
1991
4211053
1
Dark Stone Grey
System
2431
Flat Tile 1X4
344
2003
3703
1991
4211055
9
Dark Stone Grey
System
3068
Flat Tile 2X2
306
2002
3259
1993
4211056
1
Dark Stone Grey
System
3666
Plate 1X6
458
2002
4187
1991
4211063
5
Dark Stone Grey
System
3023
Plate 1X2
744
2002
9342
1981
4211090
1
Dark Stone Grey
System
3062
Round Brick 1X1
246
2003
3033
1980
4211095
8
Dark Stone Grey
System
30136
Palisade Brick 1X2
128
2003
813
1996
4211114
2
Dark Stone Grey
System
3033
Plate 6X10
96
2004
456
1994
4211119
24
Dark Stone Grey
System
3794
Plate 1X2 W. 1 Knob
226
2002
2259
1991
4211134
1
Dark Stone Grey
System
3958
Plate 6X6
174
2002
910
1994
4212075
4
Dark Stone Grey
System
30357
Plate 3X3, 1/4 Circle
61
2004
406
1999
4222693
1
Dark Stone Grey
System
73200
Mini Lower Part
209
2001
4112
1991
4256149
1
Dark Stone Grey
System
3028
Plate 6X12
93
2001
438
1994
4261365
1
Dark Stone Grey
System
6098
Base Plate 16X16
11
2005
36
1995
4269651
3
Dark Stone Grey
System
2748
Base Plate 16X32
21
2007
79
1990
4503176
3
Dark Stone Grey
System
2497
Axle Ø4.9, Brush
3
2007
3
2007
4594847
1
Dark Stone Grey
System
92339
Chassis 6X28X6.4
9
2008
14
2008
4626645
1
Dark Stone Grey
System
92926
Dustbin 2X2X2
22
2003
49
2003
4162916
1
Earth Blue
System
73200
Mini Lower Part
316
2002
4112
1991
4275821
1
Earth Blue
System
76382
Mini Upper Part "No. 1163"
27
2006
6115
1993
4245570
53
Earth Green
System
3004
Brick 1X2
64
2003
6938
1986
4245571
23
Earth Green
System
3010
Brick 1X4
36
2005
4448
1991
4260493
1
Earth Green
System
3001
Brick 2X4
44
2005
4346
1991
4266895
12
Earth Green
System
3003
Brick 2X2
7
2006
4787
1986
4521915
44
Earth Green
System
3005
Brick 1X1
47
2008
4360
1991
4163696
14
Medium Blue
System
3010
Brick 1X4
59
2002
4448
1991
4168345
6
Medium Blue
System
3069
Flat Tile 1X2
64
2002
4883
1991
4179830
55
Medium Blue
System
3005
Brick 1X1
73
2002
4360
1991
4179833
61
Medium Blue
System
3004
Brick 1X2
94
2002
6938
1986
4201235
2
Medium Blue
System
3003
Brick 2X2
52
2004
4787
1986
4179576
12
Medium Stone Grey
System
43888
Column 1X1X6
18
2008
182
2003
4186667
2
Medium Stone Grey
System
3675
Corner Outside 3X3/25°
6
2004
102
1994
4211349
2
Medium Stone Grey
System
2357
Brick Corner 1X2X2
176
2003
1401
1994
4211350
2
Medium Stone Grey
System
2412
Radiator Grille 1X2
552
2002
3613
1991
4211356
4
Medium Stone Grey
System
2431
Flat Tile 1X4
429
2002
3703
1991
4211360
2
Medium Stone Grey
System
2445
Plate 2X12
164
2002
947
1994
4211362
6
Medium Stone Grey
System
2453
Brick 1X1X5
67
2004
468
1992
4211373
1
Medium Stone Grey
System
2655
Wheel Fork 2X2 Round
33
2001
61
1995
4211385
6
Medium Stone Grey
System
3001
Brick 2X4
328
2001
4346
1991
4211386
9
Medium Stone Grey
System
3002
Brick 2X3
212
2001
2593
1992
4211387
10
Medium Stone Grey
System
3003
Brick 2X2
377
2001
4787
1986
4211388
15
Medium Stone Grey
System
3004
Brick 1X2
532
2001
6938
1986
4211389
18
Medium Stone Grey
System
3005
Brick 1X1
386
2002
4360
1991
4211391
7
Medium Stone Grey
System
3007
Brick 2X8
29
2002
418
1995
4211392
2
Medium Stone Grey
System
3008
Brick 1X8
151
2001
1498
1992
4211393
8
Medium Stone Grey
System
3009
Brick 1X6
257
2001
2700
1991
4211394
10
Medium Stone Grey
System
3010
Brick 1X4
356
2001
4448
1991
4211395
11
Medium Stone Grey
System
3020
Plate 2X4
748
2001
7172
1980
4211396
6
Medium Stone Grey
System
3021
Plate 2X3
590
2001
5019
1980
4211397
6
Medium Stone Grey
System
3022
Plate 2X2
700
1998
6599
1986
4211398
23
Medium Stone Grey
System
3023
Plate 1X2
861
1993
9342
1981
4211399
16
Medium Stone Grey
System
3024
Plate 1X1
358
2001
3580
1986
4211406
2
Medium Stone Grey
System
3034
Plate 2X8
340
2002
2599
1980
4211410
2
Medium Stone Grey
System
3039
Roof Tile 2X2/45°
233
2001
2568
1986
4211412
2
Medium Stone Grey
System
3062
Round Brick 1X1
296
2003
3033
1980
4211413
16
Medium Stone Grey
System
3068
Flat Tile 2X2
340
2002
3259
1993
4211414
6
Medium Stone Grey
System
3069
Flat Tile 1X2
419
2003
4883
1991
4211415
8
Medium Stone Grey
System
3070
Flat Tile 1X1
230
2004
2172
1994
4211420
4
Medium Stone Grey
System
3297
Roof Tile 3X4/25°
28
2002
312
1994
4211421
2
Medium Stone Grey
System
3298
Roof Tile 2X3/25°
98
2001
1039
1991
4211425
6
Medium Stone Grey
System
3460
Plate 1X8
300
1998
2370
1981
4211428
10
Medium Stone Grey
System
3622
Brick 1X3
256
2002
2590
1992
4211437
18
Medium Stone Grey
System
3665
Roof Tile 1X2 Inv.
223
2002
2096
1987
4211438
7
Medium Stone Grey
System
3666
Plate 1X6
458
1998
4187
1991
4211445
6
Medium Stone Grey
System
3710
Plate 1X4
653
1998
6762
1981
4211452
2
Medium Stone Grey
System
3795
Plate 2X6
489
2001
4531
1980
4211462
1
Medium Stone Grey
System
3832
Plate 2X10
254
1998
1525
1991
4211476
17
Medium Stone Grey
System
4070
Angular Brick 1X1
212
2002
1890
1991
4211486
4
Medium Stone Grey
System
4282
Plate 2X16
120
2002
626
1994
4211488
2
Medium Stone Grey
System
4286
Roof Tile 1X3/25°
101
2003
1374
1990
4211504
2
Medium Stone Grey
System
4600
Bearing Element 2X2, Double
138
2004
421
1993
4211515
2
Medium Stone Grey
System
4865
Wall Element 1X2X1
109
2002
852
1992
4211522
1
Medium Stone Grey
System
6112
Brick 1X12
77
2003
423
1994
4211525
2
Medium Stone Grey
System
6141
Round Plate 1X1
516
2002
5381
1990
4211526
2
Medium Stone Grey
System
6143
Brick Ø16 W. Cross
171
2002
1792
1993
4211549
10
Medium Stone Grey
System
6636
Flat Tile 1X6
316
2002
2247
1996
4211568
5
Medium Stone Grey
System
32028
Plate 1X2 With Slide
258
1998
1140
1997
4211764
4
Medium Stone Grey
System
6014
Rim Wide W. Hole Ø11
249
2003
559
1992
4211769
2
Medium Stone Grey
System
43337
Wall Element 1X4X1 Abs
27
2004
194
2000
4211795
8
Medium Stone Grey
System
44237
Brick 2X6
158
2004
1310
1994
4211804
8
Medium Stone Grey
System
44302
Plate 1X2 W/Fork/Vertical/End
138
2004
626
2003
4219256
2
Medium Stone Grey
System
73983
Hinge Plate 1X2 Un./Over
48
2004
302
1991
4226995
1
Medium Stone Grey
System
73081
Console W. Wheel Grey/Black
187
2001
1050
1992
4227657
1
Medium Stone Grey
System
73200
Mini Lower Part
113
2001
4112
1991
4228198
3
Medium Stone Grey
System
50344
Roof Tile 1X2 45° No. 3
68
2004
68
2004
4244627
1
Medium Stone Grey
System
48336
Plate 1X2 W. Stick 3.18
361
2006
1500
2004
4277927
10
Medium Stone Grey
System
44728
Angle Plate 1X2 / 2X2
55
2003
368
2002
4509915
8
Medium Stone Grey
System
30363
Roof Tile 2X4X1, 18°
40
2004
375
1999
4514195
1
Medium Stone Grey
System
60849
Nozzle W/Ø3.18, Shaft
100
2007
211
2007
4533772
2
Medium Stone Grey
System
60475
Brick 1X1 W/Holder, H0Rizontal
166
2008
549
2008
4567448
4
Medium Stone Grey
System
85080
Brick 2X2W.Inside And Outs.Bow
44
2004
320
1996
4654046
1
Medium Stone Grey
System
81466
Flat Tile 1X2, Video Tape
31
2004
31
2004
6066097
8
Medium Stone Grey
System
15573
Plate 1X2 W. 1 Knob
525
2002
2009
2002
4163803
6
New Dark Red
System
3001
Brick 2X4
15
2004
4346
1991
4176959
16
New Dark Red
System
3794
Plate 1X2 W. 1 Knob
62
2003
2259
1991
4539061
2
New Dark Red
System
3710
Plate 1X4
139
2001
6762
1981
4539062
4
New Dark Red
System
3666
Plate 1X6
91
2004
4187
1991
4539082
6
New Dark Red
System
6091
Brick W. Arch 1X1X1 1/3
62
2002
1330
1992
4539097
8
New Dark Red
System
3023
Plate 1X2
198
2001
9342
1981
4539102
4
New Dark Red
System
3004
Brick 1X2
109
2004
6938
1986
4539104
6
New Dark Red
System
3003
Brick 2X2
48
2005
4787
1986
4539105
9
New Dark Red
System
3068
Flat Tile 2X2
80
2004
3259
1993
4539114
2
New Dark Red
System
3024
Plate 1X1
94
2003
3580
1986
4541373
1
New Dark Red
System
3624
Mini Cap
24
2002
171
1991
4541379
4
New Dark Red
System
2357
Brick Corner 1X2X2
35
2004
1401
1994
4541496
2
New Dark Red
System
73200
Mini Lower Part
41
2007
4112
1991
6008593
1
New Dark Red
System
41770
Left Plate 2X4 W/Angle
37
2001
933
2001
6008595
1
New Dark Red
System
41769
Right Plate 2X4 W/Angle
37
2001
930
2001
4211150
2
Reddish Brown
System
3023
Plate 1X2
429
2003
9342
1981
4211158
1
Reddish Brown
System
3901
Mini Wig Man
62
2003
341
1992
4211159
2
Reddish Brown
System
4032
Plate 2X2 Round
195
2005
2802
1992
4211165
1
Reddish Brown
System
6093
Wig, Ponytail
36
2006
138
1992
4211180
4
Reddish Brown
System
30136
Palisade Brick 1X2
179
2004
813
1996
4211183
3
Reddish Brown
System
3062
Round Brick 1X1
261
2004
3033
1980
4211186
8
Reddish Brown
System
3020
Plate 2X4
424
2004
7172
1980
4211204
8
Reddish Brown
System
6636
Flat Tile 1X6
141
2004
2247
1996
4211206
8
Reddish Brown
System
4079
Seat 2X2X2
120
2004
757
1991
4211242
3
Reddish Brown
System
3005
Brick 1X1
210
2004
4360
1991
4211247
4
Reddish Brown
System
3795
Plate 2X6
244
2004
4531
1980
4211288
2
Reddish Brown
System
3070
Flat Tile 1X1
122
2004
2172
1994
4216581
4
Reddish Brown
System
6141
Round Plate 1X1
312
2004
5381
1990
4507045
7
Sand Yellow
System
3068
Flat Tile 2X2
95
2007
3259
1993
6051422
5
Silver Ink
System
15561
Lattice Plate 1X2 "No. 1000"
94
2003
94
2003
6051541
2
Silver Ink
System
15587
Aerial Ø24X6.4 "No 1000"
21
2006
21
2006
306540
14
Transparent
System
3065
Brick 1X2 Without Pin
129
1992
391
1992
382340
1
Transparent
System
3823
Windscreen 2X4X2
76
1994
217
1994
3005740
5
Transparent
System
30057
Round Plate 1X1 - Tr.
451
1994
3306
1992
3006840
1
Transparent
System
30068
Round Brick 1 - Tr
84
1996
681
1994
4113028
7
Transparent
System
6268
Wall Element - Tr 1X2X2
26
1996
50
1996
4187750
2
Transparent
System
30063
Parabolic Element Ø16 - Tr
56
2002
413
1994
4504229
2
Transparent
System
59350
Wall Element 1X6X5, Pc
29
2007
39
2007
4521504
4
Transparent
System
60616
Glass Door For Frame 1X4X6
41
2008
83
2008
4522255
8
Transparent
System
30061
Garage Panel - Tr
4
2008
15
2004
4639698
6
Transparent
System
60803
Glas For Frame 1X4X6
57
2007
86
2007
6201906
1
Transparent
System
2572
Wall Element W. Curve 5X6X10
6
1995
8
1995
4226439
1
Transparent Fluorescent Blue
System
42534
Plate 8X8 Pc/Tr
6
2004
8
2002
4163917
2
Transparent Light Blue
System
30057
Round Plate 1X1 - Tr.
219
2002
3306
1992
4228126
1
Transparent Light Blue
System
2437
Windscreen 36 Gr. 3X4X1 1/3
51
1992
126
1992
3005741
2
Transparent Red
System
30057
Round Plate 1X1 - Tr.
824
1992
3306
1992
3005744
20
Transparent Yellow
System
30057
Round Plate 1X1 - Tr.
446
1992
3306
1992
3006844
3
Transparent Yellow
System
30068
Round Brick 1 - Tr
123
1997
681
1994
4521993
3
Warm Gold, Drum Lacquered / Gold Metalized / Gold Laquered
System
62404
Brick 2X2, Lakeret Gold
2
2008
2
2008
235701
2
White
System
2357
Brick Corner 1X2X2
224
1994
1401
1994
243101
10
White
System
2431
Flat Tile 1X4
479
1992
3703
1991
244501
1
White
System
2445
Plate 2X12
132
1995
947
1994
245301
2
White
System
2453
Brick 1X1X5
140
1992
468
1992
245401
9
White
System
2454
Brick 1X2X5
160
1992
647
1992
245601
3
White
System
2456
Brick 2X6 *
238
1994
315
1994
255501
3
White
System
2555
Plate 1X1 W. Up Right Holder
144
1992
1018
1992
287701
4
White
System
2877
Profile Brick 1X2
111
1991
1025
1991
300101
4
White
System
3001
Brick 2X4
535
1994
4346
1991
300401
6
White
System
3004
Brick 1X2
912
1986
6938
1986
300501
6
White
System
3005
Brick 1X1
637
1992
4360
1991
300801
2
White
System
3008
Brick 1X8
272
1992
1498
1992
300901
4
White
System
3009
Brick 1X6
478
1991
2700
1991
301001
3
White
System
3010
Brick 1X4
674
1992
4448
1991
302201
2
White
System
3022
Plate 2X2
708
1986
6599
1986
302301
26
White
System
3023
Plate 1X2
1048
1992
9342
1981
302401
7
White
System
3024
Plate 1X1
519
1986
3580
1986
303401
3
White
System
3034
Plate 2X8
317
1995
2599
1980
303501
1
White
System
3035
Plate 4X8
119
1995
1252
1992
306201
1
White
System
3062
Round Brick 1X1
346
1992
3033
1980
306801
11
White
System
3068
Flat Tile 2X2
447
1993
3259
1993
306901
17
White
System
3069
Flat Tile 1X2
683
1994
4883
1991
307001
12
White
System
3070
Flat Tile 1X1
312
1994
2172
1994
362201
7
White
System
3622
Brick 1X3
433
1992
2590
1992
362301
5
White
System
3623
Plate 1X3
430
1993
3443
1981
366601
5
White
System
3666
Plate 1X6
494
1993
4187
1991
371001
8
White
System
3710
Plate 1X4
824
1991
6762
1981
379501
4
White
System
3795
Plate 2X6
508
1992
4531
1980
383001
2
White
System
3830
Hinge 1X2 Upper Part
17
1991
300
1991
383101
2
White
System
3831
Hinge 1X2 Lower Part
49
1991
299
1991
383201
2
White
System
3832
Plate 2X10
165
1996
1525
1991
407001
11
White
System
4070
Angular Brick 1X1
278
1994
1890
1991
408301
2
White
System
4083
Hanger 1X4X2
57
1995
249
1994
415001
2
White
System
4150
Flat Tile 2X2, Round
44
1995
400
1995
416201
3
White
System
4162
Flat Tile 1X8
223
1995
1501
1991
447701
4
White
System
4477
Plate 1X10
171
1993
1295
1991
462401
6
White
System
4624
Rim Narrow W. Hole Ø8
55
1998
178
1995
474001
1
White
System
4740
Parabola Ø16
182
1994
1024
1994
486501
12
White
System
4865
Wall Element 1X2X1
141
1994
852
1992
608101
1
White
System
6081
Brick W. Bow 4X1X1 1/3
51
1993
195
1993
609101
2
White
System
6091
Brick W. Arch 1X1X1 1/3
189
1993
1330
1992
611101
6
White
System
6111
Brick 1X10
99
1994
537
1994
611201
5
White
System
6112
Brick 1X12
91
1994
423
1994
614101
10
White
System
6141
Round Plate 1X1
547
1990
5381
1990
617901
4
White
System
6179
Plate 4X4 W. 4 Knobs
106
1996
429
1994
621501
6
White
System
6215
Brick 2X3 W. Arch
51
1995
296
1995
663601
4
White
System
6636
Flat Tile 1X6
321
1996
2247
1996
4111971
1
White
System
4733
Brick 1X1 W. 4 Knobs
123
1999
540
1995
4119500
2
White
System
2039
Fabuland Standard
14
1999
17
1999
4120020
3
White
System
3028
Plate 6X12
34
1999
438
1994
4129836
2
White
System
30374
Light Sword - Blade
60
2000
907
1999
4143137
2
White
System
6232
Brick 2X2 W. Snap And Cross
43
2001
427
1995
4143244
3
White
System
6060
Brick W. Arch 1X1X3 1/3
8
2001
21
2001
4178429
1
White
System
30565
Plate 4X4, 1/4 Circle
44
2008
449
2001
4186952
5
White
System
3742
Flowerhead
34
2002
190
1992
4215470
2
White
System
48092
Bow 1/4 4X4X1
47
2004
183
2004
4234525
1
White
System
3678
Roof Tile 2X2X2/65 Deg.
67
2001
426
1997
4249112
2
White
System
50950
Brick W/Bow 1/3
154
2005
1175
2005
4264360
25
White
System
4216
Brick 1X2 W. Groove
42
2004
120
2004
4275536
1
White
System
76382
Mini Upper Part "No. 1205"
12
2001
6115
1993
4275540
1
White
System
76382
Mini Upper Part "No. 1196"
14
2001
6115
1993
4275606
1
White
System
76382
Mini Upper Part "No. 1204"
20
1998
6115
1993
4501567
1
White
System
4219
Stop Lamella For Rolling Gate
12
2007
15
2004
4503008
1
White
System
3030
Plate 4X10
56
1994
588
1993
4504369
2
White
System
54200
Roof Tile 1X1X2/3, Abs
462
2005
3690
2005
4507355
1
White
System
80269
Flat Tile 2X2 Round - Watch
12
2001
51
2001
4518400
3
White
System
59900
Nose Cone Small 1X1
207
2002
1830
2002
4520842
16
White
System
60608
Window ½ For Frame 1X4X3
35
2007
60
2007
4533763
1
White
System
60475
Brick 1X1 W/Holder, H0Rizontal
87
2008
549
2008
4558208
1
White
System
60581
Wall Element 1X4X3, Abs
105
1994
302
1994
4585448
2
White
System
87544
Wall Element 1X2X3
62
2007
187
2007
4615649
8
White
System
92411
Angle Plate 1X2 / 2X2
157
2008
365
2008
4629913
3
White
System
92903
Brick 1X3X2 W/Ins And Outs.Bow
32
2008
182
2008
6081986
2
White
System
18274
Stick 6M W/Flange
82
2007
420
2006
Colour summary
| Colour | Unique | Total |
| --- | --- | --- |
| Black | 52 | 186 |
| Brick Yellow | 22 | 79 |
| Bright Blue | 32 | 84 |
| Bright Green | 1 | 1 |
| Bright Purple | 1 | 1 |
| Bright Red | 58 | 185 |
| Bright Yellow | 10 | 24 |
| Dark Green | 15 | 73 |
| Dark Orange | 1 | 1 |
| Dark Stone Grey | 30 | 107 |
| Earth Blue | 2 | 2 |
| Earth Green | 5 | 133 |
| Medium Blue | 5 | 138 |
| Medium Stone Grey | 63 | 381 |
| New Dark Red | 15 | 72 |
| Reddish Brown | 13 | 50 |
| Sand Yellow | 1 | 7 |
| Silver Ink | 2 | 7 |
| Transparent | 11 | 51 |
| Transparent Fluorescent Blue | 1 | 1 |
| Transparent Light Blue | 2 | 3 |
| Transparent Red | 1 | 2 |
| Transparent Yellow | 2 | 23 |
| Warm Gold, Drum Lacquered / Gold Metalized / Gold Laquered | 1 | 3 |
| White | 74 | 346 |
| Total | 420 | 1960 |
Category summary
| Category | Unique | Total |
| --- | --- | --- |
| System | 419 | 1956 |
| Technic | 1 | 4 |
| Total | 420 | 1960 |