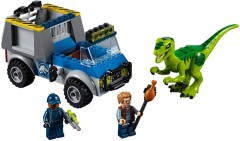 Inventory for 10757-1: Raptor Rescue Truck
This set inventory has been obtained from LEGO Customer Services replacement parts page.
Important note: We do not control this inventory and cannot currently make changes to it. Use it as a guide to the contents of the set, or to find out part numbers when requesting replacements.
Download the inventory as a CSV file »
View the Rebrickable.com inventory for this set »
View the inventory at BrickLink.com »
Element
Image
Qty
Colour
Category
Design
Element name
Element
in sets
Element
introduced in
Design
in sets
Design
introduced in
241226
3
Black
System
2412
Radiator Grille 1X2
704
1991
3617
1991
395726
1
Black
System
3957
Whip/Aerial
261
1994
829
1992
473326
1
Black
System
4733
Brick 1X1 W. 4 Knobs
164
1995
542
1995
4162443
1
Black
System
30414
Brick 1X4 W. 4 Knobs
193
2001
1148
2000
4556158
1
Black
System
60470
Plate 1X2 W/Holder, Vertical
325
2008
953
2008
4619323
4
Black
System
92402
Tyre Normal Wide Ø30,4 X 14
99
2008
99
2008
6170545
1
Black
System
28924
Walkie-Talkie
103
2010
103
2010
6172984
1
Black
System
29165
Lattice 3X6 Module W/Knobs
21
2017
24
2017
6276867
2
Black
System
49753
Bad Robot Arm
31
2016
37
2016
4121715
1
Black
Technic
2780
Connector Peg W. Friction
2110
1993
2110
1993
300923
2
Bright Blue
System
3009
Brick 1X6
234
1993
2703
1991
303923
3
Bright Blue
System
3039
Roof Tile 2X2/45°
154
1994
2572
1986
371023
1
Bright Blue
System
3710
Plate 1X4
387
1992
6774
1981
416223
2
Bright Blue
System
4162
Flat Tile 1X8
64
1994
1504
1991
4107437
1
Bright Blue
System
3037
Roof Tile 2X4/45°
47
1998
698
1991
4649773
1
Bright Blue
System
93273
Plate W. Bow 1X4X2/3
48
2012
983
2011
6221852
2
Bright Blue
System
37848
Flat Tile 2X2, No. 367
2
2018
2
2018
301024
1
Bright Yellow
System
3010
Brick 1X4
368
1994
4453
1991
6223853
2
Bright Yellow
System
38273
Flat Tile 1X6, No. 18
1
2018
1
2018
6086765
1
Bright Yellowish Green
System
87989
Injection Syring
30
2012
55
2010
6223874
1
Bright Yellowish Green
System
38279
Animal No. 42, Head
1
2018
1
2018
6223881
1
Bright Yellowish Green
System
38284
Animal No. 42, Jaw
1
2018
1
2018
6224049
1
Bright Yellowish Green
System
38316
Animal No. 42, Body
1
2018
1
2018
6258302
1
Bright Yellowish Green
System
51012
Left Animal Leg, No. 7
1
2018
1
2018
6258464
1
Bright Yellowish Green
System
51075
Left Animal Arm, No. 9
1
2018
1
2018
6258471
1
Bright Yellowish Green
System
51079
Right Animal Arm, No. 9
1
2018
1
2018
6247204
1
Dark Orange
System
42876
Turkey, Drumstick
32
2010
32
2010
4211100
2
Dark Stone Grey
System
3009
Brick 1X6
219
2003
2703
1991
4299022
1
Dark Stone Grey
System
4151
Grid Plate 8X8
63
2004
134
1996
4598769
1
Dark Stone Grey
System
92593
Plate 1X4 W. 2 Knobs
140
2011
841
2011
6000853
4
Dark Stone Grey
System
98560
Roof Tile 2X2X3/ 73 Gr.
62
2010
234
2008
6191976
1
Dark Stone Grey
System
33440
Rifle No. 3 W/ 3.2 Shaft
12
2017
13
2017
4162916
1
Earth Blue
System
73200
Mini Lower Part
316
2002
4113
1991
4508313
2
Earth Blue
System
3666
Plate 1X6
100
2003
4196
1991
6056241
1
Earth Blue
System
11303
Figur Head Clothing No 6
44
2014
161
2013
6092588
4
Earth Blue
System
15573
Plate 1X2 W. 1 Knob
70
2015
2016
2002
6221855
1
Earth Blue
System
76382
Mini Upper Part, No. 4248
3
2018
6120
1993
6226515
1
Earth Blue
System
38624
Mini Lower Part, No. 1518
9
2018
9
2018
6223239
1
Light Nougat
System
38178
Mini Head, No. 2579
9
2018
9
2018
6145528
1
Medium Nougat
System
23186
Mini Wig No. 105
20
2016
56
2016
4599496
1
Medium Stone Grey
System
92589
Lattice For Frame 4X6
24
2010
37
2010
6057449
1
Medium Stone Grey
System
15332
Fence 1X4X2 W. 4 Knobs
15
2012
132
2008
6059033
2
Medium Stone Grey
System
60581
Wall Element 1X4X3, Abs
27
2014
303
1994
6109684
4
Medium Stone Grey
System
20896
Rim Wide 18X14 W. Hole Ø4.8
47
2016
106
2015
6220592
1
Medium Stone Grey
System
18937
Car Chassis 6X16X2, Assembly
2
2018
9
2015
4211206
1
Reddish Brown
System
4079
Seat 2X2X2
120
2004
757
1991
6196833
1
Reddish Brown
System
34600
Mini Head, No. 2348
10
2015
10
2015
6223306
1
Reddish Brown
System
76382
Mini Upper Part, No. 4277
6
2018
6120
1993
6258373
1
Sand Yellow
System
51037
Right Animal Leg, No. 7
1
2018
1
2018
6245195
1
Transparent
System
35336
Windscreen 2X6X2
22
2010
63
2010
6251290
2
Transparent Red
System
35386
Flat Tile 1X2
50
2016
221
2014
6251291
4
Transparent Yellow
System
35386
Flat Tile 1X2
25
2014
221
2014
9551
1
White
System
73081
Consol W/St Wheel Wh/Bla
207
1992
1051
1992
301001
1
White
System
3010
Brick 1X4
674
1992
4453
1991
4598527
2
White
System
92280
Plate 1X2 W. Vertical Grip
121
2011
898
2011
6102861
1
White
System
19973
Flat Tile 1X4 "No. 77"
13
2015
13
2015
Colour summary
| Colour | Unique | Total |
| --- | --- | --- |
| Black | 10 | 16 |
| Bright Blue | 7 | 12 |
| Bright Yellow | 2 | 3 |
| Bright Yellowish Green | 7 | 7 |
| Dark Orange | 1 | 1 |
| Dark Stone Grey | 5 | 9 |
| Earth Blue | 6 | 10 |
| Light Nougat | 1 | 1 |
| Medium Nougat | 1 | 1 |
| Medium Stone Grey | 5 | 9 |
| Reddish Brown | 3 | 3 |
| Sand Yellow | 1 | 1 |
| Transparent | 1 | 1 |
| Transparent Red | 1 | 2 |
| Transparent Yellow | 1 | 4 |
| White | 4 | 5 |
| Total | 56 | 85 |
Category summary
| Category | Unique | Total |
| --- | --- | --- |
| System | 55 | 84 |
| Technic | 1 | 1 |
| Total | 56 | 85 |