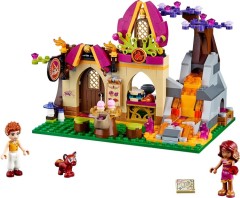 Inventory for 41074-1: Azari and the Magical Bakery
This set inventory has been obtained from LEGO Customer Services replacement parts page.
Important note: We do not control this inventory and cannot currently make changes to it. Use it as a guide to the contents of the set, or to find out part numbers when requesting replacements.
Download the inventory as a CSV file »
View the Rebrickable.com inventory for this set »
View the inventory at BrickLink.com »
Element
Image
Qty
Colour
Category
Design
Element name
Element
in sets
Element
introduced in
Design
in sets
Design
introduced in
302126
1
Black
System
3021
Plate 2X3
785
1991
5035
1980
4288212
1
Black
System
30236
Brick 1X2 With Stick
79
1999
370
1999
4517925
1
Black
System
61252
Plate 1X1 W/Holder Vertical
403
1994
1429
1994
4538456
1
Black
System
64644
Stick Ø3.2 2Mm W/Knob And Tube
195
2009
598
2009
4569733
3
Black
System
88072
Plate 1X2 W. Vertical Schaft
166
2008
542
2008
4598528
2
Black
System
92280
Plate 1X2 W. Vertical Grip
321
2011
898
2011
6070733
1
Black
System
13459
Round Sign 1X5X3
3
2014
13
2013
6092876
1
Black
System
95820
Brick 1X2 W. Horizontal Holder
41
2012
312
2009
4109995
9
Brick Yellow
System
3004
Brick 1X2
345
1998
6953
1986
4113915
2
Brick Yellow
System
3005
Brick 1X1
215
1998
4367
1991
4114306
2
Brick Yellow
System
3003
Brick 2X2
223
1998
4794
1986
4118866
2
Brick Yellow
System
3660
Roof Tile 2X2/45° Inv.
103
2000
2367
1987
4124455
2
Brick Yellow
System
2357
Brick Corner 1X2X2
110
1999
1404
1994
4140562
1
Brick Yellow
System
4032
Plate 2X2 Round
142
2000
2807
1992
4161734
4
Brick Yellow
System
6141
Round Plate 1X1
207
2003
5401
1990
4162465
1
Brick Yellow
System
3622
Brick 1X3
141
2001
2595
1992
4181134
1
Brick Yellow
System
44237
Brick 2X6
86
2001
1312
1994
6055871
1
Brick Yellow
System
60583
Brick 1X1X3 W. 2 Grip
10
2014
131
2008
6058093
4
Brick Yellow
System
13965
Brick With Bow 1X3X3
20
2014
151
2013
6066344
2
Brick Yellow
System
14769
Flat Tile 2X2, Round
39
2012
825
2008
6069165
2
Brick Yellow
System
15672
Roof Tile 1X2 45° W 1/3 Plate
22
2014
345
2011
6104406
1
Brick Yellow
System
20294
Flat Tile 2X2, Round "No. 1014"
4
2015
4
2015
6104425
1
Brick Yellow
System
20306
Flat Tile 2X2 "No. 247"
7
2015
7
2015
6116614
1
Brick Yellow
System
21462
Light Sword - Blade
22
2009
569
2008
4182223
1
Brick Yellow
Technic
32474
Voodoo Ball Ø10,2
3
2004
295
2001
6009460
2
Bright Blue
System
98138
Flat Tile 1X1, Round
31
2013
1777
2011
4651898
1
Bright Reddish Violet
System
87079
Flat Tile 2X4
70
2012
1971
2010
6037650
6
Bright Reddish Violet
System
50950
Brick W/Bow 1/3
24
2013
1180
2005
6037651
2
Bright Reddish Violet
System
4081
Lamp Holder
9
2013
1160
1991
6037652
2
Bright Reddish Violet
System
3710
Plate 1X4
51
2013
6774
1981
6056292
9
Bright Reddish Violet
System
87580
Plate 2X2 W 1 Knob
47
2014
1120
2009
6070763
2
Bright Reddish Violet
System
11477
Plate W. Bow 1X2X2/3
42
2015
1960
2013
6096942
2
Bright Reddish Violet
System
3024
Plate 1X1
30
2015
3596
1986
6107429
1
Bright Reddish Violet
System
20381
Female Hip With Skirt No. 7 Ass. 1
4
2015
8
2015
4141630
2
Bright Yellow
System
32028
Plate 1X2 With Slide
72
2000
1143
1997
4188313
1
Bright Yellow
System
3176
Coupling Plate 2X2
62
2000
653
1994
4201615
2
Bright Yellow
System
32000
Brick 1X2 M. 2 Holes Ø 4,87
48
2003
960
1996
4529160
1
Bright Yellowish Green
System
3666
Plate 1X6
71
2002
4196
1991
6057878
2
Bright Yellowish Green
System
98138
Flat Tile 1X1, Round
46
2014
1777
2011
6092766
3
Bright Yellowish Green
System
14769
Flat Tile 2X2, Round
33
2012
825
2008
6094069
3
Bright Yellowish Green
System
2423
Limb Element, Small
13
2015
326
1992
4518557
1
Dark Brown
System
3040
Roof Tile 1X2/45°
50
2008
3049
1986
4518562
2
Dark Brown
System
4460
Roof Tile 1X2X3/73°
13
2008
585
1994
6070884
1
Dark Brown
System
30099
Brick With Bow 1X5X4 Inv.
11
2008
104
1997
4626702
1
Dark Green
System
91405
Plate 16X16
9
2011
167
2011
4273743
1
Dark Orange
System
33125
Croissant
55
2003
66
1998
6103293
1
Dark Orange
System
20096
Wig_Short W. Ears "No. 2"
1
2015
1
2015
4210999
1
Dark Stone Grey
System
3659
Brick W. Bow 1X4
57
2004
533
1992
4211085
2
Dark Stone Grey
System
3001
Brick 2X4
299
2001
4357
1991
4211103
1
Dark Stone Grey
System
3010
Brick 1X4
293
2001
4453
1991
4211105
2
Dark Stone Grey
System
3002
Brick 2X3
174
2003
2600
1992
4211127
1
Dark Stone Grey
System
3037
Roof Tile 2X4/45°
72
2004
698
1991
4211135
4
Dark Stone Grey
System
3040
Roof Tile 1X2/45°
327
2003
3049
1986
4567887
5
Dark Stone Grey
System
85984
Roof Tile 1 X 2 X 2/3, Abs
300
2010
2294
2009
4624184
2
Flame Yellowish Orange
System
33291
Bracelet Upper Part
48
2012
247
2004
6003003
2
Flame Yellowish Orange
System
3004
Brick 1X2
53
2012
6953
1986
6003033
6
Flame Yellowish Orange
System
3022
Plate 2X2
58
2012
6616
1986
6020073
2
Flame Yellowish Orange
System
3710
Plate 1X4
48
2013
6774
1981
6022078
4
Flame Yellowish Orange
System
30357
Plate 3X3, 1/4 Circle
16
2013
407
1999
6073042
2
Flame Yellowish Orange
System
3623
Plate 1X3
29
2014
3459
1981
6097246
1
Flame Yellowish Orange
System
19118
Key W. 3,2 Shaft And Stud
2
2015
9
2015
6097507
2
Flame Yellowish Orange
System
60478
Plate 1X2 W/Shaft Ø3.2
7
2015
1128
2008
6097509
5
Flame Yellowish Orange
System
3795
Plate 2X6
29
2015
4540
1980
6097511
5
Flame Yellowish Orange
System
3020
Plate 2X4
45
2015
7185
1980
6074906
4
Lavender
System
33291
Bracelet Upper Part
8
2015
247
2004
6103295
1
Light Nougat
System
20098
Head, Male 1, Dec. No. 8
1
2015
1
2015
6103362
1
Light Nougat
System
11408
Torso, Boy W/Arm 1, Ass 10
1
2015
44
2013
4286050
1
Light Purple
System
3005
Brick 1X1
31
2008
4367
1991
6060795
2
Light Purple
System
15470
1X1 Decoration Top No. 1
82
2014
207
2014
6097523
2
Medium Lilac
System
2417
Limb Element
5
2015
196
1994
4569385
5
Medium Nougat
System
60475
Brick 1X1 W/Holder, H0Rizontal
46
2010
549
2008
4622738
1
Medium Nougat
System
4342
White Bread
16
2012
36
2010
4656783
8
Medium Nougat
System
98283
Profile Brick 1X2 Single Gro.
93
2012
354
2012
6022075
1
Medium Nougat
System
30350
Plate 2X3 W. Holder
7
2013
335
1999
6055309
2
Medium Nougat
System
15533
Profile Brick 1X4 Single Gro.
47
2014
54
2014
6055384
2
Medium Nougat
System
15828
Flat Tile 1X1, Round "No. 18"
60
2014
60
2014
6076674
1
Medium Nougat
System
17833
Mini Sack W. 3.2 Shaft
27
2013
32
2013
6102373
1
Medium Nougat
System
19835
Head, Female 1, Dec. 20
4
2015
4
2015
6102406
1
Medium Nougat
System
92456
Torso, Girl W/Arm 1, Ass. 74
4
2015
395
2012
4211398
3
Medium Stone Grey
System
3023
Plate 1X2
861
1993
9372
1981
4211399
2
Medium Stone Grey
System
3024
Plate 1X1
359
2001
3596
1986
4211438
1
Medium Stone Grey
System
3666
Plate 1X6
459
1998
4196
1991
4211452
3
Medium Stone Grey
System
3795
Plate 2X6
491
2001
4540
1980
4211488
3
Medium Stone Grey
System
4286
Roof Tile 1X3/25°
101
2003
1375
1990
4211564
4
Medium Stone Grey
System
3245
Brick 1X2X2
126
2002
774
1997
4211613
2
Medium Stone Grey
System
2653
Sliding Piece 1X4
125
2004
219
1996
4515374
6
Medium Stone Grey
System
60481
Roof Tile 2X1X2
105
2008
506
2008
4558953
3
Medium Stone Grey
System
87087
Brick 1X1 W. 1 Knob
223
2010
1366
2009
4560183
4
Medium Stone Grey
System
87079
Flat Tile 2X4
296
2010
1971
2010
4650260
9
Medium Stone Grey
System
98138
Flat Tile 1X1, Round
225
2011
1777
2011
6031056
4
Medium Stone Grey
System
6182
Arch 1X4X2
38
2008
178
1996
6071299
2
Medium Stone Grey
System
15207
Wall Element 1X4X1 Abs
62
2011
394
2008
4211483
1
Medium Stone Grey
Technic
4274
Connector Peg W. Knob
761
1997
1737
1981
4211508
1
Medium Stone Grey
Technic
4697
T-Piece
241
2002
300
1989
4211807
2
Medium Stone Grey
Technic
3673
Connector Peg
839
1993
839
1993
6102311
1
New Dark Red
System
19811
Fox W. Hole Ø1,5 Dec. 1
2
2015
2
2015
6103036
1
New Dark Red
System
20032
Wig_Wavy W. Ears "No. 1"
11
2015
11
2015
4211166
2
Reddish Brown
System
6143
Brick Ø16 W. Cross
213
2002
1797
1993
4211180
3
Reddish Brown
System
30136
Palisade Brick 1X2
179
2004
816
1996
4211190
1
Reddish Brown
System
3710
Plate 1X4
369
2003
6774
1981
4211195
1
Reddish Brown
System
4287
Roof Tile 1X3/25° Inv.
50
2003
738
1994
4211200
2
Reddish Brown
System
2357
Brick Corner 1X2X2
98
2004
1404
1994
4211202
2
Reddish Brown
System
3039
Roof Tile 2X2/45°
117
2004
2572
1986
4211242
4
Reddish Brown
System
3005
Brick 1X1
211
2004
4367
1991
4216695
2
Reddish Brown
System
3022
Plate 2X2
327
2004
6616
1986
4216945
1
Reddish Brown
System
3460
Plate 1X8
112
2004
2374
1981
4542131
1
Reddish Brown
System
30044
Window Frame 1X2X2 2/3
51
2004
130
2004
4561915
1
Reddish Brown
System
64390
Wooden Door 4X6 W/Window
19
2010
24
2010
4629736
2
Reddish Brown
System
60481
Roof Tile 2X1X2
45
2011
506
2008
6055086
2
Reddish Brown
System
13965
Brick With Bow 1X3X3
79
2013
151
2013
6063444
1
Reddish Brown
System
6233
Rocket Step 3X3X2 W. Cross
6
2014
105
1995
6069984
2
Reddish Brown
System
11477
Plate W. Bow 1X2X2/3
93
2014
1960
2013
6078605
2
Reddish Brown
System
33183
Carrot Top
60
2013
255
1999
6117976
1
Reddish Brown
System
21712
Angle Plate 1X2 / 2X2
21
2014
798
2008
6055781
1
Reddish Brown
Technic
62462
Tube W/Double Ø4.85
6
2014
448
2005
4598955
1
Sand Yellow
System
92590
Mini Figure Sack
66
2011
66
2011
6102756
1
Silver Metallic
System
15395
Dome 2X2, Inverted W. One Stud
21
2015
169
2014
3001140
1
Transparent
System
30011
Mini Head - Tr.
76
1992
137
1992
3005743
4
Transparent Blue
System
30057
Round Plate 1X1 - Tr.
193
1994
3306
1992
6093752
1
Transparent Bluish Violet (Glitter)
System
30063
Parabolic Element Ø16 - Tr
4
2015
413
1994
6065505
1
Transparent Bright Bluish Violet
System
98138
Flat Tile 1X1, Round
32
2014
1777
2011
4244369
4
Transparent Bright Orange
System
50746
Roof Tile 1 X 1 X 2/3
140
2004
960
2004
4278409
1
Transparent Bright Orange
System
54196
Slide Shoe Round 2X2
43
2005
258
2002
4541710
7
Transparent Bright Orange
System
30070
Flat Tile 1X2 - Tr
51
2005
395
1998
4649066
2
Transparent Bright Orange
System
64647
Feather
116
2012
296
2009
6022650
4
Transparent Bright Orange
System
6270
Roof Tile 1X2/45° - Tr.
4
2010
42
1997
4153989
2
Transparent Fluorescent Reddish Orange
System
30068
Round Brick 1 - Tr
45
2001
681
1994
4129917
8
Transparent Medium Reddish Violet
System
30153
Diamond With Stick
56
2000
589
1998
6053876
4
Transparent Medium Reddish Violet
System
98138
Flat Tile 1X1, Round
34
2014
1777
2011
6099532
2
Transparent Medium Reddish Violet
System
30385
Rock Crystal, Transparent
10
2015
126
1999
4646864
1
Transparent Red
System
98138
Flat Tile 1X1, Round
166
2012
1777
2011
6104419
2
Transparent Red
System
20301
Flat Tile 1X1, Round "No. 31"
4
2015
4
2015
4541895
2
Warm Gold
System
30046
Cavity W. Leads
25
2009
66
1997
4585493
2
Warm Gold
System
48336
Plate 1X2 W. Stick 3.18
111
2010
1507
2004
4649422
2
Warm Gold
System
98138
Flat Tile 1X1, Round
91
2012
1777
2011
6013297
1
Warm Gold
System
60474
Plate 4X4 Round W. Snap
9
2013
774
2008
6050916
2
Warm Gold
System
15470
1X1 Decoration Top No. 1
31
2014
207
2014
6097234
1
Warm Gold
System
19121
Iron Fence 1X4X2 W. 4 Studs
11
2015
27
2015
300501
1
White
System
3005
Brick 1X1
638
1992
4367
1991
654101
2
White
System
6541
Technic Brick 1X1
126
1994
1145
1994
4249741
1
White
System
3898
Mini Bakers Hat
31
1994
39
1994
4518400
2
White
System
59900
Nose Cone Small 1X1
207
2002
1833
2002
6103300
1
White
System
19193
Hip W/Shorts No. 3 Ass. 2
1
2015
2
2015
Colour summary
| Colour | Unique | Total |
| --- | --- | --- |
| Black | 8 | 11 |
| Brick Yellow | 17 | 37 |
| Bright Blue | 1 | 2 |
| Bright Reddish Violet | 8 | 25 |
| Bright Yellow | 3 | 5 |
| Bright Yellowish Green | 4 | 9 |
| Dark Brown | 3 | 4 |
| Dark Green | 1 | 1 |
| Dark Orange | 2 | 2 |
| Dark Stone Grey | 7 | 16 |
| Flame Yellowish Orange | 10 | 31 |
| Lavender | 1 | 4 |
| Light Nougat | 2 | 2 |
| Light Purple | 2 | 3 |
| Medium Lilac | 1 | 2 |
| Medium Nougat | 9 | 22 |
| Medium Stone Grey | 16 | 50 |
| New Dark Red | 2 | 2 |
| Reddish Brown | 18 | 31 |
| Sand Yellow | 1 | 1 |
| Silver Metallic | 1 | 1 |
| Transparent | 1 | 1 |
| Transparent Blue | 1 | 4 |
| Transparent Bluish Violet (Glitter) | 1 | 1 |
| Transparent Bright Bluish Violet | 1 | 1 |
| Transparent Bright Orange | 5 | 18 |
| Transparent Fluorescent Reddish Orange | 1 | 2 |
| Transparent Medium Reddish Violet | 3 | 14 |
| Transparent Red | 2 | 3 |
| Warm Gold | 6 | 10 |
| White | 5 | 7 |
| Total | 143 | 322 |
Category summary
| Category | Unique | Total |
| --- | --- | --- |
| System | 138 | 316 |
| Technic | 5 | 6 |
| Total | 143 | 322 |