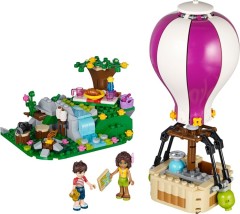 Inventory for 41097-1: Heartlake Hot Air Balloon
This set inventory has been obtained from LEGO Customer Services replacement parts page.
Important note: We do not control this inventory and cannot currently make changes to it. Use it as a guide to the contents of the set, or to find out part numbers when requesting replacements.
Download the inventory as a CSV file »
View the Rebrickable.com inventory for this set »
View the inventory at BrickLink.com »
Element
Image
Qty
Colour
Category
Design
Element name
Element
in sets
Element
introduced in
Design
in sets
Design
introduced in
306226
1
Black
System
3062
Round Brick 1X1
418
1980
2959
1980
4106552
1
Black
System
30089
Camera
130
1997
144
1997
6006739
4
Black
System
76116
Bad Robot Arm
71
2008
368
2008
6015891
4
Black
System
11090
Holder Ø3.2 W/Tube Ø3.2 Hole
138
2013
370
2013
6116604
4
Black
System
21462
Light Sword - Blade
170
2008
541
2008
373726
1
Black
Technic
3737
Cross Axle 10M
448
1981
463
1981
4113233
2
Brick Yellow
System
3710
Plate 1X4
307
1999
6605
1981
4113916
1
Brick Yellow
System
3010
Brick 1X4
209
1998
4377
1991
4113988
1
Brick Yellow
System
3034
Plate 2X8
122
1998
2544
1980
4114026
1
Brick Yellow
System
3069
Flat Tile 1X2
221
1998
4754
1991
4118790
5
Brick Yellow
System
3021
Plate 2X3
244
1999
4907
1980
4124067
1
Brick Yellow
System
3666
Plate 1X6
169
1999
4091
1991
4157277
2
Brick Yellow
System
6636
Flat Tile 1X6
90
2001
2182
1996
4159279
1
Brick Yellow
System
3245
Brick 1X2X2
80
2001
754
1997
4181134
1
Brick Yellow
System
44237
Brick 2X6
81
2001
1277
1994
4185177
1
Brick Yellow
System
3068
Flat Tile 2X2
153
2001
3182
1993
4218749
2
Brick Yellow
System
30136
Palisade Brick 1X2
87
2003
786
1996
4543858
4
Brick Yellow
System
30357
Plate 3X3, 1/4 Circle
41
1999
389
1999
4655257
3
Brick Yellow
System
88072
Plate 1X2 W. Vertical Schaft
29
2012
544
2008
6055868
8
Brick Yellow
System
85080
Brick 2X2W.Inside And Outs.Bow
11
2014
303
1996
6066344
2
Brick Yellow
System
14769
Flat Tile 2X2, Round
39
2012
802
2008
6101009
1
Brick Yellow
System
19683
Flat Tile 2X2 "No.242"
3
2015
3
2015
6146221
1
Brick Yellow
System
26169
Wall Element 1X2X1
36
2015
365
2010
4565388
1
Bright Green
System
87580
Plate 2X2 W 1 Knob
26
2011
1087
2009
6170298
5
Bright Purple
System
28573
Bracelet Upper Part
65
2011
484
2011
306821
2
Bright Red
System
3068
Flat Tile 2X2
251
1994
3182
1993
6092565
2
Bright Red
System
15573
Plate 1X2 W. 1 Knob
103
2014
1926
2002
4513174
2
Bright Red
Technic
59443
Cross Axle, Extension, 2M
154
2007
1064
2005
6096320
4
Bright Reddish Violet
System
18969
Deco. Shell 12M W. Ø3,2 Holder
2
2015
11
2015
6100562
2
Bright Reddish Violet
System
18660
Cherry,
46
2013
109
2011
614124
1
Bright Yellow
System
6141
Round Plate 1X1
340
1992
5279
1990
4239601
2
Bright Yellow
Technic
32123
1/2 Bush
327
2004
1176
1993
4210210
4
Bright Yellowish Green
System
3623
Plate 1X3
38
2010
3331
1981
4279734
2
Bright Yellowish Green
System
30367
Final Brick 2X2
44
2005
637
2001
6057878
5
Bright Yellowish Green
System
98138
Flat Tile 1X1, Round
44
2014
1760
2011
6104128
2
Bright Yellowish Green
System
15395
Dome 2X2, Inverted W. One Stud
7
2015
165
2014
6105971
1
Bright Yellowish Green
System
11403
Female Hip With Short 2, Ass. "6"
1
2015
24
2013
6055365
1
Dark Brown
System
15705
Mini Wig No. 73
11
2014
11
2014
6096113
1
Dark Brown
System
18641
Wig, Curly 1
25
2013
26
2013
242328
4
Dark Green
System
2423
Limb Element, Small
147
1992
307
1992
4107736
1
Dark Green
System
3004
Brick 1X2
293
1997
6825
1986
4109674
2
Dark Green
System
3002
Brick 2X3
152
1998
2576
1992
4116671
1
Dark Green
System
3032
Plate 4X6
69
1999
1828
1991
4121969
5
Dark Green
System
3040
Roof Tile 1X2/45°
138
1997
2995
1986
4161677
1
Dark Green
System
41539
Plate 8X8
27
2010
351
2001
4277361
1
Dark Green
System
3035
Plate 4X8
54
2008
1228
1992
4569058
2
Dark Green
System
6141
Plate 1X1 Round
87
2010
5279
1990
4610602
1
Dark Green
System
92438
Plate 8X16
16
2012
277
2011
6038682
2
Dark Green
System
30565
Plate 4X4, 1/4 Circle
34
2001
436
2001
6171101
1
Dark Green
System
28841
Frog
24
2011
49
2011
4273743
1
Dark Orange
System
33125
Croissant
56
2003
67
1998
4210633
4
Dark Stone Grey
System
6141
Round Plate 1X1
402
2002
5279
1990
4211000
2
Dark Stone Grey
System
3660
Roof Tile 2X2/45° Inv.
264
2003
2321
1987
4211042
2
Dark Stone Grey
System
4032
Plate 2X2 Round
343
2004
2737
1992
4211085
1
Dark Stone Grey
System
3001
Brick 2X4
290
2001
4283
1991
4211095
2
Dark Stone Grey
System
30136
Palisade Brick 1X2
127
2003
786
1996
4211099
2
Dark Stone Grey
System
3008
Brick 1X8
130
2002
1473
1992
4580437
2
Dark Stone Grey
System
60475
Brick 1X1 W/Holder, H0Rizontal
54
2010
531
2008
6103764
1
Earth Blue
System
18353
Female, Hip W/Shorts 1 No.4
8
2013
42
2012
4586057
1
Earth Green
System
3020
Plate 2X4
62
2005
7030
1980
6013102
3
Earth Green
System
3023
Plate 1X2
60
2005
9106
1981
4243920
1
Flame Yellowish Orange
System
6256
Dish Ø24
38
2005
140
1995
6170304
11
Flame Yellowish Orange
System
28573
Bracelet Upper Part
72
2011
484
2011
6100638
1
Light Nougat
System
19611
Head, Boy 1, Dec. 5
1
2015
1
2015
6101316
1
Light Nougat
System
11408
Torso, Boy W/Arm 1, Ass 8
3
2015
44
2013
6092768
1
Light Purple
System
14769
Flat Tile 2X2, Round
24
2013
802
2008
6096990
1
Light Purple
System
18853
Flower W. 1,5 Connector
34
2015
55
2015
4619511
3
Medium Azur
System
3023
Plate 1X2
69
2014
9106
1981
4624705
2
Medium Azur
System
2431
Flat Tile 1X4
50
2012
3620
1991
4653970
1
Medium Azur
System
3003
Brick 2X2
33
2012
4712
1986
4655246
2
Medium Azur
System
6091
Brick W. Arch 1X1X1 1/3
39
2014
1303
1992
6003008
2
Medium Azur
System
87580
Plate 2X2 W 1 Knob
33
2012
1087
2009
6036500
1
Medium Azur
System
30367
Final Brick 2X2
21
2013
637
2001
6087082
1
Medium Lavender
System
18658
Bag, Basket
16
2013
48
2013
4651232
3
Medium Nougat
System
30137
Palisade Brick 1X4
22
2013
257
1996
6017034
1
Medium Nougat
System
11816
Head, Female 1, Dec. 1
33
2012
33
2012
6057986
2
Medium Nougat
System
3005
Brick 1X1
61
2010
4267
1991
6100431
1
Medium Nougat
System
92456
Torso, Girl W/Arm 1, Ass. 60
6
2015
395
2012
6103413
1
Medium Nougat
System
92263
Right Door W/Knob Hinge 1X3X2
1
2015
14
2007
4211389
3
Medium Stone Grey
System
3005
Brick 1X1
377
2002
4267
1991
4211393
1
Medium Stone Grey
System
3009
Brick 1X6
251
2001
2658
1991
4211406
1
Medium Stone Grey
System
3034
Plate 2X8
332
2002
2544
1980
4211428
3
Medium Stone Grey
System
3622
Brick 1X3
250
2002
2545
1992
4211542
2
Medium Stone Grey
System
32001
Plate 2X6 W. Holes
111
1998
319
1996
4211614
6
Medium Stone Grey
System
3040
Roof Tile 1X2/45°
288
2002
2995
1986
4211632
4
Medium Stone Grey
System
2540
Plate 1X2 W. Stick
230
2004
1620
1992
4211732
1
Medium Stone Grey
System
41769
Right Plate 2X4 W/Angle
97
2002
906
2001
4521921
9
Medium Stone Grey
System
54200
Roof Tile 1X1X2/3, Abs
365
2008
3590
2005
4650260
3
Medium Stone Grey
System
98138
Flat Tile 1X1, Round
225
2011
1760
2011
6071229
2
Medium Stone Grey
System
15712
Plate 1X1 W. Up Right Holder
184
2014
989
2010
6092956
1
Medium Stone Grey
System
16091
Stee.Wheel Ø16 F/Console 2X2
59
2012
121
2009
4211758
1
Medium Stone Grey
Technic
42610
Hub Ø11,2 X 7,84
277
2004
292
2002
4211815
1
Medium Stone Grey
Technic
4519
Cross Axle 3M
948
1995
1335
1990
4535768
1
Medium Stone Grey
Technic
60485
Cross Axle 9M
166
2009
186
2009
4211151
1
Reddish Brown
System
3069
Flat Tile 1X2
199
2004
4754
1991
4211159
1
Reddish Brown
System
4032
Plate 2X2 Round
188
2005
2737
1992
4211180
1
Reddish Brown
System
30136
Palisade Brick 1X2
176
2004
786
1996
4211202
2
Reddish Brown
System
3039
Roof Tile 2X2/45°
115
2004
2537
1986
4217848
1
Reddish Brown
System
3958
Plate 6X6
40
2006
888
1994
4598334
1
Reddish Brown
System
33009
Book
19
2004
82
1997
6022098
1
Reddish Brown
System
30094
Plate With Frame 4X4
9
2012
11
2011
6036503
2
Reddish Brown
System
92947
Profile Brick Ø15.83 W. Cross
44
2013
367
2011
6055086
2
Reddish Brown
System
13965
Brick With Bow 1X3X3
72
2013
138
2013
6062574
1
Reddish Brown
System
87087
Brick 1X1 W. 1 Knob
59
2012
1311
2009
6078605
1
Reddish Brown
System
33183
Carrot Top
53
2013
237
1999
6116613
2
Reddish Brown
System
21462
Light Sword - Blade
97
2011
541
2008
6173132
2
Reddish Brown
Technic
29219
Tube, W/ Double 4.85 Hole
25
2015
399
2009
6020990
2
Silver Metallic
System
75937
Parabolic Ring
63
2012
228
1999
4650498
1
Transparent
System
98138
Flat Tile 1X1, Round
139
2012
1760
2011
3006843
1
Transparent Blue
System
30068
Round Brick 1 - Tr
78
1996
681
1994
4567331
1
Transparent Blue
System
64288
Nose Cone Small 1X1 - Tr
99
2003
806
2003
4222960
1
Transparent Bright Orange
System
30057
Round Plate 1X1 - Tr.
279
2004
3306
1992
4649066
1
Transparent Bright Orange
System
64647
Feather
114
2012
293
2009
6022171
2
Transparent Light Blue
System
98138
Flat Tile 1X1, Round
158
2013
1760
2011
4143404
2
Transparent Medium Reddish Violet
System
6264
Mini Mug
28
2001
94
1994
6034543
1
Warm Gold
System
30162
Prismatic Binoculars
14
2014
366
1998
6102962
1
Warm Gold
System
19997
Flat Tile 1X1, Round "No. 29"
4
2015
4
2015
302201
1
White
System
3022
Plate 2X2
696
1986
6467
1986
306201
2
White
System
3062
Round Brick 1X1
336
1992
2959
1980
306801
2
White
System
3068
Flat Tile 2X2
435
1993
3182
1993
379401
6
White
System
3794
Plate 1X2 W. 1 Knob
569
1992
2232
1991
396001
1
White
System
3960
Round Plate Ø32X6.4
78
1994
281
1994
614301
1
White
System
6143
Brick Ø16 W. Cross
249
1994
1757
1993
6096321
4
White
System
18969
Deco. Shell 12M W. Ø3,2 Holder
5
2015
11
2015
Colour summary
| Colour | Unique | Total |
| --- | --- | --- |
| Black | 6 | 15 |
| Brick Yellow | 17 | 37 |
| Bright Green | 1 | 1 |
| Bright Purple | 1 | 5 |
| Bright Red | 3 | 6 |
| Bright Reddish Violet | 2 | 6 |
| Bright Yellow | 2 | 3 |
| Bright Yellowish Green | 5 | 14 |
| Dark Brown | 2 | 2 |
| Dark Green | 11 | 21 |
| Dark Orange | 1 | 1 |
| Dark Stone Grey | 7 | 15 |
| Earth Blue | 1 | 1 |
| Earth Green | 2 | 4 |
| Flame Yellowish Orange | 2 | 12 |
| Light Nougat | 2 | 2 |
| Light Purple | 2 | 2 |
| Medium Azur | 6 | 11 |
| Medium Lavender | 1 | 1 |
| Medium Nougat | 5 | 8 |
| Medium Stone Grey | 15 | 39 |
| Reddish Brown | 13 | 18 |
| Silver Metallic | 1 | 2 |
| Transparent | 1 | 1 |
| Transparent Blue | 2 | 2 |
| Transparent Bright Orange | 2 | 2 |
| Transparent Light Blue | 1 | 2 |
| Transparent Medium Reddish Violet | 1 | 2 |
| Warm Gold | 2 | 2 |
| White | 7 | 17 |
| Total | 124 | 254 |
Category summary
| Category | Unique | Total |
| --- | --- | --- |
| System | 117 | 244 |
| Technic | 7 | 10 |
| Total | 124 | 254 |