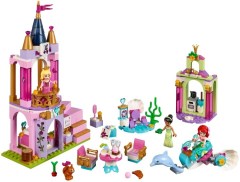 Inventory for 41162-1: Ariel, Aurora, and Tiana's Royal Celebration
This set inventory has been obtained from LEGO Customer Services replacement parts page.
Important note: We do not control this inventory and cannot currently make changes to it. Use it as a guide to the contents of the set, or to find out part numbers when requesting replacements.
Download the inventory as a CSV file »
View the Rebrickable.com inventory for this set »
View the inventory at BrickLink.com »
Element
Image
Qty
Colour
Category
Design
Element name
Element
in sets
Element
introduced in
Design
in sets
Design
introduced in
452926
1
Black
System
4529
Pot
68
1994
72
1994
6252351
1
Black
System
45691
Mini Doll, Wig, No. 33
1
2019
1
2019
4114001
1
Brick Yellow
System
3032
Plate 4X6
151
1998
1877
1991
4159553
1
Brick Yellow
System
3024
Plate 1X1
184
2001
3580
1986
4119479
1
Bright Green
System
33183
Carrot Top
169
1999
255
1999
6182261
2
Bright Green
System
32607
Plant, W/ Plate 1X1, No. 1
75
2018
106
2018
6269992
1
Bright Green
System
30093
See Grass
9
2018
74
2002
6271907
1
Bright Green
System
39295
Fishtail, W/ Hip, No. 103
1
2019
2
2019
6056261
1
Bright Purple
System
87079
Flat Tile 2X4
10
2018
1965
2010
6056263
1
Bright Purple
System
3020
Plate 2X4
23
2014
7172
1980
6056265
2
Bright Purple
System
10314
Brick 1X4X1 1/3
5
2018
165
2008
6127601
2
Bright Purple
System
54200
Roof Tile 1X1X2/3, Abs
29
2014
3690
2005
6132918
2
Bright Purple
System
11477
Plate W. Bow 1X2X2/3
15
2016
1953
2013
6133808
3
Bright Purple
System
60474
Plate 4X4 Round W. Snap
11
2017
774
2008
6222189
3
Bright Purple
System
15068
Plate W. Bow 2X2X2/3
7
2018
1390
2014
6250439
1
Bright Purple
System
29171
Diadem
2
2019
26
2014
6055639
1
Bright Red
System
15677
Wig Wavy No 2
10
2014
18
2014
6206148
1
Bright Red
System
24866
Flower 1X1
54
2018
332
2018
6023827
1
Bright Reddish Violet
System
11618
Bow No. 1
50
2013
135
2013
6268952
1
Bright Reddish Violet
System
4495
Streamer
18
2017
487
1992
6087084
1
Bright Yellowish Green
System
18660
Cherry,
32
2011
116
2011
6129600
1
Bright Yellowish Green
System
92438
Plate 8X16
10
2016
287
2011
6097048
1
Cool Yellow
System
18842
Wig Wavy No. 3
3
2015
4
2015
6171101
1
Dark Green
System
28841
Frog
25
2011
51
2011
4273743
1
Dark Orange
System
33125
Croissant
55
2003
66
1998
6252410
1
Dark Orange
System
49086
Squirrel, W/ 1.5 Hole, No. 6
1
2019
1
2019
6039479
2
Dark Stone Grey
System
14417
Plate 1X2 Ball Ø5.9 Middle
230
2014
230
2014
6209807
1
Earth Blue
System
35563
Roof 2X4X4
4
2018
11
2018
6167776
3
Flame Yellowish Orange
System
28619
Star Symbol W/ Tube And Hole Ø1.5
31
2015
75
2014
6209681
14
Flame Yellowish Orange
System
24866
Flower 1X1
36
2018
332
2018
6212994
1
Flame Yellowish Orange
System
32606
Flower, W/ 3.2 Shaft, 1.5 Hole, No. 1
8
2018
34
2018
6099349
4
Lavender
System
3003
Brick 2X2
15
2015
4787
1986
6099361
1
Lavender
System
3034
Plate 2X8
2
2018
2599
1980
6209806
1
Lavender
System
35565
Wall 2X6X6, 1/2 Circle, W/ Cut Out
3
2018
7
2018
6191627
1
Light Nougat
System
92456
Torso, Girl, W/ Arm, No. 231
4
2017
395
2012
6240209
1
Light Nougat
System
40364
Mini Doll, Head, No. 128
2
2019
2
2019
6240231
1
Light Nougat
System
40365
Mini Doll, Head, No. 129
1
2019
1
2019
6251843
1
Light Nougat
System
92456
Torso, Girl, W/ Arm, No. 297
1
2019
395
2012
4227659
2
Light Purple
System
3001
Brick 2X4
5
2019
4346
1991
4286050
5
Light Purple
System
3005
Brick 1X1
31
2008
4360
1991
4517993
7
Light Purple
System
3004
Brick 1X2
53
2008
6938
1986
6060795
2
Light Purple
System
15470
1X1 Decoration Top No. 1
82
2014
205
2014
6096990
1
Light Purple
System
18853
Flower W. 1,5 Connector
34
2015
56
2015
6099370
1
Light Purple
System
3852
Hair Brush
12
2016
90
2004
6175307
2
Light Purple
System
3659
Brick W. Bow 1X4
6
2017
532
1992
6204509
4
Light Purple
System
87620
Brick 2X2 W. Angle 45 Degrees
3
2018
230
2010
6249953
2
Light Purple
System
40066
Wall 1X6X7, W/ Arch
1
2019
8
2019
6253011
2
Light Purple
System
47111
Flat Tile 2X2, No. 387
2
2019
2
2019
6253341
1
Light Purple
System
28466
Left, Staircase 6X6X4
1
2019
6
2017
6034425
1
Light Royal Blue
System
13987
Dolphin With Hole Ø 1.5 - Dec. No 1
12
2013
12
2013
6209683
1
Light Royal Blue
System
24866
Flower 1X1
13
2018
332
2018
4625032
3
Medium Azur
System
3022
Plate 2X2
52
2012
6599
1986
4649741
4
Medium Azur
System
3069
Flat Tile 1X2
82
2013
4883
1991
4655246
2
Medium Azur
System
6091
Brick W. Arch 1X1X1 1/3
42
2014
1330
1992
6058746
1
Medium Azur
System
15469
Plate 2X2,2/3 W/Krydshul& Crown Leaf
12
2014
14
2014
6132411
1
Medium Azur
System
15395
Dome 2X2, Inverted W. One Stud
20
2016
169
2014
6136419
3
Medium Azur
System
18674
Plate Round W. 1 Knob
39
2016
510
2015
6138571
1
Medium Azur
System
22888
1/2 Circle Plate 4X8
16
2017
162
2016
6248486
4
Medium Azur
System
35391
Wall Double Corner 1X2X1
15
2016
109
2016
6022005
4
Medium Lavender
System
3040
Roof Tile 1X2/45°
12
2014
3043
1986
6062386
2
Medium Lavender
System
14769
Flat Tile 2X2, Round
37
2012
825
2008
6152645
5
Medium Lavender
System
3069
Flat Tile 1X2
17
2016
4883
1991
6249089
2
Medium Lavender
System
41740
Plate 1X4, W/ 2 Knobs, No. 2
2
2019
79
2019
6250119
2
Medium Lavender
System
41948
Plate 8X8, 1/2 Circle
1
2019
7
2019
6252352
1
Medium Nougat
System
49088
Mini Doll, Head, No. 181
1
2019
1
2019
6252355
1
Medium Nougat
System
92456
Torso, Girl, W/ Arm, No. 306
1
2019
395
2012
4211491
1
Medium Stone Grey
System
4345
Mailbox, Casing 2X2X2
87
2004
258
1992
4211881
1
Medium Stone Grey
System
6134
Plate 2X2 (Rocking)
264
2004
714
1994
4594238
2
Medium Stone Grey
System
60897
Plate 1X1 W. Holder
304
2004
1513
1994
6043656
3
Medium Stone Grey
System
14704
Plate 1X2 Ball Cup / Friction Middle
282
2014
286
2014
6063611
1
Medium Stone Grey
System
15456
Plate 2X2 W. Ball
50
2005
130
2005
6126082
1
Medium Stone Grey
System
23893
Plate 2X2 W 1 Knob
192
2013
726
2010
4211166
1
Reddish Brown
System
6143
Brick Ø16 W. Cross
212
2002
1792
1993
4221744
1
Reddish Brown
System
3024
Plate 1X1
174
2004
3580
1986
6075208
1
Reddish Brown
System
17715
Shaft 3M Ø3.2
87
2012
459
2012
6182435
1
Reddish Brown
System
32647
Flat Tile 2X2, Round, No. 1075
7
2017
7
2017
6216968
1
Spring Yellowish Green
System
3034
Plate 2X8
3
2018
2599
1980
6249066
1
Spring Yellowish Green
System
40066
Wall 1X6X7, W/ Arch
1
2019
8
2019
6249408
1
Spring Yellowish Green
System
29171
Diadem
1
2019
26
2014
6252360
1
Spring Yellowish Green
System
15875
Skirt, W/ Hip, No. 167
1
2019
33
2014
6252917
3
Spring Yellowish Green
System
6182
Arch 1X4X2
2
2019
177
1996
6253340
2
Spring Yellowish Green
System
2453
Brick 1X1X5
1
2019
468
1992
6166107
2
Transparent
System
28657
Cup Without Wreath
51
2010
51
2010
6167812
3
Transparent Light Blue
System
28682
Heart W/ Ø3,2 Shaft
14
2016
42
2015
6210440
2
Transparent Light Blue
System
28870
Design Element, W/ 3.2 Shaft, No. 1
4
2018
24
2017
6246890
1
Transparent Light Blue
System
35293
Wall Element 1X2X1
36
2015
120
2013
6253230
1
Transparent Light Blue
System
35378
Wall Element 1X2X2
29
2016
76
2010
6053876
6
Transparent Medium Reddish Violet
System
98138
Flat Tile 1X1, Round
34
2014
1778
2011
6240228
6
Transparent Medium Reddish Violet
System
28653
Plate 1X2
19
2017
528
2010
6247796
3
Transparent Medium Reddish Violet
System
28556
Diamond With Stick
35
2010
204
2010
6250124
4
Transparent Medium Reddish Violet
System
35274
Brick 1X2X5
4
2019
42
2013
4529247
2
Warm Gold
System
59900
Nose Cone Small 1X1
171
2008
1830
2002
4538126
1
Warm Gold
System
64644
Stick Ø3.2 2Mm W/Knob And Tube
156
2009
598
2009
4585493
8
Warm Gold
System
48336
Plate 1X2 W. Stick 3.18
111
2010
1500
2004
6071259
1
Warm Gold
System
15712
Plate 1X1 W. Up Right Holder
108
2014
1024
2010
6092594
5
Warm Gold
System
15573
Plate 1X2 W. 1 Knob
99
2010
2009
2002
6092672
2
Warm Gold
System
14918
Nose Cone 2X2X2
19
2014
218
2008
6107197
6
Warm Gold
System
3069
Flat Tile 1X2
37
2016
4883
1991
6107209
2
Warm Gold
System
43888
Column 1X1X6
13
2015
182
2003
6112307
4
Warm Gold
System
20310
Design Brick 1X1X2
18
2015
57
2015
6143597
1
Warm Gold
System
25516
Mini Hat No. 17
9
2016
9
2016
6162580
1
Warm Gold
System
18041
Harpoon Spike
14
2015
61
2014
6171138
2
Warm Gold
System
28841
Frog
11
2015
51
2011
6173109
1
Warm Gold
System
29171
Diadem
22
2014
26
2014
6186383
8
Warm Gold
System
23893
Plate 2X2 W 1 Knob
22
2017
726
2010
6249083
2
Warm Gold
System
41823
Fence 3X3X2
2
2019
2
2019
242001
1
White
System
2420
Corner Plate 1X2X2
295
1992
2491
1991
302001
1
White
System
3020
Plate 2X4
756
1992
7172
1980
379401
1
White
System
3794
Plate 1X2 W. 1 Knob
586
1992
2259
1991
393701
1
White
System
3937
Rocker Bearing 1X2
134
1991
1120
1991
434601
1
White
System
4346
Mailbox, Front 2X2
56
1995
158
1995
614301
3
White
System
6143
Brick Ø16 W. Cross
254
1994
1792
1993
663601
1
White
System
6636
Flat Tile 1X6
321
1996
2247
1996
4494474
1
White
System
47457
Plates W. Bows 2X2
77
2006
685
2003
4535737
6
White
System
63868
Plate 2X1 W/Holder,Vertical
90
2009
912
2009
6001512
1
White
System
10215
Flat Tile 2X2 No 138
17
2012
17
2012
6013866
1
White
System
11203
Flat Tile 2X2 Inv.
33
2013
278
2012
6034675
2
White
System
13547
Brick 1X4X1 Inv. Bow
14
2016
174
2013
6070698
6
White
System
99780
Angular Plate 1.5 Bot. 1X2 1/2
102
2013
1099
2012
6092873
2
White
System
95820
Brick 1X2 W. Horizontal Holder
69
2011
312
2009
6093053
4
White
System
18674
Plate Round W. 1 Knob
145
2015
510
2015
6097097
3
White
System
18970
Shell
10
2015
20
2015
6097637
1
White
System
99207
Angular Plate 1.5 Bot. 1X2 2/2
59
2016
848
2012
6137926
4
White
System
87620
Brick 2X2 W. Angle 45 Degrees
16
2016
230
2010
6195358
2
White
System
27507
Tile 4X4, W/ Bow
15
2017
80
2017
6238334
1
White
System
27448
Turntable 2X2, Female
14
2019
14
2019
6245249
1
White
System
35341
Flat Tile 2X3 W/ Angle
18
2016
117
2016
6249033
1
White
System
40066
Wall 1X6X7, W/ Arch
4
2019
8
2019
6249091
4
White
System
41740
Plate 1X4, W/ 2 Knobs, No. 2
10
2019
79
2019
6261349
2
White
System
43876
Plate 1X2 W. Vertical Schaft
33
2010
144
2010
6262945
1
White
System
40289
Frame 1X4X6
55
2010
60
2010
Colour summary
| Colour | Unique | Total |
| --- | --- | --- |
| Black | 2 | 2 |
| Brick Yellow | 2 | 2 |
| Bright Green | 4 | 5 |
| Bright Purple | 8 | 15 |
| Bright Red | 2 | 2 |
| Bright Reddish Violet | 2 | 2 |
| Bright Yellowish Green | 2 | 2 |
| Cool Yellow | 1 | 1 |
| Dark Green | 1 | 1 |
| Dark Orange | 2 | 2 |
| Dark Stone Grey | 1 | 2 |
| Earth Blue | 1 | 1 |
| Flame Yellowish Orange | 3 | 18 |
| Lavender | 3 | 6 |
| Light Nougat | 4 | 4 |
| Light Purple | 11 | 29 |
| Light Royal Blue | 2 | 2 |
| Medium Azur | 8 | 19 |
| Medium Lavender | 5 | 15 |
| Medium Nougat | 2 | 2 |
| Medium Stone Grey | 6 | 9 |
| Reddish Brown | 4 | 4 |
| Spring Yellowish Green | 6 | 9 |
| Transparent | 1 | 2 |
| Transparent Light Blue | 4 | 7 |
| Transparent Medium Reddish Violet | 4 | 19 |
| Warm Gold | 15 | 46 |
| White | 25 | 52 |
| Total | 131 | 280 |
Category summary
| Category | Unique | Total |
| --- | --- | --- |
| System | 131 | 280 |
| Total | 131 | 280 |