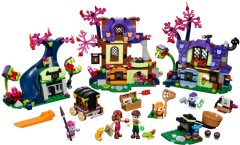 Inventory for 41185-1: Magic Rescue from the Goblin Village
This set inventory has been obtained from LEGO Customer Services replacement parts page.
Important note: We do not control this inventory and cannot currently make changes to it. Use it as a guide to the contents of the set, or to find out part numbers when requesting replacements.
Download the inventory as a CSV file »
View the Rebrickable.com inventory for this set »
View the inventory at BrickLink.com »
Element
Image
Qty
Colour
Category
Design
Element name
Element
in sets
Element
introduced in
Design
in sets
Design
introduced in
6133247
1
Aqua
System
3069
Flat Tile 1X2
16
2011
4899
1991
6178986
1
Aqua
System
28849
Creature, W/ 1.5 Hole, No. 47
1
2017
10
2017
241226
3
Black
System
2412
Radiator Grille 1X2
704
1991
3617
1991
242026
2
Black
System
2420
Corner Plate 1X2X2
444
1991
2504
1991
302426
10
Black
System
3024
Plate 1X1
454
1992
3596
1986
306226
3
Black
System
3062
Round Brick 1X1
421
1980
3038
1980
317626
1
Black
System
3176
Coupling Plate 2X2
162
1994
653
1994
362326
1
Black
System
3623
Plate 1X3
577
1993
3459
1981
379526
2
Black
System
3795
Plate 2X6
769
1994
4540
1980
383526
1
Black
System
3835
Mini Firemans Axe
116
1995
132
1995
393726
3
Black
System
3937
Rocker Bearing 1X2
267
1994
1126
1991
654126
1
Black
System
6541
Technic Brick 1X1
253
1994
1145
1994
4124096
1
Black
System
6134
Plate 2X2 (Rocking)
261
1999
718
1994
4140588
2
Black
System
2540
Plate 1X2 W. Stick
432
1994
1649
1992
4144024
2
Black
System
32530
T-Beam W. Plate 1X2 W. Tube
148
2001
417
2000
4216660
1
Black
System
30367
Final Brick 2X2
98
2001
649
2001
4273590
4
Black
System
49668
Plate 1X1 W/Tooth
138
2005
505
2003
4289538
6
Black
System
48729
Stick Ø 3.2 W. Holder
193
2005
640
2004
4515368
6
Black
System
60478
Plate 1X2 W/Shaft Ø3.2
260
2008
1128
2008
4548180
3
Black
System
85984
Roof Tile 1 X 2 X 2/3, Abs
416
2009
2294
2009
4550017
2
Black
System
60897
Plate 1X1 W. Holder
399
1994
1517
1994
4556158
1
Black
System
60470
Plate 1X2 W/Holder, Vertical
325
2008
953
2008
4558954
1
Black
System
87087
Brick 1X1 W. 1 Knob
201
2010
1366
2009
4565323
2
Black
System
87580
Plate 2X2 W 1 Knob
184
2010
1120
2009
4566308
1
Black
System
2453
Brick 1X1X5
34
1994
468
1992
4598528
6
Black
System
92280
Plate 1X2 W. Vertical Grip
321
2011
898
2011
4613153
3
Black
System
93273
Plate W. Bow 1X4X2/3
149
2012
983
2011
4614788
1
Black
System
87544
Wall Element 1X2X3
37
2008
188
2007
4618852
2
Black
System
3245
Brick 1X2X2
58
2011
774
1997
4632571
2
Black
System
4081
Lamp Holder
277
1991
1160
1991
6011815
2
Black
System
11055
Flag With 2 Holders
64
1996
345
1995
6016172
1
Black
System
99781
Angular Plate 1,5 Top 1X2 1/2
226
2013
765
2012
6020193
1
Black
System
99780
Angular Plate 1.5 Bot. 1X2 1/2
272
2013
1103
2012
6027996
1
Black
System
2397
Thill For Gig
13
2013
50
2005
6065496
1
Black
System
14716
Brick 1X1X3
17
2014
176
2014
6089577
1
Black
System
10201
Angle Plate 1X2/1X4
85
2008
452
2002
6092585
3
Black
System
15573
Plate 1X2 W. 1 Knob
223
2010
2016
2002
6097489
2
Black
System
60607
Lattic 1/2 For Frame 1X4X3
1
2017
53
2009
6157554
1
Black
System
26047
Plate 1X1 Round W/3.2 Shaft
121
2016
229
2016
6173105
2
Black
System
29170
Cavity W. Leads
15
2014
32
2010
6178922
1
Black
System
31493
Brick 1X2 With Cross Hole
95
2015
528
2009
6179277
1
Black
System
31798
Flat Tile 1X1, Round, No. 73
6
2017
6
2017
6179487
1
Black
System
31835
Mini Shield, No. 7
2
2017
2
2017
6240496
1
Black
System
31733
Skeleton Leg
21
2013
53
2013
370526
1
Black
Technic
3705
Cross Axle 4M
1064
1981
1170
1981
4107767
1
Black
Technic
32014
Angle Element, 90 Degrees [6]
134
1997
289
1997
4109810
2
Black
Technic
32062
2M Cross Axle W. Groove
588
1993
1819
1993
4121715
1
Black
Technic
2780
Connector Peg W. Friction
2110
1993
2110
1993
6006140
1
Black
Technic
74695
Beam 1X2 W/Cross And Hole
126
2009
398
2008
6073231
3
Black
Technic
15100
Single Bush 2M Ø4,9
150
2014
198
2014
6115248
4
Brick Yellow
System
15535
Flat Tile 2X2 Round W. Hole Ø4.85
28
2015
429
2013
6131896
2
Brick Yellow
System
63864
Flat Tile 1X3
31
2016
1266
2010
6179353
1
Brick Yellow
System
31814
Flat Tile 2X2, No. 331
5
2017
5
2017
4666579
4
Brick Yellow
Technic
6562
Connector Peg/Cross Axle
795
1997
1044
1990
4119479
2
Bright Green
System
33183
Carrot Top
169
1999
255
1999
6161772
1
Bright Green
System
17715
Shaft 3M Ø3.2
11
2016
460
2012
4118782
2
Bright Orange
System
3710
Plate 1X4
152
1998
6774
1981
4188771
3
Bright Orange
System
3069
Flat Tile 1X2
104
2003
4899
1991
4521571
1
Bright Orange
System
4070
Angular Brick 1X1
12
2005
1897
1991
4524929
2
Bright Orange
System
3024
Plate 1X1
66
2009
3596
1986
4650977
1
Bright Orange
System
93273
Plate W. Bow 1X4X2/3
15
2012
983
2011
6055326
1
Bright Orange
System
60897
Plate 1X1 W. Holder
37
2010
1517
1994
6177760
4
Bright Orange
System
24246
Flat Tile 1X1, 1/2 Circle
1
2017
15
2016
6240515
1
Bright Orange
System
31510
Element Seperator
347
2012
375
2012
614121
4
Bright Red
System
6141
Round Plate 1X1
494
1994
5401
1990
4278275
3
Bright Red
System
2654
Slide Shoe Round 2X2
94
2002
1289
1993
4538780
1
Bright Red
System
64728
Dynamit Ø3.2 Mm
73
2009
89
2009
4568388
12
Bright Red
System
88513
Horn W. Shaft Ø 3.2
57
2005
574
2005
6117974
3
Bright Red
System
21712
Angle Plate 1X2 / 2X2
70
2008
798
2008
6172746
5
Bright Red
System
87747
Tooth Ø3.2 Shaft
2
2017
264
2010
4611415
2
Bright Reddish Violet
System
3069
Flat Tile 1X2
74
2011
4899
1991
6003007
1
Bright Reddish Violet
System
59900
Nose Cone Small 1X1
35
2012
1833
2002
6133021
5
Bright Reddish Violet
System
2417
Limb Element
9
2016
196
1994
6177019
2
Bright Reddish Violet
System
2423
Limb Element, Small
2
2017
326
1992
6178583
1
Bright Reddish Violet
System
20381
Skirt, W/ Hip, No. 111
1
2017
8
2015
306924
1
Bright Yellow
System
3069
Flat Tile 1X2
309
1994
4899
1991
6057458
1
Bright Yellow
System
99780
Angular Plate 1.5 Bot. 1X2 1/2
35
2014
1103
2012
6071270
1
Bright Yellow
System
15712
Plate 1X1 W. Up Right Holder
30
2010
1028
2010
6146219
2
Bright Yellow
System
26169
Wall Element 1X2X1
23
2010
381
2010
6167223
2
Bright Yellow
System
24201
Plate W/ Half Bow Inv. 1X2X2/3
6
2016
287
2015
4650635
2
Bright Yellowish Green
System
40379
Tip Of The Tail Ø6,47
17
2006
167
2001
6057878
6
Bright Yellowish Green
System
98138
Flat Tile 1X1, Round
46
2014
1777
2011
6138659
25
Bright Yellowish Green
System
15070
Plade 1X1 M. 1 Lod. Tand
16
2016
186
2014
6142097
1
Bright Yellowish Green
System
25663
Flat Tile 2X2, Round "No. 1042"
12
2016
12
2016
6179921
1
Bright Yellowish Green
System
31875
Cameleon, W/ 1.5 Hole, No. 3
1
2017
1
2017
6182166
4
Bright Yellowish Green
System
28573
Bracelet Upper Part
7
2017
484
2011
4624381
2
Bright Yellowish Green
Technic
32474
Voodoo Ball Ø10,2
32
2005
295
2001
6178680
1
Cool Yellow
System
28849
Creature, W/ 1.5 Hole, No. 45
1
2017
10
2017
6109645
1
Dark Azur
System
98383
Mini Magic Oil Lamp
3
2015
13
2012
4538950
1
Dark Brown
System
64644
Stick Ø3.2 2Mm W/Knob And Tube
139
2009
598
2009
4549898
1
Dark Brown
System
4497
Spear
33
2009
227
1995
6107398
1
Dark Brown
System
20079
Wig_Short W. Ears "No. 1"
6
2015
6
2015
306928
2
Dark Green
System
3069
Flat Tile 1X2
115
1997
4899
1991
621528
2
Dark Green
System
6215
Brick 2X3 W. Arch
54
1995
296
1995
4112838
3
Dark Green
System
3010
Brick 1X4
196
1998
4453
1991
4161677
1
Dark Green
System
41539
Plate 8X8
28
2010
361
2001
4521931
3
Dark Green
System
48336
Plate 1X2 W. Stick 3.18
49
2008
1507
2004
4556159
3
Dark Green
System
60470
Plate 1X2 W/Holder, Vertical
36
2008
953
2008
4566179
2
Dark Green
System
87079
Flat Tile 2X4
40
2012
1971
2010
6007895
1
Dark Green
System
98560
Roof Tile 2X2X3/ 73 Gr.
9
2010
234
2008
6021999
2
Dark Green
System
6003
Plate 6X6 W. Bow
28
2012
168
1992
6062166
2
Dark Green
System
30357
Plate 3X3, 1/4 Circle
21
2009
407
1999
6097194
1
Dark Green
System
3958
Plate 6X6
24
2000
911
1994
6129807
2
Dark Green
System
11211
Brick 1X2 W. 2 Knobs
21
2016
869
2012
6133767
2
Dark Green
System
22888
1/2 Circle Plate 4X8
19
2016
162
2016
6146227
1
Dark Green
System
26169
Wall Element 1X2X1
11
2015
381
2010
6177783
2
Dark Green
System
3028
Plate 6X12
15
1996
438
1994
4278013
1
Dark Orange
System
33057
Turkey, Drumstick
71
2004
81
1997
4210639
2
Dark Stone Grey
System
6541
Technic Brick 1X1
174
2004
1145
1994
4211024
1
Dark Stone Grey
System
30000
Bearing Element 2X2 W.D. Snap
98
1998
269
1995
4211060
3
Dark Stone Grey
System
3003
Brick 2X2
287
2001
4794
1986
6158469
2
Dark Stone Grey
System
22484
3.2 Shaft W/5.9 Ball
30
2016
44
2016
6178919
2
Dark Stone Grey
System
31493
Brick 1X2 With Cross Hole
122
2009
528
2009
4210851
1
Dark Stone Grey
Technic
6536
Cross Block 90°
106
2004
938
1994
6083620
1
Dark Stone Grey
Technic
87083
Cross Axle 4M With End Stop
473
2010
554
2010
4528981
3
Earth Blue
System
3023
Plate 1X2
152
2004
9372
1981
4667595
2
Earth Blue
System
3020
Plate 2X4
122
2003
7185
1980
6061569
1
Earth Blue
System
15068
Plate W. Bow 2X2X2/3
67
2014
1395
2014
6094143
6
Earth Blue
System
11477
Plate W. Bow 1X2X2/3
58
2015
1960
2013
6097484
1
Earth Blue
System
13965
Brick With Bow 1X3X3
9
2015
151
2013
6097498
4
Earth Blue
System
3665
Roof Tile 1X2 Inv.
16
2005
2098
1987
6103771
1
Earth Blue
System
30099
Brick With Bow 1X5X4 Inv.
6
2015
104
1997
6115447
6
Earth Blue
System
6091
Brick W. Arch 1X1X1 1/3
22
2015
1331
1992
6142695
3
Earth Blue
System
18653
Brick 1X3X2 W. Inside Bow
12
2016
115
2015
6172647
3
Earth Blue
System
40378
Neck - Tail Link, Ø7.84-Ø6,47,
3
2007
89
2001
6177800
1
Earth Blue
System
28387
Left, Slide, 6X6X6
1
2017
16
2017
6179092
1
Earth Blue
System
40379
Tip Of The Tail Ø6,47
4
2017
167
2001
6178963
1
Earth Green
System
18353
Shorts, W/ Hip, No. 103
1
2017
42
2012
6179903
1
Flame Yellowish Orange
System
31871
Cat, W/ 1.5 Hole, No. 4
1
2017
1
2017
6112962
1
Lavender
System
3069
Flat Tile 1X2
11
2015
4899
1991
6178955
1
Lavender
System
28849
Creature, W/ 1.5 Hole, No. 46
1
2017
10
2017
6178372
1
Light Nougat
System
11408
Torso, Boy, W/ Arm, No. 102
1
2017
44
2013
6238827
1
Light Nougat
System
37814
Mini Doll, Head, No. 146
2
2017
2
2017
6055381
2
Light Purple
System
15826
Flat Tile 1X1, Round "No. 17"
23
2014
23
2014
4619511
1
Medium Azur
System
3023
Plate 1X2
69
2014
9372
1981
4179828
4
Medium Blue
System
3710
Plate 1X4
68
2002
6774
1981
4649756
1
Medium Blue
System
87087
Brick 1X1 W. 1 Knob
13
2013
1366
2009
4650970
2
Medium Blue
System
3020
Plate 2X4
18
2012
7185
1980
4651918
1
Medium Blue
System
60475
Brick 1X1 W/Holder, H0Rizontal
5
2012
549
2008
6101859
1
Medium Blue
System
93273
Plate W. Bow 1X4X2/3
2
2015
983
2011
6172786
4
Medium Blue
System
24246
Flat Tile 1X1, 1/2 Circle
1
2017
15
2016
4651902
2
Medium Lavender
System
87079
Flat Tile 2X4
40
2014
1971
2010
4566522
1
Medium Lilac
System
6141
Plate 1X1 Round
115
2010
5401
1990
4613192
2
Medium Lilac
System
3069
Flat Tile 1X2
57
2011
4899
1991
6030277
1
Medium Lilac
System
3020
Plate 2X4
31
2016
7185
1980
6070305
2
Medium Lilac
System
3062
Round Brick 1X1
23
2016
3038
1980
6097501
3
Medium Lilac
System
14769
Flat Tile 2X2, Round
18
2016
825
2008
6107202
2
Medium Lilac
System
3045
Corner Brick 2X2/45° Outside
4
2015
338
1999
6167458
1
Medium Lilac
System
50745
Brick 2X4X1 W. Screen
2
2017
257
2005
6172776
7
Medium Lilac
System
30357
Plate 3X3, 1/4 Circle
1
2017
407
1999
6172779
2
Medium Lilac
System
18980
1/2 Circle Plate 2X6
1
2017
190
2015
6172781
1
Medium Lilac
System
62360
Cockpit W. Bow 3X6X1
1
2017
41
2008
6182217
7
Medium Lilac
System
15068
Plate W. Bow 2X2X2/3
16
2017
1395
2014
6179436
3
Medium Lilac
Technic
31828
Voodoo Ball, Dia. 10.2, No. 1013
4
2017
4
2017
6022075
1
Medium Nougat
System
30350
Plate 2X3 W. Holder
7
2013
335
1999
6102984
1
Medium Nougat
System
4738
Chest 2X4
43
2014
177
2000
6143217
1
Medium Nougat
System
64951
Tub
7
2016
68
2005
6151654
1
Medium Nougat
System
26583
Flat Tile 1X4 "No. 81"
14
2016
14
2016
6167286
1
Medium Nougat
System
28699
Chest Lid 2X4
16
2014
26
2011
6178347
1
Medium Nougat
System
92456
Torso, Girl W/ Arm, No. 216
2
2017
395
2012
6182225
1
Medium Nougat
System
24086
Net, No. 1
1
2017
2
2016
6232991
1
Medium Nougat
System
24993
Mini Doll, Head, No. 162
6
2016
7
2016
4211349
1
Medium Stone Grey
System
2357
Brick Corner 1X2X2
176
2003
1404
1994
4211387
3
Medium Stone Grey
System
3003
Brick 2X2
377
2001
4794
1986
4211398
7
Medium Stone Grey
System
3023
Plate 1X2
861
1993
9372
1981
4211399
2
Medium Stone Grey
System
3024
Plate 1X1
359
2001
3596
1986
4211410
2
Medium Stone Grey
System
3039
Roof Tile 2X2/45°
233
2001
2572
1986
4211428
1
Medium Stone Grey
System
3622
Brick 1X3
257
2002
2595
1992
4211429
1
Medium Stone Grey
System
3623
Plate 1X3
409
2002
3459
1981
4211440
4
Medium Stone Grey
System
3700
Technic Brick 1X2, Ø4.9
321
2003
2024
1981
4211494
3
Medium Stone Grey
System
4460
Roof Tile 1X2X3/73°
78
2004
585
1994
4211541
1
Medium Stone Grey
System
32000
Brick 1X2 M. 2 Holes Ø 4,87
192
2002
960
1996
4211614
2
Medium Stone Grey
System
3040
Roof Tile 1X2/45°
295
2002
3049
1986
4211881
2
Medium Stone Grey
System
6134
Plate 2X2 (Rocking)
266
2004
718
1994
4244627
1
Medium Stone Grey
System
48336
Plate 1X2 W. Stick 3.18
362
2006
1507
2004
4515374
4
Medium Stone Grey
System
60481
Roof Tile 2X1X2
105
2008
506
2008
4521921
7
Medium Stone Grey
System
54200
Roof Tile 1X1X2/3, Abs
377
2008
3700
2005
4529241
1
Medium Stone Grey
System
59900
Nose Cone Small 1X1
211
2002
1833
2002
4644102
1
Medium Stone Grey
System
98397
Handlebar W/3.2 Shaft/Bar Ends
81
2012
91
2012
4650260
3
Medium Stone Grey
System
98138
Flat Tile 1X1, Round
225
2011
1777
2011
6000066
1
Medium Stone Grey
System
98283
Profile Brick 1X2 Single Gro.
83
2012
354
2012
6004729
1
Medium Stone Grey
System
75904
Hammer
24
2012
24
2012
6007894
1
Medium Stone Grey
System
98560
Roof Tile 2X2X3/ 73 Gr.
37
2009
234
2008
6008364
2
Medium Stone Grey
System
60583
Brick 1X1X3 W. 2 Grip
17
2012
131
2008
6028812
1
Medium Stone Grey
System
11476
Plate 1X2 W. 1 Horizontal Snap
253
2013
567
2013
6031056
2
Medium Stone Grey
System
6182
Arch 1X4X2
38
2008
178
1996
6052200
5
Medium Stone Grey
System
14769
Flat Tile 2X2, Round
161
2008
825
2008
6057449
2
Medium Stone Grey
System
15332
Fence 1X4X2 W. 4 Knobs
15
2012
132
2008
6061702
2
Medium Stone Grey
System
14716
Brick 1X1X3
48
2014
176
2014
6063898
1
Medium Stone Grey
System
16827
Flat Tile 1X1 "No. 147"
8
2014
8
2014
6075075
1
Medium Stone Grey
System
15571
End Ridged Tile 1X2/45°
35
2009
257
2008
6106189
1
Medium Stone Grey
System
15254
Brick W. Inside Bow 1X6X2
30
2011
169
2009
6132872
1
Medium Stone Grey
System
13547
Brick 1X4X1 Inv. Bow
25
2016
175
2013
6168633
4
Medium Stone Grey
System
28809
Plate 1X2 W. Horizontal Hole Ø4,85 Rev.
149
2015
222
2015
6170387
2
Medium Stone Grey
System
22886
Brick 1X2X3
18
2017
45
2016
4211483
1
Medium Stone Grey
Technic
4274
Connector Peg W. Knob
761
1997
1737
1981
6012466
1
Multicombination
System
10830
Magnifying Glass 40/26
46
2010
46
2010
6103036
1
New Dark Red
System
20032
Wig_Wavy W. Ears "No. 1"
11
2015
11
2015
4211152
1
Reddish Brown
System
3623
Plate 1X3
199
2004
3459
1981
4211159
8
Reddish Brown
System
4032
Plate 2X2 Round
195
2005
2807
1992
4211166
1
Reddish Brown
System
6143
Brick Ø16 W. Cross
213
2002
1797
1993
4211183
2
Reddish Brown
System
3062
Round Brick 1X1
261
2004
3038
1980
4211186
3
Reddish Brown
System
3020
Plate 2X4
425
2004
7185
1980
4211189
1
Reddish Brown
System
3021
Plate 2X3
258
2004
5035
1980
4211190
4
Reddish Brown
System
3710
Plate 1X4
369
2003
6774
1981
4211199
1
Reddish Brown
System
3040
Roof Tile 1X2/45°
138
2004
3049
1986
4211200
1
Reddish Brown
System
2357
Brick Corner 1X2X2
98
2004
1404
1994
4211211
2
Reddish Brown
System
3034
Plate 2X8
141
2004
2607
1980
4211214
1
Reddish Brown
System
3832
Plate 2X10
102
2004
1527
1991
4211220
4
Reddish Brown
System
3622
Brick 1X3
117
2004
2595
1992
4211225
3
Reddish Brown
System
3010
Brick 1X4
167
2004
4453
1991
4211242
1
Reddish Brown
System
3005
Brick 1X1
211
2004
4367
1991
4211252
2
Reddish Brown
System
3700
Technic Brick 1X2, Ø4.9
130
2004
2024
1981
4211257
4
Reddish Brown
System
2420
Corner Plate 1X2X2
157
2004
2504
1991
4216945
1
Reddish Brown
System
3460
Plate 1X8
112
2004
2374
1981
4225715
1
Reddish Brown
System
3030
Plate 4X10
43
2004
588
1993
4243838
1
Reddish Brown
System
3031
Plate 4X4
134
2004
2158
1991
4270470
3
Reddish Brown
System
4460
Roof Tile 1X2X3/73°
54
2005
585
1994
4283660
1
Reddish Brown
System
30357
Plate 3X3, 1/4 Circle
33
2006
407
1999
4504376
4
Reddish Brown
System
54200
Roof Tile 1X1X2/3, Abs
195
2005
3700
2005
4517594
1
Reddish Brown
System
30259
Triangular Sign W. Snap
19
2008
65
1999
4520638
1
Reddish Brown
System
61780
Box 2X2X2
103
2008
191
2008
4542131
2
Reddish Brown
System
30044
Window Frame 1X2X2 2/3
51
2004
130
2004
4595889
1
Reddish Brown
System
60594
Frame 1X4X3
27
2011
274
2007
4629736
2
Reddish Brown
System
60481
Roof Tile 2X1X2
45
2011
506
2008
4645103
2
Reddish Brown
System
32028
Plate 1X2 With Slide
41
2012
1143
1997
6022038
2
Reddish Brown
System
62361
Screen 1X6X1 W. Edge
8
2012
109
2008
6035547
2
Reddish Brown
System
6091
Brick W. Arch 1X1X1 1/3
63
2011
1331
1992
6058084
1
Reddish Brown
System
60593
Frame 1X2X3
20
2014
126
2009
6062574
2
Reddish Brown
System
87087
Brick 1X1 W. 1 Knob
60
2012
1366
2009
6065139
1
Reddish Brown
System
3029
Plate 4X12
13
2005
535
1994
6066114
2
Reddish Brown
System
15332
Fence 1X4X2 W. 4 Knobs
29
2009
132
2008
6066142
5
Reddish Brown
System
60897
Plate 1X1 W. Holder
52
2013
1517
1994
6069984
6
Reddish Brown
System
11477
Plate W. Bow 1X2X2/3
93
2014
1960
2013
6075208
4
Reddish Brown
System
17715
Shaft 3M Ø3.2
87
2012
460
2012
6080355
3
Reddish Brown
System
11090
Holder Ø3.2 W/Tube Ø3.2 Hole
31
2014
387
2013
6092590
5
Reddish Brown
System
15573
Plate 1X2 W. 1 Knob
137
2014
2016
2002
6102360
3
Reddish Brown
System
18674
Plate Round W. 1 Knob
76
2015
512
2015
6132812
1
Reddish Brown
System
30340
Lifebuoy With Knob
5
2016
126
1999
6139449
2
Reddish Brown
System
25406
Flat Tile 1X1, Round No. "48"
11
2016
15
2016
6172757
4
Reddish Brown
System
20310
Design Brick 1X1X2
10
2017
57
2015
6186673
2
Reddish Brown
System
31561
Plate 1X1, W/ 3.2 Shaft And 1.5 Hole
29
2016
269
2016
6135494
1
Reddish Brown
Technic
24316
Cross Axle 3M W/End Stop
138
2016
138
2016
6031821
1
Sand Yellow
Technic
13670
Crossaxle 3M With Knob
394
2010
398
2008
6069258
2
Spring Yellowish Green
System
3623
Plate 1X3
8
2014
3459
1981
6099368
11
Spring Yellowish Green
System
3023
Plate 1X2
7
2016
9372
1981
6104578
7
Spring Yellowish Green
System
3004
Brick 1X2
21
2015
6953
1986
6109405
4
Spring Yellowish Green
System
11477
Plate W. Bow 1X2X2/3
8
2015
1960
2013
6109409
2
Spring Yellowish Green
System
50950
Brick W/Bow 1/3
7
2015
1180
2005
6172742
3
Spring Yellowish Green
System
3710
Plate 1X4
5
2017
6774
1981
6172766
7
Spring Yellowish Green
System
3005
Brick 1X1
5
2017
4367
1991
6172772
3
Spring Yellowish Green
System
6182
Arch 1X4X2
1
2017
178
1996
6182393
2
Spring Yellowish Green
System
4460
Roof Tile 1X2X3/73°
1
2017
585
1994
6156875
1
Titanium Metallic
System
25214
Design Shape W/ Tube, Crosshole
24
2016
74
2016
6230179
1
Transparent
System
31842
Round Brick 1X1, No. 12
4
2017
4
2017
6247798
1
Transparent
System
28556
Diamond With Stick
32
2010
208
2010
6134621
2
Transparent Bright Green
System
30385
Rock Crystal, Transparent
10
2016
126
1999
6179272
1
Transparent Bright Green
System
31797
Flat Tile 1X2, No. 187
2
2017
3
2017
6245308
2
Transparent Bright Green
System
35395
Parabolic Element Ø16
9
2016
155
2010
4649066
1
Transparent Bright Orange
System
64647
Feather
116
2012
296
2009
6245265
1
Transparent Bright Orange
System
35338
Roof Tile 1X1X2/3
64
2015
467
2010
4646860
1
Transparent Green
System
98138
Flat Tile 1X1, Round
50
2012
1777
2011
6104424
1
Transparent Green
System
20305
Flat Tile 1X1, Round "No. 33"
6
2015
6
2015
6247364
1
Transparent Green
System
28662
Bottle 1X1X2 M
16
2014
38
2014
6238677
1
Transparent Light Blue
System
35390
Round Brick 1X1
78
2015
302
2010
6167767
1
Transparent Medium Reddish Violet
System
28655
Mug
18
2015
43
2011
6172693
12
Transparent Medium Reddish Violet
System
22388
Pyramide Ridged Tile 1X1X2/3
3
2017
74
2016
6240553
6
Transparent Medium Reddish Violet
System
35382
Brick 1X1
22
2016
134
2010
6247796
5
Transparent Medium Reddish Violet
System
28556
Diamond With Stick
36
2010
208
2010
4646864
1
Transparent Red
System
98138
Flat Tile 1X1, Round
166
2012
1777
2011
6244905
3
Transparent Red
System
35743
Brick 1X2 W/O Pin
21
2010
233
2010
306801
2
White
System
3068
Flat Tile 2X2
447
1993
3263
1993
390001
1
White
System
3900
Sign - Stop
85
1994
127
1994
4547489
4
White
System
85984
Roof Tile 1 X 2 X 2/3, Abs
322
2009
2294
2009
4600294
1
White
System
93160
2 M. Ø3.2 Bones
130
2011
130
2011
4646844
1
White
System
98138
Flat Tile 1X1, Round
96
2012
1777
2011
Colour summary
| Colour | Unique | Total |
| --- | --- | --- |
| Aqua | 2 | 2 |
| Black | 48 | 101 |
| Brick Yellow | 4 | 11 |
| Bright Green | 2 | 3 |
| Bright Orange | 8 | 15 |
| Bright Red | 6 | 28 |
| Bright Reddish Violet | 5 | 11 |
| Bright Yellow | 5 | 7 |
| Bright Yellowish Green | 7 | 41 |
| Cool Yellow | 1 | 1 |
| Dark Azur | 1 | 1 |
| Dark Brown | 3 | 3 |
| Dark Green | 15 | 29 |
| Dark Orange | 1 | 1 |
| Dark Stone Grey | 7 | 12 |
| Earth Blue | 12 | 32 |
| Earth Green | 1 | 1 |
| Flame Yellowish Orange | 1 | 1 |
| Lavender | 2 | 2 |
| Light Nougat | 2 | 2 |
| Light Purple | 1 | 2 |
| Medium Azur | 1 | 1 |
| Medium Blue | 6 | 13 |
| Medium Lavender | 1 | 2 |
| Medium Lilac | 12 | 32 |
| Medium Nougat | 8 | 8 |
| Medium Stone Grey | 34 | 74 |
| Multicombination | 1 | 1 |
| New Dark Red | 1 | 1 |
| Reddish Brown | 45 | 105 |
| Sand Yellow | 1 | 1 |
| Spring Yellowish Green | 9 | 41 |
| Titanium Metallic | 1 | 1 |
| Transparent | 2 | 2 |
| Transparent Bright Green | 3 | 5 |
| Transparent Bright Orange | 2 | 2 |
| Transparent Green | 3 | 3 |
| Transparent Light Blue | 1 | 1 |
| Transparent Medium Reddish Violet | 4 | 24 |
| Transparent Red | 2 | 4 |
| White | 5 | 9 |
| Total | 276 | 636 |
Category summary
| Category | Unique | Total |
| --- | --- | --- |
| System | 262 | 613 |
| Technic | 14 | 23 |
| Total | 276 | 636 |