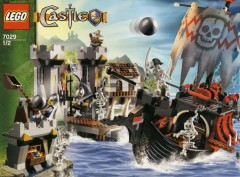 Inventory for 7029-1: Skeleton Ship Attack
This set inventory has been obtained from LEGO Customer Services replacement parts page.
Important note: We do not control this inventory and cannot currently make changes to it. Use it as a guide to the contents of the set, or to find out part numbers when requesting replacements.
Download the inventory as a CSV file »
View the Rebrickable.com inventory for this set »
View the inventory at BrickLink.com »
Element
Image
Qty
Colour
Category
Design
Element name
Element
in sets
Element
introduced in
Design
in sets
Design
introduced in
300426
14
Black
System
3004
Brick 1X2
771
1991
6718
1986
300526
10
Black
System
3005
Brick 1X1
468
1994
4185
1991
301026
8
Black
System
3010
Brick 1X4
510
1991
4310
1991
302026
2
Black
System
3020
Plate 2X4
1024
1991
6889
1980
303926
8
Black
System
3039
Roof Tile 2X2/45°
324
1986
2492
1986
306926
1
Black
System
3069
Flat Tile 1X2
545
1991
4639
1991
307026
4
Black
System
3070
Flat Tile 1X1
271
1994
2056
1994
345526
2
Black
System
3455
Brick W. Bow 1X6
32
1994
119
1994
346026
1
Black
System
3460
Plate 1X8
427
1992
2263
1981
366026
8
Black
System
3660
Roof Tile 2X2/45° Inv.
352
1991
2285
1987
371026
2
Black
System
3710
Plate 1X4
976
1991
6465
1981
395726
1
Black
System
3957
Whip/Aerial
258
1994
801
1992
428626
3
Black
System
4286
Roof Tile 1X3/25°
224
1994
1340
1990
459926
1
Black
System
4599
Tap Ø4.9/6.4
236
1996
890
1993
602026
1
Black
System
6020
Lattice 1X4X6 W. Snap
107
1995
200
1995
611226
2
Black
System
6112
Brick 1X12
79
1996
408
1994
663626
10
Black
System
6636
Flat Tile 1X6
351
1996
2115
1996
4105221
8
Black
System
30045
Cavity W. Iron Lattice
32
1996
35
1996
4124096
1
Black
System
6134
Plate 2X2 (Rocking)
252
1999
689
1994
4140303
1
Black
System
30374
Light Sword - Blade
153
2000
905
1999
4140588
1
Black
System
2540
Plate 1X2 W. Stick
429
1994
1605
1992
4143982
1
Black
System
30499
Roof Tile 2X2X3/ 73 Gr.
32
1999
153
1994
4159140
7
Black
System
2339
Brick W. Bow 1X5X4
22
2001
67
1996
4187209
2
Black
System
3633
Fence 1X4X1
67
2002
215
1995
4189101
1
Black
System
2564
Anchor
5
2002
6
2002
4263506
1
Black
System
48002
Mast 2X2X20 W/Ø4.85
19
2004
25
2004
4286009
2
Black
System
4510
Plate 1X8 With Rail
53
2006
296
1996
4504382
2
Black
System
54200
Roof Tile 1X1X2/3, Abs
483
2006
3512
2005
4511917
1
Black
System
53452
Ship Front 16X20X8
1
2007
3
2005
4511920
1
Black
System
2560
Middle Section Ship 8X16
1
2007
5
2005
4512727
2
Black
System
4490
Brick W. Bow 1X3
19
2001
139
1994
4517925
2
Black
System
61252
Plate 1X1 W/Holder Vertical
400
1994
1374
1994
4532220
2
Black
System
2566
Assembly Element Ø3.2
91
2001
95
2001
4539951
1
Black
System
2528
Admirals Hat
16
2001
17
2001
4550017
6
Black
System
60897
Plate 1X1 W. Holder
390
1994
1472
1994
6008363
2
Black
System
42448
Lattice Lid 4X7 2/3
19
2002
26
2002
370626
3
Black
Technic
3706
Cross Axle 6M
809
1981
869
1981
4107085
1
Black
Technic
32013
Angle Element, 0 Degrees [1]
371
1997
1061
1997
4116941
4
Black
Technic
76302
Outer Cable 80Mm
15
1998
17
1998
4290713
2
Black
Technic
32474
Voodoo Ball Ø10,2
113
2001
277
2001
4113917
2
Brick Yellow
System
3023
Plate 1X2
465
1998
8907
1981
4113988
1
Brick Yellow
System
3034
Plate 2X8
118
1998
2499
1980
614123
2
Bright Blue
System
6141
Round Plate 1X1
196
1994
5179
1990
4206482
3
Bright Blue
Technic
43093
Conn.Bush W.Fric./Crossale
1404
2002
1435
2002
242021
2
Bright Red
System
2420
Corner Plate 1X2X2
191
1994
2349
1991
255521
4
Bright Red
System
2555
Plate 1X1 W. Up Right Holder
80
1994
1018
1992
302221
1
Bright Red
System
3022
Plate 2X2
624
1990
6339
1986
346021
2
Bright Red
System
3460
Plate 1X8
160
1994
2263
1981
379421
6
Bright Red
System
3794
Plate 1X2 W. 1 Knob
235
1994
2216
1991
393721
2
Bright Red
System
3937
Rocker Bearing 1X2
95
1994
1089
1991
449521
1
Bright Red
System
4495
Streamer
124
1992
465
1992
487121
1
Bright Red
System
4871
Roof Tile 4X2/45° Inv.
33
1995
458
1995
613421
2
Bright Red
System
6134
Plate 2X2 (Rocking)
98
1994
689
1994
4100396
1
Bright Red
System
71321
V-Belt Ø24 / Clear Red
67
1990
67
1990
4255035
2
Bright Red
System
2445
Plate 2X12
44
2001
917
1994
4504379
4
Bright Red
System
54200
Roof Tile 1X1X2/3, Abs
282
2005
3512
2005
4588003
2
Bright Red
System
60897
Plate 1X1 W. Holder
186
1994
1472
1994
4118897
2
Bright Red
Technic
32039
Catch W. Cross Hole
81
1998
834
1997
4125189
4
Bright Red
Technic
6538
Cross Axle, Extension M/3 Ribs
28
1999
473
1994
4215503
1
Bright Yellow
System
48151
Mini Head No. 325
60
2005
60
2005
4276756
1
Bright Yellow
System
53976
Mini Head "No 434"
8
2005
8
2005
4294862
1
Bright Yellow
System
55635
Mini Head No. 459
7
2006
7
2006
4506014
1
Cool Silver, Drum Lacquered
System
59604
Steel Helmet, Drum Lagq.
20
2007
20
2007
4157270
1
Dark Green
System
33320
Frog
51
2001
69
2001
4278013
1
Dark Orange
System
33057
Turkey, Drumstick
71
2004
81
1997
4210706
1
Dark Stone Grey
System
3029
Plate 4X12
90
2003
510
1994
4210719
10
Dark Stone Grey
System
3024
Plate 1X1
248
2003
3362
1986
4210762
6
Dark Stone Grey
System
32000
Brick 1X2 M. 2 Holes Ø 4,87
216
2003
912
1996
4210763
2
Dark Stone Grey
System
32530
T-Beam W. Plate 1X2 W. Tube
188
2004
397
2000
4210897
4
Dark Stone Grey
System
2450
Corner Plate 45 Deg. 3X3
75
2002
533
1994
4210935
8
Dark Stone Grey
System
32064
Brick 1X2 With Cross Hole
153
2003
737
1997
4210984
1
Dark Stone Grey
System
2419
Corner Plate 3X6
104
2001
656
1993
4211053
1
Dark Stone Grey
System
2431
Flat Tile 1X4
332
2003
3543
1991
4211054
4
Dark Stone Grey
System
3039
Roof Tile 2X2/45°
267
2003
2492
1986
4211056
1
Dark Stone Grey
System
3666
Plate 1X6
437
2002
4000
1991
4211063
1
Dark Stone Grey
System
3023
Plate 1X2
717
2002
8907
1981
4211068
2
Dark Stone Grey
System
4287
Roof Tile 1X3/25° Inv.
110
2001
715
1994
4211075
8
Dark Stone Grey
System
2454
Brick 1X2X5
76
2004
624
1992
4211088
2
Dark Stone Grey
System
3004
Brick 1X2
359
2001
6718
1986
4211090
19
Dark Stone Grey
System
3062
Round Brick 1X1
239
2003
2897
1980
4211098
10
Dark Stone Grey
System
3005
Brick 1X1
258
2003
4185
1991
4211104
2
Dark Stone Grey
System
3622
Brick 1X3
207
2003
2517
1992
4211106
1
Dark Stone Grey
System
3298
Roof Tile 2X3/25°
106
2001
1020
1991
4211114
4
Dark Stone Grey
System
3033
Plate 6X10
91
2004
431
1994
4211135
8
Dark Stone Grey
System
3040
Roof Tile 1X2/45°
310
2003
2957
1986
4256149
2
Dark Stone Grey
System
3028
Plate 6X12
89
2001
415
1994
4257526
1
Dark Stone Grey
System
4477
Plate 1X10
181
2002
1245
1991
4279446
1
Dark Stone Grey
System
6082
Mountain Bottom 4X10X6
21
2005
35
2004
4297009
1
Dark Stone Grey
System
73200
Mini Lower Part Black/Dk.Grey
31
2007
3981
1991
4500975
4
Dark Stone Grey
System
2449
Roof Tile 1X2X3/74° Inv.
51
2004
313
1994
4504378
17
Dark Stone Grey
System
54200
Roof Tile 1X1X2/3, Abs
380
2005
3512
2005
4506814
1
Dark Stone Grey
System
76382
Mini Upper Part No 1321
12
2007
5768
1993
4506836
4
Dark Stone Grey
System
59644
Round Shield
9
2007
9
2007
4509194
2
Dark Stone Grey
System
59229
Scythe Blade
26
2007
30
2007
4210671
2
Dark Stone Grey
Technic
32014
Angle Element, 90 Degrees [6]
24
2005
289
1997
4249893
1
Earth Blue
System
3036
Plate 6X8
3
2007
780
1991
4505041
2
Earth Blue
System
3678
Roof Tile 2X2X2/65 Deg.
5
2007
408
1997
4506827
2
Earth Blue
System
76382
Mini Upper Part No 1318
10
2007
5768
1993
4507080
2
Earth Blue
System
4162
Flat Tile 1X8
41
2007
1425
1991
6023154
2
Earth Blue
System
30565
Plate 4X4, 1/4 Circle
19
2007
415
2001
6144752
4
Earth Blue
System
4460
Roof Tile 1X2X3/73°
12
2005
570
1994
6200659
2
Earth Blue
System
3033
Plate 6X10
3
2007
431
1994
4211348
2
Medium Stone Grey
System
2339
Brick W. Bow 1X5X4
9
2004
67
1996
4211349
2
Medium Stone Grey
System
2357
Brick Corner 1X2X2
167
2003
1349
1994
4211362
2
Medium Stone Grey
System
2453
Brick 1X1X5
63
2004
453
1992
4211386
4
Medium Stone Grey
System
3002
Brick 2X3
205
2001
2546
1992
4211387
2
Medium Stone Grey
System
3003
Brick 2X2
359
2001
4647
1986
4211388
17
Medium Stone Grey
System
3004
Brick 1X2
511
2001
6718
1986
4211389
13
Medium Stone Grey
System
3005
Brick 1X1
367
2002
4185
1991
4211393
1
Medium Stone Grey
System
3009
Brick 1X6
243
2001
2606
1991
4211394
2
Medium Stone Grey
System
3010
Brick 1X4
338
2001
4310
1991
4211399
4
Medium Stone Grey
System
3024
Plate 1X1
338
2001
3362
1986
4211404
2
Medium Stone Grey
System
3032
Plate 4X6
205
2001
1785
1991
4211428
3
Medium Stone Grey
System
3622
Brick 1X3
246
2002
2517
1992
4211435
2
Medium Stone Grey
System
3659
Brick W. Bow 1X4
88
2004
509
1992
4211445
5
Medium Stone Grey
System
3710
Plate 1X4
623
1998
6465
1981
4211469
1
Medium Stone Grey
System
3937
Rocker Bearing 1X2
195
2002
1089
1991
4211475
1
Medium Stone Grey
System
4032
Plate 2X2 Round
295
2003
2678
1992
4211521
1
Medium Stone Grey
System
6111
Brick 1X10
76
2002
526
1994
4211564
4
Medium Stone Grey
System
3245
Brick 1X2X2
119
2002
727
1997
4211613
6
Medium Stone Grey
System
2653
Sliding Piece 1X4
118
2004
209
1996
4211674
1
Medium Stone Grey
System
3403
Turn Table, Lower Part
3
2007
12
2007
4211675
1
Medium Stone Grey
System
3404
Turn Table, Upper Part
1
2007
2
2007
4221600
2
Medium Stone Grey
System
3307
Brick W. Bow 1X6X2
20
2004
131
1992
4223716
2
Medium Stone Grey
System
6066
Balcony 1/2 4X8X2 1/3
12
2004
31
2004
4225778
1
Medium Stone Grey
System
6132
Beard For Mini Figure
13
2004
39
1995
4243797
1
Medium Stone Grey
System
3031
Plate 4X4
237
2002
2059
1991
4251149
1
Medium Stone Grey
System
4477
Plate 1X10
171
1998
1245
1991
4492335
2
Medium Stone Grey
System
73200
Mini Lower Part - 194/26
34
2006
3981
1991
4506823
1
Medium Stone Grey
System
59890
Mini Shield, King
11
2007
11
2007
4512049
1
Medium Stone Grey
System
60169
Chain 16 M
23
2007
138
2006
4512743
1
Medium Stone Grey
System
40234
Rat
56
2004
76
2001
6005319
2
Medium Stone Grey
System
30246
French Tower 4X3X6
12
2004
40
2000
4211375
1
Medium Stone Grey
Technic
2736
Ball W. Cross Axle
269
2003
326
1994
4211573
4
Medium Stone Grey
Technic
32123
1/2 Bush
645
1997
1165
1993
4211622
1
Medium Stone Grey
Technic
6590
Bush For Cross Axle
517
1993
1166
1990
4211639
1
Medium Stone Grey
Technic
32073
Cross Axle 5M
582
1995
817
1995
4211655
1
Medium Stone Grey
Technic
32523
Technic 3M Beam
113
2004
829
2000
4211807
6
Medium Stone Grey
Technic
3673
Connector Peg
805
1993
805
1993
4211815
2
Medium Stone Grey
Technic
4519
Cross Axle 3M
938
1995
1321
1990
4498052
2
Multicombination
System
57512
Wall Element 2X4X6, 141/131
4
2006
4
2006
4514700
2
Multicombination
System
59233
Lightening Bolt Co-Inj.126/42
25
2007
28
2007
4209386
8
New Dark Red
System
3048
End Ridged Tile 1X2/45°
5
2004
195
1994
4264651
6
New Dark Red
System
30044
Window Frame 1X2X2 2/3
2
2005
123
2004
4267279
2
New Dark Red
System
4460
Roof Tile 1X2X3/73°
7
2005
570
1994
4267632
6
New Dark Red
System
3659
Brick W. Bow 1X4
4
2007
509
1992
4507004
8
New Dark Red
System
30099
Brick With Bow 1X5X4 Inv.
3
2007
96
1997
4539061
2
New Dark Red
System
3710
Plate 1X4
134
2001
6465
1981
4539082
4
New Dark Red
System
6091
Brick W. Arch 1X1X1 1/3
64
2002
1280
1992
4539097
12
New Dark Red
System
3023
Plate 1X2
182
2001
8907
1981
4590811
2
New Dark Red
System
3665
Roof Tile 1X2 Inv.
23
2004
2047
1987
6052917
1
New Dark Red
System
3660
Roof Tile 2X2/45 Inv.
24
2004
2285
1987
70501
1
Not Specified
System
70501
Gold Coin (4 Pieces), Metall.
93
1994
93
1994
4506800
1
Not Specified
System
59901
Skeleton Sail
1
2007
1
2007
4508461
2
Phosphorescent Green
System
40379
Tip Of The Tail Ø6,47
6
2006
164
2001
4211147
1
Reddish Brown
System
2489
Barrel 2X2
49
2004
156
1992
4211149
1
Reddish Brown
System
3004
Brick 1X2
261
2001
6718
1986
4211160
1
Reddish Brown
System
4498
Quiver
29
2007
55
2007
4211163
2
Reddish Brown
System
4739
Chest Lid 2X4
63
2004
95
2000
4211166
6
Reddish Brown
System
6143
Brick Ø16 W. Cross
203
2002
1731
1993
4211180
13
Reddish Brown
System
30136
Palisade Brick 1X2
168
2004
755
1996
4211181
3
Reddish Brown
System
30137
Palisade Brick 1X4
105
2004
254
1996
4211185
1
Reddish Brown
System
30150
Box 3X4
90
2004
155
2001
4211189
1
Reddish Brown
System
3021
Plate 2X3
235
2004
4818
1980
4211190
2
Reddish Brown
System
3710
Plate 1X4
344
2003
6465
1981
4211194
11
Reddish Brown
System
2431
Flat Tile 1X4
159
2004
3543
1991
4211196
1
Reddish Brown
System
2570
Cross Bow
25
2004
103
1992
4211199
2
Reddish Brown
System
3040
Roof Tile 1X2/45°
130
2004
2957
1986
4211222
2
Reddish Brown
System
3665
Roof Tile 1X2 Inv.
127
2003
2047
1987
4211247
2
Reddish Brown
System
3795
Plate 2X6
222
2004
4343
1980
4211252
1
Reddish Brown
System
3700
Technic Brick 1X2, Ø4.9
125
2004
1943
1981
4216695
1
Reddish Brown
System
3022
Plate 2X2
304
2004
6339
1986
4217848
1
Reddish Brown
System
3958
Plate 6X6
40
2006
863
1994
4218070
1
Reddish Brown
System
4790
Fabuland Ship Wheel
6
2004
21
2004
4223729
1
Reddish Brown
System
3036
Plate 6X8
33
2004
780
1991
4267033
1
Reddish Brown
System
30275
Catapult Arm
9
2005
20
2000
4270470
4
Reddish Brown
System
4460
Roof Tile 1X2X3/73°
54
2005
570
1994
4271874
1
Reddish Brown
System
3032
Plate 4X6
100
2005
1785
1991
4533101
2
Reddish Brown
System
4738
Chest 2X4
86
2004
164
2000
4541875
1
Reddish Brown
System
64951
Tub
45
2005
63
2005
4542131
2
Reddish Brown
System
30044
Window Frame 1X2X2 2/3
48
2004
123
2004
4494056
2
Silver
Constraction
54821
Ball Ø16,5
15
2006
96
2006
4267358
1
Silver
System
4497
Spear
18
2005
223
1995
4505002
2
Silver
System
3847
Mini Sword
17
2007
59
1992
4505111
2
Silver
System
59232
Flail
8
2007
43
2007
6051870
2
Silver Ink
System
15606
Mini Knights Helmet "No. 1000"
33
2007
33
2007
4119483
1
Transparent Blue
System
30153
Diamond With Stick
74
1999
589
1998
612647
2
Transparent Fluorescent Reddish Orange
System
6126
Dragons Fire
223
1994
393
1994
4113954
1
Transparent Red
System
30153
Diamond With Stick
125
1998
589
1998
4128576
1
Transparent Yellow
System
30153
Diamond With Stick
47
2000
589
1998
4295174
5
Warm Gold
System
3048
End Ridged Tile 1X2/45°
27
2006
195
1994
4505990
1
Warm Gold
System
6269
Cup Without Wreath
106
2007
183
1992
300101
2
White
System
3001
Brick 2X4
528
1994
4246
1991
654101
2
White
System
6541
Technic Brick 1X1
121
1994
1104
1994
4505109
8
White
System
59230
Space Arm, Angled H.
19
2007
133
2007
4506829
4
White
System
59628
Mini Head No. 494
14
2007
14
2007
4508143
4
White
System
60115
Skeleton Body W. Shaft 3.2
44
2007
78
2007
4518400
12
White
System
59900
Nose Cone Small 1X1
201
2002
1741
2002
4568387
8
White
System
88513
Horn W. Shaft Ø 3.2
159
2005
552
2005
6038450
8
White
System
6266
Skeleton, Leg
106
1997
151
1997
Colour summary
| Colour | Unique | Total |
| --- | --- | --- |
| Black | 40 | 132 |
| Brick Yellow | 2 | 3 |
| Bright Blue | 2 | 5 |
| Bright Red | 15 | 36 |
| Bright Yellow | 3 | 3 |
| Cool Silver, Drum Lacquered | 1 | 1 |
| Dark Green | 1 | 1 |
| Dark Orange | 1 | 1 |
| Dark Stone Grey | 30 | 130 |
| Earth Blue | 7 | 15 |
| Medium Stone Grey | 38 | 106 |
| Multicombination | 2 | 4 |
| New Dark Red | 10 | 51 |
| Not Specified | 2 | 2 |
| Phosphorescent Green | 1 | 2 |
| Reddish Brown | 26 | 65 |
| Silver | 4 | 7 |
| Silver Ink | 1 | 2 |
| Transparent Blue | 1 | 1 |
| Transparent Fluorescent Reddish Orange | 1 | 2 |
| Transparent Red | 1 | 1 |
| Transparent Yellow | 1 | 1 |
| Warm Gold | 2 | 6 |
| White | 8 | 48 |
| Total | 200 | 625 |
Category summary
| Category | Unique | Total |
| --- | --- | --- |
| Constraction | 1 | 2 |
| System | 184 | 586 |
| Technic | 15 | 37 |
| Total | 200 | 625 |