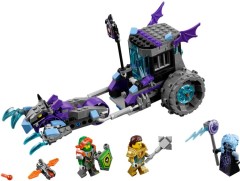 Inventory for 70349-1: Ruina's Lock & Roller
This set inventory has been obtained from LEGO Customer Services replacement parts page.
Important note: We do not control this inventory and cannot currently make changes to it. Use it as a guide to the contents of the set, or to find out part numbers when requesting replacements.
Download the inventory as a CSV file »
View the Rebrickable.com inventory for this set »
View the inventory at BrickLink.com »
Element
Image
Qty
Colour
Category
Design
Element name
Element
in sets
Element
introduced in
Design
in sets
Design
introduced in
273026
4
Black
System
2730
Technic Brick 1X10 Ø4.9
163
1993
324
1993
301026
2
Black
System
3010
Brick 1X4
518
1991
4448
1991
4209159
1
Black
System
2714
Technic Stick
25
1999
64
1999
4225201
2
Black
System
48336
Plate 1X2 W. Stick 3.18
429
2004
1500
2004
4243819
1
Black
System
3031
Plate 4X4
375
1994
2153
1991
4530589
2
Black
System
60594
Frame 1X4X3
67
2007
274
2007
4535739
2
Black
System
63868
Plate 2X1 W/Holder,Vertical
241
2009
912
2009
4535765
2
Black
System
60476
Brick 1X1 W/ Holder, Vertical
47
2009
156
2009
4535834
1
Black
System
60596
Frame 1X4X6
130
1998
389
1998
4568385
2
Black
System
88513
Horn W. Shaft Ø 3.2
63
2007
571
2005
6016172
1
Black
System
99781
Angular Plate 1,5 Top 1X2 1/2
224
2013
761
2012
6057903
1
Black
System
92099
Plate 4X5 W. Shaft Ø3.2
27
2009
172
2006
6105963
1
Black
System
18980
1/2 Circle Plate 2X6
52
2015
189
2015
6114987
2
Black
System
11458
Plate 1X2 W. Hor. Hole Ø 4.8
60
2015
458
2013
6135542
1
Black
System
22409
Mini Shield No.3
9
2016
10
2016
6147050
2
Black
System
24201
Plate W/ Half Bow Inv. 1X2X2/3
88
2016
284
2015
6173989
1
Black
System
29373
Roof Tile 2X2X2, Deg. 65, No. 56
1
2017
1
2017
6178072
1
Black
System
76382
Mini Upper Part, No. 3640
1
2017
6115
1993
370626
1
Black
Technic
3706
Cross Axle 6M
822
1981
891
1981
4107783
1
Black
Technic
32034
Angle Element, 180 Degrees [2]
243
1997
572
1997
4109810
1
Black
Technic
32062
2M Cross Axle W. Groove
586
1993
1815
1993
4121667
1
Black
Technic
32184
Double Cross Block
188
1999
476
1999
4121715
2
Black
Technic
2780
Connector Peg W. Friction
2108
1993
2108
1993
4205107
2
Brick Yellow
System
3700
Technic Brick 1X2, Ø4.9
99
2003
2018
1981
302223
3
Bright Blue
System
3022
Plate 2X2
425
1992
6599
1986
370123
1
Bright Blue
System
3701
Technic Brick 1X4, Ø4,9
59
1994
1083
1981
3000023
1
Bright Blue
System
30000
Bearing Element 2X2 W.D. Snap
42
1996
268
1995
4143005
4
Bright Blue
Technic
4274
Connector Peg W. Knob
787
2001
1728
1981
614124
2
Bright Yellow
System
6141
Round Plate 1X1
344
1992
5381
1990
6118828
1
Bright Yellow
System
21731
Angle Plate 1X2 / 2X4
15
2016
232
2014
6124875
1
Bright Yellow
System
23772
Mini Head No. 1781
12
2016
12
2016
6141826
1
Bright Yellow
System
25586
Mini Head "No. 1861"
2
2016
2
2016
6174218
1
Dark Azur
System
76382
Mini Upper Part No. 3651
1
2017
6115
1993
4632767
1
Dark Brown
System
64807
Mini Wig No. 3
9
2011
23
2009
6127159
1
Dark Green
System
22380
Mini Helmet No.87
13
2016
34
2016
4210660
2
Dark Stone Grey
System
2540
Plate 1X2 W. Stick
354
2003
1646
1992
4210700
1
Dark Stone Grey
System
4733
Brick 1X1 W. 4 Knobs
110
2004
540
1995
4210782
1
Dark Stone Grey
System
41769
Right Plate 2X4 W/Angle
118
2002
930
2001
4210788
1
Dark Stone Grey
System
41770
Left Plate 2X4 W/Angle
115
2002
933
2001
4221745
2
Dark Stone Grey
System
4460
Roof Tile 1X2X3/73°
114
2004
585
1994
4257526
2
Dark Stone Grey
System
4477
Plate 1X10
188
2002
1295
1991
4521572
1
Dark Stone Grey
System
32059
Plate 4X6 26 Degrees
57
2008
267
1999
4521886
2
Dark Stone Grey
System
62113
Lattice Plate 1X4X3
65
2008
141
2008
4535930
2
Dark Stone Grey
System
60477
Roof Tile 1X4X1
56
2008
325
2008
4587212
2
Dark Stone Grey
System
60897
Plate 1X1 W. Holder
216
2003
1513
1994
4595708
1
Dark Stone Grey
System
92107
Trapdoor Frame 6X8
57
2008
113
2008
4603504
1
Dark Stone Grey
System
4175
Ladder 1X2X2
65
2004
249
1994
4611703
1
Dark Stone Grey
System
88072
Plate 1X2 W. Vertical Schaft
94
2009
542
2008
4624186
4
Dark Stone Grey
System
87620
Brick 2X2 W. Angle 45 Degrees
51
2011
230
2010
6000311
2
Dark Stone Grey
System
98283
Profile Brick 1X2 Single Gro.
63
2012
352
2012
6005463
1
Dark Stone Grey
System
3464
Hub For Fork
40
2012
102
2006
6047417
2
Dark Stone Grey
System
10247
Plate 2X2 + One Hule Ø4,8
97
2008
452
2008
6051334
1
Dark Stone Grey
System
15392
Trigger For Mini Shooter
295
2014
320
2014
6081987
1
Dark Stone Grey
System
18274
Stick 6M W/Flange
50
2006
420
2006
6086709
1
Dark Stone Grey
System
18624
Plate 1X4 Split-Level
63
2011
83
2011
6127738
2
Dark Stone Grey
System
95820
Brick 1X2 W. Horizontal Holder
32
2014
312
2009
6164527
1
Dark Stone Grey
System
76382
Mini Upper Part, No. 3583
4
2017
6115
1993
6164649
1
Dark Stone Grey
System
28645
Mini Lower Part, No. 1141
4
2017
4
2017
6168609
3
Dark Stone Grey
System
27261
Design, Plate 2X3, Rock, No. 1
14
2017
39
2017
4210980
1
Dark Stone Grey
Technic
41677
Technic Lever 2M
103
2005
629
2002
6007027
2
Dark Stone Grey
Technic
64711
Wheel W.Spike Ø62
8
2012
19
2009
6020189
1
Dark Stone Grey
Technic
99021
Bush W/Connecting Piece
104
2013
121
2011
6083620
4
Dark Stone Grey
Technic
87083
Cross Axle 4M With End Stop
471
2010
552
2010
6167082
1
Light Royal Blue
System
92082
Bellatrix Wig
1
2017
2
2010
4565363
6
Medium Blue
System
54200
Roof Tile 1X1X2/3, Abs
28
2010
3690
2005
4655691
1
Medium Lilac
System
3666
Plate 1X6
28
2004
4187
1991
4655695
8
Medium Lilac
System
3023
Plate 1X2
82
2003
9342
1981
6057390
4
Medium Lilac
System
11477
Plate W. Bow 1X2X2/3
45
2014
1953
2013
6109814
2
Medium Lilac
System
3040
Roof Tile 1X2/45°
19
2010
3043
1986
6117040
2
Medium Lilac
System
92950
Brick 1X6 W/Inside Bow
12
2011
350
2008
6133818
2
Medium Lilac
System
15082
Animal Wing W/Shaft 4Mm
6
2016
33
2014
6133921
1
Medium Lilac
System
3660
Roof Tile 2X2/45 Inv.
10
2016
2358
1987
6172941
2
Medium Lilac
System
29161
Frogmans Foot
2
2016
49
2011
4211410
2
Medium Stone Grey
System
3039
Roof Tile 2X2/45°
233
2001
2568
1986
4211838
1
Medium Stone Grey
System
6180
Plate 4X6 W. 12 Knobs
55
2002
261
1996
4211881
1
Medium Stone Grey
System
6134
Plate 2X2 (Rocking)
264
2004
714
1994
4213567
1
Medium Stone Grey
System
47905
Brick 1X1 W. 2 Knobs
51
2005
354
2004
4520320
1
Medium Stone Grey
System
61184
3 M.Arch W.Knob And Shaft Ø3.2
435
2008
440
2008
4556157
2
Medium Stone Grey
System
60470
Plate 1X2 W/Holder, Vertical
306
2008
951
2008
4610149
1
Medium Stone Grey
System
60621
Lattice Door For Frame 1X4X6
49
2008
76
2008
6044706
2
Medium Stone Grey
System
14682
Exhaust Pipe M/Snap
58
2010
64
2010
6052200
4
Medium Stone Grey
System
14769
Flat Tile 2X2, Round
161
2008
825
2008
6152344
1
Medium Stone Grey
System
26716
Wheel Fork 2X2 Round
82
2008
82
2008
4211573
8
Medium Stone Grey
Technic
32123
1/2 Bush
662
1997
1182
1993
4211622
2
Medium Stone Grey
Technic
6590
Bush For Cross Axle
517
1993
1165
1990
6075208
1
Reddish Brown
System
17715
Shaft 3M Ø3.2
87
2012
459
2012
6135494
2
Reddish Brown
Technic
24316
Cross Axle 3M W/End Stop
138
2016
138
2016
6173709
1
Sand Blue
System
29318
Mini Head, No. 2100
1
2017
1
2017
4626904
1
Sand Yellow
System
3710
Plate 1X4
131
2011
6762
1981
6127036
3
Silver Metallic
System
22388
Pyramide Ridged Tile 1X1X2/3
23
2016
74
2016
6129534
1
Silver Metallic
System
22408
Mini Shield No.2
34
2016
40
2016
6131790
1
Silver Metallic
System
22487
Mini Shooter W/3.2 Shaft
11
2016
11
2016
6170534
1
Silver Metallic
System
28350
Mini Armour, No. 2
11
2017
13
2017
6104175
1
Transparent Bright Bluish Violet
System
20268
Parabolic Element Ø16 Tr No.4
6
2015
6
2015
6131711
2
Transparent Fluorescent Reddish Orange
System
22484
3.2 Shaft W/5.9 Ball
9
2016
44
2016
6161315
1
Transparent Fluorescent Reddish Orange
System
22394
Mini Visor No.7
6
2017
11
2016
6166891
2
Transparent Fluorescent Reddish Orange
System
27257
Spear, No. 1
11
2017
14
2017
6071312
4
Transparent Light Blue
System
16770
Ø3.2 Holder W. Claw
22
2014
42
2014
6168590
1
Transparent Light Blue
System
27256
Mini, Accessory, No. 1
23
2017
26
2017
6238677
4
Transparent Light Blue
System
35390
Round Brick 1X1
78
2015
302
2010
6240045
1
Transparent Light Blue
System
33458
Wall Element 2X4X6, Iceberg
8
2017
11
2017
6240225
9
Transparent Light Blue
System
34823
Plate 1X1 Round
156
2015
1171
2010
6096296
2
Transparent Light Blue
Technic
4185
Wedge-Belt Wheel Ø24
7
2015
229
1993
4286597
1
Warm Gold
System
47457
Plates W. Bows 2X2
46
2006
685
2003
4490599
1
Warm Gold
System
2412
Radiator Grille 1X2
129
2006
3613
1991
6167358
1
Warm Gold
System
22402
Armor No.17
1
2017
15
2016
6174264
1
Warm Gold
System
29458
Mini Lower Part, No. 1186
1
2017
1
2017
6046905
2
White
System
15070
Plade 1X1 M. 1 Lod. Tand
66
2014
184
2014
Colour summary
| Colour | Unique | Total |
| --- | --- | --- |
| Black | 23 | 35 |
| Brick Yellow | 1 | 2 |
| Bright Blue | 4 | 9 |
| Bright Yellow | 4 | 5 |
| Dark Azur | 1 | 1 |
| Dark Brown | 1 | 1 |
| Dark Green | 1 | 1 |
| Dark Stone Grey | 28 | 46 |
| Light Royal Blue | 1 | 1 |
| Medium Blue | 1 | 6 |
| Medium Lilac | 8 | 22 |
| Medium Stone Grey | 12 | 26 |
| Reddish Brown | 2 | 3 |
| Sand Blue | 1 | 1 |
| Sand Yellow | 1 | 1 |
| Silver Metallic | 4 | 6 |
| Transparent Bright Bluish Violet | 1 | 1 |
| Transparent Fluorescent Reddish Orange | 3 | 5 |
| Transparent Light Blue | 6 | 21 |
| Warm Gold | 4 | 4 |
| White | 1 | 2 |
| Total | 108 | 199 |
Category summary
| Category | Unique | Total |
| --- | --- | --- |
| System | 94 | 167 |
| Technic | 14 | 32 |
| Total | 108 | 199 |