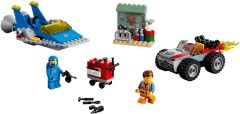 Inventory for 70821-1: Emmet and Benny's 'Build and Fix' Workshop!
This set inventory has been obtained from LEGO Customer Services replacement parts page.
Important note: We do not control this inventory and cannot currently make changes to it. Use it as a guide to the contents of the set, or to find out part numbers when requesting replacements.
Download the inventory as a CSV file »
View the Rebrickable.com inventory for this set »
View the inventory at BrickLink.com »
Element
Image
Qty
Colour
Category
Design
Element name
Element
in sets
Element
introduced in
Design
in sets
Design
introduced in
249626
2
Black
System
2496
Wheel Axle Ø8.2/Ø1.9
245
1992
262
1992
306926
3
Black
System
3069
Flat Tile 1X2
569
1991
4899
1991
4516196
2
Black
System
61072
Plate 1X4X2/3 W. Tube
23
2008
114
2008
4565323
1
Black
System
87580
Plate 2X2 W 1 Knob
184
2010
1120
2009
4578677
4
Black
System
87414
Tyre High Narrow Ø15 X 6
110
2008
110
2008
4619323
4
Black
System
92402
Tyre Normal Wide Ø30,4 X 14
99
2008
99
2008
6023257
1
Black
System
30076
Waggon Bottom 4X10
20
2001
36
2000
6030875
1
Black
System
11402
Tool Wheel
30
2007
42
2007
6147790
1
Black
System
24309
Brick W/Half Bow 2X3 W/Cut
19
2016
76
2016
4509897
1
Brick Yellow
System
3035
Plate 4X8
76
2007
1255
1992
9341
1
Bright Blue
System
73200
Mini Body Lowerpart Blue
426
1992
4113
1991
9566
2
Bright Blue
System
73081
Console W/St.Wheel B/Bla
186
1994
1051
1992
300823
2
Bright Blue
System
3008
Brick 1X8
152
1995
1498
1992
302023
1
Bright Blue
System
3020
Plate 2X4
415
1990
7185
1980
306223
1
Bright Blue
System
3062
Round Brick 1X1
98
1994
3038
1980
4657998
2
Bright Blue
System
4598
Seat 2X3X2
14
2012
46
2005
6131690
2
Bright Blue
System
30540
Brick 1X2 Fric/Fork Horiz.End
6
2016
81
2001
6179330
1
Bright Blue
System
32028
Plate 1X2 With Slide
9
2017
1143
1997
6250980
1
Bright Blue
System
33441
Mini Helmet No 43
6
2019
6
2019
6254675
2
Bright Blue
System
30363
Roof Tile 2X4X1, 18°
1
2019
377
1999
6254680
1
Bright Blue
System
47699
Roof Tile 2X4X1, 18 Deg., No. 7
2
2019
2
2019
6254759
1
Bright Blue
System
76382
Mini Upper Part, No. 4601
3
2019
6120
1993
6254953
2
Bright Blue
System
2340
Rudder 1X4X3
1
2019
97
1993
6268851
1
Bright Blue
System
3838
Mini Oxygen Bottles
8
2019
114
1995
6250952
1
Bright Orange
System
76382
Mini Upper Part, No. 4511
18
2019
6120
1993
6250965
1
Bright Orange
System
44181
Mini Lower Part, No. 1601
20
2019
20
2019
300421
1
Bright Red
System
3004
Brick 1X2
650
1991
6953
1986
306221
1
Bright Red
System
3062
Round Brick 1X1
314
1994
3038
1980
371021
2
Bright Red
System
3710
Plate 1X4
524
1986
6774
1981
614321
1
Bright Red
System
6143
Brick Ø16 W. Cross
186
1993
1797
1993
4619543
1
Bright Red
System
92410
Cupboard 2X3X2
42
2005
206
2005
6126048
1
Bright Red
System
23893
Plate 2X2 W 1 Knob
47
2016
730
2010
6127728
1
Bright Red
System
95820
Brick 1X2 W. Horizontal Holder
24
2013
312
2009
9553
1
Bright Yellow
System
73081
Console W/St Wheel Ye/Bl
204
1995
1051
1992
300224
3
Bright Yellow
System
3002
Brick 2X3
302
1995
2600
1992
306924
2
Bright Yellow
System
3069
Flat Tile 1X2
309
1994
4899
1991
407924
1
Bright Yellow
System
4079
Seat 2X2X2
160
1991
757
1991
663624
2
Bright Yellow
System
6636
Flat Tile 1X6
117
1997
2252
1996
6250710
1
Bright Yellow
System
44183
Mini Head, No. 2753
3
2019
3
2019
6254733
1
Bright Yellow
System
47642
Mini Head, No. 2823
4
2019
4
2019
4251378
1
Dark Green
System
6143
Brick Ø16 W. Cross
43
2004
1797
1993
6134910
1
Dark Stone Grey
System
24741
Roof Tile 1 X 2 X 2/3 "No. 143"
64
2016
64
2016
4211395
1
Medium Stone Grey
System
3020
Plate 2X4
749
2001
7185
1980
4211410
2
Medium Stone Grey
System
3039
Roof Tile 2X2/45°
233
2001
2572
1986
4211503
2
Medium Stone Grey
System
4599
Tap Ø4.9/6.4
267
2002
916
1993
4211504
2
Medium Stone Grey
System
4600
Bearing Element 2X2, Double
138
2004
421
1993
4211526
1
Medium Stone Grey
System
6143
Brick Ø16 W. Cross
171
2002
1797
1993
4223363
2
Medium Stone Grey
System
3963
Steering Nozzle
27
2003
40
2002
4549997
1
Medium Stone Grey
System
60219
Inv. Roof Tile 4X6, 3Xø4.9
28
2003
201
1999
4666449
2
Medium Stone Grey
System
92582
Plate 2X2 W. Stump/Top
103
2012
213
2011
6015344
4
Medium Stone Grey
System
11211
Brick 1X2 W. 2 Knobs
320
2012
869
2012
6092956
1
Medium Stone Grey
System
16091
Stee.Wheel Ø16 F/Console 2X2
63
2012
126
2009
6109684
4
Medium Stone Grey
System
20896
Rim Wide 18X14 W. Hole Ø4.8
47
2016
106
2015
6133587
1
Medium Stone Grey
System
4083
Hanger 1X4X2 W. 2 Cored Knobs
8
2016
249
1994
6152344
2
Medium Stone Grey
System
26716
Wheel Fork 2X2 Round
82
2008
82
2008
6199554
2
Medium Stone Grey
System
3943
Rocket Step 4X4X2
1
2019
92
2001
6250322
1
Medium Stone Grey
System
43979
Ship Front 12X12X1 1/3
2
2019
2
2019
6254686
1
Medium Stone Grey
System
47702
Wall Element 1X6X5, No. 4
1
2019
1
2019
6254747
1
Medium Stone Grey
System
47697
Plate W/ Bow 2X4X2/3, No. 16
1
2019
1
2019
6172283
2
Multicombination
System
28577
Flame 7M Shaft Ø3,2
25
2016
30
2016
6059258
1
Reddish Brown
System
15443
Mini Wig No. 61
31
2014
34
2014
4620993
4
Sand Blue
System
3010
Brick 1X4
16
2002
4453
1991
6254674
1
Sand Blue
System
47698
Plate 4X4X2/3, No. 11
1
2019
1
2019
6254955
1
Sand Green
System
23949
Roof Tile 2X6 45 Deg.
1
2019
10
2017
6253360
1
Transparent Brown
System
35243
Windscreen 36 Deg. 3X4X1 1/3
16
2010
27
2010
6240212
2
Transparent Red
System
28653
Plate 1X2
116
2010
532
2010
6240211
2
Transparent Yellow
System
28653
Plate 1X2
81
2014
532
2010
6274670
1
Transparent Yellow
System
35283
Windscreen 3X6, 25 Deg.
1
2019
6
2015
302101
1
White
System
3021
Plate 2X3
556
1992
5035
1980
371001
2
White
System
3710
Plate 1X4
826
1991
6774
1981
4216652
1
White
System
30367
Final Brick 2X2
117
2001
649
2001
4520636
1
White
System
4536
Drawer
61
1997
96
1997
6194809
4
White
System
34337
Rim, Narrow, W/ 8.0 Hole
38
2011
103
2010
Colour summary
| Colour | Unique | Total |
| --- | --- | --- |
| Black | 9 | 19 |
| Brick Yellow | 1 | 1 |
| Bright Blue | 14 | 20 |
| Bright Orange | 2 | 2 |
| Bright Red | 7 | 8 |
| Bright Yellow | 7 | 11 |
| Dark Green | 1 | 1 |
| Dark Stone Grey | 1 | 1 |
| Medium Stone Grey | 17 | 30 |
| Multicombination | 1 | 2 |
| Reddish Brown | 1 | 1 |
| Sand Blue | 2 | 5 |
| Sand Green | 1 | 1 |
| Transparent Brown | 1 | 1 |
| Transparent Red | 1 | 2 |
| Transparent Yellow | 2 | 3 |
| White | 5 | 9 |
| Total | 73 | 117 |
Category summary
| Category | Unique | Total |
| --- | --- | --- |
| System | 73 | 117 |
| Total | 73 | 117 |