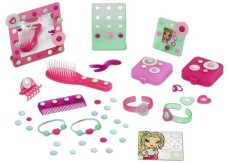 Inventory for 7527-1: Pretty in Pink Beauty Set
This set inventory has been obtained from LEGO Customer Services replacement parts page.
Important note: We do not control this inventory and cannot currently make changes to it. Use it as a guide to the contents of the set, or to find out part numbers when requesting replacements.
Download the inventory as a CSV file »
View the Rebrickable.com inventory for this set »
View the inventory at BrickLink.com »
Element
Image
Qty
Colour
Category
Design
Element name
Element
in sets
Element
introduced in
Design
in sets
Design
introduced in
4197605
3
Light Purple
System
45449
Icon: Heart, Large
17
2003
23
2003
4197610
8
Light Purple
System
45450
Icon: Heart, Small
13
2004
15
2004
4198565
1
Not Specified
System
46618
Big Mirror 8,08X8,08
3
2003
13
2003
4198617
1
Transparent
System
46618
Cover Foil L 0,5 Pet
10
2003
13
2003
4198499
3
Transparent Bright Purple
System
46296
Base: Lock, 10Mm - Polished
9
2003
52
2003
4212269
1
Transparent Bright Purple
System
47912
Bangle 45X57X12 W. 1 Base
2
2004
16
2004
4216059
4
Transparent Bright Purple
System
48173
Tween: Heart Jelly, Ø 29
7
2004
12
2004
4216419
4
Transparent Bright Purple
System
45451
Base: Heart, L. - Pol. Ø15
10
2004
17
2004
4230888
4
Transparent Bright Purple
System
45449
Icon: Heart, Large
4
2005
23
2003
4246981
2
Transparent Light Bluish Green
System
51509
Base: Jewellery, 11Mm - Polis.
3
2005
11
2005
4245401
4
Transparent Light Green
System
48173
Tween: Heart Jelly, Ø 29
1
2005
12
2004
4245406
1
Transparent Light Green
System
47912
Bangle 45X57X12 W. 1 Base
1
2005
16
2004
4247193
2
Transparent Light Green
System
51509
Base: Jewellery, 11Mm - Polis.
5
2005
11
2005
4197196
1
Transparent Medium Reddish Violet
System
45499
Ring
9
2003
12
2003
4197657
4
Transparent Medium Reddish Violet
System
46277
Icon: Heart, Small - Polished
13
2003
13
2003
4240086
1
Transparent Medium Reddish Violet
System
51034
Comb 2X4 With 4 Holes
2
2005
4
2005
Colour summary
| Colour | Unique | Total |
| --- | --- | --- |
| Light Purple | 2 | 11 |
| Not Specified | 1 | 1 |
| Transparent | 1 | 1 |
| Transparent Bright Purple | 5 | 16 |
| Transparent Light Bluish Green | 1 | 2 |
| Transparent Light Green | 3 | 7 |
| Transparent Medium Reddish Violet | 3 | 6 |
| Total | 16 | 44 |
Category summary
| Category | Unique | Total |
| --- | --- | --- |
| System | 16 | 44 |
| Total | 16 | 44 |