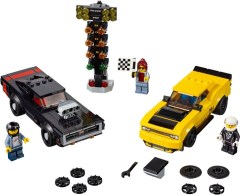 Inventory for 75893-1: 2018 Dodge Challenger SRT Demon and 1970 Dodge Charger R/T
This set inventory has been obtained from LEGO Customer Services replacement parts page.
Important note: We do not control this inventory and cannot currently make changes to it. Use it as a guide to the contents of the set, or to find out part numbers when requesting replacements.
Download the inventory as a CSV file »
View the Rebrickable.com inventory for this set »
View the inventory at BrickLink.com »
Element
Image
Qty
Colour
Category
Design
Element name
Element
in sets
Element
introduced in
Design
in sets
Design
introduced in
73081
2
Black
System
73081
Console W/St.Wheel Bl/Bl
91
1994
1051
1992
241226
2
Black
System
2412
Radiator Grille 1X2
704
1991
3617
1991
242026
2
Black
System
2420
Corner Plate 1X2X2
444
1991
2504
1991
243226
1
Black
System
2432
Clamp 1X2
256
1994
1437
1992
300426
1
Black
System
3004
Brick 1X2
786
1991
6952
1986
302426
2
Black
System
3024
Plate 1X1
453
1992
3595
1986
303226
1
Black
System
3032
Plate 4X6
339
1991
1881
1991
306926
1
Black
System
3069
Flat Tile 1X2
569
1991
4899
1991
366626
9
Black
System
3666
Plate 1X6
706
1991
4196
1991
400626
1
Black
System
4006
Screwdriver/Spanner
269
1994
297
1994
614126
8
Black
System
6141
Round Plate 1X1
803
1991
5401
1990
617926
2
Black
System
6179
Plate 4X4 W. 4 Knobs
92
1996
430
1994
663626
8
Black
System
6636
Flat Tile 1X6
364
1996
2252
1996
4107558
1
Black
System
32018
Technic Brick 1X14, Ø4,9
121
1997
303
1997
4107761
2
Black
System
32028
Plate 1X2 With Slide
240
1997
1143
1997
4298619
1
Black
System
30124
Mini Crash Helmet
110
1996
570
1994
4504382
6
Black
System
54200
Roof Tile 1X1X2/3, Abs
510
2006
3700
2005
4515362
2
Black
System
60477
Roof Tile 1X4X1
75
2008
327
2008
4529236
8
Black
System
59900
Nose Cone Small 1X1
260
2006
1833
2002
4548180
3
Black
System
85984
Roof Tile 1 X 2 X 2/3, Abs
416
2009
2294
2009
4558170
5
Black
System
63864
Flat Tile 1X3
169
2010
1264
2010
4565323
2
Black
System
87580
Plate 2X2 W 1 Knob
184
2010
1120
2009
4587844
2
Black
System
88930
Plate W. Bow 2X4X2/3
67
2008
335
2008
4644456
1
Black
System
30136
Palisade Brick 1X2
47
1999
816
1996
4656764
2
Black
System
30029
Chassis 4X10 W. Bot. 2X4
54
2003
75
1996
6047276
8
Black
System
11477
Plate W. Bow 1X2X2/3
227
2014
1959
2013
6053077
3
Black
System
15068
Plate W. Bow 2X2X2/3
216
2014
1395
2014
6058966
1
Black
System
98834
Spoiler W. Shaft Ø 3.2
29
2014
69
2012
6061032
2
Black
System
10247
Plate 2X2 + One Hule Ø4,8
113
2008
454
2008
6092585
8
Black
System
15573
Plate 1X2 W. 1 Knob
223
2010
2016
2002
6093525
1
Black
System
17715
Shaft 3M Ø3.2
158
2012
460
2012
6102596
8
Black
System
18977
Tyre Low Ø24X12
40
2015
40
2015
6104403
8
Black
System
18976
Rim Ø18X12 W Cross & Stud
22
2015
60
2015
6133722
2
Black
System
14719
Flat Tile Corner 1X2X2
30
2016
236
2014
6147050
6
Black
System
24201
Plate W/ Half Bow Inv. 1X2X2/3
89
2016
287
2015
6162892
2
Black
System
26603
Flat Tile 2X3
52
2016
261
2016
6168620
1
Black
System
28802
Angle Plate 1X2/1X4
65
2010
159
2010
6172383
4
Black
System
25269
1/4 Circle Tile 1X1
37
2017
327
2016
6181713
2
Black
System
29119
Right Plate 1X2, W/ Bow, 45 Deg. Cut
28
2017
151
2017
6181720
2
Black
System
29120
Left Plate 1X2, W/ Bow, 45 Deg. Cut
28
2017
150
2017
6192346
6
Black
System
33909
Plate 2X2, W/ Reduced Knobs
55
2017
241
2017
6199908
3
Black
System
34103
Plate 1X3 W/ 2 Knobs
31
2017
104
2017
6210270
2
Black
System
35480
Plate 1X2, Rounded, No. 1
54
2018
182
2018
6234695
2
Black
System
36840
Plate 1X1, W/ 1.5 Plate 1X1, Upwards
25
2018
98
2018
6252537
4
Black
System
35789
Mudguard 2X4X2, No. 1
1
2019
7
2018
6253240
1
Black
System
18978
Hub Cab Ø15 No.1
2
2019
11
2015
6253649
4
Black
System
49098
Hub Cap, Dia. 24 Mm, W/ Tube, No. 1
1
2019
1
2019
6254045
3
Black
System
41740
Plate 1X4, W/ 2 Knobs, No. 2
19
2019
81
2019
6256883
4
Black
System
49605
Flat Tile 1X1, No. 200
1
2019
1
2019
6256887
4
Black
System
49123
Flat Tile 1X1, 1/2 Circle, No. 1
1
2019
1
2019
6256935
1
Black
System
76382
Mini Upper Part, No. 4620
1
2019
6120
1993
6256936
1
Black
System
49604
Mini Lower Part, No. 1669
1
2019
1
2019
370826
1
Black
Technic
3708
Cross Axle 12M
387
1981
415
1981
4140801
1
Black
Technic
32054
2M Fric. Snap W/Cross Hole
428
1997
969
1997
6099801
8
Black
Technic
10197
Beam 1M W. 2 Cross Axles 90°
33
2015
131
2012
6024495
1
Brick Yellow
System
11211
Brick 1X2 W. 2 Knobs
182
2013
868
2012
6048857
2
Brick Yellow
System
92411
Angle Plate 1X2 / 2X2
67
2011
365
2008
4666579
8
Brick Yellow
Technic
6562
Connector Peg/Cross Axle
795
1997
1044
1990
242023
2
Bright Blue
System
2420
Corner Plate 1X2X2
124
1995
2504
1991
300323
3
Bright Blue
System
3003
Brick 2X2
365
1993
4794
1986
371023
3
Bright Blue
System
3710
Plate 1X4
387
1992
6772
1981
614123
10
Bright Blue
System
6141
Round Plate 1X1
202
1994
5401
1990
4212411
1
Bright Blue
System
30414
Brick 1X4 W. 4 Knobs
65
2004
1148
2000
6280384
1
Bright Blue
System
50029
Technic Rotor, 2 Blades
10
2015
76
2015
4206482
2
Bright Blue
Technic
43093
Conn.Bush W.Fric./Crossale
1453
2002
1484
2002
4514553
4
Bright Blue
Technic
6558
Connector Peg W. Friction 3M
791
2007
1173
1994
300321
1
Bright Red
System
3003
Brick 2X2
456
1986
4794
1986
302321
3
Bright Red
System
3023
Plate 1X2
814
1986
9370
1981
303921
1
Bright Red
System
3039
Roof Tile 2X2/45°
255
1990
2572
1986
371021
7
Bright Red
System
3710
Plate 1X4
524
1986
6772
1981
4558886
2
Bright Red
System
87087
Brick 1X1 W. 1 Knob
109
2010
1366
2009
6061711
2
Bright Red
System
99206
Plate 2X2X2/3 W. 2. Hor. Knob
52
2014
645
2012
6089698
12
Bright Red
System
99780
Angular Plate 1.5 Bot. 1X2 1/2
63
2014
1103
2012
6177505
1
Bright Red
System
29120
Left Plate 1X2, W/ Bow, 45 Deg. Cut
22
2017
150
2017
6177507
1
Bright Red
System
29119
Right Plate 1X2, W/ Bow, 45 Deg. Cut
24
2017
151
2017
243124
4
Bright Yellow
System
2431
Flat Tile 1X4
226
1994
3708
1991
300424
2
Bright Yellow
System
3004
Brick 1X2
490
1993
6952
1986
302124
5
Bright Yellow
System
3021
Plate 2X3
296
1993
5034
1980
302324
8
Bright Yellow
System
3023
Plate 1X2
585
1981
9370
1981
302424
8
Bright Yellow
System
3024
Plate 1X1
199
1990
3595
1986
306924
3
Bright Yellow
System
3069
Flat Tile 1X2
309
1994
4899
1991
366524
2
Bright Yellow
System
3665
Roof Tile 1X2 Inv.
149
1990
2098
1987
366624
4
Bright Yellow
System
3666
Plate 1X6
221
1993
4196
1991
371024
2
Bright Yellow
System
3710
Plate 1X4
414
1981
6772
1981
663624
1
Bright Yellow
System
6636
Flat Tile 1X6
117
1997
2252
1996
4141630
2
Bright Yellow
System
32028
Plate 1X2 With Slide
72
2000
1143
1997
4504381
2
Bright Yellow
System
54200
Roof Tile 1X1X2/3, Abs
182
2006
3700
2005
4525895
1
Bright Yellow
System
6179
Plate 4X4 W. 4 Knobs
22
1994
430
1994
4550348
2
Bright Yellow
System
85984
Roof Tile 1 X 2 X 2/3, Abs
109
2009
2294
2009
4560181
1
Bright Yellow
System
87079
Flat Tile 2X4
90
2011
1971
2010
4567996
1
Bright Yellow
System
87609
Plate 2X6X2/3 W 4 Hor. Knob
11
2011
197
2010
4597902
3
Bright Yellow
System
88930
Plate W. Bow 2X4X2/3
26
2009
335
2008
6021614
1
Bright Yellow
System
12775
Mini Head "No 1144"
13
2013
13
2013
6029947
8
Bright Yellow
System
11477
Plate W. Bow 1X2X2/3
72
2014
1959
2013
6079007
2
Bright Yellow
System
15068
Plate W. Bow 2X2X2/3
59
2014
1395
2014
6174813
1
Bright Yellow
System
29627
Mini Head No. 2113
24
2017
24
2017
6176636
1
Bright Yellow
System
29966
Mini Head, No. 2141
17
2017
17
2017
6195183
2
Bright Yellow
System
25269
1/4 Circle Tile 1X1
7
2018
327
2016
6228597
2
Bright Yellow
System
28192
Roof Tile 1X2, Deg. 45, W/O Knobs
2
2019
151
2017
6252538
4
Bright Yellow
System
35789
Mudguard 2X4X2, No. 1
1
2019
7
2018
4210660
2
Dark Stone Grey
System
2540
Plate 1X2 W. Stick
354
2003
1649
1992
4210695
1
Dark Stone Grey
System
30553
Fric/Fork W. Cross Hole
130
2003
401
2001
4211044
14
Dark Stone Grey
System
4070
Angular Brick 1X1
177
2004
1897
1991
4211065
8
Dark Stone Grey
System
3020
Plate 2X4
750
2002
7184
1980
4211104
1
Dark Stone Grey
System
3622
Brick 1X3
224
2003
2595
1992
4211133
6
Dark Stone Grey
System
3623
Plate 1X3
372
2004
3459
1981
6015890
2
Dark Stone Grey
System
11090
Holder Ø3.2 W/Tube Ø3.2 Hole
112
2013
387
2013
6150297
4
Dark Stone Grey
System
26447
Brick 2X4X1 1/3 W/Ø4.85 Cutout
53
2015
53
2015
4223767
2
Dark Stone Grey
Technic
6632
Technic Lever 3M
76
2004
765
1995
6005331
1
Dark Stone Grey
Technic
10197
Beam 1M W. 2 Cross Axles 90°
97
2012
131
2012
6078262
1
Dark Stone Grey
Technic
47973
Doubl. Snap 2M M/Stub
19
2004
27
2004
6167281
1
Dark Stone Grey
Technic
27940
Beam, 1 Module W/ 2 Cross Axle, 180 Deg.
41
2017
41
2017
4162916
1
Earth Blue
System
73200
Mini Lower Part
316
2002
4113
1991
4530028
2
Earth Blue
System
3021
Plate 2X3
84
2008
5034
1980
4211353
6
Medium Stone Grey
System
2420
Corner Plate 1X2X2
291
2001
2504
1991
4211376
1
Medium Stone Grey
System
2817
Technic Doub. Bearing Pl. 2X2
186
2001
510
1995
4211389
2
Medium Stone Grey
System
3005
Brick 1X1
386
2002
4367
1991
4211398
4
Medium Stone Grey
System
3023
Plate 1X2
861
1993
9370
1981
4211410
1
Medium Stone Grey
System
3039
Roof Tile 2X2/45°
233
2001
2572
1986
4211436
1
Medium Stone Grey
System
3660
Roof Tile 2X2/45° Inv.
262
2002
2366
1987
4211438
1
Medium Stone Grey
System
3666
Plate 1X6
459
1998
4196
1991
4211475
3
Medium Stone Grey
System
4032
Plate 2X2 Round
310
2003
2807
1992
4211549
1
Medium Stone Grey
System
6636
Flat Tile 1X6
317
2002
2252
1996
4556157
1
Medium Stone Grey
System
60470
Plate 1X2 W/Holder, Vertical
307
2008
953
2008
4621178
1
Medium Stone Grey
System
93593
Rim No.1 Ø11,176X6,2
16
2011
31
2011
4654577
1
Medium Stone Grey
System
99206
Plate 2X2X2/3 W. 2. Hor. Knob
237
2012
645
2012
4654580
4
Medium Stone Grey
System
99207
Angular Plate 1.5 Bot. 1X2 2/2
381
2012
855
2012
4654582
2
Medium Stone Grey
System
99781
Angular Plate 1,5 Top 1X2 1/2
345
2012
765
2012
6125569
1
Medium Stone Grey
System
21445
Wheel Bearing 1X2X1/3 W/Mini Snap
27
2015
62
2015
6134378
2
Medium Stone Grey
System
99563
Gold Ingot
50
2016
153
2016
6153512
1
Medium Stone Grey
System
76382
Mini Upper Part No. 3451
11
2016
6120
1993
6168647
12
Medium Stone Grey
System
28626
Pl.Round 1X1 W. Throughg. Hole
165
2015
610
2014
6176433
2
Medium Stone Grey
System
25269
1/4 Circle Tile 1X1
47
2017
327
2016
6206249
1
Medium Stone Grey
System
31493
Brick 1X2 With Cross Hole
105
2014
528
2009
6211969
6
Medium Stone Grey
System
34103
Plate 1X3 W/ 2 Knobs
34
2018
104
2017
6213378
2
Medium Stone Grey
System
28192
Roof Tile 1X2, Deg. 45, W/O Knobs
17
2018
151
2017
6284071
4
Medium Stone Grey
System
35381
Flat Tile 1X1, Round
39
2019
112
2019
4211573
8
Medium Stone Grey
Technic
32123
1/2 Bush
661
1997
1181
1993
4211655
1
Medium Stone Grey
Technic
32523
Technic 3M Beam
118
2004
868
2000
4630114
1
Medium Stone Grey
Technic
92907
Cross Block/Form 2X2X2
44
2011
123
2011
4552419
1
New Dark Red
System
62696
Wig W/Long Ponytail
15
2009
75
2008
4267425
1
Sand Blue
System
73200
Mini Lower Part
87
2005
4113
1991
6256933
1
Sand Blue
System
76382
Mini Upper Part, No. 4621
1
2019
6120
1993
6240030
2
Transparent
System
34823
Plate 1X1 Round
183
2010
1174
2010
6244787
2
Transparent
System
35334
Mini Visor 2
38
2015
133
2010
4646865
6
Transparent Bright Orange
System
98138
Flat Tile 1X1, Round
135
2012
1777
2011
6240227
2
Transparent Bright Orange
System
34823
Plate 1X1 Round
119
2014
1174
2010
6252040
2
Transparent Bright Orange
System
28554
Plate 1X1
58
2014
251
2014
6245263
4
Transparent Brown
System
35338
Roof Tile 1X1X2/3
45
2014
467
2010
6247359
1
Transparent Brown
System
35279
Windscreen 4X3X1 1/3
19
2014
27
2014
6253360
1
Transparent Brown
System
35243
Windscreen 36 Deg. 3X4X1 1/3
16
2010
27
2010
6274742
2
Transparent Green
System
35380
Flat Tile 1X1, Round
56
2015
367
2013
6251290
2
Transparent Red
System
35386
Flat Tile 1X2
50
2016
221
2014
6258607
2
Transparent Red
System
35380
Flat Tile 1X1, Round
128
2013
367
2013
4650500
8
Transparent Yellow
System
98138
Flat Tile 1X1, Round
153
2012
1777
2011
300201
1
White
System
3002
Brick 2X3
378
1992
2600
1992
379401
4
White
System
3794
Plate 1X2 W. 1 Knob
590
1992
2265
1991
4298609
1
White
System
30124
Mini Crash Helmet
230
1994
570
1994
6011794
1
White
System
11055
Flag With 2 Holders
127
1998
345
1995
Colour summary
| Colour | Unique | Total |
| --- | --- | --- |
| Black | 55 | 178 |
| Brick Yellow | 3 | 11 |
| Bright Blue | 8 | 26 |
| Bright Red | 9 | 30 |
| Bright Yellow | 25 | 72 |
| Dark Stone Grey | 12 | 43 |
| Earth Blue | 2 | 3 |
| Medium Stone Grey | 26 | 70 |
| New Dark Red | 1 | 1 |
| Sand Blue | 2 | 2 |
| Transparent | 2 | 4 |
| Transparent Bright Orange | 3 | 10 |
| Transparent Brown | 3 | 6 |
| Transparent Green | 1 | 2 |
| Transparent Red | 2 | 4 |
| Transparent Yellow | 1 | 8 |
| White | 4 | 7 |
| Total | 159 | 477 |
Category summary
| Category | Unique | Total |
| --- | --- | --- |
| System | 146 | 438 |
| Technic | 13 | 39 |
| Total | 159 | 477 |