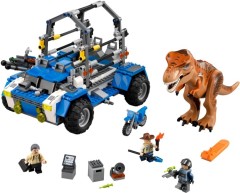 Inventory for 75918-1: T-Rex Tracker
This set inventory has been obtained from LEGO Customer Services replacement parts page.
Important note: We do not control this inventory and cannot currently make changes to it. Use it as a guide to the contents of the set, or to find out part numbers when requesting replacements.
Download the inventory as a CSV file »
View the Rebrickable.com inventory for this set »
View the inventory at BrickLink.com »
Element
Image
Qty
Colour
Category
Design
Element name
Element
in sets
Element
introduced in
Design
in sets
Design
introduced in
9339
1
Black
System
73200
Mini Body Lower Part Black
805
1991
4112
1991
4154853
1
Black
System
4449
Mini Suitcase
49
1994
180
1994
4185620
4
Black
System
44567
Plate 1X2 W. Stub/Vertical
100
2004
422
2003
4188143
2
Black
System
32532
6X8 Brick, Ø 4,85
63
2002
143
2002
4297209
4
Black
System
55976
Tyre Baloon Wide Ø56 X 26
47
2006
47
2006
4522653
1
Black
System
30171
Flying Helmet
57
2001
129
1999
4569733
2
Black
System
88072
Plate 1X2 W. Vertical Schaft
166
2008
542
2008
4598897
1
Black
System
64567
Light Sword Shaft
192
2008
490
2006
6051038
4
Black
System
15456
Plate 2X2 W. Ball
80
2010
130
2005
6063617
1
Black
System
15210
Four-Sided Sign With Snap
28
2010
89
2010
6064174
2
Black
System
50861
Tyre Ø 20.9 X 5.8
73
2010
90
2005
6116604
1
Black
System
21462
Light Sword - Blade
176
2008
567
2008
6179850
1
Black
System
31865
60 % Cotton40% Polyester 0,5Mm,0,5M
42
2012
42
2012
370526
12
Black
Technic
3705
Cross Axle 4M
1062
1981
1167
1981
370726
8
Black
Technic
3707
Cross Axle 8M
537
1981
571
1981
4107765
4
Black
Technic
6553
Catch
221
1997
508
1993
4121715
20
Black
Technic
2780
Connector Peg W. Friction
2108
1993
2108
1993
4140801
4
Black
Technic
32054
2M Fric. Snap W/Cross Hole
428
1997
969
1997
4184169
1
Black
Technic
6628
Ball With Friction Snap
450
1994
456
1994
4290713
2
Black
Technic
32474
Voodoo Ball Ø10,2
116
2001
291
2001
6006140
3
Black
Technic
74695
Beam 1X2 W/Cross And Hole
126
2009
399
2008
6117133
1
Brick Yellow
System
76382
Mini Upper Part No.3052
1
2015
6115
1993
6117882
1
Brick Yellow
System
76382
Mini Upper Part No.3064
3
2015
6115
1993
300123
3
Bright Blue
System
3001
Brick 2X4
343
1995
4346
1991
300423
6
Bright Blue
System
3004
Brick 1X2
486
1990
6938
1986
300823
3
Bright Blue
System
3008
Brick 1X8
152
1995
1498
1992
302023
6
Bright Blue
System
3020
Plate 2X4
415
1990
7172
1980
302123
1
Bright Blue
System
3021
Plate 2X3
307
1992
5019
1980
306823
3
Bright Blue
System
3068
Flat Tile 2X2
152
1995
3259
1993
383223
6
Bright Blue
System
3832
Plate 2X10
65
1994
1525
1991
4124107
2
Bright Blue
System
30363
Roof Tile 2X4X1, 18°
28
1999
375
1999
4243815
6
Bright Blue
System
3031
Plate 4X4
130
1994
2153
1991
4514398
12
Bright Blue
System
48336
Plate 1X2 W. Stick 3.18
55
2007
1500
2004
4528850
1
Bright Blue
System
3029
Plate 4X12
34
1995
534
1994
4543998
2
Bright Blue
System
50950
Brick W/Bow 1/3
45
2009
1175
2005
4560180
4
Bright Blue
System
87079
Flat Tile 2X4
78
2010
1965
2010
4615600
2
Bright Blue
System
92538
Brick 2X10
24
1996
283
1994
4621898
12
Bright Blue
System
30350
Plate 2X3 W. Holder
3
2011
335
1999
4651236
2
Bright Blue
System
85984
Roof Tile 1 X 2 X 2/3, Abs
90
2012
2288
2009
6037384
3
Bright Blue
System
93888
Brick 2X8
48
2006
385
2001
6055328
2
Bright Blue
System
45677
Plate 4X4X2/3
16
2006
250
2003
6073890
1
Bright Blue
System
60478
Plate 1X2 W/Shaft Ø3.2
13
2014
1124
2008
6116786
1
Bright Blue
System
15068
Plate W. Bow 2X2X2/3
43
2015
1390
2014
6117845
1
Bright Blue
System
50860
Motorcycle Fairing 1
4
2015
38
2007
4206482
8
Bright Blue
Technic
43093
Conn.Bush W.Fric./Crossale
1449
2002
1480
2002
4514553
9
Bright Blue
Technic
6558
Connector Peg W. Friction 3M
788
2007
1170
1994
4654448
1
Bright Orange
System
96874
Element Seperator
231
2012
237
2009
4157223
3
Bright Red
System
30414
Brick 1X4 W. 4 Knobs
96
2005
1146
2000
4140806
4
Bright Red
Technic
32054
2M Fric. Snap W/Cross Hole
243
1999
969
1997
4142865
4
Bright Red
Technic
32062
2M Cross Axle W. Groove
1222
2000
1815
1993
4227155
4
Bright Red
Technic
6590
Bush For Cross Axle
357
2004
1165
1990
9553
1
Bright Yellow
System
73081
Console W/St Wheel Ye/Bl
204
1995
1050
1992
243124
2
Bright Yellow
System
2431
Flat Tile 1X4
226
1994
3703
1991
302324
2
Bright Yellow
System
3023
Plate 1X2
584
1981
9342
1981
614324
4
Bright Yellow
System
6143
Brick Ø16 W. Cross
142
1995
1792
1993
4189400
3
Bright Yellow
System
4162
Flat Tile 1X8
80
1994
1501
1991
4560181
1
Bright Yellow
System
87079
Flat Tile 2X4
90
2011
1965
2010
4107066
2
Bright Yellow
Technic
32013
Angle Element, 0 Degrees [1]
70
1997
1073
1997
4519010
2
Bright Yellow
Technic
59443
Cross Axle, Extension, 2M
117
2008
1088
2005
6086765
2
Bright Yellowish Green
System
87989
Injection Syring
30
2012
55
2010
4538950
1
Dark Brown
System
64644
Stick Ø3.2 2Mm W/Knob And Tube
139
2009
598
2009
6112173
1
Dark Orange
System
20962
Animal No.5 Foreleg Left "No.3
1
2015
1
2015
6112188
1
Dark Orange
System
20964
Animal No.5 Foreleg Right "No.3
1
2015
1
2015
4210631
7
Dark Stone Grey
System
2412
Radiator Grille 1X2
586
2003
3613
1991
4210633
6
Dark Stone Grey
System
6141
Round Plate 1X1
409
2002
5381
1990
4210706
1
Dark Stone Grey
System
3029
Plate 4X12
92
2003
534
1994
4210967
1
Dark Stone Grey
System
4510
Plate 1X8 With Rail
70
2003
309
1996
4211001
6
Dark Stone Grey
System
3710
Plate 1X4
625
2002
6762
1981
4211010
1
Dark Stone Grey
System
4740
Parabola Ø16
163
2004
1024
1994
4211039
8
Dark Stone Grey
System
2432
Clamp 1X2
163
2004
1436
1992
4211054
12
Dark Stone Grey
System
3039
Roof Tile 2X2/45°
281
2003
2568
1986
4211067
6
Dark Stone Grey
System
2445
Plate 2X12
174
2003
947
1994
4211094
4
Dark Stone Grey
System
3022
Plate 2X2
641
2002
6599
1986
4213607
6
Dark Stone Grey
System
3701
Technic Brick 1X4, Ø4,9
185
2004
1083
1981
4225733
2
Dark Stone Grey
System
3176
Coupling Plate 2X2
105
2004
652
1994
4243831
4
Dark Stone Grey
System
3031
Plate 4X4
331
2003
2153
1991
4256149
2
Dark Stone Grey
System
3028
Plate 6X12
93
2001
438
1994
4493478
1
Dark Stone Grey
System
46339
Flat Tile 1X2 No. 79
32
2003
33
2003
4502068
1
Dark Stone Grey
System
50943
Motor 2X2X1 1/3
58
2007
170
2005
4504378
2
Dark Stone Grey
System
54200
Roof Tile 1X1X2/3, Abs
391
2005
3690
2005
6015890
1
Dark Stone Grey
System
11090
Holder Ø3.2 W/Tube Ø3.2 Hole
112
2013
386
2013
6019987
1
Dark Stone Grey
System
11458
Plade 1X2 M. Van. Hul Ø 4,8
272
2013
458
2013
6047417
4
Dark Stone Grey
System
10247
Plate 2X2 + One Hule Ø4,8
97
2008
452
2008
6048898
1
Dark Stone Grey
System
15400
Spring Shooter 1X4
178
2014
178
2014
6055313
2
Dark Stone Grey
System
15535
Flat Tile 2X2 Round W. Hole Ø4.85
233
2013
427
2013
6055607
1
Dark Stone Grey
System
15445
Rifle No. 3 W. 3.2 Shaft
17
2014
17
2014
6071261
6
Dark Stone Grey
System
15068
Plate W. Bow 2X2X2/3
122
2014
1390
2014
6117431
1
Dark Stone Grey
System
21621
Mini Lower Part "No 886"
6
2015
6
2015
6121013
1
Dark Stone Grey
System
92081
Mini Wig No. 11
2
2015
67
2010
6178919
2
Dark Stone Grey
System
31493
Brick 1X2 With Cross Hole
122
2009
525
2009
4539297
4
Dark Stone Grey
Technic
64451
Angle Beam 4X6
13
2009
23
2009
4645730
4
Dark Stone Grey
Technic
64289
Technic 9M Beam
67
2007
355
2004
6083620
9
Dark Stone Grey
Technic
87083
Cross Axle 4M With End Stop
471
2010
552
2010
4162916
1
Earth Blue
System
73200
Mini Lower Part
316
2002
4112
1991
6117427
1
Earth Blue
System
76382
Mini Upper Part No 3060
6
2015
6115
1993
4662141
1
Light Nougat
System
76086
Mini Head "No. 937"
24
2012
24
2012
6103616
1
Light Nougat
System
20155
Mini Head No. "1617"
5
2015
5
2015
6120831
1
Light Nougat
System
21947
Mini Figure Head "No. 1719"
3
2015
3
2015
6115622
1
Medium Nougat
System
20951
Animal No.5 Tail "No.3"
2
2015
2
2015
6115650
1
Medium Nougat
System
20956
Animal No.5 Body "No.3"
2
2015
2
2015
6115654
1
Medium Nougat
System
20957
Animal No.5 Head "No.3"
1
2015
1
2015
6115656
1
Medium Nougat
System
20959
Animal No.5 Jaw "No.3"
1
2015
1
2015
6115678
1
Medium Nougat
System
98162
Animal No 5, Hind Leg Left
2
2015
9
2012
6115682
1
Medium Nougat
System
98163
Animal No 5, Hind Leg Right
2
2015
9
2012
4211350
4
Medium Stone Grey
System
2412
Radiator Grille 1X2
552
2002
3613
1991
4211374
4
Medium Stone Grey
System
2730
Technic Brick 1X10 Ø4.9
82
2002
324
1993
4211387
3
Medium Stone Grey
System
3003
Brick 2X2
377
2001
4787
1986
4211394
1
Medium Stone Grey
System
3010
Brick 1X4
356
2001
4448
1991
4211395
1
Medium Stone Grey
System
3020
Plate 2X4
748
2001
7172
1980
4211397
1
Medium Stone Grey
System
3022
Plate 2X2
700
1998
6599
1986
4211404
1
Medium Stone Grey
System
3032
Plate 4X6
217
2001
1877
1991
4211425
4
Medium Stone Grey
System
3460
Plate 1X8
300
1998
2370
1981
4211437
4
Medium Stone Grey
System
3665
Roof Tile 1X2 Inv.
223
2002
2096
1987
4211443
4
Medium Stone Grey
System
3703
Brick 1X16, Ø4,9
65
2002
379
1981
4211452
1
Medium Stone Grey
System
3795
Plate 2X6
489
2001
4531
1980
4211475
5
Medium Stone Grey
System
4032
Plate 2X2 Round
310
2003
2802
1992
4211486
3
Medium Stone Grey
System
4282
Plate 2X16
120
2002
626
1994
4211491
1
Medium Stone Grey
System
4345
Mailbox, Casing 2X2X2
87
2004
258
1992
4211492
1
Medium Stone Grey
System
4346
Mailbox, Front 2X2
63
2004
158
1995
4211525
4
Medium Stone Grey
System
6141
Round Plate 1X1
516
2002
5381
1990
4211570
2
Medium Stone Grey
System
3747
Roof Tile 2X3/25° Inv.
151
2001
1119
1991
4258308
1
Medium Stone Grey
System
30031
Handle W. 3.18 Stick
72
2007
381
1996
4297210
4
Medium Stone Grey
System
56145
Rim Wide W.Cross 30/20
90
2005
226
2005
4509915
1
Medium Stone Grey
System
30363
Roof Tile 2X4X1, 18°
40
2004
375
1999
4568637
2
Medium Stone Grey
System
85984
Roof Tile 1 X 2 X 2/3, Abs
281
2010
2288
2009
4590443
2
Medium Stone Grey
System
50862
Rim Ø 14.58 X 8
64
2005
87
2005
4650260
1
Medium Stone Grey
System
98138
Flat Tile 1X1, Round
225
2011
1778
2011
4657366
1
Medium Stone Grey
System
64644
Stick Ø3.2 2Mm W/Knob And Tube
70
2012
598
2009
6012653
4
Medium Stone Grey
System
76766
Bottom 2X5X2 1/3
27
2010
62
2010
6015344
2
Medium Stone Grey
System
11211
Brick 1X2 W. 2 Knobs
319
2012
866
2012
6043639
1
Medium Stone Grey
System
14418
Plate 1X2 Ball Cup / Friction End
195
2014
195
2014
6066097
6
Medium Stone Grey
System
15573
Plate 1X2 W. 1 Knob
525
2002
2009
2002
6071229
1
Medium Stone Grey
System
15712
Plate 1X1 W. Up Right Holder
178
2014
1024
2010
4211553
4
Medium Stone Grey
Technic
32039
Catch W. Cross Hole
194
1997
846
1997
4211621
8
Medium Stone Grey
Technic
32184
Double Cross Block
146
2003
476
1999
4211622
7
Medium Stone Grey
Technic
6590
Bush For Cross Axle
517
1993
1165
1990
4512360
14
Medium Stone Grey
Technic
59443
Cross Axle, Extension, 2M
222
2005
1088
2005
6173127
4
Medium Stone Grey
Technic
29219
Tube, W/ Double 4.85 Hole
95
2013
428
2009
4211189
11
Reddish Brown
System
3021
Plate 2X3
257
2004
5019
1980
6062690
1
Reddish Brown
System
13565
Figur Head Clothing No 8
3
2014
16
2013
6117699
1
Sand Blue
System
21650
Armour No. 5 "No. 2"
4
2015
4
2015
6055651
1
Silver Metallic
System
50859
Motorcycle Frame 6M
15
2014
68
2005
6129364
2
Silver Metallic
Technic
53586
Fric. Element, Cylinder
14
2008
56
2006
4567331
1
Transparent Blue
System
64288
Nose Cone Small 1X1 - Tr
99
2003
814
2003
6121062
1
Transparent Bright Green
System
19020
Weapon No. 7
1
2015
6
2015
4222960
8
Transparent Bright Orange
System
30057
Round Plate 1X1 - Tr.
279
2004
3306
1992
4541710
1
Transparent Bright Orange
System
30070
Flat Tile 1X2 - Tr
51
2005
395
1998
4163306
1
Transparent Brown
System
2447
Mini Visor 2
163
2002
380
1994
4167504
2
Transparent Brown
System
3823
Windscreen 2X4X2
33
2002
217
1994
4540865
1
Transparent Fluorescent Reddish Orange
System
64647
Feather
96
2009
296
2009
4189801
2
Transparent Red
System
30070
Flat Tile 1X2 - Tr
83
2003
395
1998
4194535
2
Transparent Yellow
System
30070
Flat Tile 1X2 - Tr
40
2003
395
1998
4278415
2
Transparent Yellow
System
54196
Slide Shoe Round 2X2
53
2004
258
2002
4650500
2
Transparent Yellow
System
98138
Flat Tile 1X1, Round
153
2012
1778
2011
300901
2
White
System
3009
Brick 1X6
478
1991
2700
1991
301001
4
White
System
3010
Brick 1X4
674
1992
4448
1991
302101
2
White
System
3021
Plate 2X3
552
1992
5019
1980
303401
7
White
System
3034
Plate 2X8
317
1995
2599
1980
366001
2
White
System
3660
Roof Tile 2X2/45° Inv.
286
1994
2358
1987
366601
2
White
System
3666
Plate 1X6
494
1993
4187
1991
371001
2
White
System
3710
Plate 1X4
824
1991
6762
1981
609101
4
White
System
6091
Brick W. Arch 1X1X1 1/3
189
1993
1330
1992
663601
4
White
System
6636
Flat Tile 1X6
321
1996
2247
1996
4143000
4
White
System
30363
Roof Tile 2X4X1, 18°
73
2001
375
1999
4578606
2
White
System
3300
Ridged Tile 2X2/25°
15
1996
101
1995
6057414
4
White
System
11458
Plate 1X2 W. Hor. Hole Ø 4.8
63
2014
458
2013
4208160
1
White
Technic
32523
Technic 3M Beam
75
2003
867
2000
Colour summary
| Colour | Unique | Total |
| --- | --- | --- |
| Black | 21 | 79 |
| Brick Yellow | 2 | 2 |
| Bright Blue | 23 | 96 |
| Bright Orange | 1 | 1 |
| Bright Red | 4 | 15 |
| Bright Yellow | 8 | 17 |
| Bright Yellowish Green | 1 | 2 |
| Dark Brown | 1 | 1 |
| Dark Orange | 2 | 2 |
| Dark Stone Grey | 30 | 107 |
| Earth Blue | 2 | 2 |
| Light Nougat | 3 | 3 |
| Medium Nougat | 6 | 6 |
| Medium Stone Grey | 34 | 107 |
| Reddish Brown | 2 | 12 |
| Sand Blue | 1 | 1 |
| Silver Metallic | 2 | 3 |
| Transparent Blue | 1 | 1 |
| Transparent Bright Green | 1 | 1 |
| Transparent Bright Orange | 2 | 9 |
| Transparent Brown | 2 | 3 |
| Transparent Fluorescent Reddish Orange | 1 | 1 |
| Transparent Red | 1 | 2 |
| Transparent Yellow | 3 | 6 |
| White | 13 | 40 |
| Total | 167 | 519 |
Category summary
| Category | Unique | Total |
| --- | --- | --- |
| System | 142 | 375 |
| Technic | 25 | 144 |
| Total | 167 | 519 |