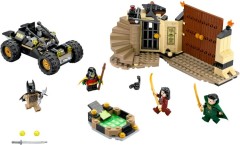 Inventory for 76056-1: Batman: Rescue from Ra's al Ghul
This set inventory has been obtained from LEGO Customer Services replacement parts page.
Important note: We do not control this inventory and cannot currently make changes to it. Use it as a guide to the contents of the set, or to find out part numbers when requesting replacements.
Download the inventory as a CSV file »
View the Rebrickable.com inventory for this set »
View the inventory at BrickLink.com »
Element
Image
Qty
Colour
Category
Design
Element name
Element
in sets
Element
introduced in
Design
in sets
Design
introduced in
235726
2
Black
System
2357
Brick Corner 1X2X2
177
1994
1401
1994
300326
1
Black
System
3003
Brick 2X2
564
1991
4787
1986
306926
1
Black
System
3069
Flat Tile 1X2
568
1991
4883
1991
366526
2
Black
System
3665
Roof Tile 1X2 Inv.
271
1994
2096
1987
370026
2
Black
System
3700
Technic Brick 1X2, Ø4.9
406
1994
2018
1981
371026
2
Black
System
3710
Plate 1X4
1007
1991
6762
1981
379526
2
Black
System
3795
Plate 2X6
768
1994
4531
1980
395726
2
Black
System
3957
Whip/Aerial
261
1994
829
1992
403226
4
Black
System
4032
Plate 2X2 Round
514
1994
2802
1992
416126
2
Black
System
4161
Roof Tile 3X3/25°
31
1995
46
1995
428626
6
Black
System
4286
Roof Tile 1X3/25°
226
1994
1374
1990
654126
5
Black
System
6541
Technic Brick 1X1
251
1994
1140
1994
4109969
1
Black
System
30169
Skorpion
42
1998
57
1998
4155558
1
Black
System
40244
Column Ø7,84
50
2001
72
2001
4180508
1
Black
System
43722
Right Plate 2X3 W/Angle
135
2003
910
2002
4227684
1
Black
System
2450
Corner Plate 45 Deg. 3X3
114
1994
558
1994
4243819
2
Black
System
3031
Plate 4X4
375
1994
2153
1991
4251161
2
Black
System
50950
Brick W/Bow 1/3
174
2005
1175
2005
4258354
1
Black
System
2460
Plate 2X2 W. Vertical Snap
115
1991
587
1991
4271754
1
Black
System
30246
French Tower 4X3X6
10
2005
41
2000
4504382
3
Black
System
54200
Roof Tile 1X1X2/3, Abs
507
2006
3690
2005
4506553
4
Black
System
56891
Tyre Balloon Wide Ø 37X18
54
2008
54
2008
4517925
2
Black
System
61252
Plate 1X1 W/Holder Vertical
403
1994
1428
1994
4533771
4
Black
System
60475
Brick 1X1 W/Holder, H0Rizontal
108
2008
549
2008
4541984
1
Black
System
60219
Inv. Roof Tile 4X6, 3Xø4.9
56
1999
201
1999
4548180
7
Black
System
85984
Roof Tile 1 X 2 X 2/3, Abs
415
2009
2288
2009
4560182
1
Black
System
87079
Flat Tile 2X4
293
2010
1965
2010
4596914
1
Black
System
41879
Mini Leg
52
2002
421
2002
4610232
1
Black
System
85974
Mini Wig No. 4
5
2015
72
2009
4653087
2
Black
System
92946
Roof Tile 1X2 45° W 1/3 Plate
113
2012
323
2011
6014618
1
Black
System
10113
Mask, Batman
47
2012
64
2012
6016279
1
Black
System
98011
Hood For Cloak
31
2008
61
2008
6047276
1
Black
System
11477
Plate W. Bow 1X2X2/3
225
2014
1953
2013
6051508
1
Black
System
15571
End Ridged Tile 1X2/45°
56
2011
254
2008
6053077
1
Black
System
15068
Plate W. Bow 2X2X2/3
214
2014
1390
2014
6054852
2
Black
System
15706
Plate (A) 4M 45°
48
2014
124
2014
6066102
3
Black
System
15712
Plate 1X1 W. Up Right Holder
246
2015
1024
2010
6092585
2
Black
System
15573
Plate 1X2 W. 1 Knob
221
2010
2009
2002
6102734
2
Black
System
15403
Plate 1X2 W/Shooter
145
2015
186
2015
6103100
1
Black
System
20053
Mini Head No.1613
8
2015
8
2015
6116604
1
Black
System
21462
Light Sword - Blade
176
2008
567
2008
6117973
1
Black
System
21712
Angle Plate 1X2 / 2X2
211
2010
792
2008
6146220
4
Black
System
26169
Wall Element 1X2X1
45
2010
381
2010
6153616
1
Black
System
26922
Mini Wig No. 120
2
2016
2
2016
6168646
3
Black
System
28626
Pl.Round 1X1 W. Throughg. Hole
137
2015
607
2014
6176907
1
Black
System
30426
Special Mantle
33
2015
38
2015
4107783
1
Black
Technic
32034
Angle Element, 180 Degrees [2]
243
1997
572
1997
4109995
1
Brick Yellow
System
3004
Brick 1X2
345
1998
6938
1986
4113915
3
Brick Yellow
System
3005
Brick 1X1
214
1998
4360
1991
4113917
8
Brick Yellow
System
3023
Plate 1X2
496
1998
9342
1981
4114064
1
Brick Yellow
System
2454
Brick 1X2X5
98
1998
647
1992
4159279
1
Brick Yellow
System
3245
Brick 1X2X2
82
2001
772
1997
4159739
2
Brick Yellow
System
3002
Brick 2X3
82
2001
2593
1992
4161734
2
Brick Yellow
System
6141
Round Plate 1X1
206
2003
5381
1990
4516055
9
Brick Yellow
System
54200
Roof Tile 1X1X2/3, Abs
116
2010
3690
2005
4578110
1
Brick Yellow
System
60596
Frame 1X4X6
30
2010
389
1998
6055871
2
Brick Yellow
System
60583
Brick 1X1X3 W. 2 Grip
10
2014
131
2008
6056277
1
Brick Yellow
System
87421
Wall 3X3X6, Wry 45 Degr.
8
2015
37
2010
6057517
3
Brick Yellow
System
14716
Brick 1X1X3
21
2016
176
2014
6066344
1
Brick Yellow
System
14769
Flat Tile 2X2, Round
39
2012
825
2008
4514554
4
Brick Yellow
Technic
32556
3M Connector Peg
360
2007
476
2001
4143005
1
Bright Blue
Technic
4274
Connector Peg W. Knob
787
2001
1728
1981
6055337
1
Bright Red
System
76382
Mini Upper Part No. 295
2
2014
6115
1993
6154351
1
Bright Yellow
System
27037
Cape, Mini Feather
1
2016
1
2016
4211065
1
Dark Stone Grey
System
3020
Plate 2X4
749
2002
7172
1980
6051334
2
Dark Stone Grey
System
15392
Trigger For Mini Shooter
295
2014
320
2014
4226869
1
Earth Green
System
73200
Mini Lower Part
45
2004
4112
1991
6151452
1
Earth Green
System
20551
Collar, 18X31,5
1
2016
4
2015
6153644
1
Earth Green
System
76382
Mini Upper Part No. 3462
1
2016
6115
1993
6154345
1
Earth Green
System
20458
Cape
1
2016
15
2014
4652903
1
Light Nougat
System
99868
Mini Head "No. 902"
8
2012
8
2012
6055051
1
Light Nougat
System
15775
Mini Head No. 1289
3
2014
3
2014
6153625
1
Light Nougat
System
26924
Mini Head No. 1979
1
2016
1
2016
4211376
1
Medium Stone Grey
System
2817
Technic Doub. Bearing Pl. 2X2
186
2001
510
1995
4211429
2
Medium Stone Grey
System
3623
Plate 1X3
409
2002
3443
1981
4211489
2
Medium Stone Grey
System
4287
Roof Tile 1X3/25° Inv.
95
2003
735
1994
4211580
1
Medium Stone Grey
System
30236
Brick 1X2 With Stick
78
2004
370
1999
4211614
2
Medium Stone Grey
System
3040
Roof Tile 1X2/45°
295
2002
3043
1986
4211725
2
Medium Stone Grey
System
32059
Plate 4X6 26 Degrees
37
2004
267
1999
4211860
2
Medium Stone Grey
System
3895
Technic Brick 1X12, Ø4,9
64
2004
319
1981
4226995
1
Medium Stone Grey
System
73081
Console W. Wheel Grey/Black
187
2001
1050
1992
4529241
2
Medium Stone Grey
System
59900
Nose Cone Small 1X1
211
2002
1830
2002
6015344
2
Medium Stone Grey
System
11211
Brick 1X2 W. 2 Knobs
319
2012
866
2012
4211375
2
Medium Stone Grey
Technic
2736
Ball W. Cross Axle
278
2003
335
1994
4211807
3
Medium Stone Grey
Technic
3673
Connector Peg
838
1993
838
1993
4541496
1
New Dark Red
System
73200
Mini Lower Part
41
2007
4112
1991
6153665
1
New Dark Red
System
76382
Mini Upper Part No. 3464
1
2016
6115
1993
4211152
4
Reddish Brown
System
3623
Plate 1X3
197
2004
3443
1981
4211222
1
Reddish Brown
System
3665
Roof Tile 1X2 Inv.
132
2003
2096
1987
4211252
2
Reddish Brown
System
3700
Technic Brick 1X2, Ø4.9
129
2004
2018
1981
4561911
2
Reddish Brown
System
87601
Gate 4X10 W. Knobs
11
2011
12
2010
6081990
1
Reddish Brown
System
18274
Stick 6M W/Flange
109
2008
420
2006
6092590
1
Reddish Brown
System
15573
Plate 1X2 W. 1 Knob
137
2014
2009
2002
4531751
1
Reddish Brown
Technic
59443
Cross Axle, Extension, 2M
76
2008
1088
2005
4246957
1
Sand Yellow
System
3034
Plate 2X8
54
2010
2599
1980
4524098
1
Sand Yellow
System
73200
Mini Lower Part
118
2004
4112
1991
4541618
1
Sand Yellow
System
2476
Plate 2X2 Inverted W. Snap
53
2009
176
2004
4550329
1
Sand Yellow
System
3795
Plate 2X6
106
2009
4531
1980
4570111
1
Sand Yellow
System
41539
Plate 8X8
19
2010
361
2001
4570451
1
Sand Yellow
System
30565
Plate 4X4, 1/4 Circle
42
2007
449
2001
6002843
1
Sand Yellow
System
43723
Left Plate 2X3 W/Angle
28
2012
901
2002
6002847
1
Sand Yellow
System
43722
Right Plate 2X3 W/Angle
30
2012
910
2002
6002849
1
Sand Yellow
System
54383
Right Plate 3X6 W. Angle
27
2012
459
2006
6002851
1
Sand Yellow
System
54384
Left Plate 3X6 W Angle
26
2012
453
2006
6006524
1
Sand Yellow
System
3035
Plate 4X8
30
2005
1252
1992
6015452
4
Sand Yellow
System
63864
Flat Tile 1X3
40
2013
1257
2010
6020847
4
Sand Yellow
System
87620
Brick 2X2 W. Angle 45 Degrees
14
2013
230
2010
6028024
8
Sand Yellow
System
40243
Newel-Step
3
2013
25
2001
6035540
2
Sand Yellow
System
3021
Plate 2X3
72
2013
5019
1980
6109751
1
Sand Yellow
System
3027
Plate 6X16
6
2015
198
1994
6153678
1
Sand Yellow
System
76382
Mini Upper Part No. 3463
1
2016
6115
1993
6055631
1
Sand Yellow
Technic
15462
Cross Axle 5M With End Stop
120
2014
248
2014
6116593
1
Silver Metallic
System
21459
Ninja Sword
88
2013
211
2013
6133263
1
Silver Metallic
System
98721
Boomerang Wing
5
2016
82
2012
4617221
1
Titanium Metallic
System
3848
Mini Battle Axe
19
2010
64
2000
6008484
2
Titanium Metallic
System
76116
Bad Robot Arm
53
2010
369
2008
6037634
1
Titanium Metallic
System
60621
Lattice Door For Frame 1X4X6
21
2013
76
2008
6139003
8
Transparent Bright Green
System
30070
Flat Tile 1X2
2
2016
395
1998
4649066
2
Transparent Bright Orange
System
64647
Feather
116
2012
296
2009
6240227
4
Transparent Bright Orange
System
34823
Plate 1X1 Round
119
2014
1171
2010
6247785
1
Transparent Red
System
28556
Diamond With Stick
29
2010
204
2010
6240216
8
Transparent Yellow
System
34823
Plate 1X1 Round
150
2010
1171
2010
4523159
7
Warm Gold
System
6141
Plate 1X1 Round
324
2008
5381
1990
6013711
1
Warm Gold
System
11156
Shaft Ø3,2 With Blade
9
2012
12
2012
6109685
4
Warm Gold
System
20896
Rim Wide 18X14 W. Hole Ø4.8
11
2015
105
2015
6116596
1
Warm Gold
System
21459
Ninja Sword
70
2013
211
2013
Colour summary
| Colour | Unique | Total |
| --- | --- | --- |
| Black | 47 | 94 |
| Brick Yellow | 14 | 39 |
| Bright Blue | 1 | 1 |
| Bright Red | 1 | 1 |
| Bright Yellow | 1 | 1 |
| Dark Stone Grey | 2 | 3 |
| Earth Green | 4 | 4 |
| Light Nougat | 3 | 3 |
| Medium Stone Grey | 12 | 22 |
| New Dark Red | 2 | 2 |
| Reddish Brown | 7 | 12 |
| Sand Yellow | 18 | 32 |
| Silver Metallic | 2 | 2 |
| Titanium Metallic | 3 | 4 |
| Transparent Bright Green | 1 | 8 |
| Transparent Bright Orange | 2 | 6 |
| Transparent Red | 1 | 1 |
| Transparent Yellow | 1 | 8 |
| Warm Gold | 4 | 13 |
| Total | 126 | 256 |
Category summary
| Category | Unique | Total |
| --- | --- | --- |
| System | 119 | 243 |
| Technic | 7 | 13 |
| Total | 126 | 256 |