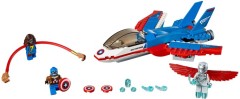 Inventory for 76076-1: Captain America Jet Pursuit
This set inventory has been obtained from LEGO Customer Services replacement parts page.
Important note: We do not control this inventory and cannot currently make changes to it. Use it as a guide to the contents of the set, or to find out part numbers when requesting replacements.
Download the inventory as a CSV file »
View the Rebrickable.com inventory for this set »
View the inventory at BrickLink.com »
Element
Image
Qty
Colour
Category
Design
Element name
Element
in sets
Element
introduced in
Design
in sets
Design
introduced in
265326
2
Black
System
2653
Sliding Piece 1X4
94
1996
219
1996
306926
1
Black
System
3069
Flat Tile 1X2
568
1991
4883
1991
4143751
2
Black
System
30541
Brick 1X2 W/Stub Horiz. End
34
2001
49
2001
6039194
1
Black
System
11215
Stone 1X2X1 1/3 W. 2 Plates 2X2
100
2013
278
2013
6053077
2
Black
System
15068
Plate W. Bow 2X2X2/3
214
2014
1390
2014
6115086
1
Black
System
18971
Foot, Plate
49
2016
171
2013
4118790
2
Brick Yellow
System
3021
Plate 2X3
251
1999
5019
1980
9341
1
Bright Blue
System
73200
Mini Body Lowerpart Blue
426
1992
4112
1991
302123
2
Bright Blue
System
3021
Plate 2X3
307
1992
5019
1980
302323
3
Bright Blue
System
3023
Plate 1X2
501
1992
9342
1981
306823
2
Bright Blue
System
3068
Flat Tile 2X2
152
1995
3259
1993
366623
2
Bright Blue
System
3666
Plate 1X6
221
1992
4187
1991
370023
4
Bright Blue
System
3700
Technic Brick 1X2, Ø4.9
117
1994
2018
1981
371023
3
Bright Blue
System
3710
Plate 1X4
387
1992
6762
1981
416223
3
Bright Blue
System
4162
Flat Tile 1X8
64
1994
1501
1991
428723
2
Bright Blue
System
4287
Roof Tile 1X3/25° Inv.
42
1995
735
1994
447723
3
Bright Blue
System
4477
Plate 1X10
86
1994
1295
1991
4278276
2
Bright Blue
System
2654
Slide Shoe Round 2X2
45
2003
1287
1993
4560180
3
Bright Blue
System
87079
Flat Tile 2X4
78
2010
1965
2010
4609342
2
Bright Blue
System
30503
Corner Plate 45 Deg. 4X4
17
2011
408
2001
6037668
2
Bright Blue
System
13731
Brick With Bow 1X10
10
2012
156
2010
6045938
2
Bright Blue
System
11153
Brick With Bow 1X4
26
2012
533
2008
6069163
4
Bright Blue
System
15672
Roof Tile 1X2 45° W 1/3 Plate
34
2014
344
2011
6116786
1
Bright Blue
System
15068
Plate W. Bow 2X2X2/3
43
2015
1390
2014
6164287
2
Bright Blue
System
6239
Rudder 2X6X4
6
2017
132
1995
6173150
1
Bright Blue
System
28606
Mini Upper Part, No. 3585
1
2017
2
2017
6174730
1
Bright Blue
System
29613
Mini Lower Part, No. 1188
1
2017
1
2017
6174735
1
Bright Blue
System
29615
Mini Head, No. 2112
1
2017
1
2017
243121
2
Bright Red
System
2431
Flat Tile 1X4
273
1991
3703
1991
245021
2
Bright Red
System
2450
Corner Plate 45 Deg. 3X3
43
1995
558
1994
302321
6
Bright Red
System
3023
Plate 1X2
812
1986
9342
1981
346021
3
Bright Red
System
3460
Plate 1X8
165
1994
2370
1981
486521
1
Bright Red
System
4865
Wall Element 1X2X1
121
1994
852
1992
4160866
1
Bright Red
System
41769
Right Plate 2X4 W/Angle
81
2002
930
2001
4161329
1
Bright Red
System
41770
Left Plate 2X4 W/Angle
82
2002
933
2001
4533742
2
Bright Red
System
63864
Flat Tile 1X3
88
2010
1257
2010
4560179
2
Bright Red
System
87079
Flat Tile 2X4
109
2010
1965
2010
6057432
4
Bright Red
System
13547
Brick 1X4X1 Inv. Bow
15
2014
174
2013
6059013
1
Bright Red
System
50304
Right Plate 3X8 W/Angle
12
2014
324
2005
6059021
1
Bright Red
System
50305
Left Plate 3X8 W/Angle
12
2014
324
2005
6071464
1
Bright Red
System
17459
Shield No. 4
13
2014
13
2014
6170523
1
Bright Red
System
28842
Plate 3X4 W/Angles
20
2010
141
2010
6174747
4
Bright Red
System
29622
Flat Tile 2X2, Round, No. 1068
1
2017
1
2017
6134783
1
Dark Brown
System
23187
Mini Wig No. 106
4
2016
6
2016
4109674
1
Dark Green
System
3002
Brick 2X3
151
1998
2593
1992
4210967
2
Dark Stone Grey
System
4510
Plate 1X8 With Rail
70
2003
309
1996
4211055
1
Dark Stone Grey
System
3068
Flat Tile 2X2
306
2002
3259
1993
4211128
2
Dark Stone Grey
System
30236
Brick 1X2 With Stick
97
2003
370
1999
4521572
1
Dark Stone Grey
System
32059
Plate 4X6 26 Degrees
57
2008
267
1999
6015356
2
Dark Stone Grey
Technic
11214
Con. Bush 2M Fr. + Cross Axle
220
2014
262
2014
6167913
2
Medium Nougat
System
11092
Ø3.2 Shaft With Hand
1
2017
19
2013
6174719
1
Medium Nougat
System
29605
Mini Head, No. 2111
1
2017
1
2017
4211395
5
Medium Stone Grey
System
3020
Plate 2X4
748
2001
7172
1980
4211440
4
Medium Stone Grey
System
3700
Technic Brick 1X2, Ø4.9
320
2003
2018
1981
4211486
1
Medium Stone Grey
System
4282
Plate 2X16
120
2002
626
1994
4211585
1
Medium Stone Grey
System
3626
Mini Head
17
2005
286
1991
4227657
1
Medium Stone Grey
System
73200
Mini Lower Part
113
2001
4112
1991
4243797
2
Medium Stone Grey
System
3031
Plate 4X4
248
2002
2153
1991
6028812
1
Medium Stone Grey
System
11476
Plate 1X2 W. 1 Horizontal Snap
253
2013
566
2013
6096150
2
Medium Stone Grey
System
16968
Disk Shooter 1 X 4
38
2015
48
2015
6174740
1
Medium Stone Grey
System
29618
Mini Helmet, No. 129
1
2017
1
2017
6174745
1
Medium Stone Grey
System
76382
Mini Upper Part, No. 3658
1
2017
6115
1993
4211152
2
Reddish Brown
System
3623
Plate 1X3
197
2004
3443
1981
6174738
1
Reddish Brown
System
76382
Mini Upper Part, No. 3657
1
2017
6115
1993
6031821
2
Sand Yellow
Technic
13670
Crossaxle 3M With Knob
393
2010
397
2008
4619636
1
Silver Metallic
System
2412
Radiator Grille 1X2
226
2012
3613
1991
6102594
2
Silver Metallic
System
18976
Rim Ø18X12 W Cross & Stud
26
2015
59
2015
4646865
4
Transparent Bright Orange
System
98138
Flat Tile 1X1, Round
135
2012
1778
2011
6240500
1
Transparent Brown
System
35383
Cockpit 8X4X2 W/ 3.2 Shaft
9
2016
9
2016
6170913
3
Transparent Light Blue
System
27393
Mini Shooter, W/ 3.2 Shaft, No. 1
15
2017
19
2017
6238677
3
Transparent Light Blue
System
35390
Round Brick 1X1
78
2015
302
2010
6240225
3
Transparent Light Blue
System
34823
Plate 1X1 Round
156
2015
1171
2010
6215704
1
Transparent Red
System
32975
Wing For Mini Figure
1
2017
2
2016
366001
2
White
System
3660
Roof Tile 2X2/45° Inv.
286
1994
2358
1987
383201
2
White
System
3832
Plate 2X10
165
1996
1525
1991
4261693
1
White
System
43713
Brick 4 X 6 W/Bow, Inverted
51
2006
228
2003
4598527
2
White
System
92280
Plate 1X2 W. Vertical Grip
121
2011
895
2011
4658973
1
White
System
72454
Roof Tile 4X4/45° Inv.
41
2010
169
2008
6058180
2
White
System
30540
Brick 1X2 Fric/Fork Horiz.End
9
2002
81
2001
6059185
2
White
System
30136
Palisade Brick 1X2
27
2001
813
1996
6061047
2
White
System
15207
Wall Element 1X4X1 Abs
63
2011
391
2008
Colour summary
| Colour | Unique | Total |
| --- | --- | --- |
| Black | 6 | 9 |
| Brick Yellow | 1 | 2 |
| Bright Blue | 21 | 46 |
| Bright Red | 15 | 32 |
| Dark Brown | 1 | 1 |
| Dark Green | 1 | 1 |
| Dark Stone Grey | 5 | 8 |
| Medium Nougat | 2 | 3 |
| Medium Stone Grey | 10 | 19 |
| Reddish Brown | 2 | 3 |
| Sand Yellow | 1 | 2 |
| Silver Metallic | 2 | 3 |
| Transparent Bright Orange | 1 | 4 |
| Transparent Brown | 1 | 1 |
| Transparent Light Blue | 3 | 9 |
| Transparent Red | 1 | 1 |
| White | 8 | 14 |
| Total | 81 | 158 |
Category summary
| Category | Unique | Total |
| --- | --- | --- |
| System | 79 | 154 |
| Technic | 2 | 4 |
| Total | 81 | 158 |