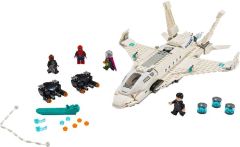 Inventory for 76130-1: Stark Jet and the Drone Attack
This set inventory has been obtained from LEGO Customer Services replacement parts page.
Important note: We do not control this inventory and cannot currently make changes to it. Use it as a guide to the contents of the set, or to find out part numbers when requesting replacements.
Download the inventory as a CSV file »
View the Rebrickable.com inventory for this set »
View the inventory at BrickLink.com »
Element
Image
Qty
Colour
Category
Design
Element name
Element
in sets
Element
introduced in
Design
in sets
Design
introduced in
9339
1
Black
System
73200
Mini Body Lower Part Black
806
1991
4113
1991
302026
4
Black
System
3020
Plate 2X4
1052
1991
7185
1980
306926
2
Black
System
3069
Flat Tile 1X2
569
1991
4899
1991
317626
2
Black
System
3176
Coupling Plate 2X2
162
1994
653
1994
362326
4
Black
System
3623
Plate 1X3
577
1993
3459
1981
4504382
2
Black
System
54200
Roof Tile 1X1X2/3, Abs
510
2006
3700
2005
4514845
1
Black
System
60479
Plate 1X12
125
2008
511
2008
4526110
1
Black
System
62810
Wig Boy
60
2008
239
2008
4598528
2
Black
System
92280
Plate 1X2 W. Vertical Grip
321
2011
898
2011
4613153
4
Black
System
93273
Plate W. Bow 1X4X2/3
149
2012
983
2011
6047276
2
Black
System
11477
Plate W. Bow 1X2X2/3
228
2014
1960
2013
6053077
4
Black
System
15068
Plate W. Bow 2X2X2/3
216
2014
1395
2014
6066102
2
Black
System
15712
Plate 1X1 W. Up Right Holder
247
2015
1028
2010
6102734
4
Black
System
15403
Plate 1X2 W/Shooter
146
2015
187
2015
6103643
1
Black
System
62885
Submachine Gun Ø3.2 Shaft
17
2014
21
2008
6147050
2
Black
System
24201
Plate W/ Half Bow Inv. 1X2X2/3
89
2016
287
2015
6149670
1
Black
System
76382
Mini Upper Part No 3365
4
2016
6120
1993
6168620
4
Black
System
28802
Angle Plate 1X2/1X4
65
2010
159
2010
6181713
2
Black
System
29119
Right Plate 1X2, W/ Bow, 45 Deg. Cut
28
2017
151
2017
6181720
2
Black
System
29120
Left Plate 1X2, W/ Bow, 45 Deg. Cut
28
2017
150
2017
6195325
2
Black
System
18674
Plate Round W. 1 Knob
17
2017
512
2015
6267014
1
Black
System
76382
Mini Upper Part, No. 4738
1
2019
6120
1993
4121715
2
Black
Technic
2780
Connector Peg W. Friction
2110
1993
2110
1993
4113233
4
Brick Yellow
System
3710
Plate 1X4
317
1999
6774
1981
4113917
11
Brick Yellow
System
3023
Plate 1X2
500
1998
9372
1981
4114084
1
Brick Yellow
System
3022
Plate 2X2
336
1998
6616
1986
4114309
3
Brick Yellow
System
3020
Plate 2X4
340
1998
7185
1980
4114319
1
Brick Yellow
System
3001
Brick 2X4
195
1998
4357
1991
4114322
2
Brick Yellow
System
3039
Roof Tile 2X2/45°
109
1998
2572
1986
4114324
2
Brick Yellow
System
3460
Plate 1X8
123
1998
2374
1981
4124455
4
Brick Yellow
System
2357
Brick Corner 1X2X2
110
1999
1404
1994
4124457
2
Brick Yellow
System
2432
Clamp 1X2
3
2019
1437
1992
4125253
2
Brick Yellow
System
3070
Flat Tile 1X1
126
1999
2181
1994
4143409
2
Brick Yellow
System
4477
Plate 1X10
70
2001
1299
1991
4162465
2
Brick Yellow
System
3622
Brick 1X3
141
2001
2595
1992
4181134
2
Brick Yellow
System
44237
Brick 2X6
86
2001
1312
1994
4550323
1
Brick Yellow
System
3659
Brick W. Bow 1X4
49
2009
533
1992
4550324
2
Brick Yellow
System
2431
Flat Tile 1X4
140
2004
3708
1991
4624086
3
Brick Yellow
System
85984
Roof Tile 1 X 2 X 2/3, Abs
108
2011
2294
2009
6029889
2
Brick Yellow
System
60897
Plate 1X1 W. Holder
42
2013
1517
1994
6146221
1
Brick Yellow
System
26169
Wall Element 1X2X1
36
2015
381
2010
6175367
3
Brick Yellow
System
26603
Flat Tile 2X3
18
2017
261
2016
403223
1
Bright Blue
System
4032
Plate 2X2 Round
125
1994
2807
1992
6254100
1
Bright Bluish Green
System
31510
Element Seperator
27
2019
375
2012
4188189
1
Bright Red
System
3176
Coupling Plate 2X2
43
2004
653
1994
6102138
1
Bright Red
System
15535
Flat Tile 2X2 Round W. Hole Ø4.85
49
2015
429
2013
6157809
1
Bright Red
System
27331
Mini Head, No. 2000
6
2016
6
2016
6195624
1
Bright Red
System
88585
Mini Upper Part, No. 3916
4
2017
527
2010
6196217
1
Bright Red
System
31493
Brick 1X2 With Cross Hole
42
2013
528
2009
6253164
1
Bright Reddish Violet
System
36618
Cape, No. 6
4
2019
6
2018
6130008
1
Bright Yellow
Technic
32073
Cross Axle 5M
73
2016
846
1995
4537937
1
Bright Yellowish Green
System
3022
Plate 2X2
148
2003
6616
1986
4211002
3
Dark Stone Grey
System
3795
Plate 2X6
608
2002
4540
1980
4211042
2
Dark Stone Grey
System
4032
Plate 2X2 Round
356
2004
2807
1992
4211043
2
Dark Stone Grey
System
3021
Plate 2X3
600
2002
5035
1980
4211051
4
Dark Stone Grey
System
30162
Prismatic Binoculars
258
2003
378
1998
4211060
1
Dark Stone Grey
System
3003
Brick 2X2
287
2001
4794
1986
4211085
1
Dark Stone Grey
System
3001
Brick 2X4
299
2001
4357
1991
4211109
2
Dark Stone Grey
System
2357
Brick Corner 1X2X2
185
2003
1404
1994
4249139
2
Dark Stone Grey
System
6143
Brick Ø16 W. Cross
144
2005
1797
1993
4278274
16
Dark Stone Grey
System
2654
Slide Shoe Round 2X2
233
2003
1289
1993
4581225
4
Dark Stone Grey
System
63868
Plate 2X1 W/Holder,Vertical
140
2010
916
2009
4595710
1
Dark Stone Grey
System
92099
Plate 4X5 W. Shaft Ø3.2
97
2006
172
2006
4619760
2
Dark Stone Grey
System
92013
Brick 2X2 W. Cup For Ball
43
2009
133
2009
4620079
3
Dark Stone Grey
System
4150
Flat Tile 2X2, Round
85
2011
400
1995
4623236
1
Dark Stone Grey
System
95199
Mini Spacegun W.Rib Ø3.2 Shaft
82
2011
116
2011
6000606
4
Dark Stone Grey
System
99780
Angular Plate 1.5 Bot. 1X2 1/2
347
2012
1103
2012
6015890
4
Dark Stone Grey
System
11090
Holder Ø3.2 W/Tube Ø3.2 Hole
112
2013
387
2013
6051334
6
Dark Stone Grey
System
15392
Trigger For Mini Shooter
296
2014
321
2014
6115080
1
Dark Stone Grey
System
18674
Plate Round W. 1 Knob
143
2015
512
2015
6201630
1
Dark Stone Grey
System
6233
Rocket Step 3X3X2 W. Cross
8
2005
105
1995
4508553
1
Dark Stone Grey
Technic
59426
Cross Axle 5,5 With Stop 1M.
456
2003
456
2003
6158153
1
Earth Blue
System
27380
Mini Lower Part, No. 1104
5
2016
5
2016
6266632
1
Earth Green
System
76382
Mini Upper Part, No. 4724
3
2019
6120
1993
6270599
1
Earth Green
System
55074
Mini Lower Part, No. 1740
3
2019
3
2019
6258524
1
Light Nougat
System
50074
Mini Head, No. 2859
3
2019
3
2019
4160560
2
Medium Stone Grey
System
30503
Corner Plate 45 Deg. 4X4
65
2004
408
2001
4166618
1
Medium Stone Grey
System
41539
Plate 8X8
61
2004
361
2001
4211397
2
Medium Stone Grey
System
3022
Plate 2X2
700
1998
6616
1986
4211404
2
Medium Stone Grey
System
3032
Plate 4X6
218
2001
1881
1991
4211406
5
Medium Stone Grey
System
3034
Plate 2X8
341
2002
2607
1980
4211481
2
Medium Stone Grey
System
4162
Flat Tile 1X8
228
2002
1504
1991
4211568
8
Medium Stone Grey
System
32028
Plate 1X2 With Slide
258
1998
1143
1997
4211632
2
Medium Stone Grey
System
2540
Plate 1X2 W. Stick
233
2004
1649
1992
4219913
2
Medium Stone Grey
System
30383
Plate 1X2 W/Stub/Along/Upper P
65
2004
359
1999
4278273
1
Medium Stone Grey
System
2654
Slide Shoe Round 2X2
260
2004
1289
1993
4507056
1
Medium Stone Grey
System
51739
Plate 2X4X18°
111
2007
680
2005
4515369
4
Medium Stone Grey
System
60478
Plate 1X2 W/Shaft Ø3.2
214
2008
1128
2008
4654580
2
Medium Stone Grey
System
99207
Angular Plate 1.5 Bot. 1X2 2/2
381
2012
855
2012
4666449
4
Medium Stone Grey
System
92582
Plate 2X2 W. Stump/Top
103
2012
213
2011
6004990
2
Medium Stone Grey
System
99780
Angular Plate 1.5 Bot. 1X2 1/2
176
2013
1103
2012
6117967
4
Medium Stone Grey
System
21712
Angle Plate 1X2 / 2X2
176
2009
798
2008
6152230
1
Medium Stone Grey
System
92107
Trapdoor Frame 6X8
8
2016
113
2008
6284071
2
Medium Stone Grey
System
35381
Flat Tile 1X1, Round
39
2019
113
2019
6070731
2
Medium Stone Grey
Technic
32474
Voodoo Ball Ø10,2
21
2004
295
2001
6163984
1
Multicombination
System
28577
Flame 7M Shaft Ø3,2
5
2016
30
2016
4211220
2
Reddish Brown
System
3622
Brick 1X3
117
2004
2595
1992
6267012
1
Reddish Brown
System
50781
Mini Head, No. 2915
1
2019
1
2019
4520257
4
Sand Yellow
System
30136
Palisade Brick 1X2
28
2010
816
1996
4530678
2
Sand Yellow
System
3040
Roof Tile 1X2/45°
67
2008
3049
1986
6092591
1
Sand Yellow
System
15573
Plate 1X2 W. 1 Knob
41
2015
2016
2002
4633691
4
Silver Metallic
System
6141
Plate 1X1 Round
278
2011
5401
1990
6051958
1
Silver Metallic
System
3626
Mini Head
5
2019
287
1991
6106303
1
Silver Metallic
System
56145
Rim Wide W.Cross 30X20
9
2015
226
2005
6266626
1
Transparent
System
51283
Mini Helmet, No. 253
4
2019
4
2019
6267038
1
Transparent
System
54248
Shell 6X10X2, W/ Bow And Angle, No. 3
1
2019
1
2019
6274738
2
Transparent
System
35380
Flat Tile 1X1, Round
131
2015
367
2013
4567340
1
Transparent Bright Bluish Violet
System
64288
Nose Cone Small 1X1 - Tr
43
2008
814
2003
6053084
1
Transparent Bright Green
System
64288
Nose Cone Small 1X1 - Tr
32
2014
814
2003
6240217
2
Transparent Bright Orange
System
28653
Plate 1X2
69
2015
532
2010
6240227
8
Transparent Bright Orange
System
34823
Plate 1X1 Round
119
2014
1174
2010
6170913
2
Transparent Light Blue
System
27393
Mini Shooter, W/ 3.2 Shaft, No. 1
15
2017
19
2017
6171733
1
Transparent Light Blue
System
28558
Slide Shoe Round 2X2
12
2017
150
2014
6240225
6
Transparent Light Blue
System
34823
Plate 1X1 Round
157
2015
1174
2010
6254256
6
Transparent Light Blue
System
35403
Flat Tile 1X1
14
2017
90
2014
6273153
3
Transparent Light Blue
System
39223
Brick 2X2 Circle W/ Cross
30
2013
55
2013
242001
6
White
System
2420
Corner Plate 1X2X2
296
1992
2504
1991
245001
2
White
System
2450
Corner Plate 45 Deg. 3X3
74
1996
562
1994
300901
6
White
System
3009
Brick 1X6
478
1991
2703
1991
301001
2
White
System
3010
Brick 1X4
674
1992
4453
1991
302001
4
White
System
3020
Plate 2X4
758
1992
7185
1980
302101
20
White
System
3021
Plate 2X3
556
1992
5035
1980
302301
2
White
System
3023
Plate 1X2
1052
1992
9372
1981
302401
2
White
System
3024
Plate 1X1
521
1986
3596
1986
303201
1
White
System
3032
Plate 4X6
194
1992
1881
1991
303501
2
White
System
3035
Plate 4X8
120
1995
1255
1992
306901
9
White
System
3069
Flat Tile 1X2
685
1994
4899
1991
346001
12
White
System
3460
Plate 1X8
349
1991
2374
1981
362301
8
White
System
3623
Plate 1X3
432
1993
3459
1981
366001
16
White
System
3660
Roof Tile 2X2/45° Inv.
287
1994
2367
1987
366601
7
White
System
3666
Plate 1X6
495
1993
4196
1991
371001
4
White
System
3710
Plate 1X4
826
1991
6774
1981
379501
2
White
System
3795
Plate 2X6
510
1992
4540
1980
623901
2
White
System
6239
Rudder 2X6X4
62
1995
132
1995
4160215
4
White
System
30503
Corner Plate 45 Deg. 4X4
49
2004
408
2001
4160403
2
White
System
42023
Brick 1X6 W/Bow, Rev.
50
2002
283
2002
4160857
1
White
System
41769
Right Plate 2X4 W/Angle
144
2002
932
2001
4161326
1
White
System
41770
Left Plate 2X4 W/Angle
148
2002
935
2001
4179874
1
White
System
43722
Right Plate 2X3 W/Angle
136
2003
915
2002
4179875
1
White
System
43723
Left Plate 2X3 W/Angle
136
2003
906
2002
4181142
1
White
System
44237
Brick 2X6
8
2019
1312
1994
4183048
2
White
System
44302
Plate 1X2 W/Fork/Vertical/End
41
2004
627
2003
4208987
1
White
System
47397
Left Plate W. Angle 3X12
44
2004
202
2004
4209005
1
White
System
47398
Right Plate W. Angle 3X12
41
2004
203
2004
4249112
2
White
System
50950
Brick W/Bow 1/3
155
2005
1180
2005
4256095
1
White
System
50304
Right Plate 3X8 W/Angle
55
2005
324
2005
4256097
1
White
System
50305
Left Plate 3X8 W/Angle
58
2005
324
2005
4287707
1
White
System
54383
Right Plate 3X6 W. Angle
82
2006
459
2006
4287708
1
White
System
54384
Left Plate 3X6 W Angle
85
2006
453
2006
4288309
2
White
System
30504
Corner Plate 45 Deg. 8X8
2
2019
107
2001
4504369
2
White
System
54200
Roof Tile 1X1X2/3, Abs
464
2005
3700
2005
4515337
4
White
System
60471
Plate 1X2 W/Fork, Vertical
52
2008
322
2008
4518992
2
White
System
61678
Brick W. Bow 1X4
106
2008
193
2008
4547489
12
White
System
85984
Roof Tile 1 X 2 X 2/3, Abs
322
2009
2294
2009
4558168
2
White
System
63864
Flat Tile 1X3
200
2010
1266
2010
4560178
8
White
System
87079
Flat Tile 2X4
272
2010
1971
2010
4560930
1
White
System
87611
Inverted R.T. 6X10 W.Doubl.Bow
7
2011
43
2010
4560934
1
White
System
87615
Roof Tile 6X10 W. Double Bow
10
2011
42
2010
4567878
1
White
System
64225
Brick 4X3 W. Bow/Angle
23
2010
96
2009
4583297
2
White
System
88930
Plate W. Bow 2X4X2/3
76
2008
335
2008
6013866
6
White
System
11203
Flat Tile 2X2 Inv.
34
2013
281
2012
6034044
6
White
System
11477
Plate W. Bow 1X2X2/3
226
2013
1960
2013
6047220
3
White
System
15068
Plate W. Bow 2X2X2/3
211
2014
1395
2014
6061024
2
White
System
10247
Plate 2X2 + One Hule Ø4,8
52
2012
454
2008
6096959
1
White
System
14210
String 21M W. Shaft Ø3,2 W. 2 Knops
22
2012
55
2001
6102732
2
White
System
15403
Plate 1X2 W/Shooter
18
2015
187
2015
6137926
4
White
System
87620
Brick 2X2 W. Angle 45 Degrees
16
2016
231
2010
6139694
2
White
System
23950
Wall 1X3X1
9
2017
31
2016
6146215
2
White
System
26169
Wall Element 1X2X1
64
2010
381
2010
6166894
12
White
System
28192
Roof Tile 1X2, Deg. 45, W/O Knobs
20
2017
151
2017
6210385
4
White
System
32803
Brick 2X2X2/3, Inverted Bow
25
2018
137
2017
6218822
10
White
System
33909
Plate 2X2, W/ Reduced Knobs
33
2018
241
2017
6268055
2
White
System
41764
Right Shell 2X6W/Bow/Angle,Inv
2
2019
124
2002
6268056
2
White
System
41765
Left Shell 2X6W/Bow/Angle,Inv
2
2019
124
2002
6275403
1
White
System
41822
Plate 4X4 W/Angle
4
2019
20
2019
6275498
1
White
System
29172
Plate 6X4 W/Angle
4
2019
15
2017
Colour summary
| Colour | Unique | Total |
| --- | --- | --- |
| Black | 23 | 52 |
| Brick Yellow | 19 | 50 |
| Bright Blue | 1 | 1 |
| Bright Bluish Green | 1 | 1 |
| Bright Red | 5 | 5 |
| Bright Reddish Violet | 1 | 1 |
| Bright Yellow | 1 | 1 |
| Bright Yellowish Green | 1 | 1 |
| Dark Stone Grey | 20 | 61 |
| Earth Blue | 1 | 1 |
| Earth Green | 2 | 2 |
| Light Nougat | 1 | 1 |
| Medium Stone Grey | 19 | 49 |
| Multicombination | 1 | 1 |
| Reddish Brown | 2 | 3 |
| Sand Yellow | 3 | 7 |
| Silver Metallic | 3 | 6 |
| Transparent | 3 | 4 |
| Transparent Bright Bluish Violet | 1 | 1 |
| Transparent Bright Green | 1 | 1 |
| Transparent Bright Orange | 2 | 10 |
| Transparent Light Blue | 5 | 18 |
| White | 60 | 225 |
| Total | 176 | 502 |
Category summary
| Category | Unique | Total |
| --- | --- | --- |
| System | 172 | 496 |
| Technic | 4 | 6 |
| Total | 176 | 502 |