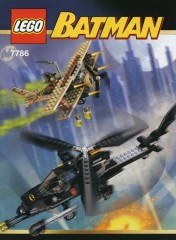 Inventory for 7786-1: The Batcopter: The Chase for Scarecrow
This set inventory has been obtained from LEGO Customer Services replacement parts page.
Important note: We do not control this inventory and cannot currently make changes to it. Use it as a guide to the contents of the set, or to find out part numbers when requesting replacements.
Download the inventory as a CSV file »
View the Rebrickable.com inventory for this set »
View the inventory at BrickLink.com »
Element
Image
Qty
Colour
Category
Design
Element name
Element
in sets
Element
introduced in
Design
in sets
Design
introduced in
243126
3
Black
System
2431
Flat Tile 1X4
459
1994
2967
1991
244426
4
Black
System
2444
Technic Bearing Plate 2X2
123
1994
331
1994
246526
2
Black
System
2465
Brick 1X16
70
1994
314
1994
300126
1
Black
System
3001
Brick 2X4
553
1991
3946
1991
300326
2
Black
System
3003
Brick 2X2
550
1991
4210
1986
302026
4
Black
System
3020
Plate 2X4
890
1991
5851
1980
303526
1
Black
System
3035
Plate 4X8
220
1993
1061
1992
303926
2
Black
System
3039
Roof Tile 2X2/45°
293
1986
2267
1986
329826
2
Black
System
3298
Roof Tile 2X3/25°
165
1991
973
1991
366026
4
Black
System
3660
Roof Tile 2X2/45° Inv.
326
1991
2082
1987
366526
2
Black
System
3665
Roof Tile 1X2 Inv.
240
1994
1866
1987
370026
2
Black
System
3700
Technic Brick 1X2, Ø4.9
350
1994
1675
1981
374726
2
Black
System
3747
Roof Tile 2X3/25° Inv.
176
1991
1015
1991
395726
2
Black
System
3957
Whip/Aerial
219
1994
726
1992
428626
1
Black
System
4286
Roof Tile 1X3/25°
213
1994
1283
1990
614126
4
Black
System
6141
Round Plate 1X1
688
1991
4384
1990
4140303
2
Black
System
30374
Light Sword - Blade
156
2000
930
1999
4142731
1
Black
System
30332
Propeller Ø71.84
36
2000
44
1999
4143372
1
Black
System
30553
Fric/Fork W. Cross Hole
149
2001
347
2001
4160108
1
Black
System
41747
Right Shell 2X6 W/Bow/Angle
52
2002
265
2002
4160130
1
Black
System
41748
Left Shell 2X6 W/Bow/Angle
53
2002
267
2002
4160393
2
Black
System
42022
Brick 1X6 W/Bow
59
2002
303
2002
4161266
1
Black
System
41764
Right Shell 2X6W/Bow/Angle,Inv
21
2002
110
2002
4161281
1
Black
System
41765
Left Shell 2X6W/Bow/Angle,Inv
21
2002
111
2002
4180508
1
Black
System
43722
Right Plate 2X3 W/Angle
108
2003
725
2002
4180536
1
Black
System
43723
Left Plate 2X3 W/Angle
111
2003
717
2002
4216660
1
Black
System
30367
Final Brick 2X2
96
2001
571
1999
4218581
2
Black
System
47458
Plate W. Bows 2X1½
43
2005
97
2004
4239237
4
Black
System
51011
Tyre High Narrow Ø17,6 X 6,24
32
2002
32
2002
4253815
1
Black
System
52107
Brick 1X2 W. Four Knobs
136
2005
220
2005
4258354
1
Black
System
2460
Plate 2X2 W. Vertical Snap
94
1991
502
1991
4277774
2
Black
System
50947
Cover Plate W. Curve 1 X 4.5
16
2006
79
2005
4277932
2
Black
System
44728
Angle Plate 1X2 / 2X2
83
2004
376
2002
4285883
2
Black
System
47456
Plate W. Bows 2X3½
45
2006
178
2004
4289538
2
Black
System
48729
Stick Ø 3.2 W. Holder
208
2004
545
2004
4293088
1
Black
System
55707
Accessories, Batman
9
2006
9
2006
4504382
12
Black
System
54200
Roof Tile 1X1X2/3, Abs
398
2006
2519
2004
4516843
1
Black
System
59895
Tyre D8, Sebs
161
2006
161
2006
4526931
1
Black
System
6564
Right Roof Tile 2X3
49
1996
165
1995
4527766
1
Black
System
6565
Left Roof Tile 2X3
48
1996
163
1995
4529236
4
Black
System
59900
Nose Cone Small 1X1
212
2004
1445
2002
4636410
3
Black
System
57906
Flap 3X12X2/3 W. Fork
16
2007
42
2007
4649700
1
Black
System
55706
Wing 8X10 Ø 4,85
21
2006
24
2006
6011815
2
Black
System
11055
Flag With 2 Holders
53
1996
286
1995
6112323
2
Black
System
42023
Brick 1X6 W/Bow, Rev.
31
2002
266
2002
4492341
1
Black
System (Figure Part)
6131
Magic Hat
28
1997
45
1997
4295400
1
Black
System (Printed Part)
56570
Roof Tile 2X2 No. "14"
44
2006
44
2006
4107085
1
Black
Technic
32013
Angle Element, 0 Degrees [1]
353
1997
966
1997
4107765
2
Black
Technic
6553
Catch
194
1997
449
1993
4119589
1
Black
Technic
32138
Module Bush
209
1999
270
1999
4121715
1
Black
Technic
2780
Connector Peg W. Friction
1791
1993
1791
1993
4162857
1
Black
Technic
41678
Technic Cross Block/Fork 2X2
117
2002
286
2002
4499434
1
Black
Technic
57796
Release Housing 6X2X2, Ass.
29
2005
73
2005
4526982
1
Black
Technic
62462
Tube W/Double Ø4.85
145
2005
453
2005
4666579
3
Brick Yellow
Technic
6562
Connector Peg/Cross Axle
673
1997
922
1990
300223
1
Bright Blue
System
3002
Brick 2X3
261
1995
2516
1992
302323
5
Bright Blue
System
3023
Plate 1X2
426
1992
7255
1981
303923
1
Bright Blue
System
3039
Roof Tile 2X2/45°
154
1994
2267
1986
306823
1
Bright Blue
System
3068
Flat Tile 2X2
133
1995
2603
1993
371023
2
Bright Blue
System
3710
Plate 1X4
351
1992
5511
1981
4143005
4
Bright Blue
Technic
4274
Connector Peg W. Knob
617
2001
1399
1981
4206482
1
Bright Blue
Technic
43093
Conn.Bush W.Fric./Crossale
1233
2002
1264
2002
4511895
2
Bright Orange
System (Figure Part)
60385
Mini Head "No. 507"
1
2007
1
2007
302124
1
Bright Yellow
System
3021
Plate 2X3
264
1993
4148
1980
4525464
2
Bright Yellow
System
59900
Nose Cone Small 1X1
93
2003
1445
2002
4187122
1
Bright Yellow
Technic
43857
Technic 2M Beam
29
2003
221
2002
4529239
4
Dark Green
System
59900
Nose Cone Small 1X1
89
2005
1445
2002
4210660
4
Dark Stone Grey
System
2540
Plate 1X2 W. Stick
297
2003
1420
1992
4210694
3
Dark Stone Grey
System
30552
Fric/Stump With Cross Hole
64
2003
230
2001
4210782
2
Dark Stone Grey
System
41769
Right Plate 2X4 W/Angle
92
2002
764
2001
4210788
2
Dark Stone Grey
System
41770
Left Plate 2X4 W/Angle
91
2002
774
2001
4210883
2
Dark Stone Grey
System
44301
Plate 1X2 W/Stub Vertical/End
95
2004
374
2003
4211044
2
Dark Stone Grey
System
4070
Angular Brick 1X1
142
2004
1611
1991
4211056
2
Dark Stone Grey
System
3666
Plate 1X6
385
2002
3442
1991
4211067
2
Dark Stone Grey
System
2445
Plate 2X12
145
2003
789
1994
4211076
1
Dark Stone Grey
System
4871
Roof Tile 4X2/45° Inv.
79
2004
406
1995
4211094
5
Dark Stone Grey
System
3022
Plate 2X2
517
2002
5389
1986
4211115
1
Dark Stone Grey
System
3032
Plate 4X6
276
2002
1530
1991
4211119
5
Dark Stone Grey
System
3794
Plate 1X2 W. 1 Knob
230
2002
2183
1991
4212352
2
Dark Stone Grey
System
4588
Rocket Step Small 1X1
75
2002
96
2002
4225168
1
Dark Stone Grey
System
4095
Standard Ø3.18 X 53
1
2007
130
1995
4225973
1
Dark Stone Grey
System
48169
Brick 2X2 Ø4.85 Female
64
2004
85
2004
4227708
1
Dark Stone Grey
System
4854
Roof Tile 4X4/45° Inv.
18
2004
97
1994
4287972
1
Dark Stone Grey
System
41767
Right Brick 2X4 W/Angle
31
2004
128
2002
4287973
1
Dark Stone Grey
System
41768
Left Brick 2X4 W/Angle
29
2004
126
2002
4502068
1
Dark Stone Grey
System
50943
Motor 2X2X1 1/3
52
2007
133
2005
4509194
1
Dark Stone Grey
System
59229
Scythe Blade
26
2007
29
2007
4561036
1
Dark Stone Grey
System
43719
Plate 4X4 W/Angle
44
2004
245
2003
4636417
1
Dark Stone Grey
System
43713
Brick 4 X 6 W/Bow, Inverted
45
2004
174
2003
4211086
2
Dark Stone Grey
Technic
6587
Crossaxle 3M With Knob
269
1995
501
1995
4510943
1
Earth Blue
System (Figure Part)
56630
Special Mantle
2
2007
22
2006
4510952
1
Earth Blue
System (Figure Part)
55704
Mask, Batman
2
2007
12
2006
4296309
1
Light Nougat
System (Figure Part)
56525
Mini Head No. "476"
11
2006
11
2006
4211351
1
Medium Stone Grey
System
2415
Wheel Fork 2X2
43
2006
43
2006
4211376
1
Medium Stone Grey
System
2817
Technic Doub. Bearing Pl. 2X2
157
2001
441
1995
4211387
2
Medium Stone Grey
System
3003
Brick 2X2
301
2001
4210
1986
4211395
1
Medium Stone Grey
System
3020
Plate 2X4
580
2001
5851
1980
4211398
4
Medium Stone Grey
System
3023
Plate 1X2
655
1993
7255
1981
4211429
2
Medium Stone Grey
System
3623
Plate 1X3
313
2002
2636
1981
4211475
6
Medium Stone Grey
System
4032
Plate 2X2 Round
235
2003
2190
1992
4211814
1
Medium Stone Grey
System
44567
Plate 1X2 W. Stub/Vertical
84
2004
369
2003
4233493
4
Medium Stone Grey
System
32064
Brick 1X2 With Cross Hole
110
2003
745
1997
4237084
2
Medium Stone Grey
System
2476
Plate 2X2 Inverted W. Snap
99
2004
139
2004
4278273
2
Medium Stone Grey
System
2654
Slide Shoe Round 2X2
204
2004
998
1993
4211658
2
Medium Stone Grey
System (Figure Part)
30377
Space Skeleon Arm
65
2003
356
1999
4511951
1
Medium Stone Grey
System (Figure Part)
76382
Mini Upper Part No. 1338
2
2007
4689
1993
4512228
1
Medium Stone Grey
System (Figure Part)
73200
Mini Lower Part 194/140
6
2007
3680
1991
4227776
1
Medium Stone Grey
System (Printed Part)
50290
Flat Tile 1X2 "No. 101"
103
2004
103
2004
4211573
7
Medium Stone Grey
Technic
32123
1/2 Bush
552
1997
1113
1993
4211622
4
Medium Stone Grey
Technic
6590
Bush For Cross Axle
547
1993
1136
1990
4211639
3
Medium Stone Grey
Technic
32073
Cross Axle 5M
524
1995
729
1995
4211758
4
Medium Stone Grey
Technic
42610
Hub Ø11,2 X 7,84
235
2004
250
2002
4502595
3
Medium Stone Grey
Technic
57585
3-Branch Cross Axle W/Cross H.
98
2007
98
2007
4299625
1
Multicombination
Technic
57028
Arrow 8M W/Soft Upper P.
56
2006
71
2005
4299287
1
Phosphorescent Green
System (Figure Part)
57107
Mini Head No. 486
2
2006
2
2006
4205469
1
Reddish Brown
System
41769
Right Plate 2X4 W/Angle
40
2004
764
2001
4205470
1
Reddish Brown
System
41770
Left Plate 2X4 W/Angle
40
2004
774
2001
4211151
3
Reddish Brown
System
3069
Flat Tile 1X2
161
2004
3726
1991
4211180
7
Reddish Brown
System
30136
Palisade Brick 1X2
145
2004
628
1996
4223683
3
Reddish Brown
System
4477
Plate 1X10
75
2004
1094
1991
4270882
1
Reddish Brown
System
30157
Wheel Suspension 2X4 W. Snap
31
2005
212
1998
4221886
1
Reddish Brown
System (Figure Part)
73200
Mini Lower Part
51
2004
3680
1991
4299300
1
Reddish Brown
System (Figure Part)
76382
Mini Upper Part 1289
2
2006
4689
1993
4288761
1
Sand Yellow
System
47757
Roof Tile 4X4X1 1/3 W. Angles
2
2006
16
2006
4509223
1
Sand Yellow
System
6239
Rudder 2X6X4
1
2007
116
1995
4509525
5
Sand Yellow
System
2413
Aeroplanewing 4X9
1
2007
96
1993
4510921
1
Sand Yellow
System
60208
Turbine Ø31.37 W. Holes Ø 4.85
4
2007
98
2004
4512210
2
Sand Yellow
System
6191
Brick 1X4X1 1/3
1
2007
39
2003
6038637
2
Sand Yellow
System
2450
Corner Plate 45 Deg. 3X3
24
2007
447
1994
4260478
8
Silver
System
6141
Round Plate 1X1
6
2005
4384
1990
306540
1
Transparent
System
3065
Brick 1X2 Without Pin
177
1992
545
1992
4193545
1
Transparent Brown
System
30372
Cockpit 4X7X2 Fric/Fork
9
2004
17
2000
4144475
6
Transparent Fluorescent Green
System
30151
Glass Case
16
2001
70
1998
4244573
1
Transparent Green
System
50746
Roof Tile 1 X 1 X 2/3
35
2005
1454
2004
4244363
1
Transparent Red
System
50746
Roof Tile 1 X 1 X 2/3
215
2004
1454
2004
618844
2
Transparent Yellow
System
6188
Nose Cone Small 1X1 - Tr
63
1995
398
1994
4490599
2
Warm Gold
System
2412
Radiator Grille 1X2
90
2006
3012
1991
486501
2
White
System
4865
Wall Element 1X2X1
156
1994
877
1992
4296997
1
White
System
3464
Hub For Fork
55
2006
81
2006
Colour summary
| Colour | Unique | Total |
| --- | --- | --- |
| Black | 54 | 105 |
| Brick Yellow | 1 | 3 |
| Bright Blue | 7 | 15 |
| Bright Orange | 1 | 2 |
| Bright Yellow | 3 | 4 |
| Dark Green | 1 | 4 |
| Dark Stone Grey | 23 | 44 |
| Earth Blue | 2 | 2 |
| Light Nougat | 1 | 1 |
| Medium Stone Grey | 20 | 52 |
| Multicombination | 1 | 1 |
| Phosphorescent Green | 1 | 1 |
| Reddish Brown | 8 | 18 |
| Sand Yellow | 6 | 12 |
| Silver | 1 | 8 |
| Transparent | 1 | 1 |
| Transparent Brown | 1 | 1 |
| Transparent Fluorescent Green | 1 | 6 |
| Transparent Green | 1 | 1 |
| Transparent Red | 1 | 1 |
| Transparent Yellow | 1 | 2 |
| Warm Gold | 1 | 2 |
| White | 2 | 3 |
| Total | 139 | 289 |
Category summary
| Category | Unique | Total |
| --- | --- | --- |
| System | 108 | 233 |
| System (Figure Part) | 11 | 13 |
| System (Printed Part) | 2 | 2 |
| Technic | 18 | 41 |
| Total | 139 | 289 |