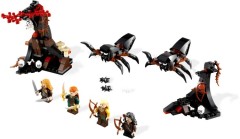 Inventory for 79001-1: Escape from Mirkwood Spiders
This set inventory has been obtained from LEGO Customer Services replacement parts page.
Important note: We do not control this inventory and cannot currently make changes to it. Use it as a guide to the contents of the set, or to find out part numbers when requesting replacements.
Download the inventory as a CSV file »
View the Rebrickable.com inventory for this set »
View the inventory at BrickLink.com »
Element
Image
Qty
Colour
Category
Design
Element name
Element
in sets
Element
introduced in
Design
in sets
Design
introduced in
235726
2
Black
System
2357
Brick Corner 1X2X2
178
1994
1404
1994
242026
6
Black
System
2420
Corner Plate 1X2X2
444
1991
2504
1991
255526
2
Black
System
2555
Plate 1X1 W. Up Right Holder
360
1992
1018
1992
302026
4
Black
System
3020
Plate 2X4
1052
1991
7185
1980
302126
2
Black
System
3021
Plate 2X3
785
1991
5035
1980
302326
6
Black
System
3023
Plate 1X2
1237
1991
9372
1981
302426
3
Black
System
3024
Plate 1X1
454
1992
3596
1986
303226
2
Black
System
3032
Plate 4X6
339
1991
1881
1991
303426
2
Black
System
3034
Plate 2X8
498
1991
2607
1980
365926
3
Black
System
3659
Brick W. Bow 1X4
62
1995
533
1992
371026
2
Black
System
3710
Plate 1X4
1009
1991
6774
1981
403226
2
Black
System
4032
Plate 2X2 Round
515
1994
2807
1992
428626
7
Black
System
4286
Roof Tile 1X3/25°
226
1994
1375
1990
609126
2
Black
System
6091
Brick W. Arch 1X1X1 1/3
124
1996
1331
1992
614126
8
Black
System
6141
Round Plate 1X1
803
1991
5401
1990
3200026
4
Black
System
32000
Brick 1X2 M. 2 Holes Ø 4,87
215
1996
960
1996
4113209
2
Black
System
30238
Spider
68
1999
132
1999
4116854
3
Black
System
30099
Brick With Bow 1X5X4 Inv.
27
1999
104
1997
4158848
16
Black
System
30552
Fric/Stump With Cross Hole
98
2001
257
2001
4160025
3
Black
System
30503
Corner Plate 45 Deg. 4X4
80
2003
408
2001
4160393
2
Black
System
42022
Brick 1X6 W/Bow
66
2002
331
2002
4185583
2
Black
System
30363
Roof Tile 2X4X1, 18°
64
2002
377
1999
4219107
4
Black
System
47753
Brick 4X4 W. Bow/Angle
40
2004
151
2004
4225201
2
Black
System
48336
Plate 1X2 W. Stick 3.18
431
2004
1507
2004
4517925
2
Black
System
61252
Plate 1X1 W/Holder Vertical
403
1994
1429
1994
4533771
1
Black
System
60475
Brick 1X1 W/Holder, H0Rizontal
108
2008
549
2008
4535739
4
Black
System
63868
Plate 2X1 W/Holder,Vertical
242
2009
916
2009
4548180
3
Black
System
85984
Roof Tile 1 X 2 X 2/3, Abs
416
2009
2294
2009
4560182
1
Black
System
87079
Flat Tile 2X4
295
2010
1971
2010
4563477
16
Black
System
87747
Tooth Ø3.2 Shaft
63
2010
264
2010
4568385
4
Black
System
88513
Horn W. Shaft Ø 3.2
63
2007
574
2005
4581280
2
Black
System
88292
Brick With Bow 1X3X2
40
2010
156
2010
4596914
1
Black
System
41879
Mini Leg
52
2002
422
2002
6020848
1
Black
System
76768
Brick W. Bow 1X5X4
8
2008
36
2008
6021616
1
Black
System
11908
Mini Figure, Wig No. 22
6
2012
8
2012
6092952
2
Black
System
13349
Roof Tile 4X2/18° Inv.
29
2012
94
2010
6117973
3
Black
System
21712
Angle Plate 1X2 / 2X2
213
2010
798
2008
4529237
2
Brick Yellow
System
59900
Nose Cone Small 1X1
67
2006
1833
2002
4227155
1
Bright Red
Technic
6590
Bush For Cross Axle
357
2004
1167
1990
6016973
1
Cool Yellow
System
11793
Mini Figure Wig No. 35 "No1"
7
2012
7
2012
4518557
9
Dark Brown
System
3040
Roof Tile 1X2/45°
50
2008
3049
1986
4519742
2
Dark Brown
System
60477
Roof Tile 1X4X1
26
2008
327
2008
4519970
8
Dark Brown
System
30136
Palisade Brick 1X2
92
2008
816
1996
4624089
3
Dark Brown
System
60481
Roof Tile 2X1X2
26
2011
506
2008
4654915
2
Dark Brown
System
3665
Roof Tile 1X2 Inv.
22
2012
2098
1987
6005225
1
Dark Brown
System
41879
Mini Leg
26
2012
422
2002
6022269
1
Dark Brown
System
76382
Mini Upper Part No. 2216
1
2012
6120
1993
6022272
1
Dark Brown
System
76382
Mini Upper Part No. 2218
1
2012
6120
1993
6023063
2
Dark Brown
System
13035
Mini Lower Part "No. 455"
4
2012
4
2012
6024001
1
Dark Brown
System
76382
Mini Upper Part No.2278
1
2012
6120
1993
6029346
1
Dark Orange
System
13383
Mini Figure Wig No. 35 "No 4"
2
2012
2
2012
4210635
8
Dark Stone Grey
System
2420
Corner Plate 1X2X2
285
2004
2504
1991
4211052
2
Dark Stone Grey
System
3069
Flat Tile 1X2
364
2003
4899
1991
4211063
2
Dark Stone Grey
System
3023
Plate 1X2
746
2002
9372
1981
4211094
3
Dark Stone Grey
System
3022
Plate 2X2
644
2002
6616
1986
4211098
8
Dark Stone Grey
System
3005
Brick 1X1
273
2003
4367
1991
4211104
1
Dark Stone Grey
System
3622
Brick 1X3
224
2003
2595
1992
4211111
1
Dark Stone Grey
System
3700
Technic Brick 1X2, Ø4.9
270
2003
2024
1981
4211133
7
Dark Stone Grey
System
3623
Plate 1X3
372
2004
3459
1981
4587212
4
Dark Stone Grey
System
60897
Plate 1X1 W. Holder
216
2003
1517
1994
4596895
2
Dark Stone Grey
System
90194
Plate 3X4 W/Angles
26
2008
179
1994
6000853
1
Dark Stone Grey
System
98560
Roof Tile 2X2X3/ 73 Gr.
62
2010
234
2008
6083620
1
Dark Stone Grey
Technic
87083
Cross Axle 4M With End Stop
473
2010
554
2010
6020766
1
Light Nougat
System
12673
Mini Head "No. 1108"
2
2012
2
2012
6020768
1
Light Nougat
System
12676
Mini Head "No. 1110"
2
2012
2
2012
6023982
1
Light Nougat
System
13159
Mini Head "No. 1112"
2
2012
2
2012
6029342
1
Light Nougat
System
13381
Mini Head "No. 1116"
1
2012
1
2012
6021617
1
Medium Nougat
System
11908
Mini Figure, Wig No. 22
2
2012
8
2012
4654580
1
Medium Stone Grey
System
99207
Angular Plate 1.5 Bot. 1X2 2/2
381
2012
855
2012
4211639
1
Medium Stone Grey
Technic
32073
Cross Axle 5M
593
1995
846
1995
4211807
2
Medium Stone Grey
Technic
3673
Connector Peg
839
1993
839
1993
4568950
2
Multicombination
System
88288
Knife Daggert
6
2010
6
2010
4531415
7
New Dark Red
System
54200
Roof Tile 1X1X2/3, Abs
82
2008
3700
2005
4539059
1
New Dark Red
System
32064
Brick 1X2 With Cross Hole
26
2004
737
1997
4539097
4
New Dark Red
System
3023
Plate 1X2
198
2001
9372
1981
4539114
8
New Dark Red
System
3024
Plate 1X1
94
2003
3596
1986
4651677
2
New Dark Red
System
87087
Brick 1X1 W. 1 Knob
3
2011
1366
2009
6021978
2
New Dark Red
System
2417
Limb Element
5
2012
196
1994
4211149
4
Reddish Brown
System
3004
Brick 1X2
273
2001
6953
1986
4211150
6
Reddish Brown
System
3023
Plate 1X2
432
2003
9372
1981
4211160
2
Reddish Brown
System
4498
Quiver
29
2007
55
2007
4211225
1
Reddish Brown
System
3010
Brick 1X4
167
2004
4453
1991
4211290
16
Reddish Brown
System
44302
Plate 1X2 W/Fork/Vertical/End
13
2004
627
2003
4294149
3
Reddish Brown
System
55236
Tail Ø 3,2
14
2006
113
2006
4507139
2
Reddish Brown
System
4499
Bow
23
2007
25
2007
4610041
1
Reddish Brown
System
93231
Mini Figure Longbow
18
2011
18
2011
6029344
1
Reddish Brown
System
76382
Mini Upper Part No.2294
3
2012
6120
1993
4531751
1
Reddish Brown
Technic
59443
Cross Axle, Extension, 2M
76
2008
1093
2005
6022908
2
Sand Yellow
System
12992
Satellite DiSh Ø16 "No.6"
4
2012
4
2012
6093532
2
Silver Metallic
System
18034
Mini Short Sword
14
2012
17
2012
4600294
2
White
System
93160
2 M. Ø3.2 Bones
130
2011
130
2011
4651445
3
White
System
99574
Mini Head No. 895
61
2009
61
2009
6006221
1
White
System
90981
Spiders Web W. Shaft Ø 3.2
30
2012
35
2010
6005583
1
White Glow
System
30238
Spider
5
2012
132
1999
6009086
6
White Glow
System
30057
Round Plate 1X1 - Tr.
11
2012
3306
1992
Colour summary
| Colour | Unique | Total |
| --- | --- | --- |
| Black | 37 | 132 |
| Brick Yellow | 1 | 2 |
| Bright Red | 1 | 1 |
| Cool Yellow | 1 | 1 |
| Dark Brown | 10 | 30 |
| Dark Orange | 1 | 1 |
| Dark Stone Grey | 12 | 40 |
| Light Nougat | 4 | 4 |
| Medium Nougat | 1 | 1 |
| Medium Stone Grey | 3 | 4 |
| Multicombination | 1 | 2 |
| New Dark Red | 6 | 24 |
| Reddish Brown | 10 | 37 |
| Sand Yellow | 1 | 2 |
| Silver Metallic | 1 | 2 |
| White | 3 | 6 |
| White Glow | 2 | 7 |
| Total | 95 | 296 |
Category summary
| Category | Unique | Total |
| --- | --- | --- |
| System | 90 | 290 |
| Technic | 5 | 6 |
| Total | 95 | 296 |