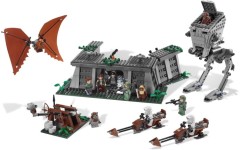 Inventory for 8038-1: The Battle of Endor
This set inventory has been obtained from LEGO Customer Services replacement parts page.
Important note: We do not control this inventory and cannot currently make changes to it. Use it as a guide to the contents of the set, or to find out part numbers when requesting replacements.
Download the inventory as a CSV file »
View the Rebrickable.com inventory for this set »
View the inventory at BrickLink.com »
Element
Image
Qty
Colour
Category
Design
Element name
Element
in sets
Element
introduced in
Design
in sets
Design
introduced in
9339
1
Black
System
73200
Mini Body Lower Part Black
805
1991
4112
1991
74011
2
Black
System
73983
Hingeplate 1X2 Un./Ov.Black
100
1991
302
1991
243126
8
Black
System
2431
Flat Tile 1X4
598
1994
3705
1991
243626
18
Black
System
2436
Angle Plate 1X2/1X4
154
1992
432
1992
244526
1
Black
System
2445
Plate 2X12
259
1995
947
1994
255526
4
Black
System
2555
Plate 1X1 W. Up Right Holder
360
1992
1018
1992
300126
1
Black
System
3001
Brick 2X4
587
1991
4352
1991
302026
7
Black
System
3020
Plate 2X4
1051
1991
7175
1980
302326
27
Black
System
3023
Plate 1X2
1234
1991
9359
1981
346026
2
Black
System
3460
Plate 1X8
445
1992
2371
1981
362326
6
Black
System
3623
Plate 1X3
575
1993
3451
1981
362626
2
Black
System
3626
Mini Head
72
1991
286
1991
368026
2
Black
System
3680
Turn Plate 2X2, Lower Part
245
2003
443
2003
371026
4
Black
System
3710
Plate 1X4
1007
1991
6767
1981
407926
3
Black
System
4079
Seat 2X2X2
103
1994
757
1991
434926
2
Black
System
4349
Megaphone
180
1994
327
1994
447726
2
Black
System
4477
Plate 1X10
309
1994
1295
1991
449726
1
Black
System
4497
Spear
75
1995
227
1995
452226
5
Black
System
4522
Hammer
159
1994
159
1994
459926
4
Black
System
4599
Tap Ø4.9/6.4
244
1996
916
1993
460026
2
Black
System
4600
Bearing Element 2X2, Double
229
1993
421
1993
4140303
6
Black
System
30374
Light Sword - Blade
153
2000
907
1999
4159550
2
Black
System
30505
Corner Brick 45 Deg. 3X3
31
2001
44
2001
4181144
1
Black
System
44237
Brick 2X6
183
1994
1310
1994
4223247
5
Black
System
30377
Space Skeleton Arm
152
2004
420
1999
4243819
2
Black
System
3031
Plate 4X4
375
1994
2155
1991
4295400
2
Black
System
56570
Roof Tile 2X2 No. "14"
45
2006
45
2006
4498712
3
Black
System
57899
Blaster, Rifle
73
2007
73
2007
4498713
5
Black
System
58247
Blaster Medium
168
2007
193
2007
4510072
1
Black
System
76382
Mini Upper Part No."1331"
4
2007
6116
1993
4515340
3
Black
System
60471
Plate 1X2 W/Fork, Vertical
108
2008
321
2008
4517986
1
Black
System
61485
Bottom W. Turntable 4X4
204
2008
303
2008
4529236
7
Black
System
59900
Nose Cone Small 1X1
259
2006
1832
2002
4533090
1
Black
System
57900
Trooper/Atst Helmet
2
2008
10
2007
4533104
1
Black
System
76382
Mini Upper Part No.1420
4
2008
6116
1993
4538456
4
Black
System
64644
Stick Ø3.2 2Mm W/Knob And Tube
195
2009
598
2009
4551168
2
Black
System
86665
Roof Tile 2X2 No. 15
22
2009
22
2009
4568385
2
Black
System
88513
Horn W. Shaft Ø 3.2
63
2007
572
2005
4656122
4
Black
System
96858
Fishing Rod 10M
12
1996
18
1996
6081988
4
Black
System
18274
Stick 6M W/Flange
175
2006
420
2006
370526
2
Black
Technic
3705
Cross Axle 4M
1063
1981
1168
1981
370626
1
Black
Technic
3706
Cross Axle 6M
822
1981
891
1981
373726
1
Black
Technic
3737
Cross Axle 10M
452
1981
470
1981
4107765
4
Black
Technic
6553
Catch
221
1997
508
1993
4107783
1
Black
Technic
32034
Angle Element, 180 Degrees [2]
243
1997
572
1997
4109810
8
Black
Technic
32062
2M Cross Axle W. Groove
587
1993
1816
1993
4121715
8
Black
Technic
2780
Connector Peg W. Friction
2109
1993
2109
1993
4162857
1
Black
Technic
41678
Technic Cross Block/Fork 2X2
131
2002
332
2002
4177431
2
Black
Technic
32270
Double Conical Wheel Z12 1M
379
2002
488
1999
4248204
3
Black
Technic
32072
Technic Angular Wheel
105
2005
187
1998
4514554
4
Brick Yellow
Technic
32556
3M Connector Peg
360
2007
476
2001
4514555
3
Brick Yellow
Technic
32269
Double Conical Wheel Z20 1M
27
2007
133
1999
4666579
4
Brick Yellow
Technic
6562
Connector Peg/Cross Axle
791
1997
1040
1990
6031962
2
Brick Yellow
Technic
32198
Bevel Gear Z20
65
2008
88
2003
4168114
4
Bright Blue
Technic
32140
Technic Ang. Beam 4X2 90 Deg
50
1999
704
1999
4206482
5
Bright Blue
Technic
43093
Conn.Bush W.Fric./Crossale
1450
2002
1481
2002
4213119
4
Bright Orange
System
3942
Nose Cone 2X2X2
7
2004
199
1994
654121
2
Bright Red
System
6541
Technic Brick 1X1
100
1995
1141
1994
4524644
4
Bright Red
System
61252
Plate 1X1 W/Holder Vertical
109
1995
1429
1994
4118897
2
Bright Red
Technic
32039
Catch W. Cross Hole
81
1998
846
1997
4140806
2
Bright Red
Technic
32054
2M Fric. Snap W/Cross Hole
243
1999
969
1997
4106895
2
Dark Green
System
6255
Leaves 3 Elements
51
1995
92
1995
4114348
4
Dark Green
System
30176
Bamboo Leaves 3X3
180
1998
212
1998
4549623
2
Dark Orange
System
86297
Sail
1
2009
1
2009
4210469
2
Dark Stone Grey
System
42446
Mini Fig. Back Palte W. Knob
68
2004
182
2002
4210651
3
Dark Stone Grey
System
6636
Flat Tile 1X6
266
2003
2248
1996
4210660
1
Dark Stone Grey
System
2540
Plate 1X2 W. Stick
354
2003
1647
1992
4210706
2
Dark Stone Grey
System
3029
Plate 4X12
92
2003
534
1994
4210762
11
Dark Stone Grey
System
32000
Brick 1X2 M. 2 Holes Ø 4,87
228
2003
956
1996
4210794
5
Dark Stone Grey
System
3036
Plate 6X8
151
2003
817
1991
4210797
8
Dark Stone Grey
System
6091
Brick W. Arch 1X1X1 1/3
127
2004
1330
1992
4210798
2
Dark Stone Grey
System
6112
Brick 1X12
56
2003
423
1994
4210805
4
Dark Stone Grey
System
6120
Under Carriage 1X4
5
2005
11
2004
4210865
8
Dark Stone Grey
System
43898
Parabolic Reflector Ø24X6,4
103
2004
343
2003
4210968
3
Dark Stone Grey
System
6081
Brick W. Bow 4X1X1 1/3
26
2007
195
1993
4211001
7
Dark Stone Grey
System
3710
Plate 1X4
625
2002
6767
1981
4211002
3
Dark Stone Grey
System
3795
Plate 2X6
607
2002
4534
1980
4211008
8
Dark Stone Grey
System
4162
Flat Tile 1X8
213
2002
1501
1991
4211042
7
Dark Stone Grey
System
4032
Plate 2X2 Round
353
2004
2802
1992
4211043
25
Dark Stone Grey
System
3021
Plate 2X3
599
2002
5026
1980
4211051
1
Dark Stone Grey
System
30162
Prismatic Binoculars
257
2003
376
1998
4211052
6
Dark Stone Grey
System
3069
Flat Tile 1X2
362
2003
4893
1991
4211053
48
Dark Stone Grey
System
2431
Flat Tile 1X4
344
2003
3705
1991
4211054
10
Dark Stone Grey
System
3039
Roof Tile 2X2/45°
281
2003
2571
1986
4211061
2
Dark Stone Grey
System
3035
Plate 4X8
218
2003
1253
1992
4211090
16
Dark Stone Grey
System
3062
Round Brick 1X1
246
2003
3035
1980
4211100
4
Dark Stone Grey
System
3009
Brick 1X6
219
2003
2701
1991
4211103
6
Dark Stone Grey
System
3010
Brick 1X4
292
2001
4449
1991
4211104
2
Dark Stone Grey
System
3622
Brick 1X3
223
2003
2592
1992
4211105
2
Dark Stone Grey
System
3002
Brick 2X3
172
2003
2596
1992
4211114
4
Dark Stone Grey
System
3033
Plate 6X10
96
2004
457
1994
4211115
4
Dark Stone Grey
System
3032
Plate 4X6
336
2002
1878
1991
4211135
6
Dark Stone Grey
System
3040
Roof Tile 1X2/45°
327
2003
3046
1986
4213607
2
Dark Stone Grey
System
3701
Technic Brick 1X4, Ø4,9
185
2004
1086
1981
4218750
2
Dark Stone Grey
System
47458
Plate W. Bows 2X1½
11
2006
127
2004
4243831
16
Dark Stone Grey
System
3031
Plate 4X4
331
2003
2155
1991
4263176
3
Dark Stone Grey
System
3839
Mini Handle
111
2005
534
1994
4289542
11
Dark Stone Grey
System
48729
Stick Ø 3.2 W. Holder
282
2004
640
2004
4299022
2
Dark Stone Grey
System
4151
Grid Plate 8X8
63
2004
134
1996
4500903
2
Dark Stone Grey
System
50947
Cover Plate W. Curve 1 X 4.5
9
2007
79
2005
4500975
16
Dark Stone Grey
System
2449
Roof Tile 1X2X3/74° Inv.
51
2004
319
1994
4521187
8
Dark Stone Grey
System
60478
Plate 1X2 W/Shaft Ø3.2
270
2008
1127
2008
4540386
4
Dark Stone Grey
System
61409
Roof Tile W. Lattice 1X2X2/3
326
2008
905
2008
4587212
2
Dark Stone Grey
System
60897
Plate 1X1 W. Holder
216
2003
1514
1994
4595708
3
Dark Stone Grey
System
92107
Trapdoor Frame 6X8
57
2008
113
2008
4595710
1
Dark Stone Grey
System
92099
Plate 4X5 W. Shaft Ø3.2
97
2006
172
2006
4611703
2
Dark Stone Grey
System
88072
Plate 1X2 W. Vertical Schaft
94
2009
542
2008
4620760
4
Dark Stone Grey
System
92950
Brick 1X6 W/Inside Bow
47
2008
350
2008
6009683
4
Dark Stone Grey
System
99774
Under Carriage 1X4
20
2009
26
2009
4210749
4
Dark Stone Grey
Technic
32449
Lever 1X4, Without Notch
58
2004
398
2000
4210759
2
Dark Stone Grey
Technic
6575
Comb Wheel
39
1997
113
1995
4210851
2
Dark Stone Grey
Technic
6536
Cross Block 90°
106
2004
937
1994
4210980
7
Dark Stone Grey
Technic
41677
Technic Lever 2M
103
2005
629
2002
4211050
2
Dark Stone Grey
Technic
32002
1 1/2 M Connecting Bush
224
1997
518
1995
4211086
2
Dark Stone Grey
Technic
6587
Crossaxle 3M With Knob
263
1995
494
1995
4499858
1
Dark Stone Grey
Technic
55013
Cross Axle 8M With End Stop
292
2007
299
2006
4508553
2
Dark Stone Grey
Technic
59426
Cross Axle 5,5 With Stop 1M.
453
2003
453
2003
4629920
2
Dark Stone Grey
Technic
32005
Track Rod 6M,
34
2003
80
2000
4293614
1
Earth Green
System
47397
Left Plate W. Angle 3X12
7
2006
201
2004
4293615
1
Earth Green
System
47398
Right Plate W. Angle 3X12
7
2006
202
2004
4501970
2
Earth Green
System
49668
Plate 1X1 W/Tooth
17
2007
505
2003
4505051
9
Earth Green
System
3035
Plate 4X8
17
2007
1253
1992
4505066
3
Earth Green
System
2417
Limb Element
38
2007
196
1994
4238620
1
Light Nougat
System
50941
Mini Head "No. 378"
7
2006
7
2006
4238621
1
Light Nougat
System
49035
Mini Head "No. 342"
12
2006
12
2006
4520588
1
Light Nougat
System
61952
Mini Head "No. 513"
4
2008
4
2008
4551278
1
Light Nougat
System
86722
Mini Head No. 587
1
2009
1
2009
4569486
1
Light Nougat
System
88735
Mini Head No. 632
8
2008
8
2008
4191414
4
Medium Stone Grey
System
3685
Roof Tile Corner 2X2X3/73°
9
2009
40
2004
4211353
2
Medium Stone Grey
System
2420
Corner Plate 1X2X2
291
2001
2498
1991
4211356
2
Medium Stone Grey
System
2431
Flat Tile 1X4
429
2002
3705
1991
4211357
6
Medium Stone Grey
System
2432
Clamp 1X2
184
2003
1436
1992
4211397
16
Medium Stone Grey
System
3022
Plate 2X2
700
1998
6608
1986
4211406
2
Medium Stone Grey
System
3034
Plate 2X8
340
2002
2601
1980
4211419
2
Medium Stone Grey
System
3176
Coupling Plate 2X2
124
2003
653
1994
4211429
4
Medium Stone Grey
System
3623
Plate 1X3
409
2002
3451
1981
4211436
2
Medium Stone Grey
System
3660
Roof Tile 2X2/45° Inv.
261
2002
2362
1987
4211450
2
Medium Stone Grey
System
3743
Toothed Bar M=1, Z=10
77
1995
160
1994
4211466
2
Medium Stone Grey
System
3894
Brick 1X6, Ø4,9
97
2002
647
1981
4211494
20
Medium Stone Grey
System
4460
Roof Tile 1X2X3/73°
78
2004
585
1994
4211512
8
Medium Stone Grey
System
4740
Parabola Ø16
201
2002
1024
1994
4211525
31
Medium Stone Grey
System
6141
Round Plate 1X1
517
2002
5394
1990
4211526
8
Medium Stone Grey
System
6143
Brick Ø16 W. Cross
171
2002
1795
1993
4211568
6
Medium Stone Grey
System
32028
Plate 1X2 With Slide
258
1998
1141
1997
4211684
4
Medium Stone Grey
System
30499
Roof Tile 2X2X3/ 73 Gr.
16
2004
153
1994
4211732
1
Medium Stone Grey
System
41769
Right Plate 2X4 W/Angle
99
2002
930
2001
4211735
1
Medium Stone Grey
System
41770
Left Plate 2X4 W/Angle
100
2002
933
2001
4211791
2
Medium Stone Grey
System
43722
Right Plate 2X3 W/Angle
142
2002
911
2002
4211794
2
Medium Stone Grey
System
43723
Left Plate 2X3 W/Angle
142
2002
902
2002
4211803
1
Medium Stone Grey
System
44301
Plate 1X2 W/Stub Vertical/End
87
2004
425
2003
4215405
2
Medium Stone Grey
System
6576
Plate 4X8 W. 12 Knobs
5
2006
5
2006
4228198
2
Medium Stone Grey
System
50344
Roof Tile 1X2 45° No. 3
68
2004
68
2004
4258273
2
Medium Stone Grey
System
50304
Right Plate 3X8 W/Angle
72
2006
324
2005
4258275
2
Medium Stone Grey
System
50305
Left Plate 3X8 W/Angle
70
2006
324
2005
4277927
9
Medium Stone Grey
System
44728
Angle Plate 1X2 / 2X2
55
2003
368
2002
4278273
8
Medium Stone Grey
System
2654
Slide Shoe Round 2X2
260
2004
1288
1993
4292298
1
Medium Stone Grey
System
76382
Mini Upper Part No 1266
29
2006
6116
1993
4515351
5
Medium Stone Grey
System
60474
Plate 4X4 Round W. Snap
138
2008
774
2008
4520155
1
Medium Stone Grey
System
41879
Mini Leg
24
2008
421
2002
4520320
4
Medium Stone Grey
System
61184
3 M.Arch W.Knob And Shaft Ø3.2
435
2008
440
2008
4521921
4
Medium Stone Grey
System
54200
Roof Tile 1X1X2/3, Abs
377
2008
3695
2005
4532593
2
Medium Stone Grey
System
61678
Brick With Bow 1X4
10
2009
193
2008
4533122
1
Medium Stone Grey
System
64069
End Brick Nr. "6"
11
2008
11
2008
4533772
4
Medium Stone Grey
System
60475
Brick 1X1 W/Holder, H0Rizontal
166
2008
549
2008
4539481
4
Medium Stone Grey
System
64567
Light Sword Shaft
162
2006
490
2006
4540203
2
Medium Stone Grey
System
3679
Turn Plate 2X2, Upper Part
415
2003
415
2003
4550306
1
Medium Stone Grey
System
86440
Ewok Nr.1
1
2009
1
2009
4551325
2
Medium Stone Grey
System
49040
Flat Tile 2X2, Round Dec. No.4
1
2009
3
2004
4556157
2
Medium Stone Grey
System
60470
Plate 1X2 W/Holder, Vertical
307
2008
952
2008
4641682
2
Medium Stone Grey
System
95820
Brick 1X2 W. Horizontal Holder
87
2009
312
2009
6007894
4
Medium Stone Grey
System
98560
Roof Tile 2X2X3/ 73 Gr.
37
2009
233
2008
6066097
12
Medium Stone Grey
System
15573
Plate 1X2 W. 1 Knob
525
2002
2014
2002
6117967
9
Medium Stone Grey
System
21712
Angle Plate 1X2 / 2X2
176
2009
794
2008
4211375
8
Medium Stone Grey
Technic
2736
Ball W. Cross Axle
278
2003
335
1994
4211483
10
Medium Stone Grey
Technic
4274
Connector Peg W. Knob
759
1997
1731
1981
4211551
1
Medium Stone Grey
Technic
32015
Angle Element, 112,5 Degr. [5]
60
1997
343
1997
4211553
4
Medium Stone Grey
Technic
32039
Catch W. Cross Hole
194
1997
846
1997
4211573
4
Medium Stone Grey
Technic
32123
1/2 Bush
662
1997
1182
1993
4211622
4
Medium Stone Grey
Technic
6590
Bush For Cross Axle
517
1993
1165
1990
4211624
4
Medium Stone Grey
Technic
32271
Technic Angular Beam 3X7
36
2005
278
2000
4211713
2
Medium Stone Grey
Technic
32526
Technic Ang. Beam 3X5 90 Deg.
80
2003
602
2000
4211815
4
Medium Stone Grey
Technic
4519
Cross Axle 3M
962
1995
1356
1990
4211888
1
Medium Stone Grey
Technic
32138
Module Bush
45
2003
289
1999
4526985
1
Medium Stone Grey
Technic
62462
Tube W/Double Ø4.85
108
2006
448
2005
4563045
2
Medium Stone Grey
Technic
33299
2X1X3 Steering Knuckle Arm
114
2004
255
1999
6004888
7
Medium Stone Grey
Technic
74695
Beam 1X2 W/Cross And Hole
124
2008
399
2008
6027565
4
Medium Stone Grey
Technic
76138
Shock Absorber, Hard
28
2006
28
2006
4211149
2
Reddish Brown
System
3004
Brick 1X2
273
2001
6947
1986
4211151
2
Reddish Brown
System
3069
Flat Tile 1X2
211
2004
4893
1991
4211158
1
Reddish Brown
System
3901
Mini Wig Man
62
2003
341
1992
4211199
2
Reddish Brown
System
3040
Roof Tile 1X2/45°
137
2004
3046
1986
4211204
3
Reddish Brown
System
6636
Flat Tile 1X6
141
2004
2248
1996
4221771
3
Reddish Brown
System
76382
Mini Upper Part "No. 919"
16
2004
6116
1993
4221886
1
Reddish Brown
System
73200
Mini Lower Part
76
2004
4112
1991
4225469
9
Reddish Brown
System
4070
Angular Brick 1X1
150
2004
1891
1991
4252456
2
Reddish Brown
System
48723
Combi Hub W. Stick Ø 3.2
68
2005
101
2004
4267917
2
Reddish Brown
System
44675
2X2 Front With Suction
4
2007
84
2003
4270443
2
Reddish Brown
System
41879
Mini Leg
33
2005
421
2002
4270470
4
Reddish Brown
System
4460
Roof Tile 1X2X3/73°
54
2005
585
1994
4499888
1
Reddish Brown
System
83929
Chewbacca "Dec"
9
2006
9
2006
4499949
1
Reddish Brown
System
84418
Mini Lower Part "No. 33"
7
2006
7
2006
4507139
1
Reddish Brown
System
4499
Bow
23
2007
25
2007
4517594
4
Reddish Brown
System
30259
Triangular Sign W. Snap
19
2008
65
1999
4529662
2
Reddish Brown
System
76040
Three-Wheeled Motor Cycle
2
2008
11
2004
4547859
1
Reddish Brown
System
64807
Mini Wig No. 3
2
2009
23
2009
4550307
1
Reddish Brown
System
86441
Ewok Nr.2
1
2009
1
2009
4551115
1
Reddish Brown
System
86651
Ewok No.3
1
2009
1
2009
4598713
2
Reddish Brown
System
2524
Knapsack
23
2004
55
2004
4267425
1
Sand Blue
System
73200
Mini Lower Part
87
2005
4112
1991
4206504
2
Sand Green
System
73200
Mini Lower Part
29
2003
4112
1991
4551174
2
Sand Green
System
76382
Mini Upper Part No.1487
1
2009
6116
1993
4551178
1
Sand Green
System
76382
Mini Upper Part No.1489
1
2009
6116
1993
4550303
2
Sand Yellow
System
86438
Rebel Helmet Endor Nr.1
4
2009
4
2009
4169199
1
Transparent
System
42445
Plate 1X2 W. Shaft 12M
10
2002
31
2002
6010687
1
Transparent
System
99784
Plate 1X2 W. Shaft 12M
12
2009
50
2009
74326
2
White
System
73200
Mini Lower Part Blac/Whi
83
1998
4112
1991
4124113
2
White
System
30362
Leg 1X2X2 2/3 W. Snap
57
1999
71
1999
4551275
2
White
System
76382
Mini Upper Part No.1501
3
2009
6116
1993
4551291
2
White
System
30369
Biker Scout Helmet
5
2009
5
2009
Colour summary
| Colour | Unique | Total |
| --- | --- | --- |
| Black | 50 | 191 |
| Brick Yellow | 4 | 13 |
| Bright Blue | 2 | 9 |
| Bright Orange | 1 | 4 |
| Bright Red | 4 | 10 |
| Dark Green | 2 | 6 |
| Dark Orange | 1 | 2 |
| Dark Stone Grey | 54 | 316 |
| Earth Green | 5 | 16 |
| Light Nougat | 5 | 5 |
| Medium Stone Grey | 59 | 269 |
| Reddish Brown | 21 | 47 |
| Sand Blue | 1 | 1 |
| Sand Green | 3 | 5 |
| Sand Yellow | 1 | 2 |
| Transparent | 2 | 2 |
| White | 4 | 8 |
| Total | 219 | 906 |
Category summary
| Category | Unique | Total |
| --- | --- | --- |
| System | 178 | 769 |
| Technic | 41 | 137 |
| Total | 219 | 906 |