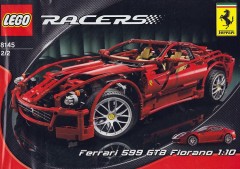 Inventory for 8145-1: Ferrari 599 GTB Fiorano 1:10
This set inventory has been obtained from LEGO Customer Services replacement parts page.
Important note: We do not control this inventory and cannot currently make changes to it. Use it as a guide to the contents of the set, or to find out part numbers when requesting replacements.
Download the inventory as a CSV file »
View the Rebrickable.com inventory for this set »
View the inventory at BrickLink.com »
Element
Image
Qty
Colour
Category
Design
Element name
Element
in sets
Element
introduced in
Design
in sets
Design
introduced in
614126
2
Black
System
6141
Round Plate 1X1
800
1991
5381
1990
3200026
2
Black
System
32000
Brick 1X2 M. 2 Holes Ø 4,87
215
1996
956
1996
4141810
2
Black
System
32333
V-Engine Holder
30
2000
57
2000
4205760
2
Black
System
3743
Toothed Bar M=1, Z=10
56
2004
160
1994
370526
19
Black
Technic
3705
Cross Axle 4M
1062
1981
1167
1981
370626
4
Black
Technic
3706
Cross Axle 6M
822
1981
891
1981
370726
4
Black
Technic
3707
Cross Axle 8M
537
1981
571
1981
370826
2
Black
Technic
3708
Cross Axle 12M
385
1981
413
1981
373726
2
Black
Technic
3737
Cross Axle 10M
452
1981
470
1981
655826
94
Black
Technic
6558
Connector Peg W. Friction 3M
381
1994
1170
1994
4107081
7
Black
Technic
32039
Catch W. Cross Hole
389
1997
846
1997
4107082
2
Black
Technic
32016
Angle Element, 157,5 Degr. [3]
143
1997
360
1997
4111998
6
Black
Technic
32009
Double Angular Beam 3X7 45°
113
1997
389
1997
4112282
4
Black
Technic
6629
Technic Angular Beam 4X6
120
1996
286
1996
4112287
12
Black
Technic
32056
Technic Lever 3X3M, 90°
107
1998
312
1998
4119589
2
Black
Technic
32138
Module Bush
220
1999
289
1999
4120017
8
Black
Technic
32140
Technic Ang. Beam 4X2 90 Deg
222
1999
704
1999
4121667
12
Black
Technic
32184
Double Cross Block
188
1999
476
1999
4121715
200
Black
Technic
2780
Connector Peg W. Friction
2108
1993
2108
1993
4125213
1
Black
Technic
2741
Technic Steering Wheel
20
1999
22
1999
4128593
4
Black
Technic
32348
Technic Angular Beam 4X4
85
2000
288
2000
4140430
2
Black
Technic
32291
Technic Cross Block 2X1
146
2000
299
2000
4140801
26
Black
Technic
32054
2M Fric. Snap W/Cross Hole
428
1997
969
1997
4142135
6
Black
Technic
32316
Technic 5M Beam
251
2000
800
2000
4142822
7
Black
Technic
32523
Technic 3M Beam
218
2001
867
2000
4142823
14
Black
Technic
32526
Technic Ang. Beam 3X5 90 Deg.
159
2000
602
2000
4143466
2
Black
Technic
32557
Technic Crossblock 2X3
74
2001
148
2001
4154767
7
Black
Technic
40490
Technic 9M Beam
70
2001
178
2001
4156150
5
Black
Technic
32525
Technic 11M Beam
68
2001
111
2001
4162857
2
Black
Technic
41678
Technic Cross Block/Fork 2X2
131
2002
332
2002
4164133
4
Black
Technic
41677
Technic Lever 2M
182
2002
629
2002
4173668
17
Black
Technic
6536
Cross Block 90°
306
1996
937
1994
4173970
20
Black
Technic
42003
Cross Blok 3M
163
2002
453
2002
4184169
6
Black
Technic
6628
Ball With Friction Snap
450
1994
456
1994
4192535
4
Black
Technic
44771
Tyre Low Wide Ø68,8 X 36
9
2003
15
2003
4204025
8
Black
Technic
32195
St. Knuc Arm W Ball Soc Ø5,9
7
2004
9
2004
4227853
4
Black
Technic
50301
Lt Wheel Bearing W. 3 Snaps
6
2004
6
2004
4262086
4
Black
Technic
44772
Rim Ø 56 X 34
6
2005
15
2003
4275503
1
Black
Technic
6630
Technic Toothed Bar 8M
20
1997
20
1997
4495935
7
Black
Technic
32524
Technic 7M Beam
190
2001
681
2001
4522933
8
Black
Technic
41239
Technic 13M Beam
99
2004
333
2004
4542573
18
Black
Technic
64871
Technic 15M Beam
150
2000
371
2000
4140563
4
Brick Yellow
Technic
32009
Double Angular Beam 3X7 45°
3
2000
389
1997
4158867
4
Brick Yellow
Technic
32523
Technic 3M Beam
4
2007
867
2000
4505246
2
Brick Yellow
Technic
40490
Technic 9M Beam
1
2007
178
2001
4666579
1
Brick Yellow
Technic
6562
Connector Peg/Cross Axle
790
1997
1039
1990
4206482
78
Bright Blue
Technic
43093
Conn.Bush W.Fric./Crossale
1449
2002
1480
2002
4185661
4
Bright Red
Constraction
41669
Bion. Eye
30
2003
387
2002
371021
2
Bright Red
System
3710
Plate 1X4
523
1986
6762
1981
416221
1
Bright Red
System
4162
Flat Tile 1X8
101
1991
1501
1991
614121
2
Bright Red
System
6141
Round Plate 1X1
492
1994
5381
1990
4107824
6
Bright Red
Technic
6632
Technic Lever 3M
64
1996
761
1995
4118897
13
Bright Red
Technic
32039
Catch W. Cross Hole
81
1998
846
1997
4125189
10
Bright Red
Technic
6538
Cross Axle, Extension M/3 Ribs
28
1999
473
1994
4140806
50
Bright Red
Technic
32054
2M Fric. Snap W/Cross Hole
243
1999
969
1997
4141270
20
Bright Red
Technic
32140
Technic Ang. Beam 4X2 90 Deg
63
2000
704
1999
4142132
13
Bright Red
Technic
32316
Technic 5M Beam
82
2000
800
2000
4142865
70
Bright Red
Technic
32062
2M Cross Axle W. Groove
1222
2000
1815
1993
4143154
10
Bright Red
Technic
32526
Technic Ang. Beam 3X5 90 Deg.
69
2001
602
2000
4153718
6
Bright Red
Technic
32523
Technic 3M Beam
100
2002
867
2000
4163147
5
Bright Red
Technic
32278
Technic 15M Beam
12
2002
80
2000
4175442
8
Bright Red
Technic
42003
Cross Blok 3M
42
2003
453
2002
4185664
6
Bright Red
Technic
43857
Technic 2M Beam
54
2002
275
2002
4186678
20
Bright Red
Technic
41677
Technic Lever 2M
98
2003
629
2002
4188298
24
Bright Red
Technic
6536
Cross Block 90°
76
1998
937
1994
4189131
8
Bright Red
Technic
32014
Angle Element, 90 Degrees [6]
26
2003
289
1997
4192225
4
Bright Red
Technic
40490
Technic 9M Beam
18
2003
178
2001
4204710
4
Bright Red
Technic
32126
Toggel Joint
4
2004
74
1999
4205036
2
Bright Red
Technic
44350
3D Panel 12M W.Ø4.85, No. 20
7
2003
21
2002
4205039
2
Bright Red
Technic
44351
3D Panel 12M W. Ø4.85, No. 21
7
2003
21
2002
4205040
3
Bright Red
Technic
44352
3D Panel 7M W. Ø4.85, No. 22
12
2003
30
2002
4205041
3
Bright Red
Technic
44353
3D Panel 7M W. Ø4.85 No. 23
12
2003
30
2002
4218893
2
Bright Red
Technic
47712
Left 3D Panel 5M. Ø4.85 No24
8
2004
9
2004
4218894
2
Bright Red
Technic
47713
Right 3D Panel 5M. Ø4.85 No 25
8
2004
9
2004
4227155
16
Bright Red
Technic
6590
Bush For Cross Axle
357
2004
1165
1990
4227544
13
Bright Red
Technic
32015
Angle Element, 112,5 Degr. [5]
29
1999
343
1997
4234429
21
Bright Red
Technic
32034
Angle Element, 180 Degrees [2]
50
1999
572
1997
4254591
4
Bright Red
Technic
6629
Technic Angular Beam 4X6
26
1996
286
1996
4254606
30
Bright Red
Technic
32013
Angle Element, 0 Degrees [1]
66
2003
1073
1997
4495933
6
Bright Red
Technic
32524
Technic 7M Beam
66
2002
681
2001
4522938
3
Bright Red
Technic
41239
Technic 13M Beam
34
2005
333
2004
4526984
4
Bright Red
Technic
62462
Tube W/Double Ø4.85
42
2006
448
2005
4562805
1
Bright Red
Technic
64290
Technic 11M Beam
44
2003
369
2002
4614802
9
Bright Red
Technic
32235
Flex Rod 19M
13
1999
36
1999
6097866
2
Bright Red
Technic
32200
Flex Rod 12M
9
1999
44
1999
306924
2
Bright Yellow
System
3069
Flat Tile 1X2
309
1994
4883
1991
614124
1
Bright Yellow
System
6141
Round Plate 1X1
344
1992
5381
1990
4112203
12
Bright Yellow
Technic
2851
Plastic Motor, Piston
77
1998
79
1998
4239601
10
Bright Yellow
Technic
32123
1/2 Bush
327
2004
1182
1993
4210987
5
Dark Stone Grey
Technic
2854
Plastic Motor, Crank
33
1993
59
1991
4211023
1
Dark Stone Grey
Technic
6573
Differentiale Gear Casing
22
2001
24
2001
4211086
7
Dark Stone Grey
Technic
6587
Crossaxle 3M With Knob
263
1995
494
1995
4237267
1
Dark Stone Grey
Technic
6542
Gear Wheel Z16-Ø4.9
38
2004
51
1994
4629920
6
Dark Stone Grey
Technic
32005
Track Rod 6M,
34
2003
80
2000
4211414
1
Medium Stone Grey
System
3069
Flat Tile 1X2
419
2003
4883
1991
4211379
12
Medium Stone Grey
Technic
2852
Plastic Motor, Main Rod
20
2004
90
1991
4211432
1
Medium Stone Grey
Technic
3647
Gear Wheel T=8, M=1
74
1993
223
1981
4211483
10
Medium Stone Grey
Technic
4274
Connector Peg W. Knob
757
1997
1728
1981
4211539
4
Medium Stone Grey
Technic
6589
Conical Wheel Z12
53
1995
347
1995
4211543
12
Medium Stone Grey
Technic
6538
Cross Axle, Extension M/3 Ribs
51
1995
473
1994
4211551
2
Medium Stone Grey
Technic
32015
Angle Element, 112,5 Degr. [5]
60
1997
343
1997
4211563
2
Medium Stone Grey
Technic
4019
Gear Wheel Z=16, M=1
43
1995
43
1995
4211609
2
Medium Stone Grey
Technic
2853
Plastic Motor, Crank/Cross
54
2004
147
1991
4211621
13
Medium Stone Grey
Technic
32184
Double Cross Block
146
2003
476
1999
4211634
2
Medium Stone Grey
Technic
32270
Double Conical Wheel Z12 1M
51
2004
488
1999
4211635
1
Medium Stone Grey
Technic
32269
Double Conical Wheel Z20 1M
35
2004
133
1999
4211639
18
Medium Stone Grey
Technic
32073
Cross Axle 5M
592
1995
844
1995
4211651
1
Medium Stone Grey
Technic
32316
Technic 5M Beam
122
2004
800
2000
4211805
6
Medium Stone Grey
Technic
44294
Cross Axle 7M
394
2003
461
2003
4211815
52
Medium Stone Grey
Technic
4519
Cross Axle 3M
962
1995
1356
1990
4234251
12
Medium Stone Grey
Technic
2850
Plastic Motor, Cylinder
60
2004
62
2004
4268659
2
Medium Stone Grey
Technic
32494
Lt Cardan Ball
5
2005
5
2005
4278756
2
Medium Stone Grey
Technic
32187
Middle Ring
83
2003
123
1999
4296059
4
Medium Stone Grey
Technic
55615
Angular Beam 90Degr. W.4 Snaps
60
2006
60
2006
4495930
4
Medium Stone Grey
Technic
32524
Technic 7M Beam
106
2002
681
2001
4563045
2
Medium Stone Grey
Technic
33299
2X1X3 Steering Knuckle Arm
114
2004
255
1999
4611705
2
Medium Stone Grey
Technic
64290
Technic 11M Beam
68
2004
369
2002
4500915
4
Silver
System
58088
Rim Cap 14 Spokes Ø56,1
2
2007
2
2007
4142060
4
Silver
Technic
23117
Corrugated Pipe 16Mm, Silver
21
2000
25
2000
3005740
4
Transparent
System
30057
Round Plate 1X1 - Tr.
451
1994
3306
1992
3005747
2
Transparent Fluorescent Reddish Orange
System
30057
Round Plate 1X1 - Tr.
226
1995
3306
1992
3005741
2
Transparent Red
System
30057
Round Plate 1X1 - Tr.
824
1992
3306
1992
4201019
3
Transparent Red
System
6225
Plate 1X2 - Tr.
159
2003
644
1994
4260812
2
Transparent Red
System
6116
Brick 2X2 Round Ii
2
2005
341
1995
Colour summary
| Colour | Unique | Total |
| --- | --- | --- |
| Black | 42 | 563 |
| Brick Yellow | 4 | 11 |
| Bright Blue | 1 | 78 |
| Bright Red | 38 | 409 |
| Bright Yellow | 4 | 25 |
| Dark Stone Grey | 5 | 20 |
| Medium Stone Grey | 23 | 167 |
| Silver | 2 | 8 |
| Transparent | 1 | 4 |
| Transparent Fluorescent Reddish Orange | 1 | 2 |
| Transparent Red | 3 | 7 |
| Total | 124 | 1294 |
Category summary
| Category | Unique | Total |
| --- | --- | --- |
| Constraction | 1 | 4 |
| System | 16 | 34 |
| Technic | 107 | 1256 |
| Total | 124 | 1294 |