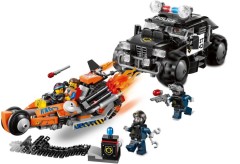 I saw the film last night, picked up a couple of minifigs, and thoroughly enjoyed it. I thought it would be interesting to discuss the screen time each of the sets currently available receives in the movie, and their importance in it. I don't think I've included any spoilers, but if you are concerned, please don't read this until you have seen the movie. Also, it's entirely possible that I've forgotten aspects of the film, so do correct me if I'm wrong.
70800 Getaway Glider, 70802 Bad Cop's pursuit and 70808 Super Cycle Chase are all prominent in the film and the sets are a good, perhaps exact, match. The bridge in Bad Cop's pursuit is somewhat disappointing though, compared to the film!
Metalbeard in 70807 is a key character and looks exactly like he does in the set. However I don't recall seeing any waking micro managers, they all appeared much the same size and style -- flying boxes with tentacles.
70809 Lord Business' Evil Lair is a key location in the film but the set is a poor representation of it, although action that takes place there can be played out with the set. The Melting Room 70801 however, despite being much smaller, captures the essence of that particular scene much better, in my opinion.
Cloud Cuckoo Palace was a wonderful and imaginative place in the film and in comparison, the set, 70803 is a bit feeble.
70813 Rescue Reinforcements and the three 2-in-1 models, 70804 Ice Cream Machine, 70805 Trash Chomper and 70806 Castle Cavalry make a very brief 5-second appearance near the end of the film. I don't recall seeing their 'normal' forms in it or the minifigs in them: the ice cream sellers, the garbage men and chef, for example.
I don't remember seeing the 70811 Flying Flusher at all, although it is not that distinctive and 70812 Creative Ambush must be on the cutting room floor, I have no recollection of that at all!
Have I got that about right or is my memory failing me?
Sponsored content