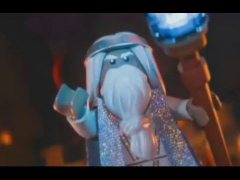 We've just received interesting news about the Blu-ray release of The LEGO Movie from someone in the US. Unfortunately they haven't provided a name or email address so I can't corroborate it, but it seems plausible:
"A friend of mine just took a survey about the collector's edition of The LEGO movie, and showed me an image of the package, including the exclusive minifigure. It's the prologue version of Vitruvious with normal eyes, wearing a grey headband, has a printed amulet and robes. It appears that it's only included with the collector's edition that includes DVD, Blu Ray, 3D and digital copy of the movie."
Update: TheBrickFan has published artwork of the cover.