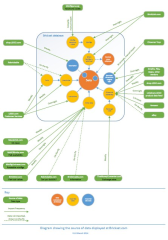 A couple of weeks ago, after I'd added some links to other websites, I said I would create a diagram showing where Brickset gets its data. I've now finished the first draft and it's available for your perusal as a PDF.
It may surprise you to see just how little is actually maintained locally. Of course the core of the database -- information about sets, collected and curated since 1997 is -- but almost all the peripheral data is imported from elsewhere. For simplicity, many largely static lookup tables that support the main data sets, such as the list of currencies haven't been included and neither has user-generated data such as reviews and collections.
The diagram shows some 'data flows' that don't actually go anywhere near the Brickset database but appear to the user as if they have come from it, such as Rebrickable inventories.
I don't suppose this will stem the number of emails we receive requesting that we add this minifig to that set, or telling us that inventories are incomplete, but I live in hope...