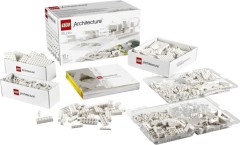 The Architecture Studio box of white and clear bricks that was released in the USA last year will be available in Europe later this year. Several people have reported seeing it in the Summer shop at home catalogue, priced at £150 in the UK.
The set contains 1210 pieces and a large book of architectural inspiration. It's a lot of money for what is effectively a box of basic bricks (see the inventory for what it contains) although I hear the book, which can still be downloaded from LEGO Customer Services, is quite special. (Update: actually, it can't anymore, the copy there now is just the cover!)
Will you be buying it, or assembling the parts from your own collection?
Thanks Lego_Star for the news.