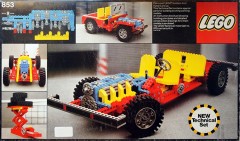 Here's another article in our classic LEGO sets series written by TechnicNick:
When launched in 1977, Technic had a slightly clumsy name, but the concept was sound.
The second attempt by LEGO at tempting teenage builders, after the Hobby sets that I covered in my previous article, was a considerable success and the early sets were a significant departure for LEGO. Here were models that were not only bigger and more complex, but they provided the sort of engineering-led building that rivalled Meccano. Technic would later evolve to become something closer to Meccano with its studless liftarms and various connectors, but the early sets were more of an adaptation of regular system LEGO with a lot of exciting new parts.
After I was given my first 'Technical Set' I largely left my Meccano to gather dust...
The first four sets from 1977 are all significant, since they defined the various price points and model types we could expect from Technic for years to come.
850 Fork-Lift Truck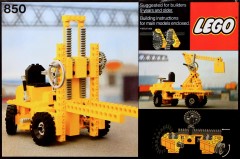 850 (950 in the USA, for reasons known only to LEGO), a cute little fork-lift truck, was the starting point. By modern standards the model isn't brilliant (the forks don't tilt or go very high and the weight distribution is not good) but, like all these sets in the early years, it was incredibly versatile despite having only 210-pieces. Those pieces were very well chosen; an excellent mix of the new beams, gears, racks and axles with enough system bricks to style your model. This set was perfect for building all manner of yellow building site machinery, and the box was not short of ideas...
Ahh, the box. These beautifully illustrated, stoutly made early boxes with their plastic trays which had lots of compartments for all the new pieces are sorely missed; although they must have added considerably to the cost. Typically, there would be half a dozen different models illustrated which could be built with the set, only two or three of which would have instructions. It was fun to figure out how to make 850's dump truck with just two pictures to go on...
This little set can give many hours of fun to builders of all ages, and you can still buy one (used) for around £20 in good condition. Perhaps a bit more for a 'blueprint' edition (see below). Make sure you get the box!
851 Tractor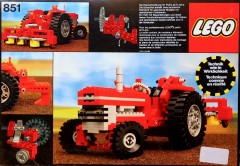 851 (952) is not only a versatile set; it's also an excellent model that, alone among these early efforts, will stand comparison to modern equivalents. The tractor itself has a distinctly Model Team look to it and it's a pretty well detailed replica of a vintage Massey Ferguson. Functionally, it does the same things that the modern (and excellent) 9393 does. The harrow on the back will spin at a furious rate when lowered, as long as you've built it carefully. None of these sets are foolproof – that's one of the reasons these inspired a generation of engineers.
Talking of which, the instructions often required concentration – the individual build steps are much more complex than they would be now, to the extent that even a large model's build steps could be printed on one side of a single fold-out sheet (in the case of the first two years of production – books came later). On the other side would be a large 'blueprint' of the B-model – the instructions for which would be on the reverse of the main model's blueprint. These two sheets of paper are quite sought after now and a 'blueprint' edition is worth a little more than a later 'book' one.
I dare you to try building one of these using just the blueprint!
You can find a used, boxed 851 in good condition for around £60 on ebay or Bricklink. Or splash out £297 for the single new one on BrickLink.
852 Helicopter
852 (954) is the rarest of these, as it was only current for two years and is therefore the only one that never came with 'book' instructions. The helicopter you make with it is huge! It's quite clever as well, with properly geared main and tail rotors and a tilting mechanism operated by levers in front of the seats for the main rotor.
It looks better in any colour other than yellow...
It's very special to me, as it's the first Technical Set I was given; Christmas 1978 was a lot of fun... As with 850, most of the models illustrated only on the box were better than the actual B-model you had instructions for. Harder to find than the others, it's well worth seeking out. You'll pay around £80, less if you can live without the box. But you really can't...
853 Car Chassis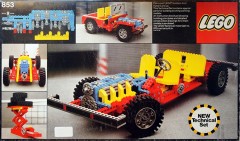 And so we come to the flagship. Set 853 (956), the car chassis. Calling it a supercar is a bit of a stretch – in engineering terms, what we have here is the guts of a Ford Cortina, minus suspension. It was followed by a succession of ever more sophisticated large car models that for the next 19 years were always the very top of the range. 853 is still the largest such model, and it boasts a four cylinder 'engine' with reciprocating pistons, driven by the rear wheels via a forward / reverse transmission. There was rack-and-pinion steering and the seats could be adjusted.
What makes this stand out is the very characterful noise it made when you pushed it along in gear. The transmission's gearing was quite low, and those big old square 2x2 pistons (new with this set) made a very satisfying clatter as they raced up and down the (square!) cylinder bores. That is, assuming you've built the crankshaft assembly with extreme care... like I said, not foolproof but worth the extra effort.
Like the other sets, there were lots of ideas on the box, most of which were better than the B-model go-kart you had instructions for. When those instructions were changed from blueprints to a book in 1979, they did become somewhat more legible. There were also some inspiring outer 'ideas pages' that showed ways to combine the sets to make more detailed models, including bodywork for 853 that looked a bit like an early Range Rover, using parts from the 852 Helicopter. The particular edition that shows this is quite rare, as 852 was discontinued within months of this change; and it never had book instructions itself. I've said that already...
You'll find a used, boxed 853 for around £100 – I didn't find any new ones, but expect to pay through the nose if you do!
870 4.5v motor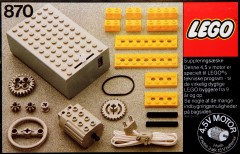 There was also a 4.5V motor set, 870 to bring life to your models. It wasn't all that strong, but it was compact and extremely reliable. Mine still works!
---
Since I've waffled on a bit, I'll cover the next releases in Part 2; that is, if you can bear it...