I've come in for some criticism in the past about my opinions on stickers. My recommendation is not to apply them unless they are printed on clear plastic. These pictures will illustrate why.
As I've been dismantling my old Technic models I've been surprised to see that the stickers on the 1980s and 1990s models are all in good shape, even those printed on white. However, the same cannot be said for later ones.
Around 2001 LEGO changed the material stickers were made from. I am no expert on what exactly changed, but whatever it was has caused them to peel and crack over time.
I stopped applying them to Technic sets about that time, except on Formula 1 cars. Those on my 8458 Silver Champion from 2000 are just about OK, they are showing slight signs of lifting at the edge but they are not cracking up.
Unfortunately that's not the case for 2004's Ferrari 1:10 8386 and 2002's 8461 Williams as you can see below.
As soon as they are touched they break apart and you end up with bits of sticker on your fingers which are hard to remove and easy to get all over the model as you handle it.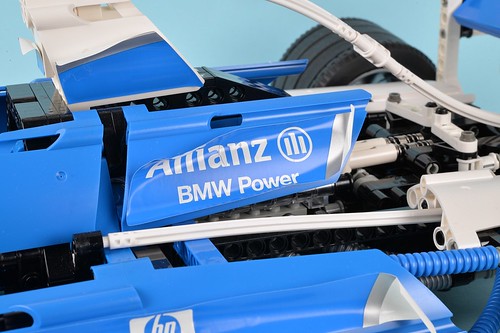 It's horrible, isn't it. All I can do is carefully take them apart, trying not to get bits of sticker all over the place, isolate the stickered parts and then hopefully clean them off using this sticky stuff remover.
I don't know whether today's stickers are any better. I'm not going to find out...
What have your experiences with stickers been? Are you still going to apply them after seeing these pictures and hope for the best in 2024?