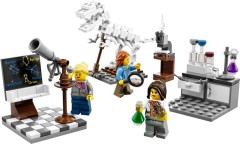 A week ago today, Ideas sets 21109 Exo-Suit and 21110 Research Institute were launched. On the day I said about the Exo-Suit "I'm sure it won't sell out today, but chances are it will sell out quickly like the Mars Curiosity Rover did".
It seems I was wrong. It DID sell out on the day, in a matter of hours. During the course of the week shipping dates in north America changed from 'Available now'... 'Available xx August'... 'Available xx September' to the current status of 'Temporarily out of stock' and it can no longer be ordered. In Europe, it's a little better, at least it can still be ordered with an expected ship date of 11th September.
The Research Institute is 'Sold out' in USA/Canada and shipping on 2nd September in Europe. Some commentators elsewhere are suggesting that it will not be available again in the US. If you don't have one now, you're probably going to have to resort to 3rd party resellers, which is ridiculous so soon after launch.
I know it's a nice problem for LEGO to have, demand outstripping supply, but surely it could have foreseen how popular these sets were likely to be given the success of previous Ideas sets. Frankly, it makes its estimating department look a bit incompetent and I hope it takes lessons learnt from this debacle to prevent it happening again.