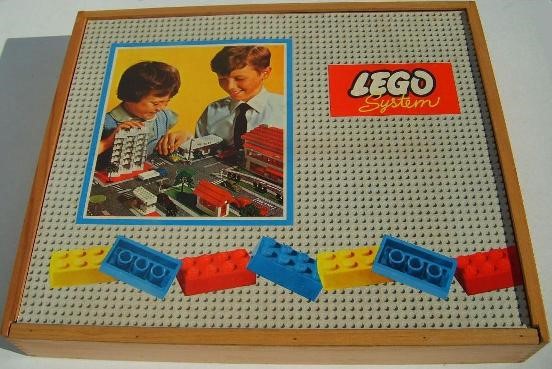 I am honoured to publish what I hope is the first of many articles on the early years of LEGO history written by Gary Istok. Gary is a world renown expert on the subject who has published a 2000-page LEGO Collectors' guide, which can be purchased and downloaded from here. You can also download a sample chapter.
The date of January 25, 1960 was a Monday. And rarely do we know what happened on a particular day in LEGO history. But that was the day that LEGO sales started in Great Britain and also Ireland by British LEGO Ltd., a licensee for LEGO, and a subsidiary of British Chemical/Textile company Courtaulds Co. This date is confirmed in a Silver Anniversary set of glassware that was a souvenir at a January 25, 1985 reception at a London hotel.
British LEGO Ltd. had its beginnings like so many LEGO endeavors, via a North Sea ferry ride between LEGO Chief Godtfred Kirk Christiansen, and a Courtaulds executive in the late 1950s. LEGO was fast expanding into new countries in continental Europe, and it was expanding almost too rapidly for such a small company that only had about 300 employees back then. After the production of the plastic construction toy started in Denmark in 1949, by 1956 Norway and Sweden were online with LEGO sales, when the largest market to date started LEGO sales in March of 1956, that being West Germany. That was such a large endeavor that it took another year before Switzerland, Netherlands, Austria, Belgium and Portugal followed suit in 1957. Then Italy followed in 1958, and France and Finland in 1959.
So by 1960, TLG was very busy expanding and producing LEGO sets for so many countries, that Britain and Ireland were too large for the Danish company to handle alone, so the licensee route was an easier way for TLG to handle the fans expansion. By 1961, TLG had over 11,000 independent toy stores on the continent that they were producing LEGO sets for, that they were very busy indeed.
Even though Britain and Ireland started LEGO sales in 1960, it took until 1962 that a production plant could be fully operational to handle the full product line of LEGO sets and spare parts packs. So from 1960 until early 1962, TLG shipped Danish produced LEGO sets and parts packs to Britain and Ireland, until the Wrexham, Wales Courtaulds Co. plant (as British LEGO Ltd.) was fully functional for producing LEGO sets for those markets. And 1962 was also the year that British LEGO Ltd. started LEGO sales for export to Australia.
Although British LEGO Ltd. could produce a wide assortment of LEGO products by 1962, there were some items that were still produced elsewhere. All of the small 1:87 HO Scale Town Plan cars and trucks continued to be produced in Denmark, and the large cardboard bi-fold left driving UK style Town Plan board was contracted out to be produced by Waddington's, a UK game board maker. And although a few other LEGO specialty items, such as LEGO trees/bushes were still produced in Denmark, the Wrexham Wales LEGO plant was pretty much self sufficient for LEGO set production for many years.
In 1960, there were only six LEGO model sets introduced by British LEGO Ltd. These six sets were a 306 VW Service Set, a 307 VW Showroom Set, a 308 Fire Station Set, a 309 Church Set, and a 310 Esso Service Station set. All of these sets could be purchased to fill the different 200 Town Plan board blocks, if buying an entire 810 Town Plan set was too expensive.
When the first LEGO sets were introduced in 1960 by British LEGO Ltd., there were over 100 different spare parts packs introduced. This was common for continental Europe as well. These spare parts packs were originally imported from Denmark, but by 1962, almost all were produced by British LEGO Ltd., and had the "Made in Great Britain" stamp on the side of the boxes. These box styles continued production until 1966.
--
Early British LEGO Ltd. spare parts packs were marked "Made in Denmark", and had reflected that in the ink stamp on the spare parts pack boxes. Then starting in 1962, most of the spare parts packs were marked "Made in Great Britain" and mentioned so on the boxes.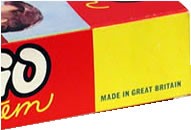 The first basic sets produced from 1960-65 (imported at first) for Great Britain and Ireland were these five sets, largest to smallest numbered 700/0, 700/1, 700/3, 700/3A and 700/5. Some of the sets produced for the continental European market were not produced for or by British LEGO Ltd.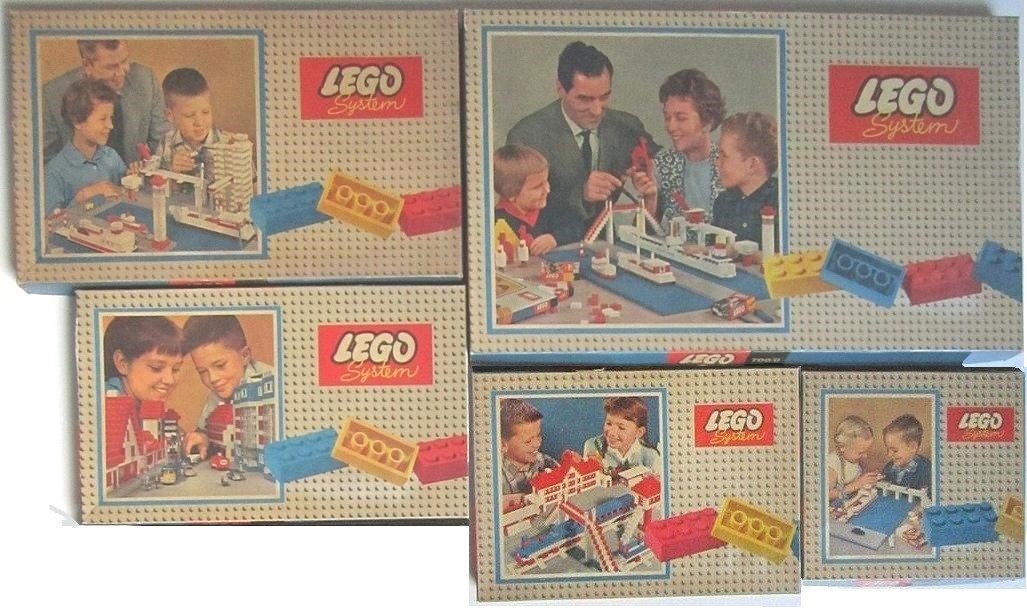 The largest of the sets introduced by British LEGO Ltd, in the 1960s was the 810 Town Plan set of 1962-67, with over 700-pieces. It was contained a Town Plan board, and enough bricks and specialty parts to build a very attractive town setting.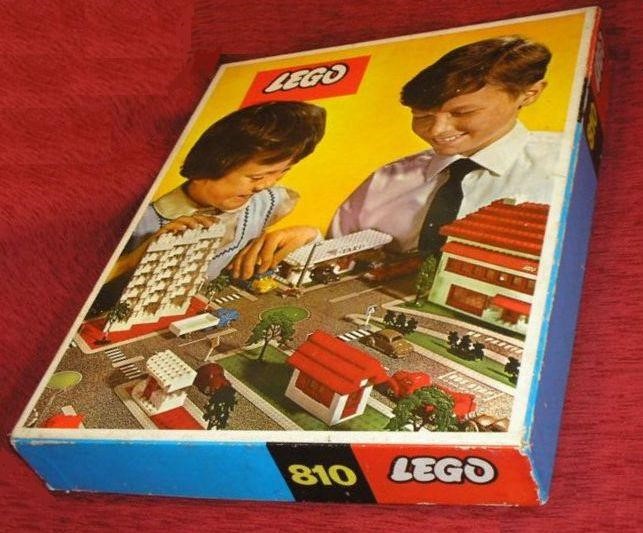 The bi-fold 200 Town Plan board, had the same image on the front as did the 810 Town Plan set box. This left driving board was produced for British LEGO Ltd. by Waddingtons, a UK game board maker.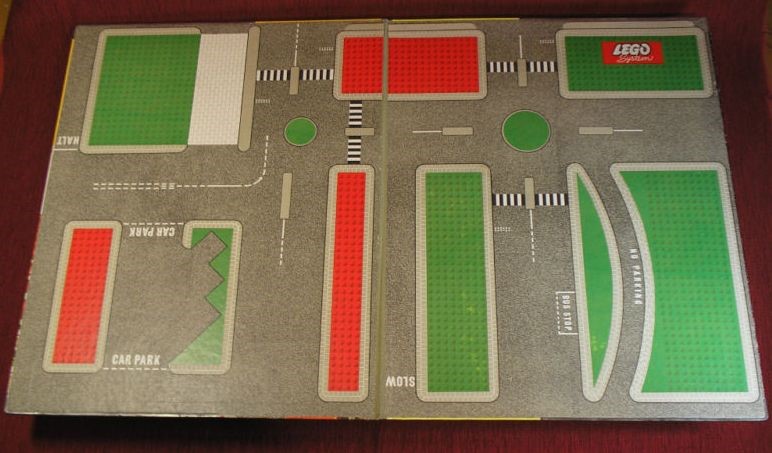 These were the first of the LEGO model sets introduced by British LEGO Ltd. in 1960. These sets were all part of the Town Plan system, and would build individual blocks for the Town Plan board layout. Within a few years there were many other LEGO model sets introduced.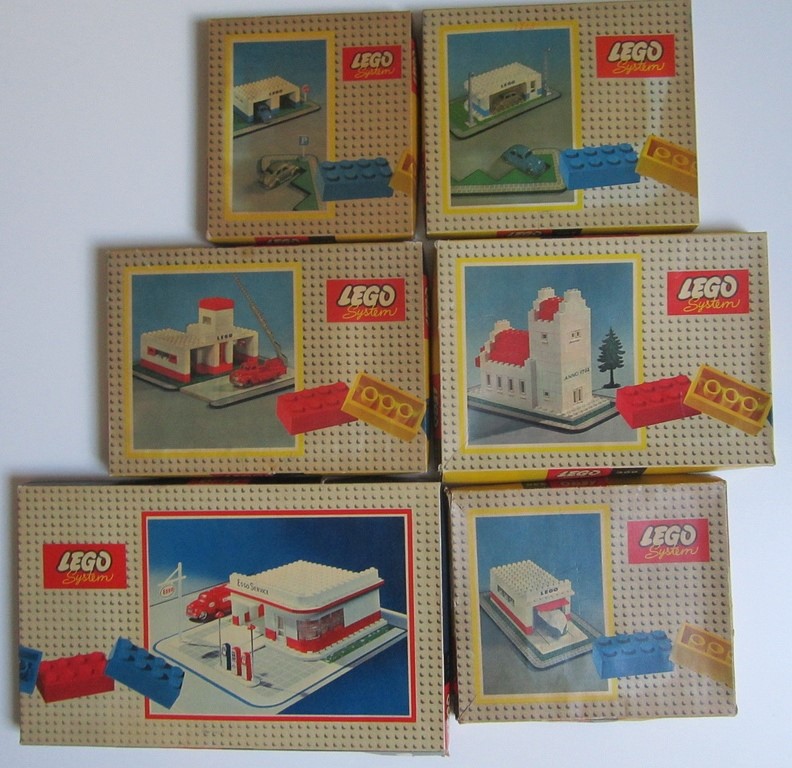 One of the more interesting of the first British LEGO Ltd. sets was the 700K wooden box set, produced from 1960 until 1967. Although it looked like the most expensive of the UK LEGO sets, it cost only about ¾ of the price of the cardboard 810 Town Plan set, and contained fewer specialty pieces. This set may also have been meant for institutional uses.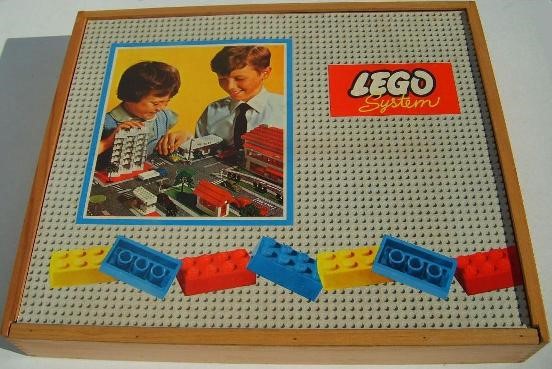 Of the over 100 different spare parts packs available from British LEGO Ltd., six alone were for 2x4 bricks. These six were for bricks in either trans-clear, black (starting in 1963), blue, white, yellow, or red. All the spare parts boxes had a sliding drawer inner box, and an outer sleeve. The picture below shows the ten different random sleeves that could be found with any of the inner boxes.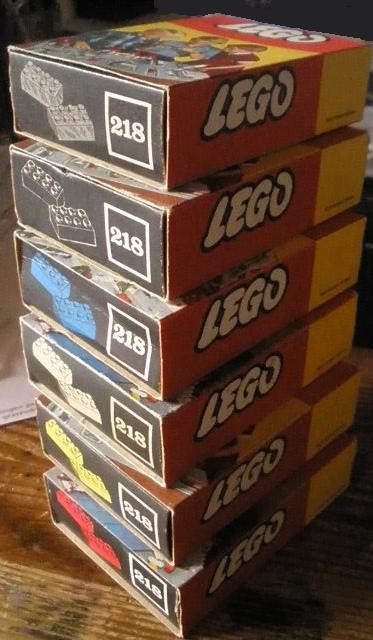 ---
Let us know if you enjoyed this article and would like to see more...
Sponsored content