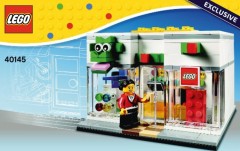 Instructions for a new LEGO Brand Store model, 40145, have been found on the LEGO Customer Services site by Brick Builder.
I'm guessing that it will be used for brand store openings from next year (it states (c) 2015 on the back), replacing the current one, which has been around since 2012.
Check out the image from the back of the instructions that shows interior details after the break.