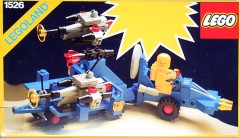 When I visited The Vault in Billund in 2004, I found an empty box for a classic space set that was previously unknown. There was much excitement at the time although I speculated that it might just be a mock-up because, unlike every other set in there, it was just an empty box.
Now that the LEGO collector's guide has been published, we have a means of verifying whether the set exists or not and I'm sorry to say that it would appear that it doesn't as it is not in the book.
It's interesting to see that someone has attempted to inventory the set on Bricklink, and someone even has the parts for sale. I guess they listed what they saw in the box pictures.