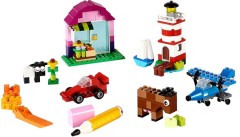 A while ago LEGO sent us some of the new Classic sets to review. Rather than review them myself from an AFOL perspective, I sent them out to Brickset members with young families so they could be reviewed from a different perspective. This review comes from six year old Rory, with a little prompting and help with the text from his dad.
We were sent two of the new Classic sets: 10692 Creative Bricks and 10695 Creative Building Box to try out. Before we open the boxes and look at the sets, let's ask a few questions:
What are your favourite LEGO themes?
Arctic and Chima
If you could ask for one set from the Arctic theme or one of these two new boxes, which would you choose?
Arctic
And if you could choose just one from these two boxes, which would it be?
The big one, as it has more parts!
10692
Looking at the small box (10692), what do you think you could build using it?
Lamb, boat, flower, alien, lighthouse, house, plane, pencil.
(These are all pictured on the box!)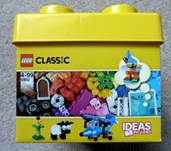 The box itself is attractive. It is a card cube, with plastic LEGO-type studs on top. The first impression on picking it up is that it is very light given the size of the box. I actually felt slightly cheated it is so light. I'm not really sure why the box needs to be so big. It might be that you are meant to store all your LEGO pieces inside, although the box is not really strong enough for that, being cardboard. They also don't stack very well and smaller parts tend to get stuck in the cardboard folds inside the box.
Inside are three bags, roughly sorted by colour. There is a good selection of parts and sizes, a decent mix of big and small. There is nothing unique to the set, although it does contain some of the closed eye 1x1 round tiles that are currently unique to the Classic sets range.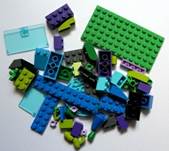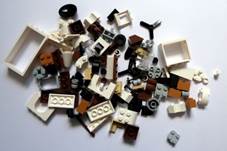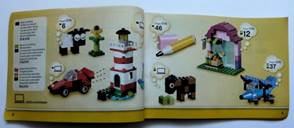 The "IDEAS included" mentioned on the box turns out not to be ideas as such but fairly standard step-by-step instructions, as contained in most sets, for a small number of smallish models. The word ideas suggested to me that there was going to be the old 1970's style pictures of builds but no detailed instructions; that is not the case here. About half the models have instructions in the booklet, the rest you have to go online for.
---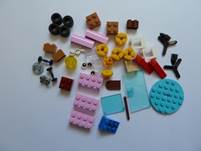 Next Rory picked out his favourite parts before starting to build. I'm not surprised at the wheels and the eyes but he also tended to favour the azure blue and pink parts, normally more associated with Friends sets rather than the City type sets. It's good to see a number of non-primary colours in these sets.
Rory then started building. The house (I think it is a greengrocer) took about 10 minutes, the pencil was built by his three year old sister in about 2 minutes. All of the builds are really quite simple. To make it a little more difficult, we decided to not look at the instructions for some of the models but he was still able to build the cow and car with ease. Although it is a bit annoying to have to go online to get the instructions, this may actually help since he used some skills to understand the build by looking at the pictures rather than following instructions.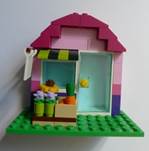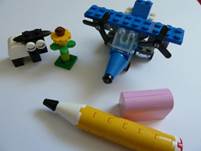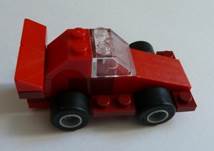 They are nice little builds, but the models are not really very inspiring and there is no theme running through them. For some reason, some of the newer coloured parts were not used in any models. This was what was left over at the end of building everything in the instruction booklet.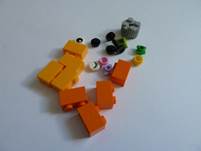 Of course, these sets really come into their own when it comes to free building. Rory has used both sets almost constantly over the past two weeks building and rebuilding different models, ranging from transport (cars, trains, planes) to animals and aliens and some simple buildings. Those shown were all built with the smaller set (10692), but not all at the same time.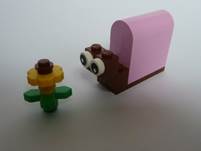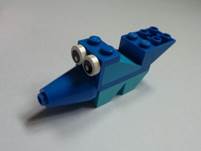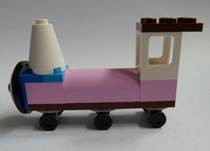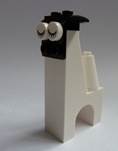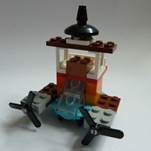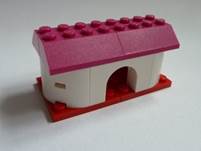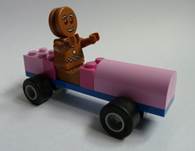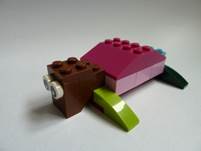 10695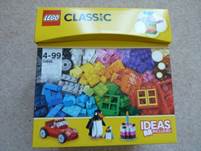 0695 is a similar set to 10692, but bigger. However, the packaging is quite different. It comes in a larger almost cubic box with a flip-top lid. It is not obvious why the boxes are so different in style or shape. It doesn't even look like the same theme, apart from the Classic branding. It is quite annoying as the different boxes don't really stack very well. This one is probably more useful for storage, if you don't have too many parts, as it is a bit stronger. You can probably get 5x the contents of this set in the box.
Inside, this set is similar to 10692. There are five colour sorted bags, again covering a very good selection of part types and sizes in a good selection of colours.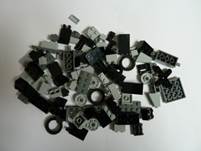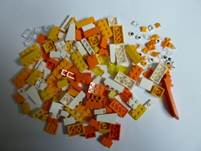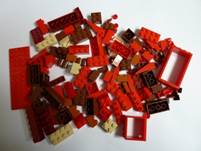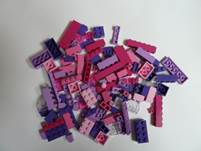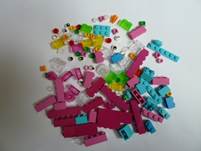 When asked to pick out interesting parts, Rory had a similar choice as before; he choose mainly pinks and lighter blues, the eyes and lots of transparent parts. Again, there is nothing unique to the set, but some parts are quite rare in the colours they do come in.
---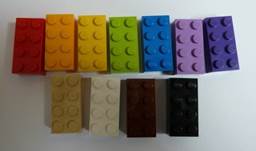 There is a good selection of 2x4 bricks.
---
The builds are fairly similar to the previous set. They are all easy for a six year old that is used to building with LEGO. Rory managed to build most of them with minimal use of the instructions. The models are better than the similar ones in the smaller set. For example, the car is minifigure sized and a bit more detailed. The penguins are definitely a family favourite.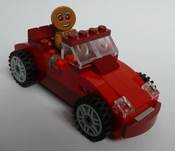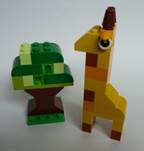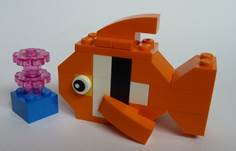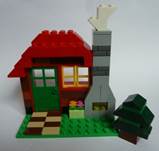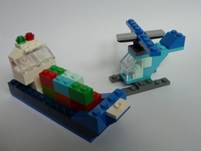 Note: not all models are shown as per the instructions. We flipped the penguin's feet around, and gave the baby different feet and the fish's fins have been flipped round too.
Rory thought that these models were better for display than those in the other set. As before, the real fun from this set comes when modifying the existing models and making new ones. As the builds are slightly bigger, there are more modifications possible (such as on the penguins above). One slight downside is the small number of sideways building / SNOT parts in this set.
I was a little worried about the lack of a minifigure in either set. I needn't have been. Rory seemed not to notice the lack of a figure, and just got one out whenever he built something in minifigure scale; you'll probably notice the Gingerbread Man driving the cars. He is not in the set but was added by Rory. I guess most kids with any interest in LEGO have at least one minifigure, so the lack of a minifigure will have little impact on their fun. Many of the official builds and his creations are not minifigure scale anyway.
We tried to keep the sets apart for the first few days, and managed this but found building possibilities a little lacking for 10692. The range of parts is good, but we found that Rory could build one or two models before running out of parts. 10695 is definitely better given the larger number of parts, although the range of parts is probably slightly weaker. When combined these two sets are much better, the increase in range of parts made building much more fun as there was less frustration at not having the right parts (although the addition of some of the sideways building parts in other colours would be much better). These two sets have been spread all over his bedroom floor for the best part of two weeks, and used most mornings before school and before bed. I think he has got more play value out of these sets than most other single build sets he has. It is interesting that recently the sun has come out in the UK and Rory has been experimenting with colours of the transparent parts. He has been building window style panels from the 1x2 transparent bricks, in some cases mixing the colours one behind the other, and leaving them on his window sill to see which colour is transmitted or reflected when the sun shines through them. These parts get used in most models he builds, it would be great to see more of them in these sets.
Verdict
Contents: There is an excellent range of parts in both sets, in a nice mix of colours. The addition of the more Friends related colour palette is excellent. These parts are attractive to boys as well as girls, so it is great to see them in these creative sets. The smaller box is lacking slightly in possibilities for imaginative play based mainly on the smaller piece count; you can build a few smaller models but soon run out of parts. If you are only going to get one of these sets, I'd go with the bigger one. Obviously the two boxes together make a great starter kit with a good range of parts. They really fill a gap in the current LEGO range, providing kits for building and imagination, rather than one main model that is never disassembled. They both have excellent price per part costs, especially when you consider that there are not too many smaller parts.
Packaging: The packaging is way too big for each set, and not all that suitable for longer term storage once filled although the larger box is more practical. They are not really strong enough being made of card and the smaller parts get stuck in the corners and flaps. They are also very different shape and style, they don't even look like the same range with their different style lids. This means they don't stack on top of each other very well. A plastic box like the older creator bucket sets or the suitcase sets would have been welcome (although this would probably add to the cost).
Build: All the builds were easy, even for a six-year old. They follow the standard pattern of adding 2-3 bricks per step in the instructions. I would have preferred that they showed some models with no instructions at all. In a way they do this, as you have to go online to get some and that barrier may be enough for some kids to just look at the picture and copy it; most of the models are simple enough to do this. Perhaps showing two views of each would overcome any hidden sections.
Would we buy it? Yes. The real fun comes not from building the official models shown, but in the imaginative builds. We have had the sets for two weeks now, and they have been played with on most days, with the models being played with, then destroyed and quickly rebuilt into something else. The play value is much higher in these sets than for the build 'one model' type sets. Having such a disparate set of really simple models seems to help here. The kids didn't really care too much about displaying the official models, so there was no barrier to breaking them up and rebuilding them into something different. This has rarely happened with the existing Arctic and City sets.
These might well be sets that you have to buy for the kids without them requesting them; just buy them for their own good. The box art of other sets seems to be more appealing to kids, but there is way more creativity in these boxes. Plus when you buy one, they might get more interested...
And to close the review, if you could ask for one set from the Arctic theme or one of these two new boxes, which would you choose?
A new Classic one. They are more fun!