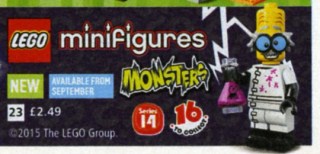 Ahead of its official launch tomorrow, the new Argos catalogue is available in stores this afternoon.
The good news is that new Technic, Scooby Doo and Minecraft sets are all in it. The bad news is that it states 'Available in August' next to them, so whether you'll be able to pick them up tomorrow or will have to wait two weeks remains to be seen.
This image confirms the monsters collectable minifigs coming in September. I think is the first official image to appear.
Sponsored content