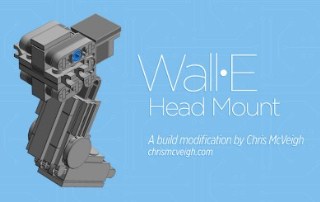 I've been away cruising the Adriatic and Mediterranean seas this week on what was a very busy period for news so I thank CapnRex101 for doing such a a great job keeping you (and me) informed in my absence. I enjoyed reading his reviews and insights while sunning myself on the top deck in 35°C of heat and I hope you did too, even if you were in the chilly UK :-)
One newsworthy item of note that has come to my attention now I'm back is that Chris McVeigh has come up with a method for fixing WALL•E's head droop and has published an excellent building guide which can be downloaded from his website. I had my daughter order the set for me on the 1st just in case it went OOS straight away (it didn't) and it arrived yesterday. I've not had a chance to build it, or witness the problem, or implement Chris's fix but it looks to be a robust, if somewhat complex and parts-intense, solution. If you have a go at it, let us know how you get on.
Update: Now implemented: it works a treat. It's actually very simple and elegant.